Are you on the hunt for some captivating Medusa thigh tattoo designs? Look no further – we've handpicked the finest tattoo ideas just for you!
Medusa, a mythical creature from Greek mythology, has a fascinating backstory. Once a stunning maiden who captivated even the gods, her beauty led to a tragic curse. After Poseidon brought her to Athena's temple, the outraged goddess turned Medusa into a monstrous being, her lovely locks replaced with venomous snakes. From that moment on, anyone who met Medusa's gaze would be turned to stone. Eventually, she met her demise at the hands of the hero, Perseus.
This captivating tale has inspired countless tattoo designs, with Medusa representing female power, protection from negative energies, and warding off dangerous threats. Think of her as an ancient talisman, like the evil eye. Check out our curated selection of Medusa tattoo ideas and find the perfect design to unleash your inner strength!
Simple Medusa Tattoo Design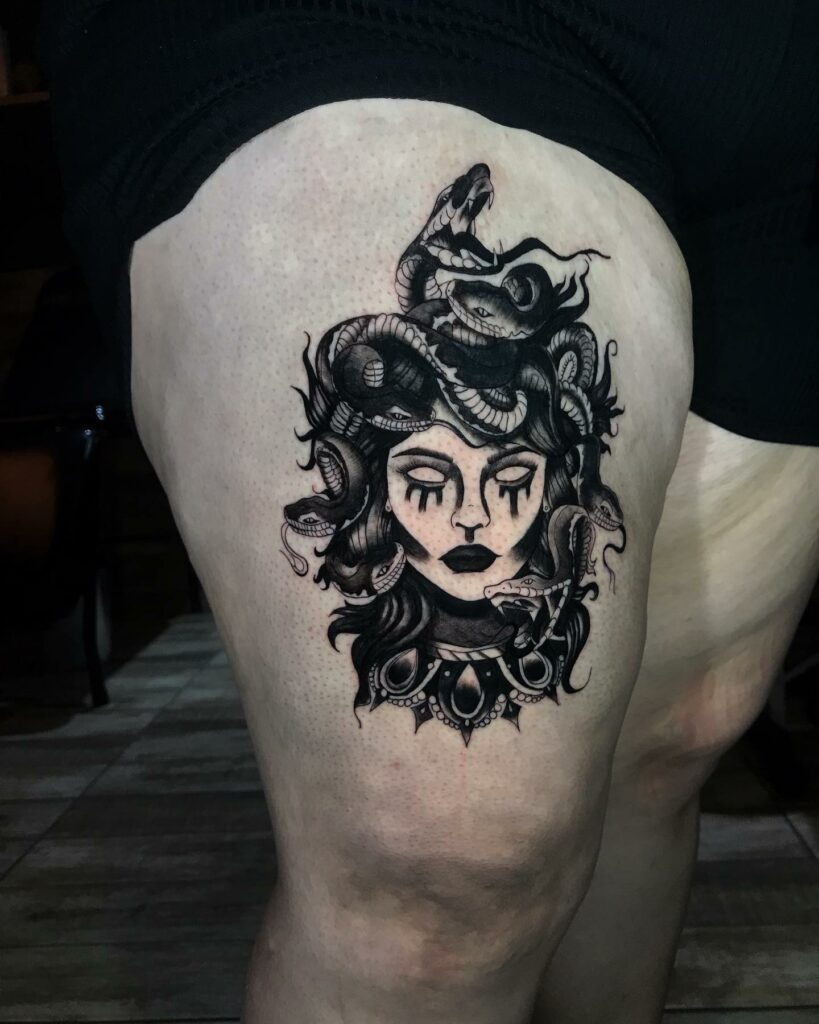 Medusa, a well-known figure in Greek mythology, is a popular choice for tattoo enthusiasts who want to showcase ancient Greek art on their skin. This particular design is both classic and traditional in style, with the use of bold jet black ink. In this tattoo, Medusa's eyes are completely white and without pupils, with black stripes extending downward from her eyes. Her lips are also inked with black color. On her head, a number of venomous snakes are present, with some of them poised to strike. These snakes are also depicted in jet black ink, with lighter shades used to create scale details. Additionally, Medusa wears a stone necklace which adds to the overall appeal of the tattoo. This design is perfect for those seeking a simple yet striking Medusa thigh piece.
Feminine Medusa Tattoo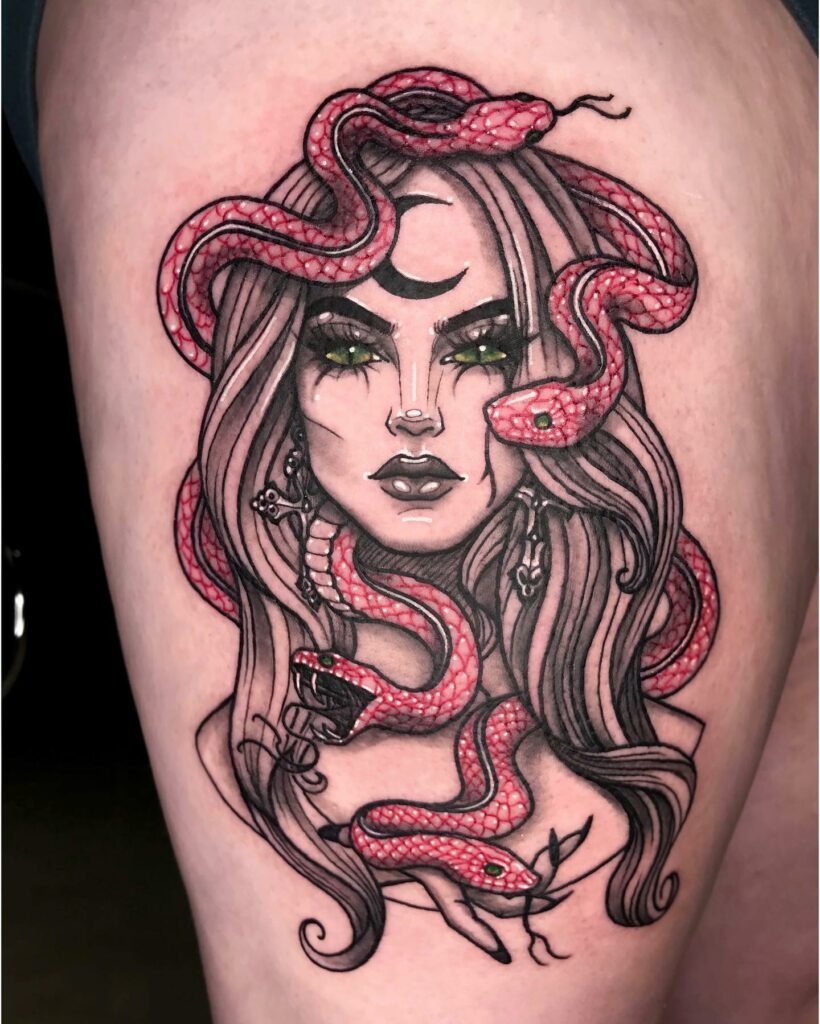 This stunning thigh tattoo of Medusa portrays her with a powerful and bold face. The tattoo artist has used greenish-yellow ink for her eyeballs, which resemble the eye color of reptiles, and added large and beautiful eyelashes to her eyes. To make her facial features stand out, white ink has been used to highlight her sharp nose, cheek lines, and jaw lines. Medusa wears cross earrings and a moon on her forehead, which adds to the tattoo's symbolism. The tattoo artist has used jet black ink to ink Medusa's hair and face, and the snakes on her head are inked with red ink, which makes them look more menacing. This design is a great choice for those looking for a striking and powerful Medusa tattoo.
Medusa Tattoo On Thigh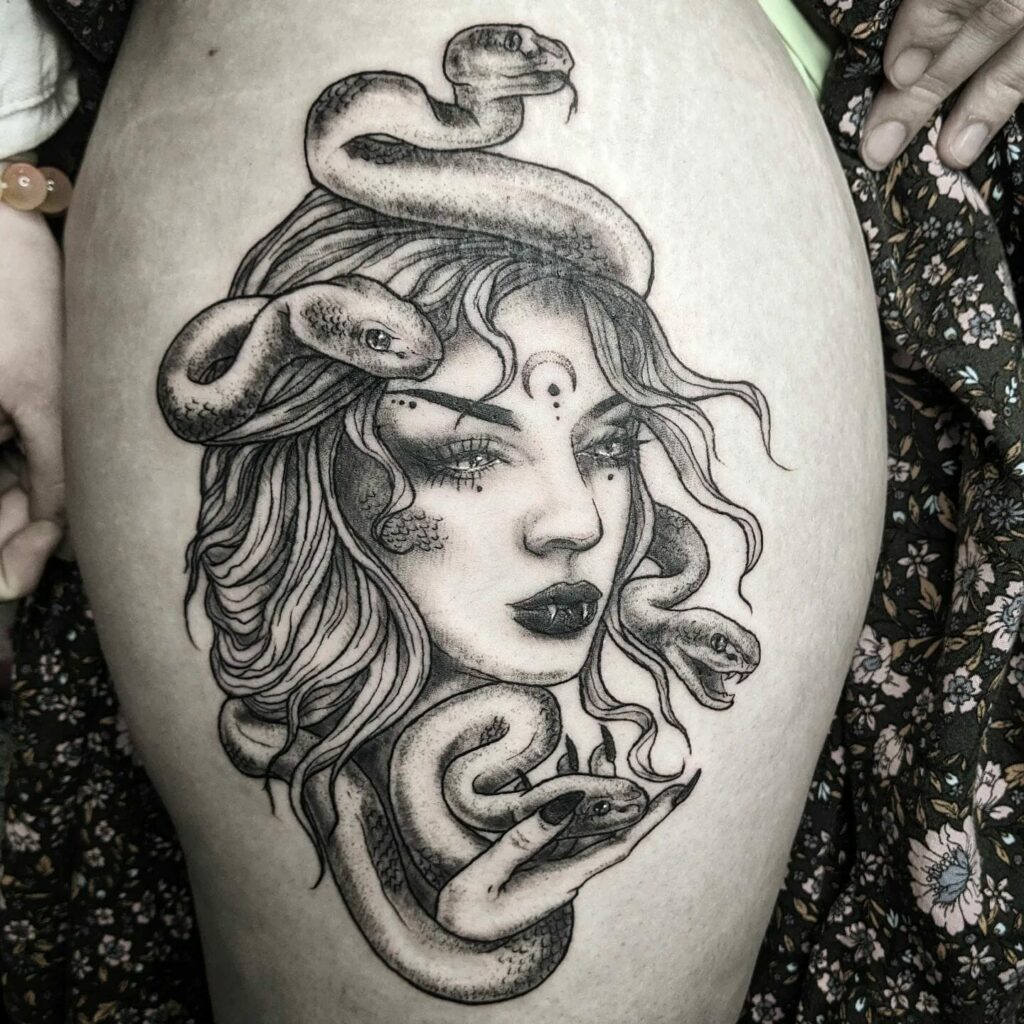 Medusa is a character with a fascinating backstory in Greek mythology, and her story has inspired many tattoo designs. In this tattoo, the tattoo artist has tried to showcase the beauty of Medusa, even though she is portrayed as a monster. Her face is sharp and lifted, and her beauty has been highlighted with intricate details. The inverted crescent Moon on her forehead and her snake-like teeth add a unique touch to this design. The snakes on her head are intricately drawn, and they look dangerous and venomous. Medusa is a powerful symbol of female strength and empowerment, and getting a Medusa tattoo is a great way to showcase your power as a woman. So, if you are looking for a tattoo design that is both powerful and beautiful, a Medusa tattoo could be a perfect choice for you.
Medusa – Female Deep Meaningful Tattoos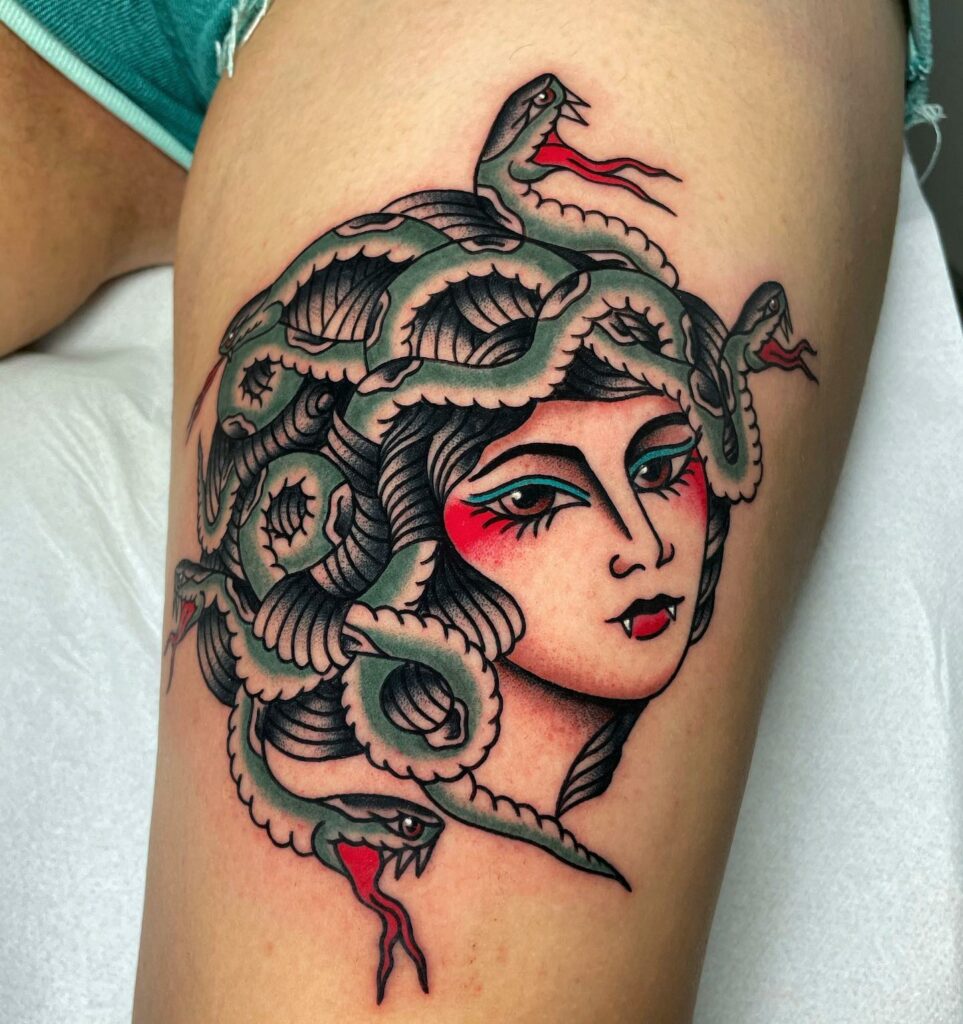 If you are looking for a more colorful and vibrant Medusa tattoo, this design might be perfect for you. The tattoo artist has incorporated green snakes with red mouths and tongues all over the hair of Medusa. To add to her beauty, Medusa has brown eyes with green eye makeup, and her cheeks and lips are tinted in red. The snake-like teeth protruding out of her mouth add to the overall charm of the design. Unlike some other Medusa tattoos, this one has a less scary look on its face, making it a perfect choice for those who want a more appealing tattoo.
Greek Mythology Tattoos On Thigh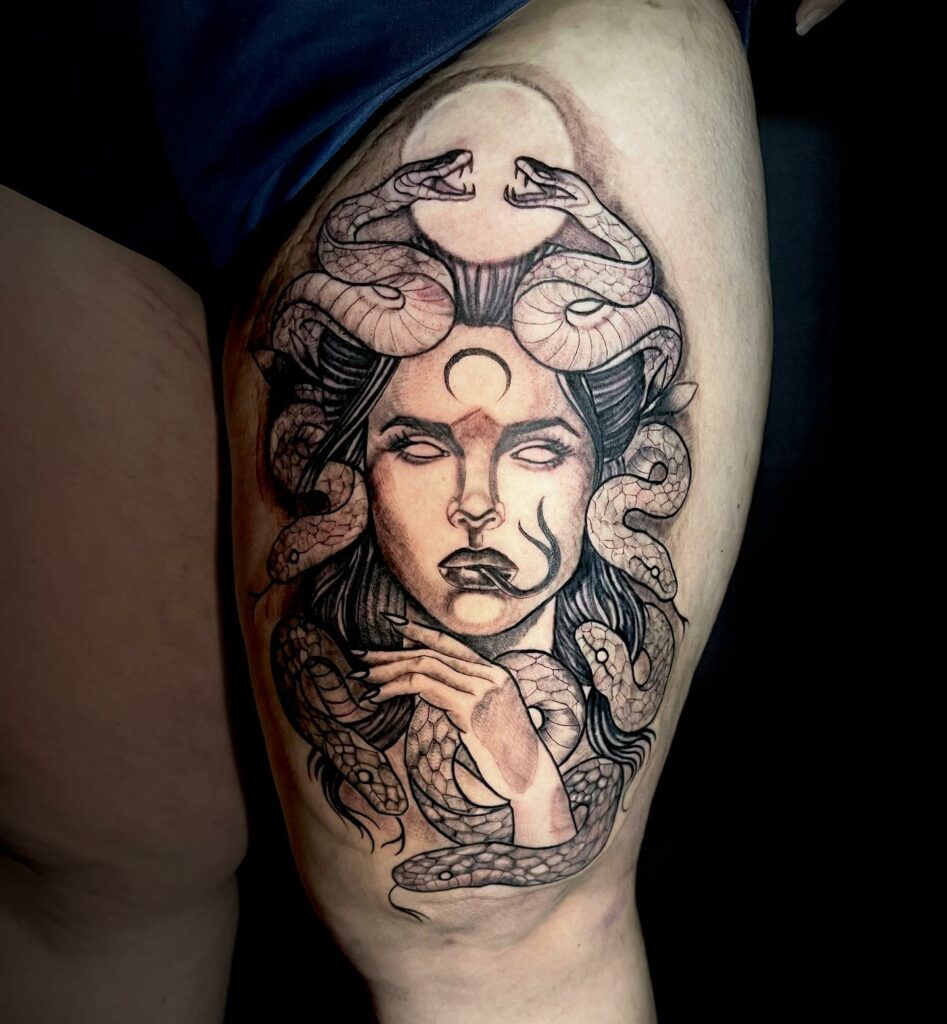 This Medusa thigh tattoo design is simple yet powerful. The tattoo artist has used bold black ink to create the face of Medusa on the entire right thigh. Medusa's face is unique with no eyeballs and her eyes completely white, giving her a haunting appearance. The tattoo also features a thin crescent moon on her forehead, along with a snake-like tongue. The snakes on her hair and hand are inked with precise detail, and the scales are highlighted with a lighter black shade, adding depth to the design. This is a great choice for someone looking for a striking and straightforward Medusa tattoo.
Colorful Medusa Tattoo On Thigh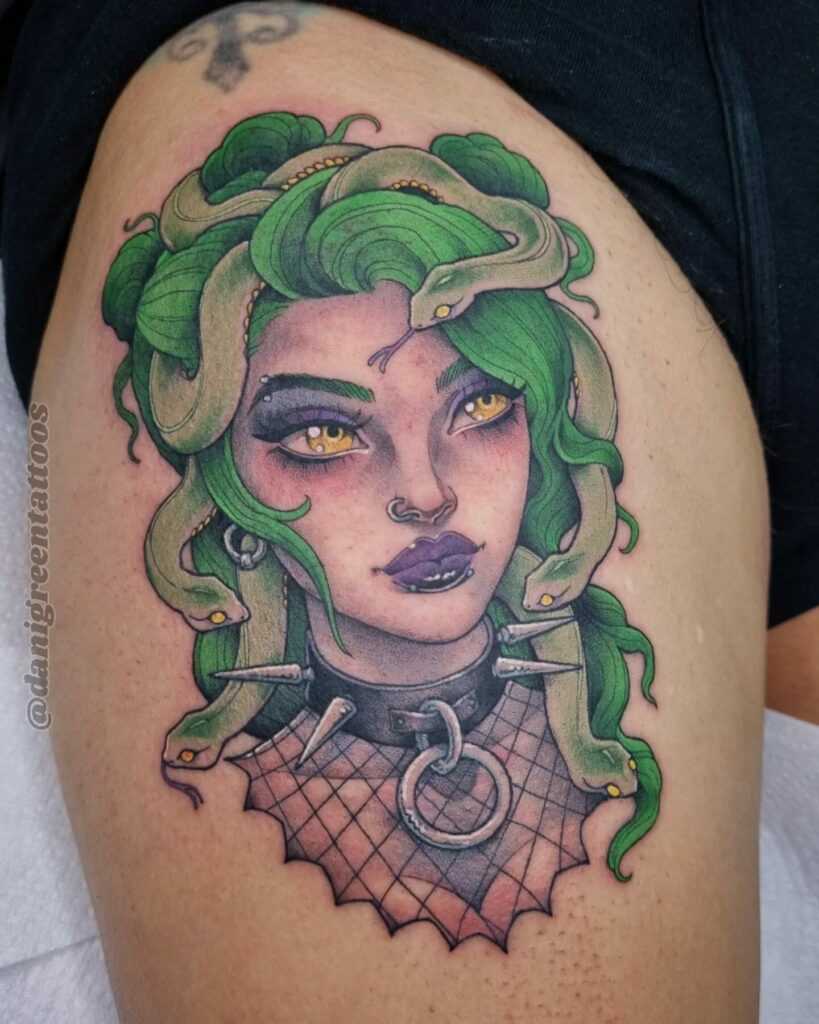 If you're looking for a colorful and vibrant tattoo that breaks away from traditional black and white designs, this Medusa tattoo is the perfect choice for you! Instead of the usual depiction of the monster, this tattoo features a young and modern lady with bright green hair, surrounded by a sea of green poisonous snakes. The modern Medusa has a trendy appearance, with green eyebrows and bold purple eye makeup that complements her yellow eyeballs. Her purple lipstick and multiple piercings, including one across her eyebrows, nose, and lips, add to her edgy and modern look. She also sports a silver ring and pointy spikes on her choker, and her neck is covered in nets. The tattoo artist has used bold colors to make the design lively and eye-catching. This is a perfect fusion of the mythological character with modernization and an excellent choice for young girls who want to show off their unique and bold personality through their tattoos.
Medusa Tattoo On Full Thigh
If you are looking for a unique and striking full-thigh tattoo design, this Medusa tattoo might be the perfect choice for you. This design combines the intricate beauty of mandala art with the fearsome features of Medusa. Starting from the upper thigh, the tattoo features a series of geometrical circular patterns that give way to the face of Medusa with thick and imposing snakes entwined in her hair. The snakes are drawn with great detail and realism, adding an extra touch of fright to the design. Medusa herself is depicted with a few bruises on her face, giving the tattoo an air of violence and danger. Moving down the leg, the mandala art continues with intricate designs and patterns that complement the rest of the tattoo perfectly. This full-thigh tattoo is made entirely with black ink, creating a bold and eye-catching effect on the skin. If you are looking for a unique, powerful, and meaningful tattoo, this Medusa design is a great option.
Scary Medusa Tattoo

Medusa was a mythical Gorgon with a frightening appearance, known for turning those who looked at her into stone. For those who enjoy spooky tattoos, here is a Medusa design that is sure to send shivers down your spine.
In this tattoo, the artist has captured the essence of Medusa's terrifying presence. Her eyes are white, with blood dripping down her face and scratches adding to her menacing appearance. Her forked tongue resembles that of a snake, adding to her reptilian vibe. The snakes on her head are thick and dangerous-looking, making the tattoo even more frightening. The entire piece is done in black ink, which adds to the eerie feel of the tattoo. If you are a fan of scary tattoos, this full-thigh Medusa piece is sure to satisfy your need for spine-tingling art.
Small Medusa Tattoo Designs
For those who prefer smaller tattoos, here's a Medusa thigh tattoo that is both simple and elegant. The tattoo artist has used a subtle shade of black ink to create this design on the upper thigh. Medusa's hair is made up of thin snakes, but she doesn't have a scary expression on her face. Above and below her head are simple geometric patterns like circles and dotted lines, which add to the beauty of the overall design. If you're looking for a small and understated tattoo, this Medusa design is perfect for you.
Moon And Medusa Tattoo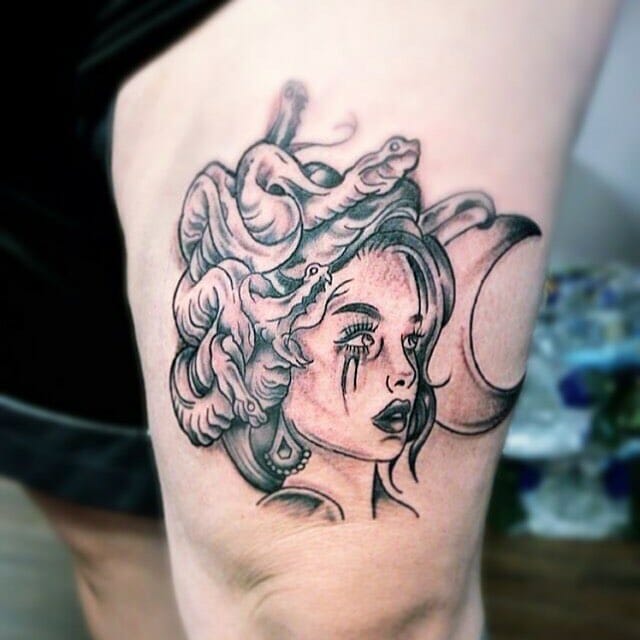 Moon tattoos symbolize growth and change, while Medusa tattoos represent powerful women, making this design a unique combination of the two. The tattoo features the side of Medusa's face with a completely different expression compared to other Medusa tattoos, as she looks scared and tears roll down her cheeks. Her hair is made up of many snakes, adding to her fearsome appearance. In the background, there is a crescent-shaped moon done in black ink. This tattoo design is perfect for those who want something unique and different from the typical Medusa or moon tattoos.
feature image from Pinterest