Hey, dear reader, are you craving some ink inspiration that strays off the beaten path? Well, fasten your seat belts and prepare for a delightful dive into the world of bovine beauties. We've got a curated collection just for you of chic, minimalistic cow tattoos, teeming with charm and creativity.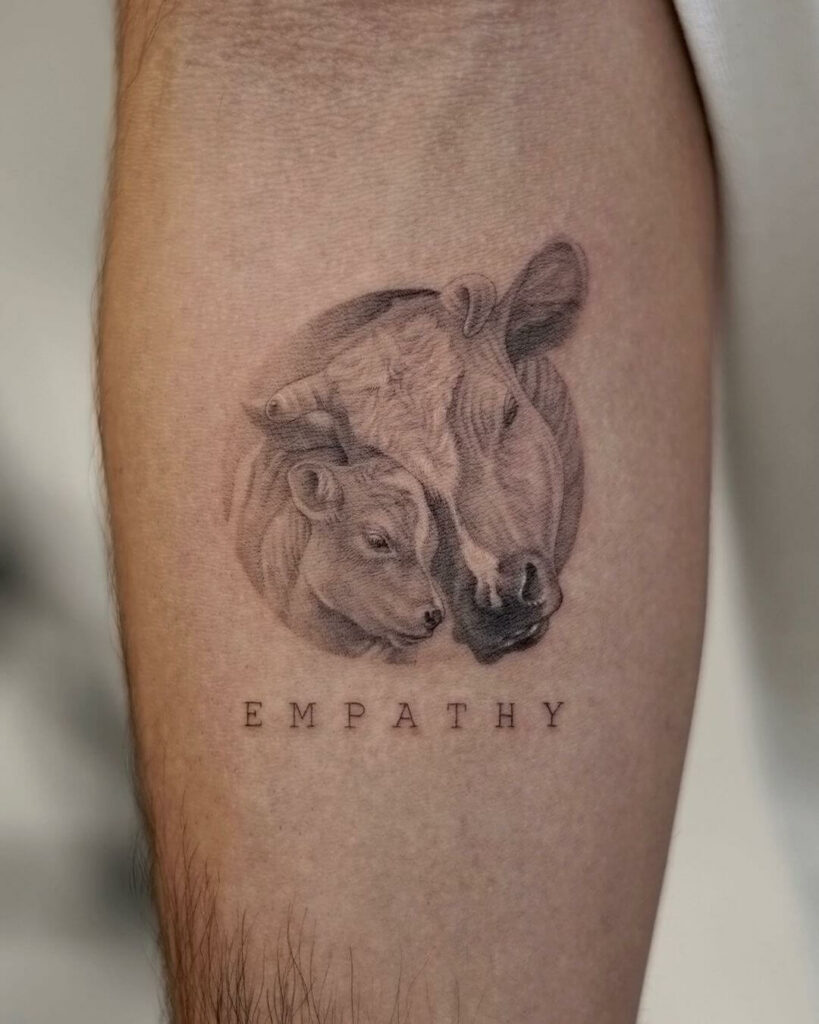 Our female bovine buddies, better known as cows, are more than just livestock. They are fascinating, social creatures, domesticated eons ago in the verdant valleys of Turkey. Devouring a diet purely of plants, these gals are blessed with an extraordinary sense of smell that would put any sniffer dog to shame.
In the vibrant tapestry of world cultures, cows occupy a sacred place, especially within the Hindu tradition, where reverence for the bovine is a deeply held belief. Ever considered cows as integral players in the ecological ballet? As constant grazers, they help maintain the delicate balance of our grassland ecosystems, ensuring nature's dance keeps on twirling.
These creatures of habit may seem hesitant to change, but don't let that fool you. Beneath that calm exterior lie intelligence and a remarkable long-term memory. Raised for milk and meat, cows have shaped human society in countless ways, and let's not forget their 'gifts' to the land – nutrient-rich waste that fertilizes the soil and sustains our crop growth.
Historically, cows have been invaluable sidekicks for farmers, offering not just muscle power for agriculture and transport, but also emotional companionship. They're even celebrated through various festivals worldwide, such as the 'Gorehabba festival' in southern India and 'Gai Tihar' in Nepal.
So, why not celebrate these empathetic, earthy beings in your own unique way? Explore our handpicked selection of minimalist cow tattoos that will change how you perceive these gentle giants, maybe even make you fall head over heels for them. Discover the design that resonates with your soul, and who knows, you might just find your next ink obsession. Dive in, the canvas awaits!
Contemporary Yee-Haw Cow Tattoo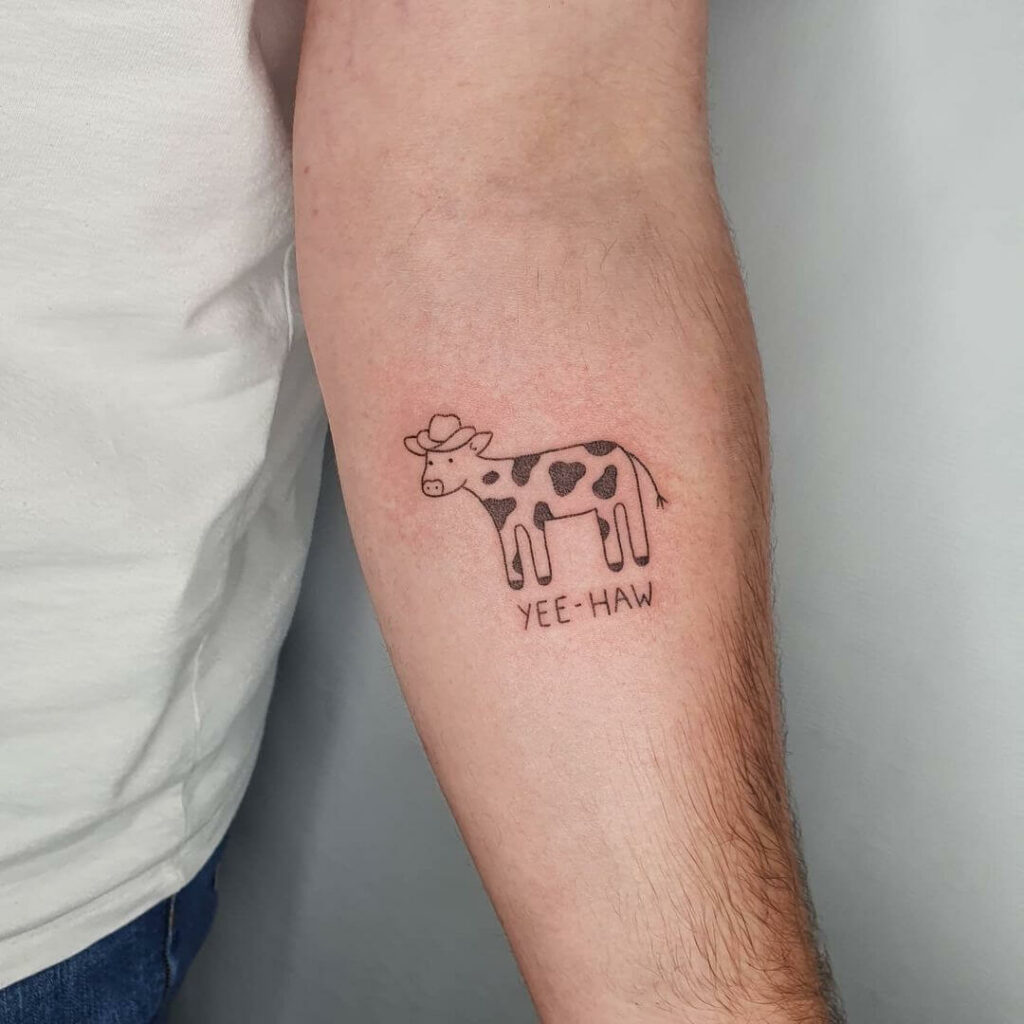 Are you a cowboy at heart, drawn to the stylish ruggedness of the wild west? Then say hello to this contemporary tattoo design. An artistically rendered cow with patterned patches of black, and a fine-lined tail, dons a cowboy hat that adds a dash of the unexpected. It's an homage to the stylish simplicity of cowboy culture, and if that resonates with you, this might just be your perfect ink match.
Cute Continuous Line Cow Tattoo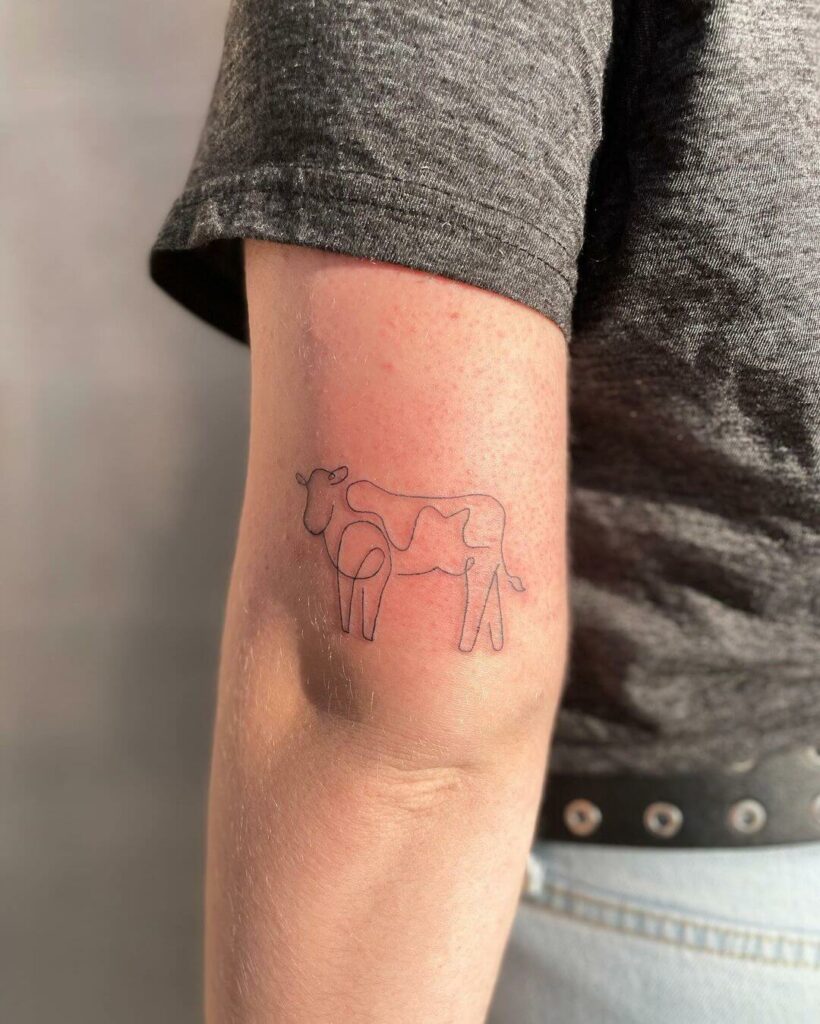 The beauty of simplicity shines in this continuous line cow tattoo. Boasting just the outlines, this design pays tribute to the gentle nature of cows without the fuss of shading. It's a minimalist's dream – a versatile piece that can adapt to any part of your body. If you're taking the first steps into the world of tattoos, this is a great, fearless choice to mark the occasion.
Emotional Black Inked Cow Tattoo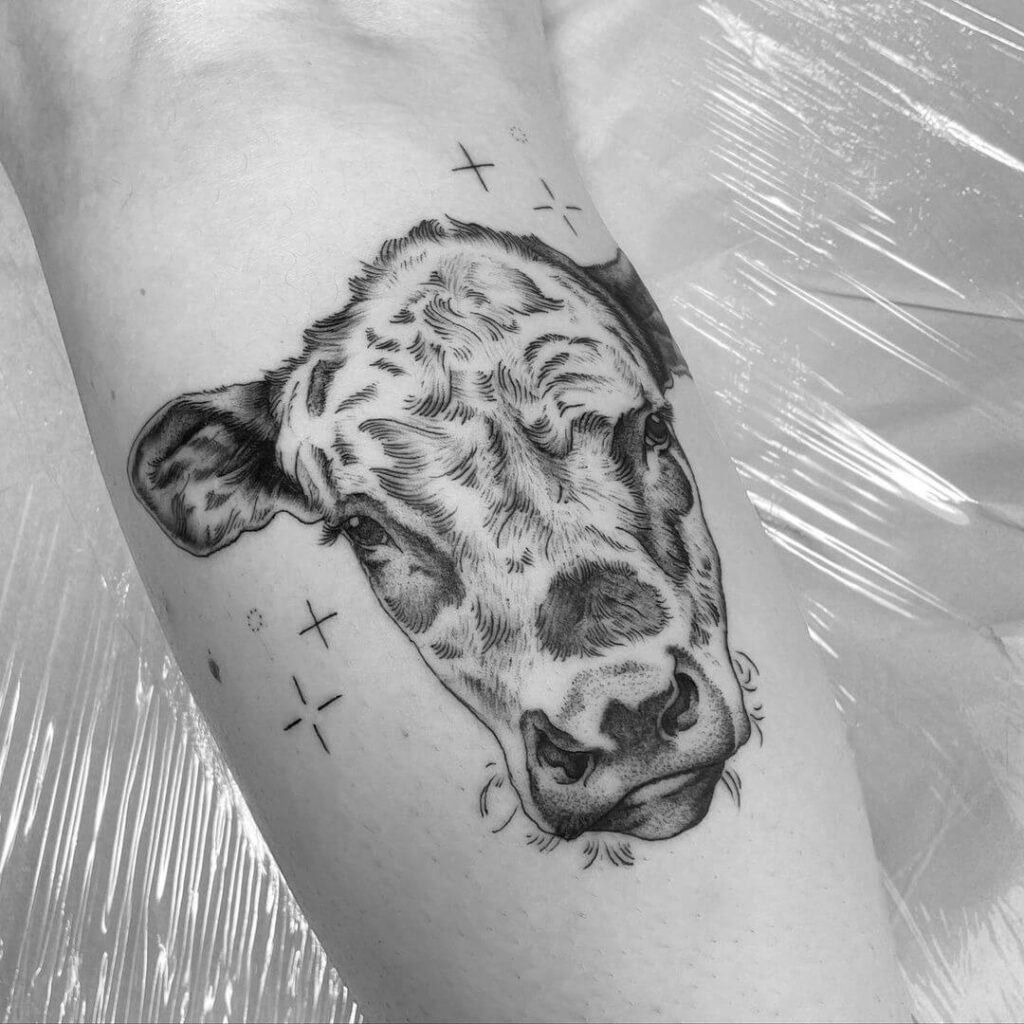 Emotion comes to life in this intricately detailed dot work tattoo. The focal point is the calf's eyes – a beacon of innocence, brilliantly enhanced by a careful touch of light. Accompanied by a constellation of stars scattered around, this tattoo design radiates a distinct aura that is hard to resist.
Little Orange Cow Tattoo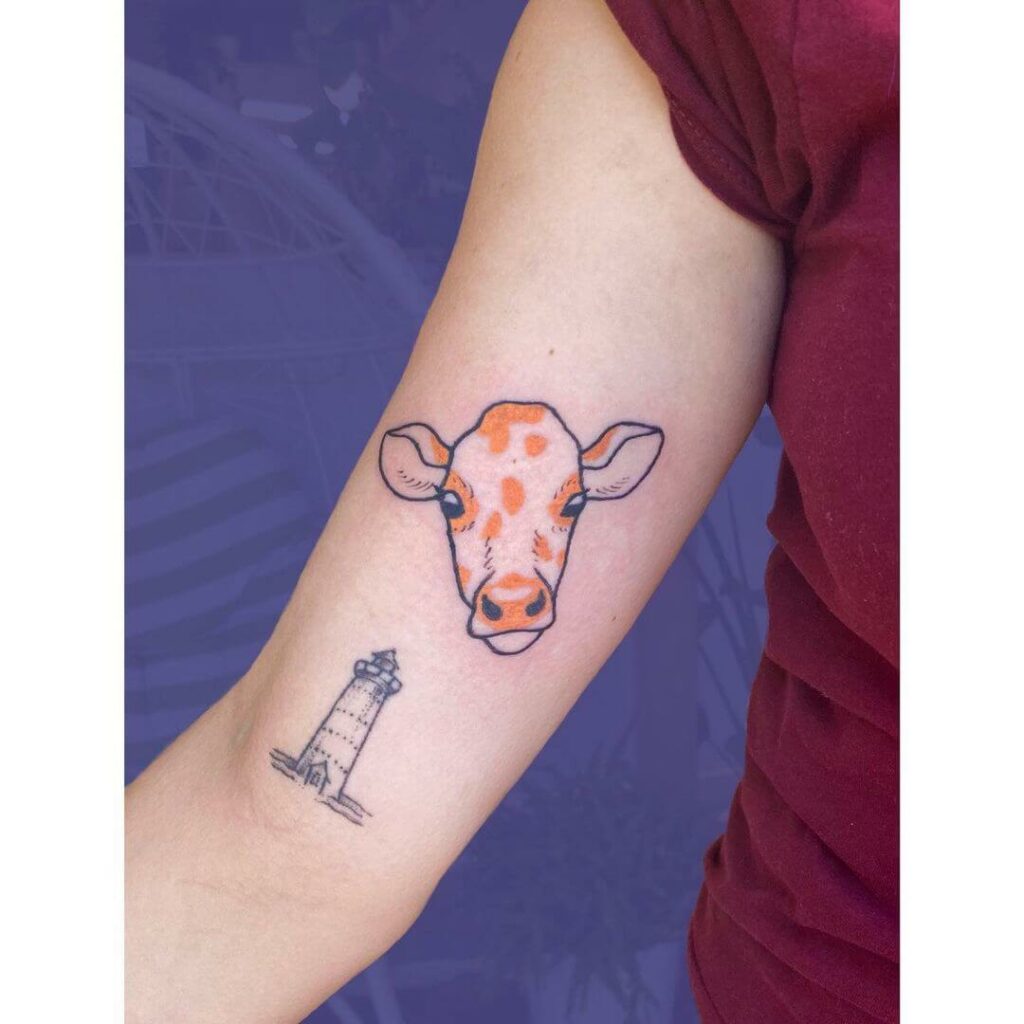 Step into the vibrant realm of color with this piece. The deep blue outlines of the cow's head contrast against the vivid orange shading, with intricate line patterns adding depth to the eyes and ears. This design is customizable to match your color preferences, an ideal choice for the color-happy folks.
Heart Print Cow Tattoo
Embrace love and rarity with this beautiful cow tattoo marked by heart-shaped patterns. The eye, outlined with long lashes and filled with depth, is the showstopper in this design. It's a heartfelt nod to cow lovers and a beautiful tribute for those who have had the joy of rearing these gentle beings.
Cute Little Hankpoked Cow Tattoo
Charm and simplicity come together in this design featuring a cow with heart-shaped patches. This handpoked piece, with dark dotted shading enhancing the patches, is a versatile design that can find a home on any part of your body.
Baby Pink Cow Tattoo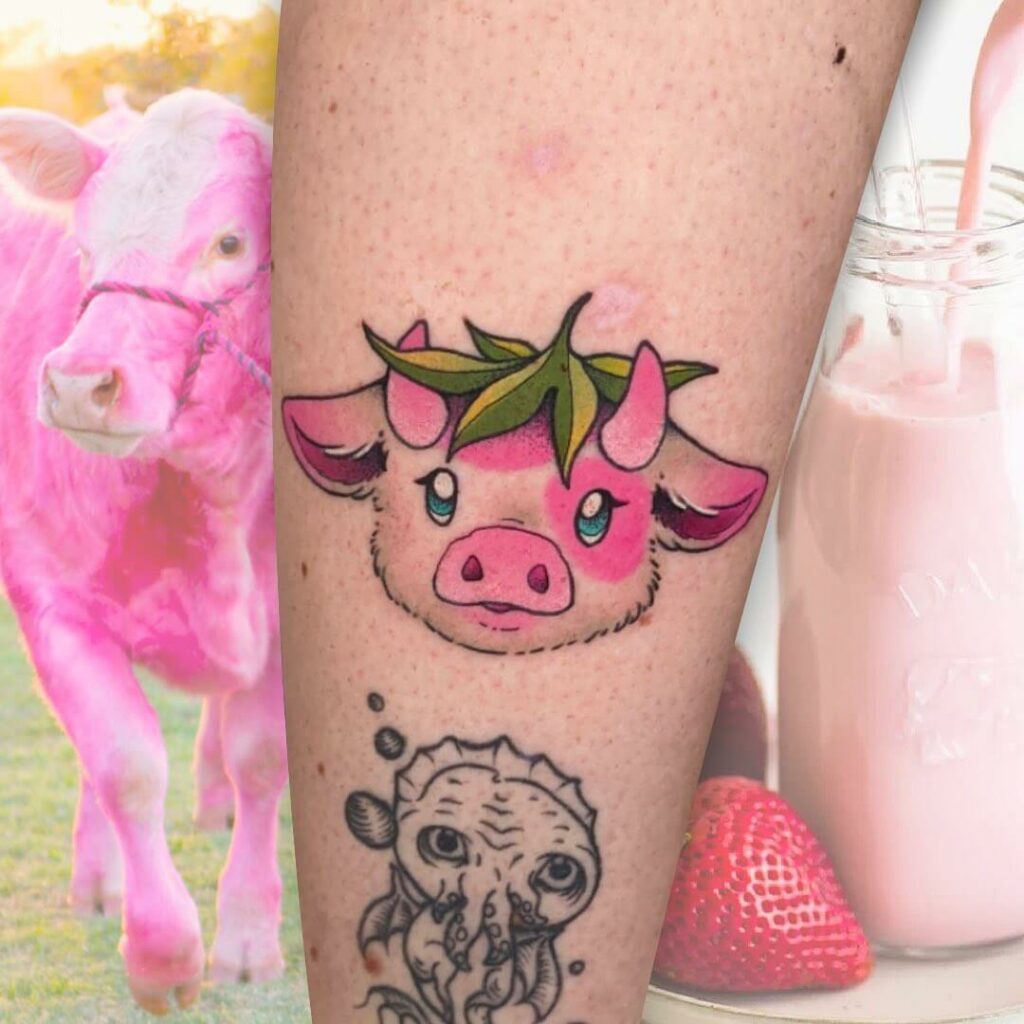 This feminine design, with a calf rendered in a delicate shade of baby pink, is a captivating and sweet choice. The addition of a leafy crown and ocean-blue eyes adds a touch of whimsy. It's an endearing tribute for anyone wanting to honor their daughter in ink.
Relaxing Cow Tattoo
This tattoo design encapsulates serenity, featuring a cow with dark, heart-shaped patterns, contentedly at ease. It's a quiet reminder of the bliss found in simplicity, and a testament to the taste of the bearer, exuding a sense of understated royalty.
Cow In the Garden Tattoo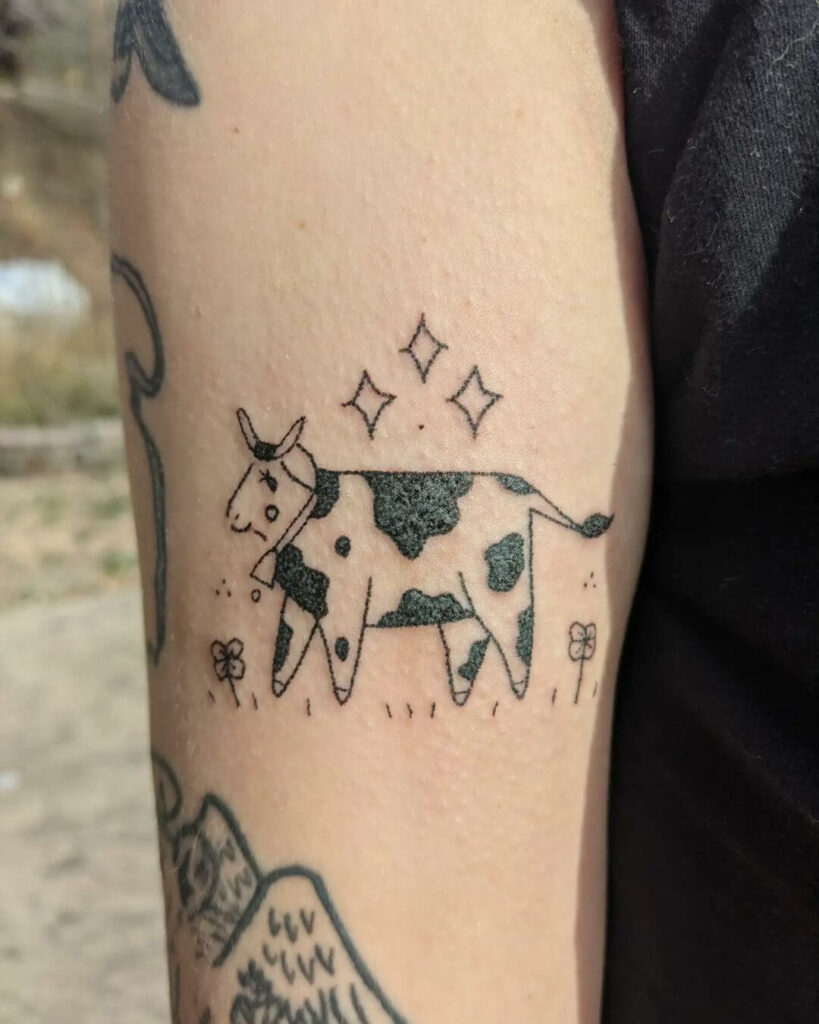 Nature lovers, this one's for you. It's a charming handpoked piece showcasing a coy she-cow amidst a garden. With lowered ears, a wiggling tail, and a tinkling bell, this design oozes tranquility. The three stars above add a celestial touch, making this piece a perfect blend of earthly charm and celestial mystery.
Baby Cow Fine Line Tattoo
The embodiment of joy, this design features a newborn calf, complete with detailed facial hair and a longer patch on the forehead. Backed by an intricate background of leaves and seeds, it's a delightful reminder of new beginnings, adaptable to any size as per the bearer's preference.
Conclusion
And there you have it, folks, an exuberant palette of cow-inspired tattoo inspirations for your canvas. As we bid you adieu, here's some sage advice from your friendly ink aficionado. Tattoo placement, my friends, is an art itself. It can change the character of your design and how you interact with it. Consider an area that resonates with your personal style, whether it's the small of your wrist, a shoulder blade canvas, or even the stage of a thigh.
Costs can vary, contingent on factors like size, color complexity, and the experience of your artist, but remember – it's a lifelong commitment, not a bargain hunt. A small, minimalist design could set you back $50-$200, while larger or complex pieces can cost up to several hundreds or even more.
And yes, while tattoos are a beautiful form of self-expression, it's worth noting potential risks. Make sure your studio of choice has impeccable hygiene standards to minimize the chance of infections or allergic reactions. Aftercare is equally important. Your skin is going to be sensitive, so avoid swimming or prolonged sun exposure till it heals, and always keep it moisturized.
Remember, a tattoo is more than just ink. It's a story, an art piece, a fragment of your journey etched forever on your skin. So, as you dive into this world of bovine beauty, remember to have fun, be fearless, and make your mark.
Feature image from Pinterest
Last reviewed and updated on May 24, 2023