Hey there, ink lovers! If you're on the hunt for a fun, flirty tattoo design, we've got just the thing: Playboy bunny tattoos. As you know, Playboy magazine has long been a symbol of men's lifestyle and entertainment, thanks to its founder, the legendary Hugh Hefner. And let's be real – who can resist that iconic bunny logo? It's been a fixture in popular culture for decades, gracing everything from clothing to art to, of course, tattoos. So, without further ado, we present to you the 10 most unbelievable Playboy bunny tattoos. Get ready to be wowed and maybe even inspired to add a little bunny flair to your own ink collection!
Classic Playboy Bunny Tattoo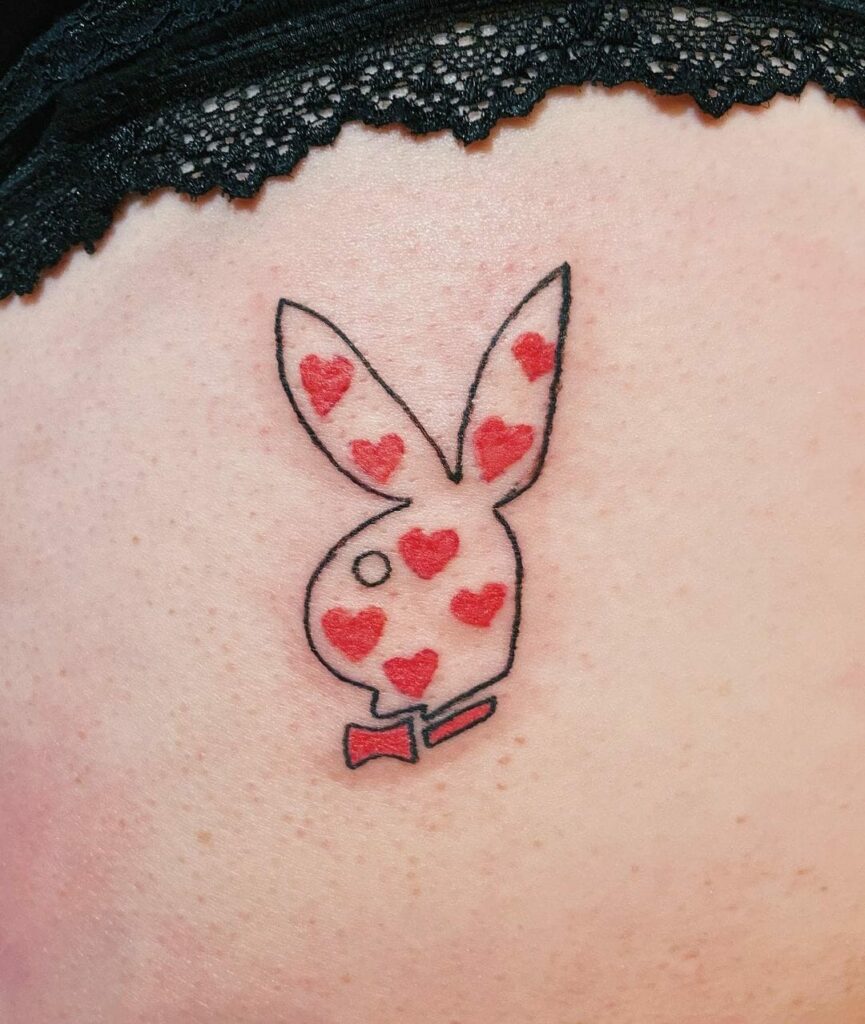 The playboy bunny logo is a timeless symbol that has been synonymous with the Playboy brand for many years, evoking a sense of sensuality, opulence, and indulgence.
This whimsical and delightful design has become a favored choice for those seeking to inject some levity and flair into their body art.
The cute playboy bunny tattoo with hearts is a beloved classic, and is one of the most in-demand playboy bunny logo tattoo designs.
Regardless of your gender, this emblem captures all the elements that people love about Playboy – from its luxurious lifestyle to its mischievous nature.
Neon Playboy Bunny Tattoo
What's better than a classic playboy bunny symbol? A neon playboy bunny!
Yes, this playful purple neon tattoo adds a zing to the classic bunny and makes it look infinitely more rad.
If you are interested in an uber-cool design that is more about the stylish look than the meaning, then this could be your new tattoo!
Magic Bunny Playboy Tattoo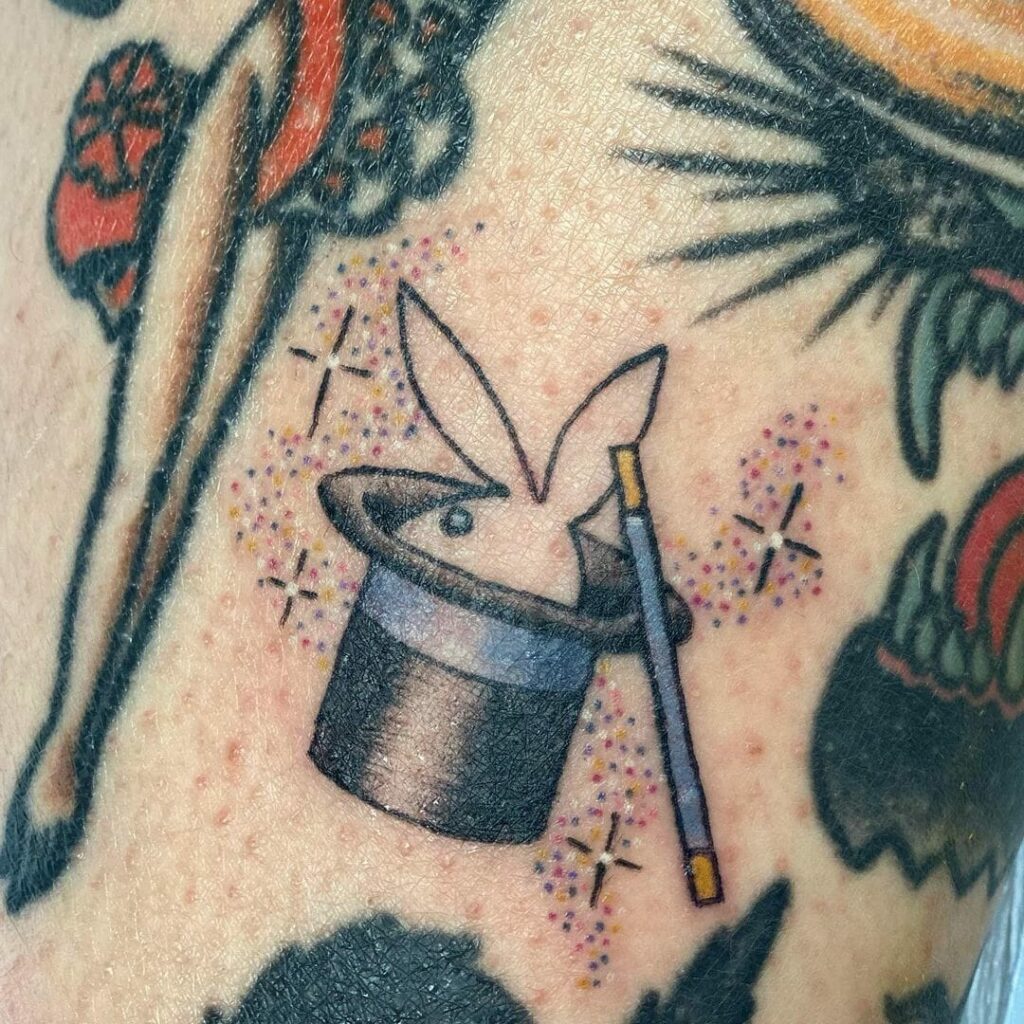 The playboy bunny is a beloved symbol in tattoo art, and this creative design that features the bunny as a magic show prop is especially popular among playboy tattoo enthusiasts.
It cleverly combines two iconic childhood images, creating a charming and whimsical design that is sure to make you look cute and stylish.
Beyond its playful exterior, this playboy bunny tattoo can also be seen as a representation of your own inner magic and mystery. So if you're looking for a tattoo that captures both your fun-loving spirit and your sense of wonder, this design may be perfect for you!
Bunny With Roses Playboy Tattoo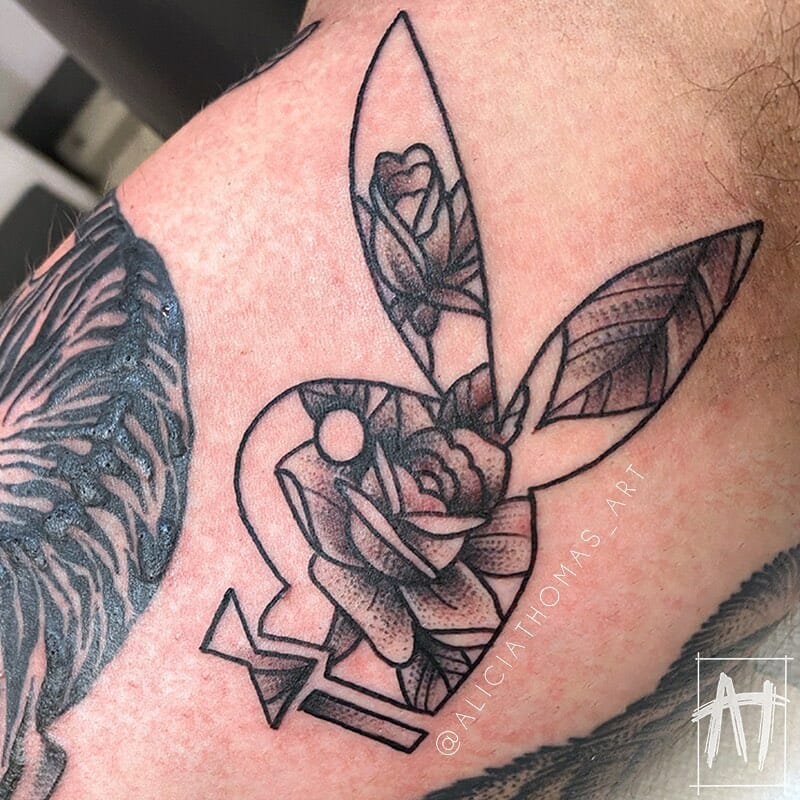 The rose is an age-old symbol of love, so it's no surprise that it is often combined with the iconic playboy bunny to create a tattoo that exudes sensuality and romance.
This stunning black ink playboy bunny tattoo is the epitome of cool and will definitely make a statement wherever you choose to place it.
So if you want a tattoo that is both edgy and meaningful, then a playboy bunny with a rose design is definitely worth considering!
Graphic Playboy Bunny Tattoo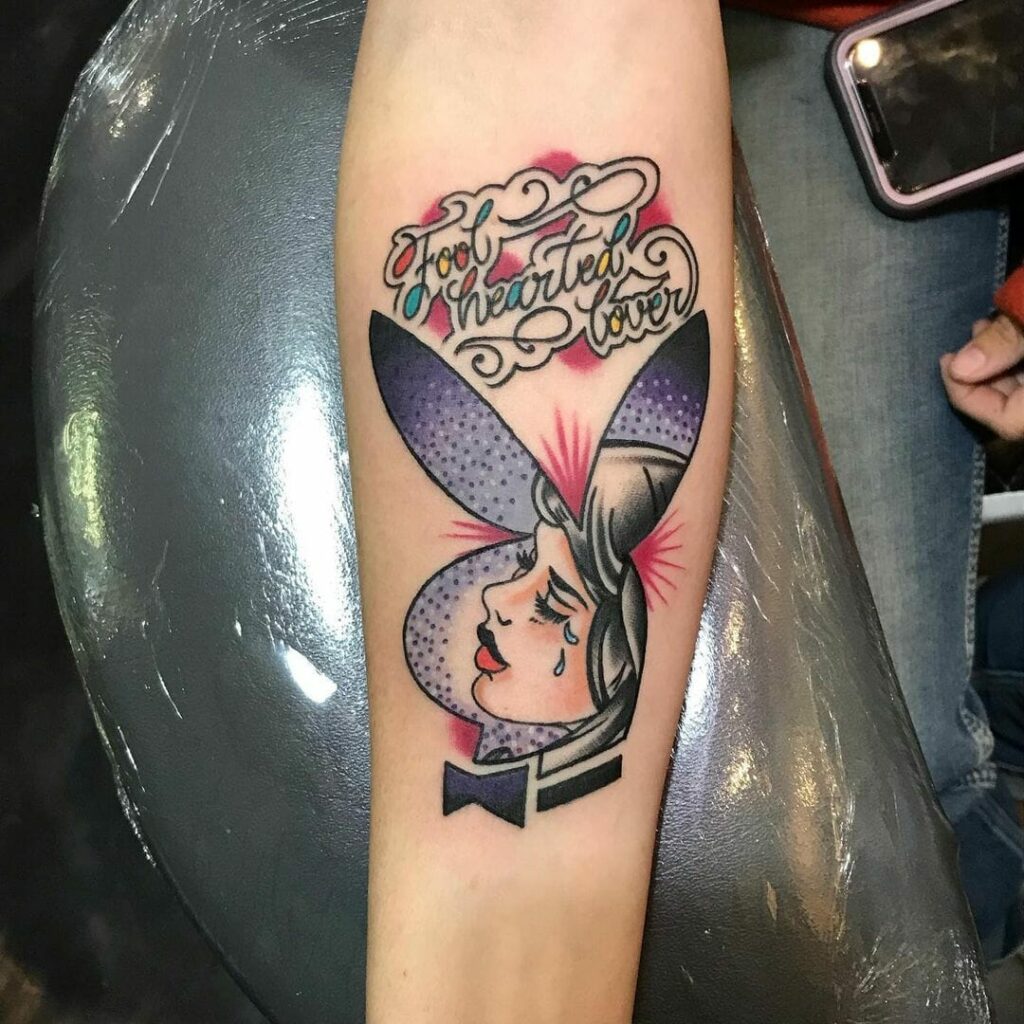 This playboy bunny tattoo with a unique graphic style is a fresh take on a classic design that's sure to catch the eye.
The skilled tattoo artist who created this piece deserves recognition for their talent and creativity.
The inclusion of the phrase "fool-hearted lover" adds a touch of romance and emotional depth to the tattoo, making it a great choice for those who want a design that represents their feelings on love.
If you're looking for a standout playboy bunny tattoo that combines style and sentiment, this one is definitely worth considering!
Sensual Woman Playboy Tattoo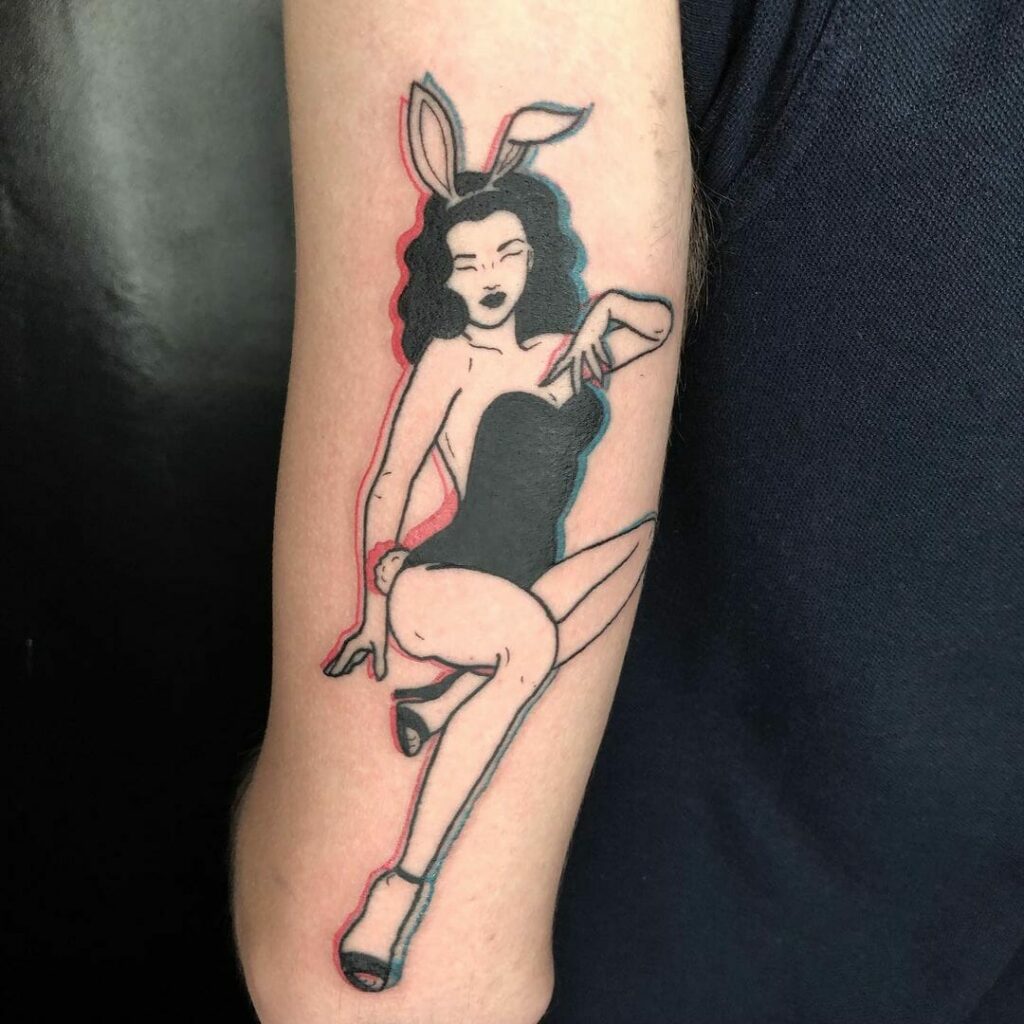 Playboy Magazine fans are well aware that the stunning women featured in its pages were the stars of our fantasies!
This alluring playboy bunny tattoo features a beautiful woman posing, making it one of the most sought-after playboy bunny tattoo designs.
With a timeless appeal, this tattoo captures the essence of Playboy's classic style. If you are looking for a sexy and stylish playboy bunny tattoo, this one should definitely be on your list!
Ripped Playboy Bunny Tattoo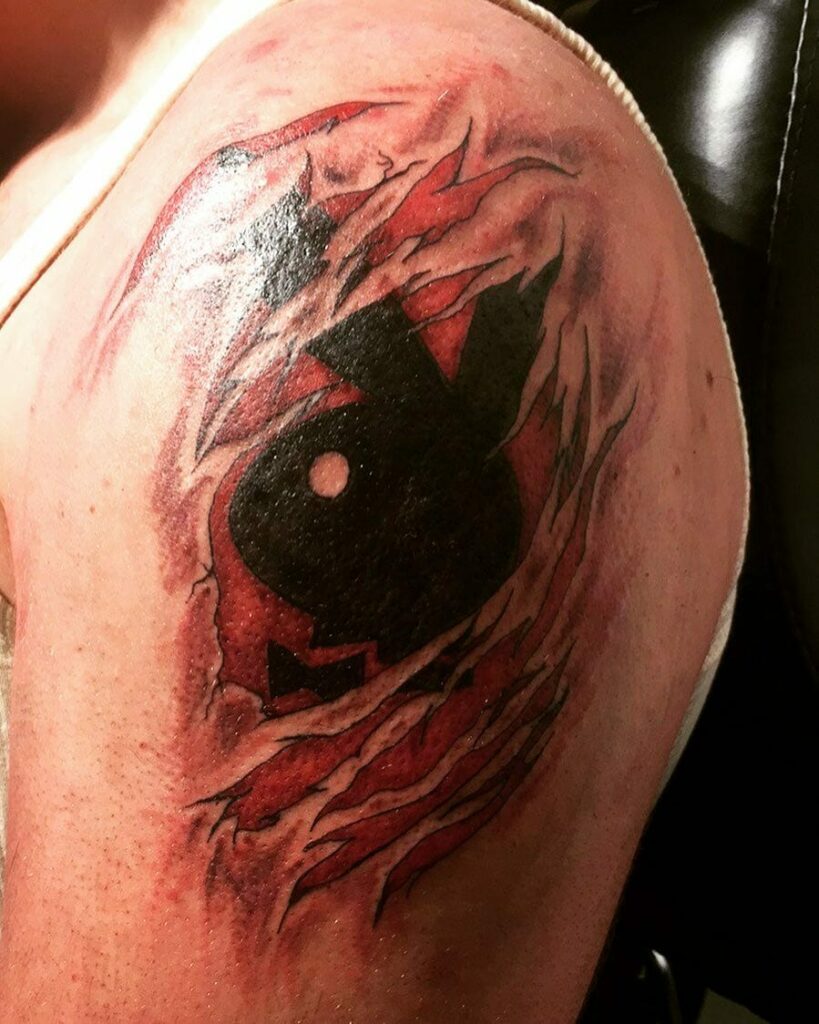 One of the great things about the playboy bunny tattoo is its versatility – it can be customized to fit any style or personal meaning. Take, for example, this fierce tattoo featuring a playboy bunny breaking through the skin with flames. The bold and edgy design gives off a grunge vibe that is both erotic and captivating. Whether you're a guy or a gal, this playboy bunny tattoo is sure to make a statement and show off your fiery personality.
Bunny Skull Playboy Tattoo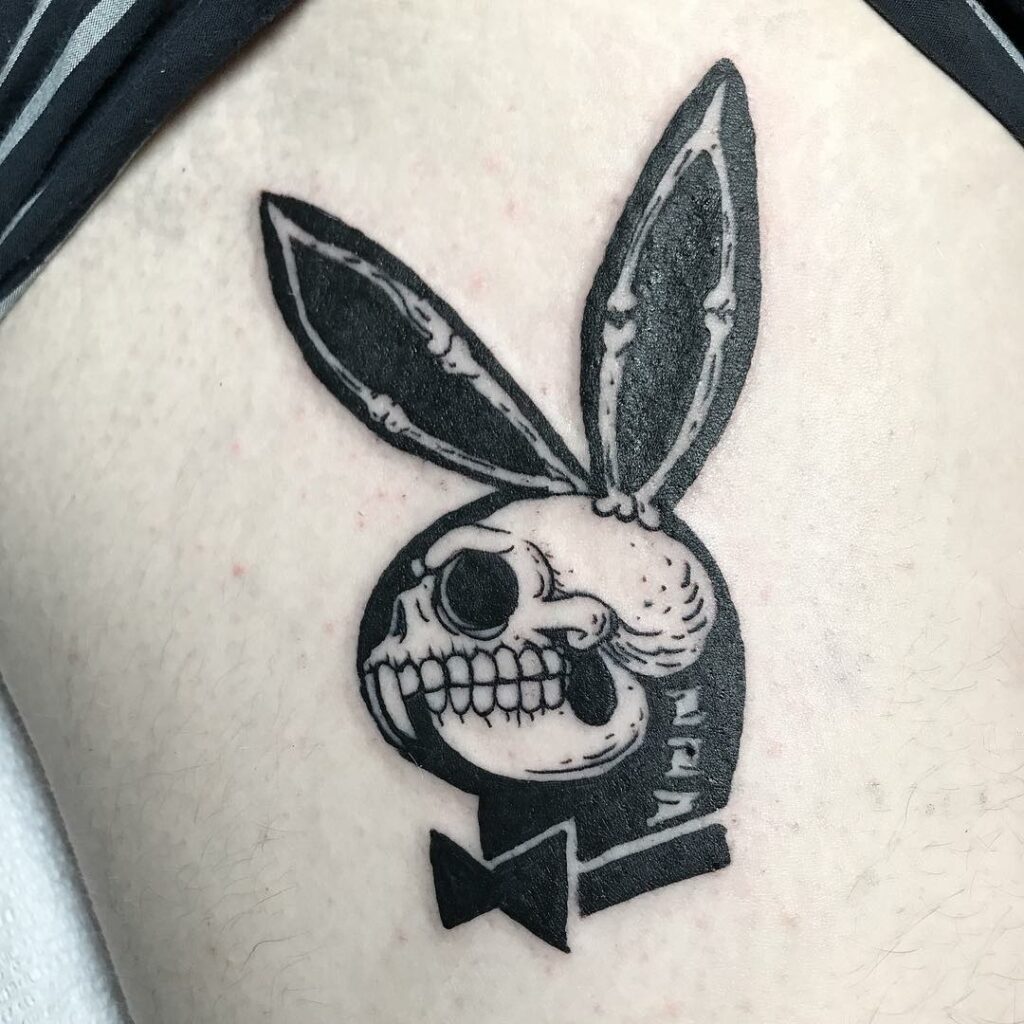 This playboy tattoo is a daring combination of the iconic bunny with a skull – a striking representation of the themes of love and life. Whether you want to show your dedication to love or simply want a bold and edgy tattoo, this design is sure to turn heads! Popular among men, this tattoo is versatile enough to look stunning on anyone who chooses to wear it. Make a statement with this impressive body art and stand out from the crowd!
Shadow Playboy Bunny Tattoo
The classic playboy bunny tattoo with its signature hand gesture is one of the most popular designs among tattoo enthusiasts. The bunny's hand gesture is a nod to the sexy women who have graced the pages of Playboy magazine over the years. This simple yet striking design is perfect for anyone looking to show off their playful and seductive side. Whether you're a man or a woman, this tattoo is a timeless choice that is sure to turn heads.
Eagle And Playboy Bunny Tattoo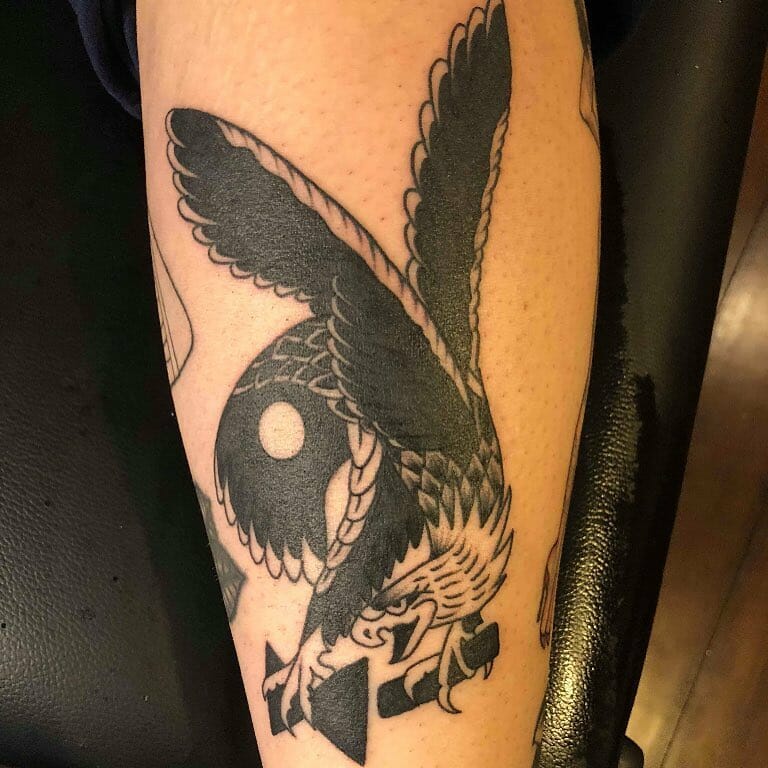 The playboy bunny is often paired with different symbols and styles to convey various meanings. One popular choice is the eagle, which represents freedom, creating a powerful and meaningful tattoo design. The combination of the playboy bunny and the eagle symbolizes sexual freedom and liberation, making it an ideal choice for those who want to express themselves freely. This striking tattoo is not only visually impressive, but it's also an excellent way to showcase your beliefs on love and sex.
The playboy bunny tattoo has long been recognized as a symbol of sexual liberation and pleasure. It represents a playful and seductive side of one's personality and has become a popular choice for both men and women alike. Women often choose the playboy bunny as a bold expression of their sexuality, while men have long been fans of the franchise and its iconic bunny emblem. Whether it's a playful, sexy, or seductive mood that you're after, a playboy bunny tattoo is sure to capture that essence!
Feature Image from Pinterest – Want your tattoo to look brighter? Try "Tattoo Balm"
Last reviewed and updated on April 23, 2023