Are you tired of an old tattoo design and want to update it without the pain of laser removal? Tattoo cover-ups are the best solution, and we've got you covered with the most incredible cover-up tattoo ideas.
Tattoo artists with incredible talent can cover up any old tattoo design, and there are many ways to do so. Tattoos are often very sentimental and people get them to remember significant events in their lives. However, sometimes we grow out of the phases we were in or no longer connect with the tattoo design. That's where tattoo cover-up ideas come in handy! Instead of going through the painful process of laser removal, you can opt for cover-up tattoos. We've put together a list of the most astonishing and simple black tattoo cover-up ideas for you to choose from.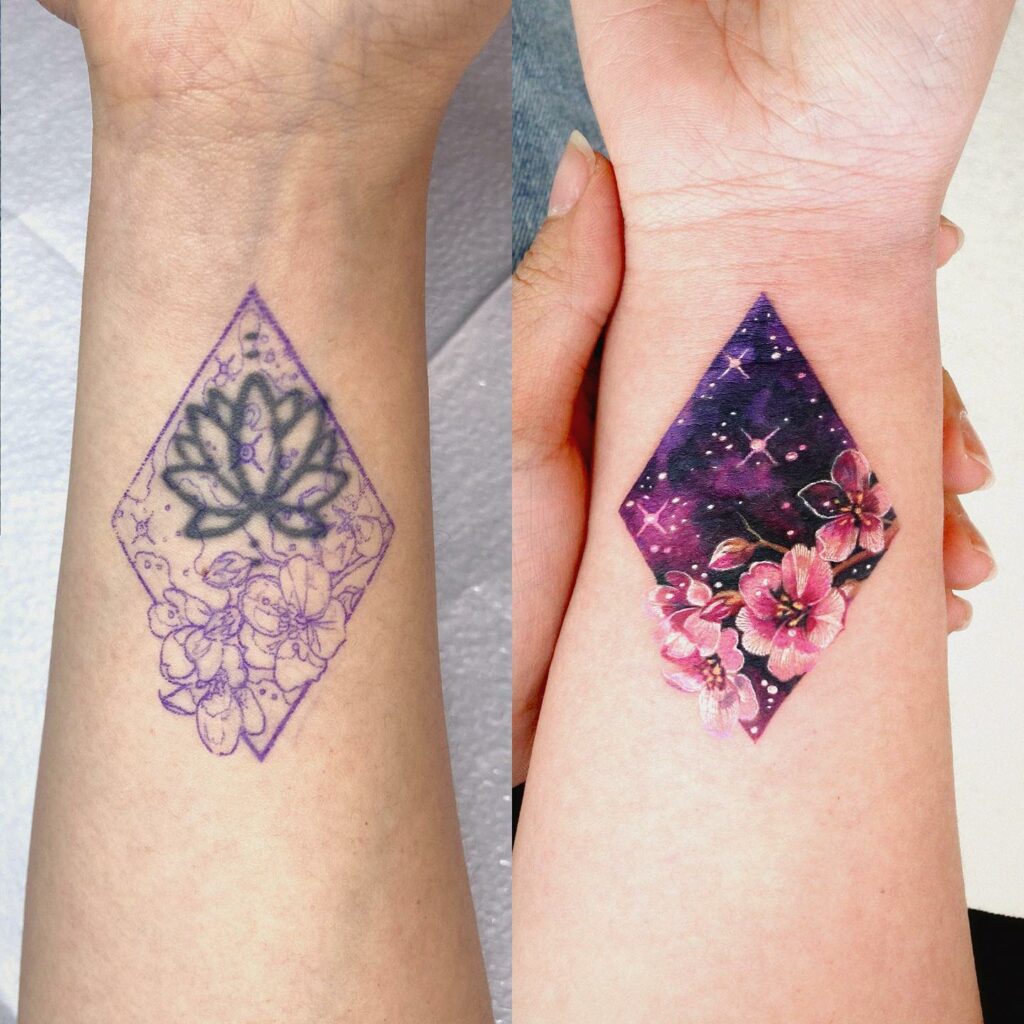 Dragon Maximum Coverage Cover Tattoo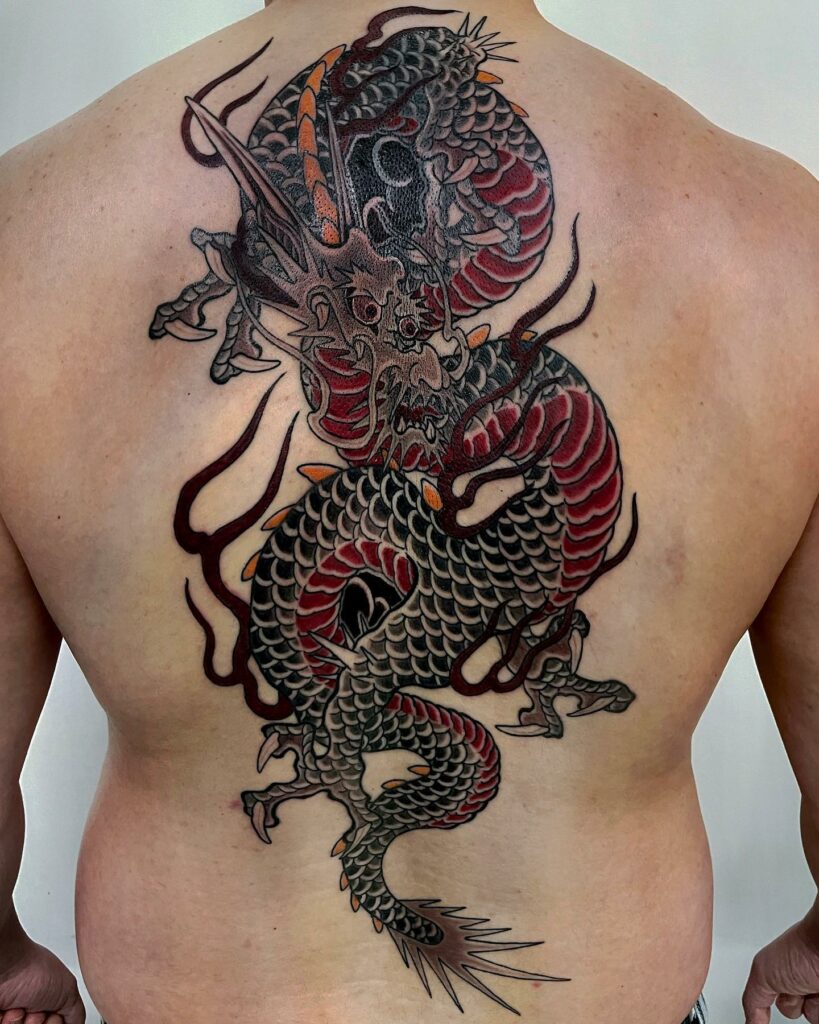 The back is a prime location for a tattoo canvas, and a large dragon tattoo can be particularly impressive. The intricate detailing of the dragon's features is carefully executed with darker shades of black, orange, and red ink, preserving the correct proportions and integrity of the design. Those who choose a dragon tattoo for their back tend to exude confidence and self-assurance, with the tattoo often symbolizing their core values and beliefs. This placement is a hot spot for tattoos and provides a seamless body flow that creates a visually stunning impact.
Monster Cover-Up Tattoo On Forearm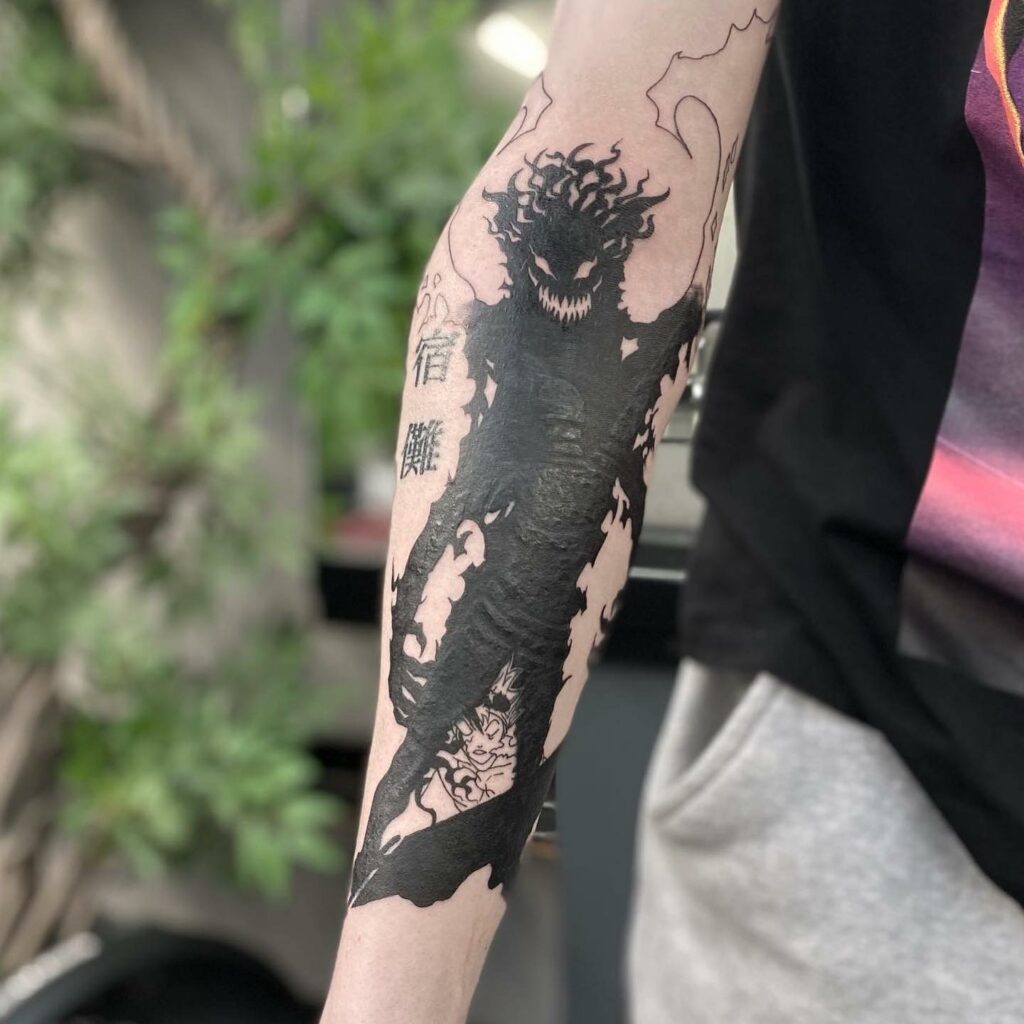 Cover-up tattoos are an excellent way to revamp an older design that no longer speaks to you. This all-black cartoon monster tattoo is a perfect example of a successful cover-up, as it completely conceals the previous ink on the forearm. The dark shading of the monster's torso adds a layer of mystery and depth to the design. Using only black ink, this tattoo is a perfect option for those who want to achieve a monochromatic aesthetic. This particular monster tattoo is an excellent choice for anime fans looking for an alternative wrist or forearm design. If you're ready to move on from an older tattoo, this cover-up option might be just what you're looking for.
Cute Cat Clever Placement Cover-Up Tattoo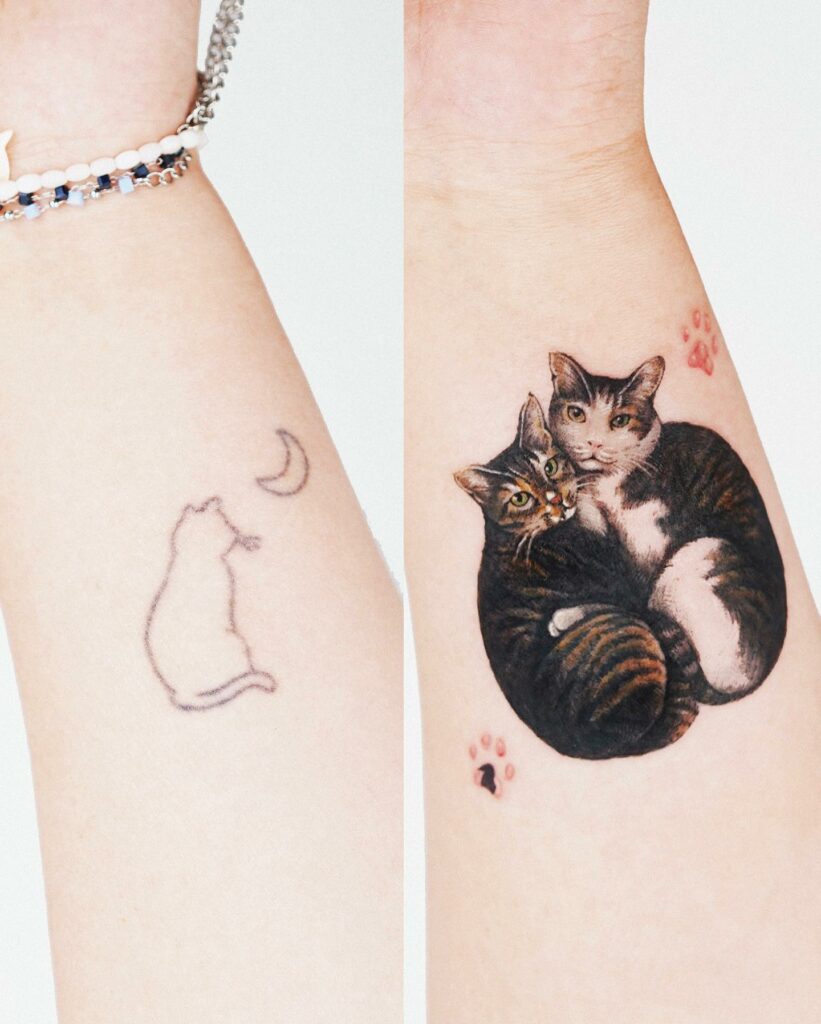 Feast your eyes on this stunning hyper-realistic cat tattoo that is both heartwarming and charming. When it comes to cover-up tattoos, the right placement and color choice are crucial, and this gorgeous cat tattoo is a perfect example of that. If you already have a simple cat tattoo that you wish to transform into something more captivating, this adorable cat cover-up tattoo will make a delightful wrist adornment.
The artist has painstakingly created two adorable kitties, using a blend of black, brown, orange and white ink to give the tattoo a lifelike appearance. Since the new tattoo is larger than the old one, using it as a cover-up design is an excellent choice. Whether you are an avid cat lover or just appreciate exquisite artwork, this tattoo is sure to steal your heart.
Stars To Galaxy Cover Small Tattoo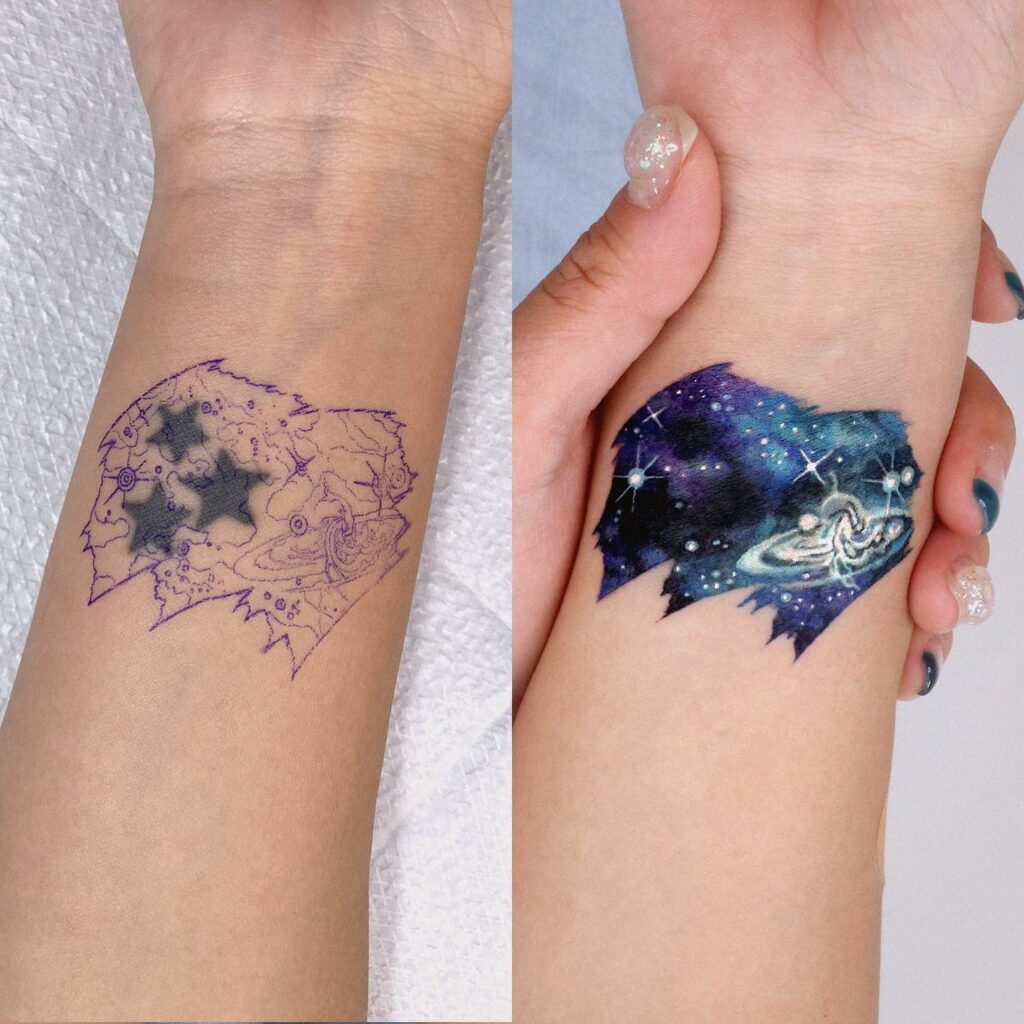 Stars have been a popular tattoo design for decades, especially in the early 2000s. If you're one of those people who jumped on the bandwagon and now regret your small star tattoo, have no fear! A galaxy tattoo might be the perfect cover-up. This beautiful galaxy tattoo is designed to incorporate shades of black, deep blue, sky, and white to create a stunningly realistic depiction of outer space. The white ink is particularly effective in capturing the milky way and other stars in the galaxy. This tattoo could be the perfect way to upgrade your old star tattoo into a larger and more complex design that you will love for years to come!
Rose Dark Ink Covering Tattoo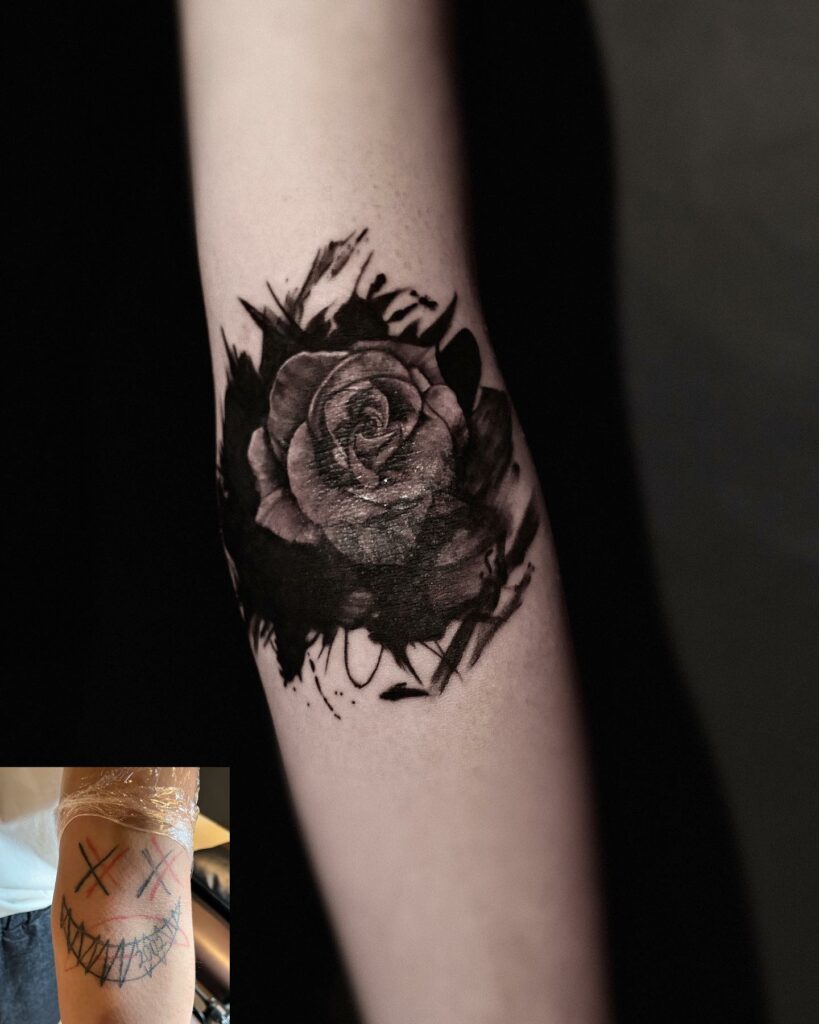 Black roses are a unique and captivating tattoo choice that can symbolize transformation, hope, and new beginnings. These blooms are especially meaningful because they represent rebirth and optimism in the face of difficulty. The contrast of the deep black ink against the negative space or dark background highlights the intricate details of the rose petals, resulting in a striking and elegant tattoo.
While black roses may be associated with mourning and grief due to their connection with death, they are also often used to commemorate loved ones who have passed away. Thus, these tattoos serve as a symbol of both love and loss, making them a meaningful and heartfelt tribute to those who have passed on.
If you're considering a cover-up tattoo or a new design for your forearm, a black rose tattoo can be an excellent choice. The size and dark coloration of the rose make it a bold and impactful design, perfect for those who want to make a statement with their body art.
Snake X Sword Previous Tattoo Cover-Up Work
Covering up a tattoo can be challenging, as the new design must be larger than the old one to ensure complete coverage. If you're searching for a new cover-up tattoo without undergoing laser tattoo removal, consider this snake and sword design. This tribal-inspired tattoo features a sword and snake motif that looks incredibly realistic and covers a large area of your back thanks to its precision and shading.
The serpent wrapped around the sword appears stunningly lifelike due to the artist's careful attention to proportion and shading. The skin of the tattoo has been expertly shaded to create a sense of depth and realism that truly brings the design to life. Not only does this tattoo cover up the old ink flawlessly, but it also provides an impressive update to the previous design. If you're looking for a bold and impressive cover-up tattoo, this snake and sword design may be just what you need.
Cool Scorpio Cover Body Artwork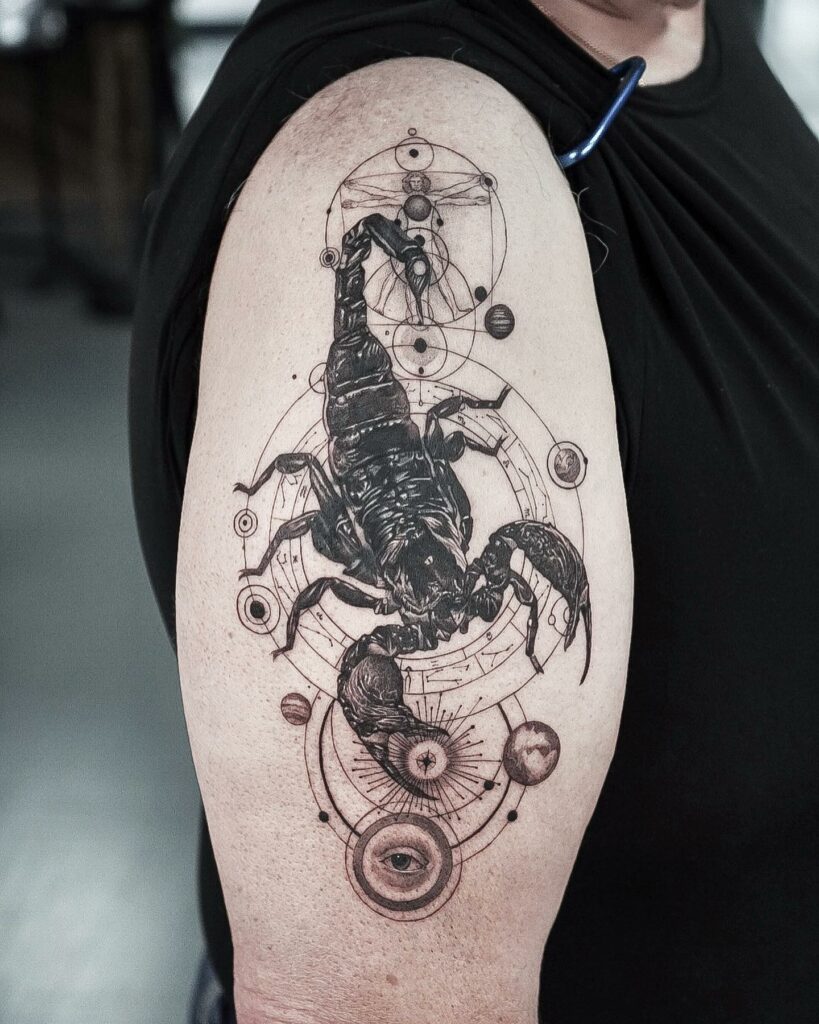 When selecting a cover-up tattoo, it's crucial to ensure that you don't overcrowd the space. One stunning cover-up design is this unique Scorpio tattoo, which features geometric shapes in the background, giving it an astronomical appearance. The original tattoo was also a Scorpio, but it was smaller. The Scorpio's body is inked in deep black, while the background features various astronomy-related patterns, drawn in thin black lines. If you're a fan of astronomy and searching for a stylish Scorpio cover-up tattoo that flawlessly conceals an existing tattoo, this could be an excellent choice. The attention to detail in every line and circle is exquisite, including elements like eyes, planets, and more. If you're looking for an elegant tattoo cover-up idea, this could be the perfect fit for you.
Skull Cover-Up Ink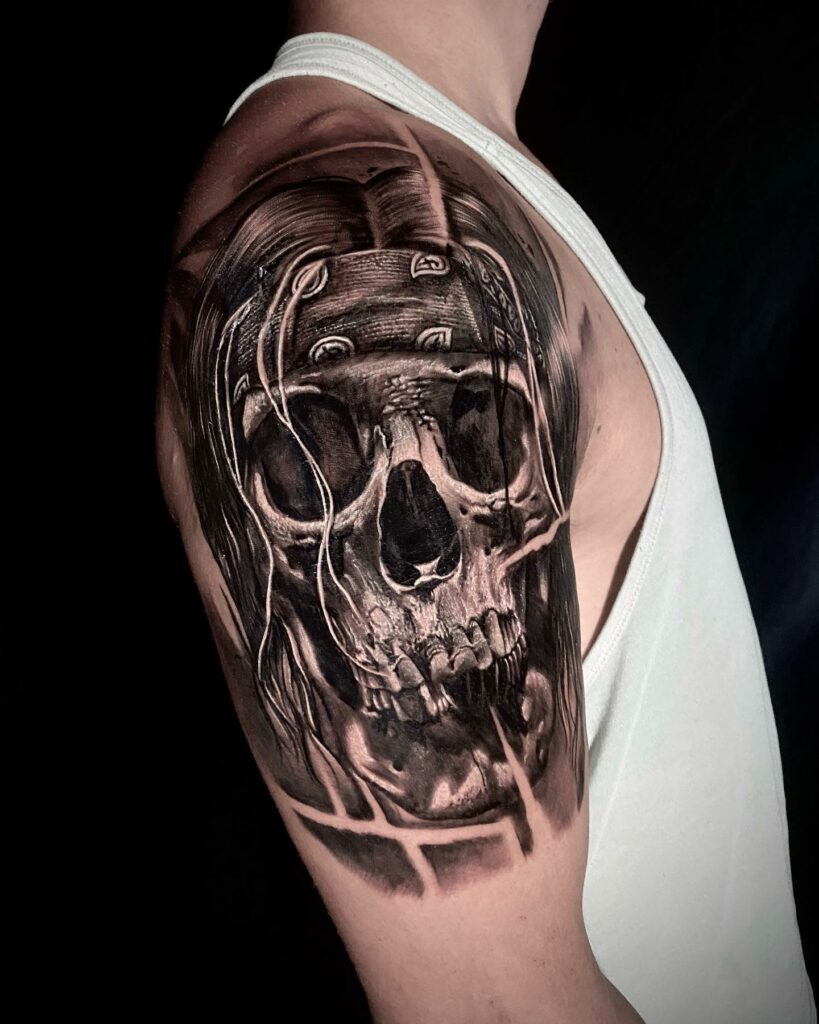 Skull cover-up tattoos have become increasingly popular due to their striking and ominous appearance. Covering up an old, faded tattoo or avoiding laser removal is possible with the broader designs available to the artist, offering more creative freedom to create something skillfully unique. This intricate skull design with a bandana on the forehead stands out from other skull tattoos, which typically feature horns, fangs, or fiery eyes. The skull is a symbol of temptation and the darker side of human nature, making it a popular choice for those wanting to express these themes in their tattoo. If you're looking for a large and striking cover-up tattoo, this skull design is sure to make a bold statement.
Night Sky Cover-Up Tattoo Ink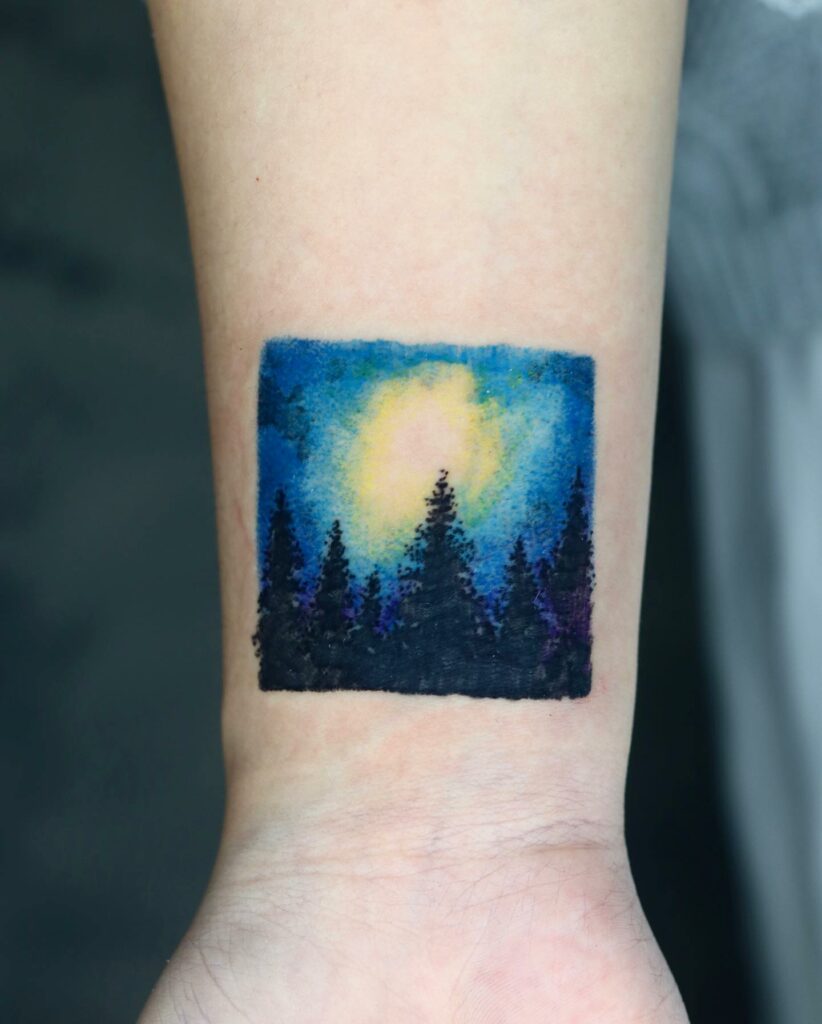 Looking for a more vibrant tattoo idea? Look no further than this night sky forest tattoo. This cover-up tattoo is a beautiful and creative way to conceal an old numerals tattoo. The colorful square night sky features a watercolor effect with stunning shades of blues, yellows, black, and white ink. This tattoo is the perfect option for those looking to completely cover up an unwanted tattoo.
The night sky forest tattoo can be customized with additional elements such as stars or a moon. The cover-up process can be time-consuming, but the gradual fading of the blues and yellows adds a touch of elegance to the final result. This tattoo is a popular choice for those looking to cover up old ink with a more striking design. It's crucial to choose a professional tattoo artist to achieve the perfect look of the tattoo. Remember, an unwanted tattoo is not the end; it can be transformed into something beautiful.
Butterfly X Flower Cover-Up Tattoo Ideas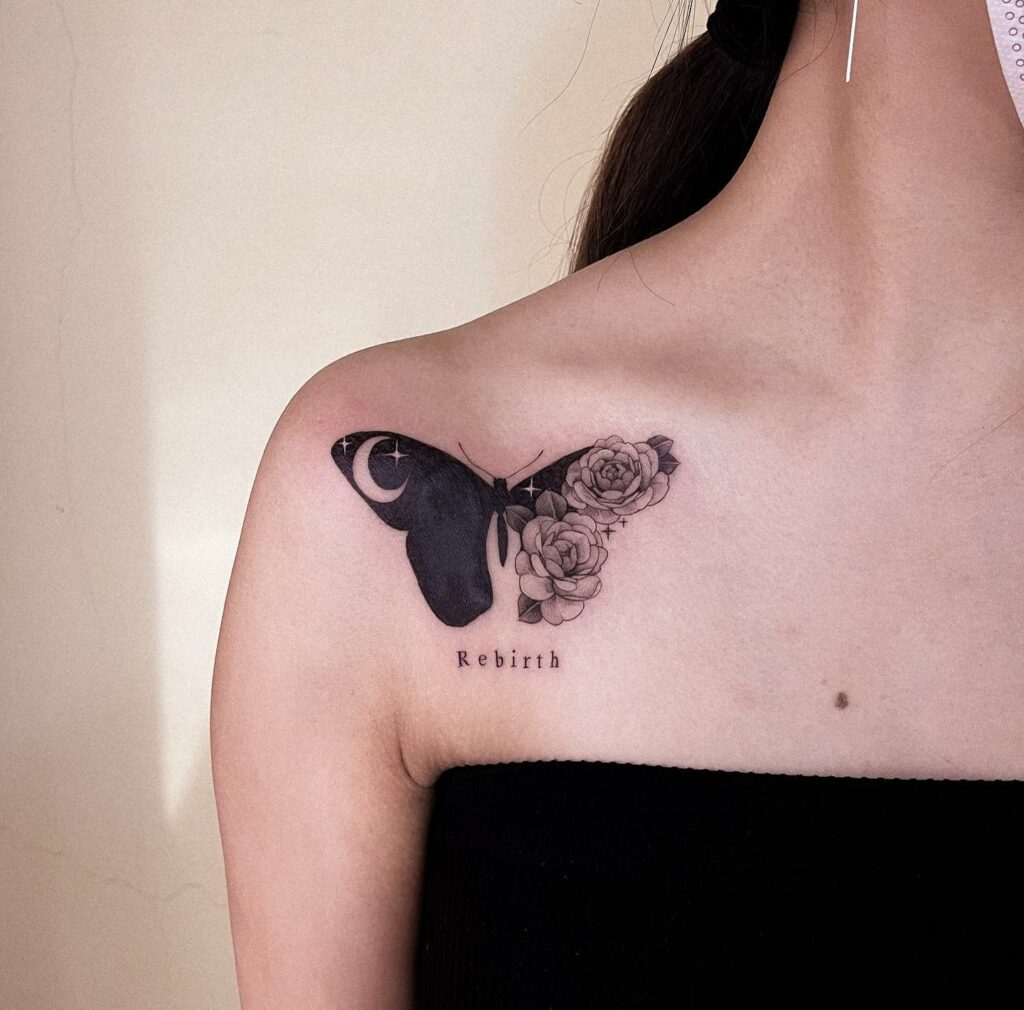 This eye-catching design features a bold black butterfly with intricately detailed flowers on one wing and a crescent moon with stars on the other. The flowers are expertly shaded and dotted, making them truly beautiful to behold. The entire tattoo is done in completely black ink, ensuring that it covers up any previous tattoos seamlessly.
Underneath the tattoo, you'll find the word "rebirth," making this design an ideal choice for those seeking to embrace new beginnings. The butterfly symbolizes growth and transformation, making it a perfect choice for a cover-up tattoo. This stunning tattoo is sure to turn heads and make a lasting impression. When getting a tattoo removed, it's essential to remember that you're making space for new experiences and growth. So why not embrace it with a beautiful new tattoo? Just be sure to choose a skilled and experienced tattoo artist to bring your vision to life.
feature image from Pinterest – Want your tattoo to look brighter? Try "Tattoo Balm"
Last reviewed and updated on April 7, 2023