If you want to show that your life has a harmonious balance or want to achieve it, then a symmetrical tattoo is a great idea to do so.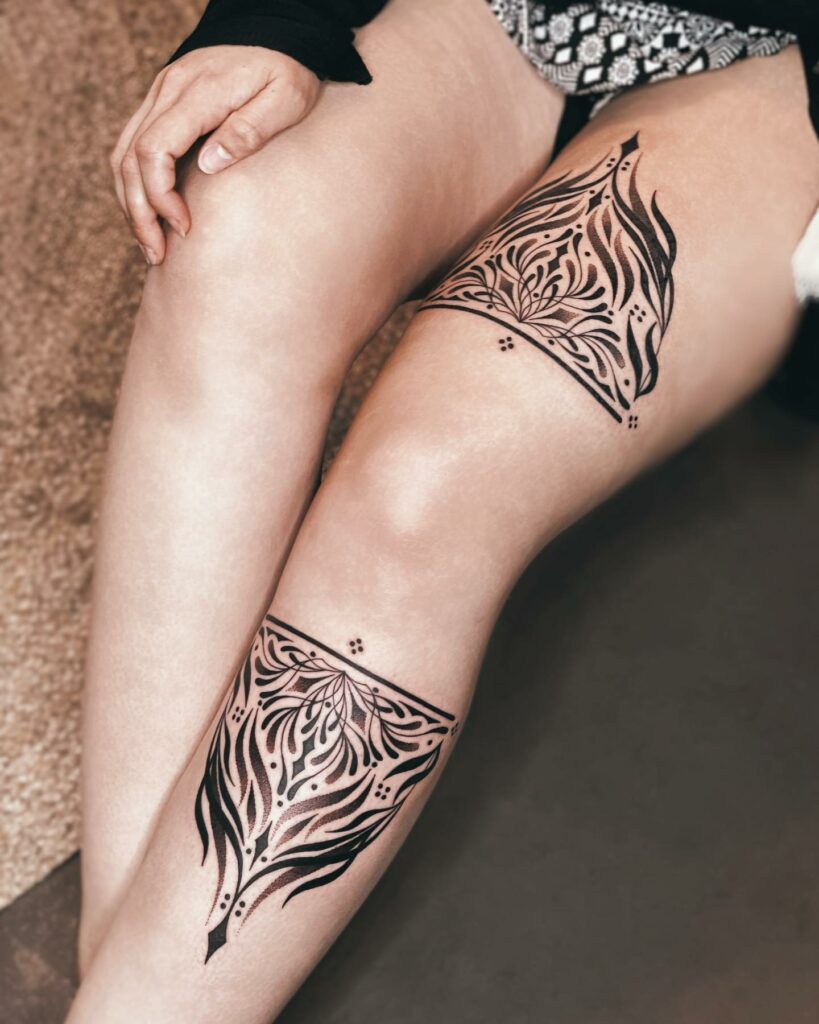 Derived from the Greek word symmetria, the meaning of symmetry is a sense of balance and proportion.
From the perspective of mathematical geometry, an object is said to be symmetrical if it can be divided into two equal halves. The line in the middle that divides the object into two equal halves is called the line of symmetry.
The line of symmetry can be further divided into three portions vertical, horizontal and diagonal. Nature itself taught humans the concept of symmetry through its flora and fauna, and human beings later used it in making several things ranging from architecture to art. The harmonious balance and proportion made it famous, and it got slowly imbibed into the tattoo culture around the world.
Simple Symmetrical Tattoo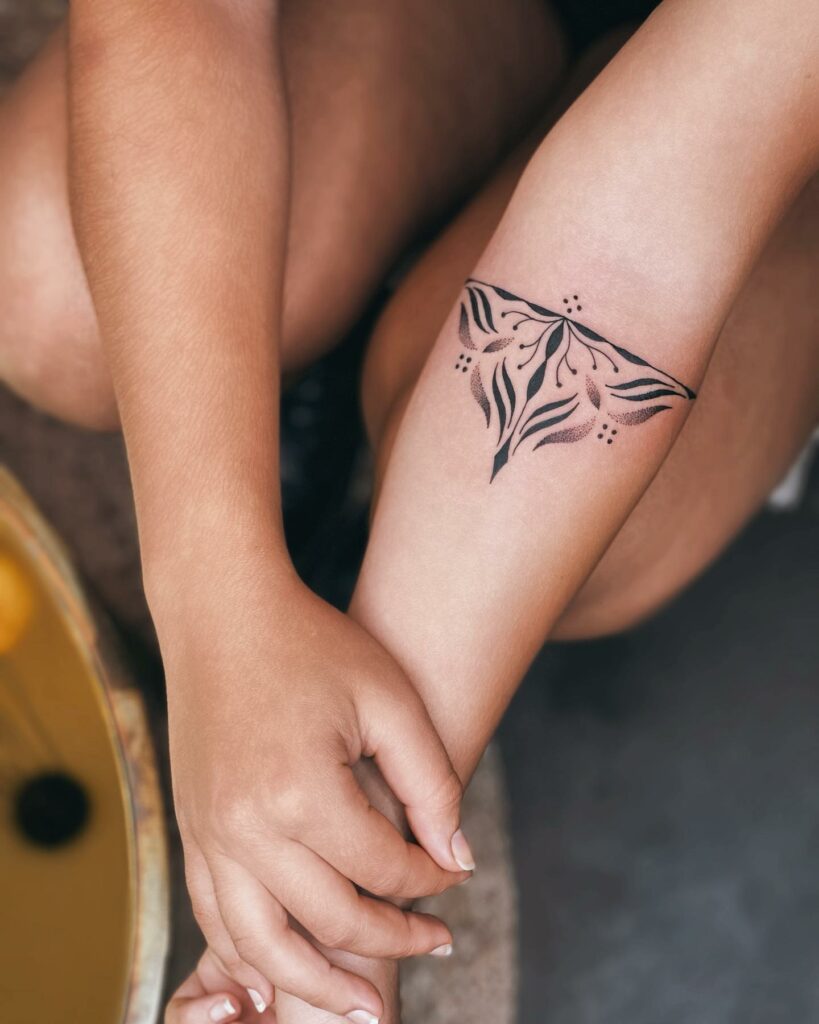 The concepts of harmony, balance, stability, and order are reflected in these symmetrical tattoo ideas. The size of this particular design ranges from small to medium and is done with elementary designs. The best places to put these designs on our body are the forearm, wrist, bicep, chest, thigh, back, and shin.
The color of choice is mostly black ink, and this design is equally popular among men and women. While getting a symmetrical tattoo, one thing must be kept in mind, a good and experienced tattoo artist must be selected. An amateur artist can blotch the symmetry, and then the tattoo would have no value.
Symmetrical Star Tattoo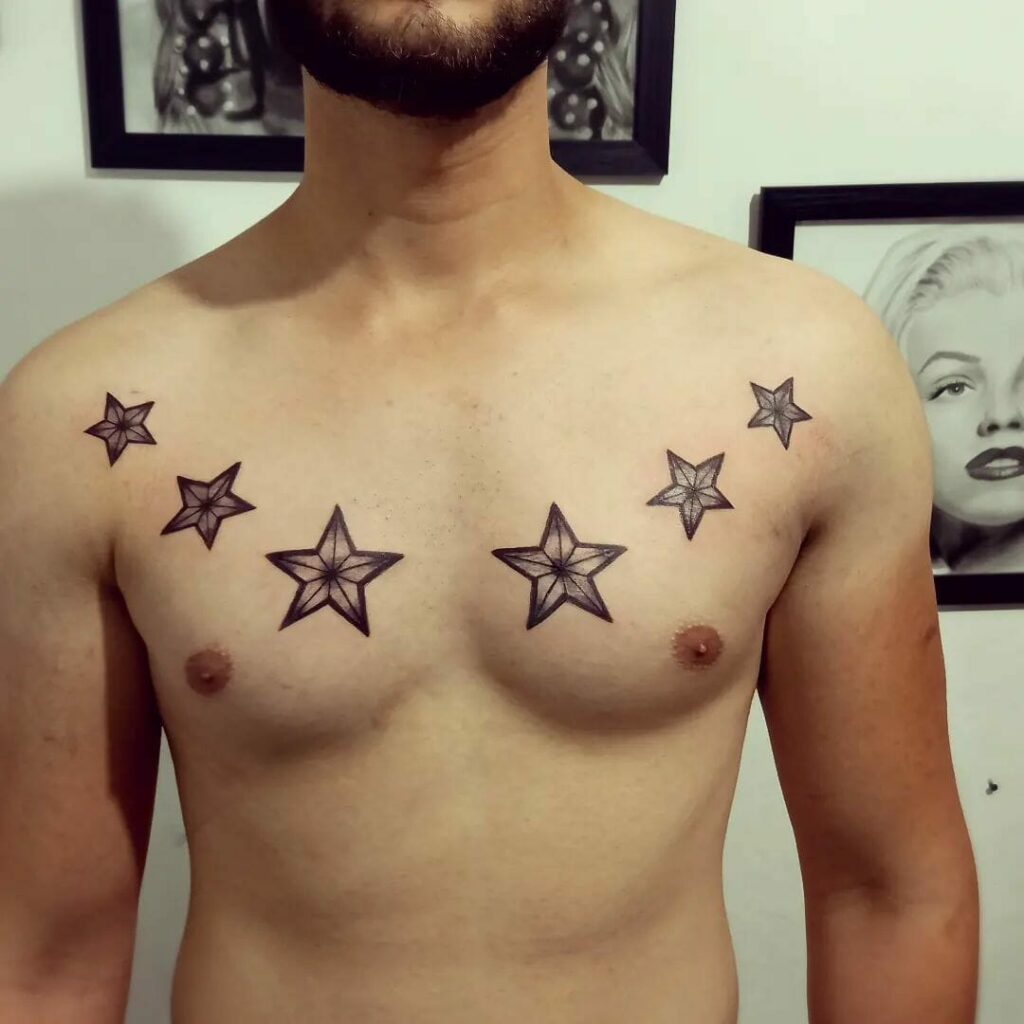 One of the most popular symmetrical tattoos is the star tattoo design. The drawings that are extremely favorable both among men and women are the pentagon stars. These symmetrical tattoo designs demonstrate the concept of honor, desire, hope, guidance, and intuition. They can be done as large tattoos and put on the back, thighs, chest, and bicep, or they can be done as small tattoos, inking them on the wrist, neck, back of the ear, and ankle.
Extremely aesthetic in nature, star tattoo ideas also have a religious leaning. They have often been considered to be the symbol of spirituality and are also done by religious people. The six-pointed star in Judaism is known as the star of David, which is an extremely important Jewish symbol.
Symmetrical Feet Tattoo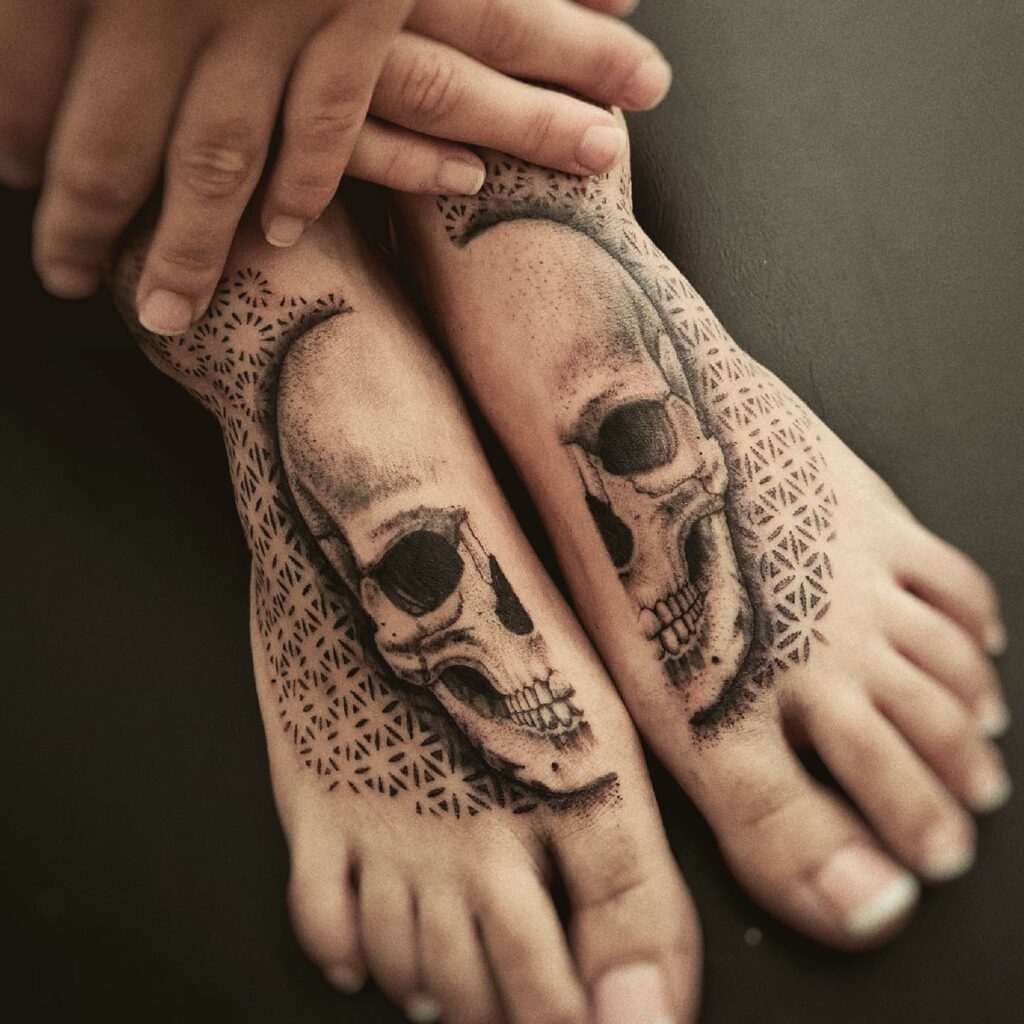 The feet symmetrical tattoo designs are done by people who are shy or introverted. It is a place that is mostly covered with socks or shoes, and the person does not want to share their feelings with anyone instantly. Ranging from small to medium, the size of the tattoo is decided by the tattooer. But the artists suggest getting these tattoos done on both feet in order to show a cool and great sense of symmetry.
The choice of ink for these tattoos is mostly black, and designs include skulls, mandalas, flowers, stars, or circle patterns. As the foot is something that we use to balance and walk, these symmetrical tattoo ideas are associated with the sensual and peaceful side of the tattooer and also their spiritual journey.
Mandala Symmetrical Tattoo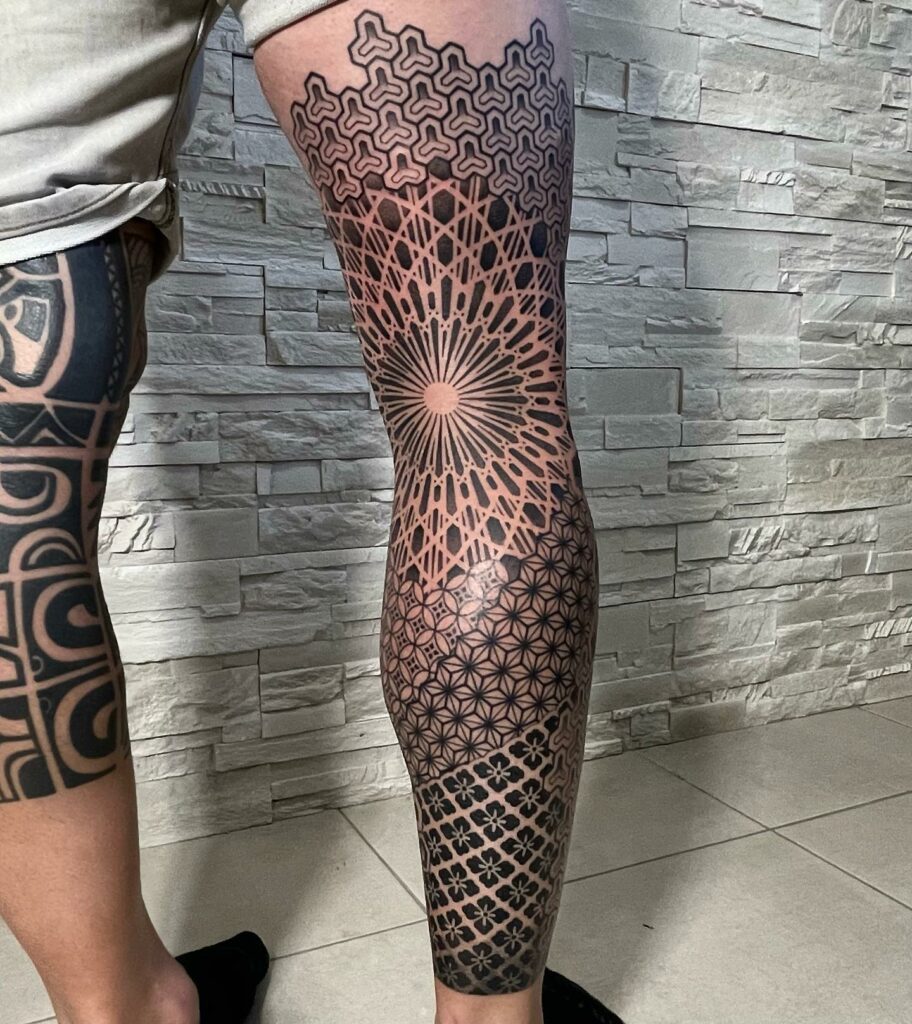 Compiling several symmetrical geometric shapes, the mandala tattoos are made and have a variety of interesting meanings. From doing them as cute designs on the ground to inking them on the body, mandalas are extremely popular in many cultures. The best site to put these tattoos on the body is any portion of the arms, legs, and back, and it totally depends on the tattooer.
Generally, a mandala represents the concept of balance, perfection, and eternity. While in Hinduism, it is considered to be the tool to view the cycle of occurrence, reoccurrence, and existence, in Buddhism, it demonstrates the concept of a fine balance between mind and body. Even they have been incorporated in some church designs too. So the owner of mandala tattoos can reflect the balance they have in life with the help of their faith.
Flower Symmetrical Tattoo
Extremely popular among women, the flower symmetrical tattoos are one of the in-demand tattoos in the industry. Each flower has a different meaning to offer, and that makes them a great design for varied preferences. The best place to put these tattoo ideas is on the forearm, wrist, shin, back, bicep, and thighs. Either traditional black ink is used, or the color of the flower is used to get this symmetrical tattoo done.
Rose represents passion and love, lily represents purity and integrity, sunflower demonstrates warmth and joy, and many such ideas are reflected by this tattoo. The most popular symmetrical tattoo is the lotus flower which can be found in many cultures like Hinduism and Buddhism. When done using a symmetrical design, it represents purity, beauty, and spiritual awakening.
Small Symmetrical Tattoo
Recently, small symmetrical tattoos are becoming extremely popular among men and women for a variety of reasons. These small tattoos have an extremely slick and cool look and blossom well in the wrists, forearms, ankles, neck, behind the ears, and back. Monochromatic ink is mostly used and the color can be chosen from any primary ones.
These small tattoos take very less time to get completed and that has increased their demand. But while getting these tattoos, one must go to an experienced tattoo artist. Getting symmetry in these small designs can only be achieved by an experienced person.
Metatron Cube Tattoo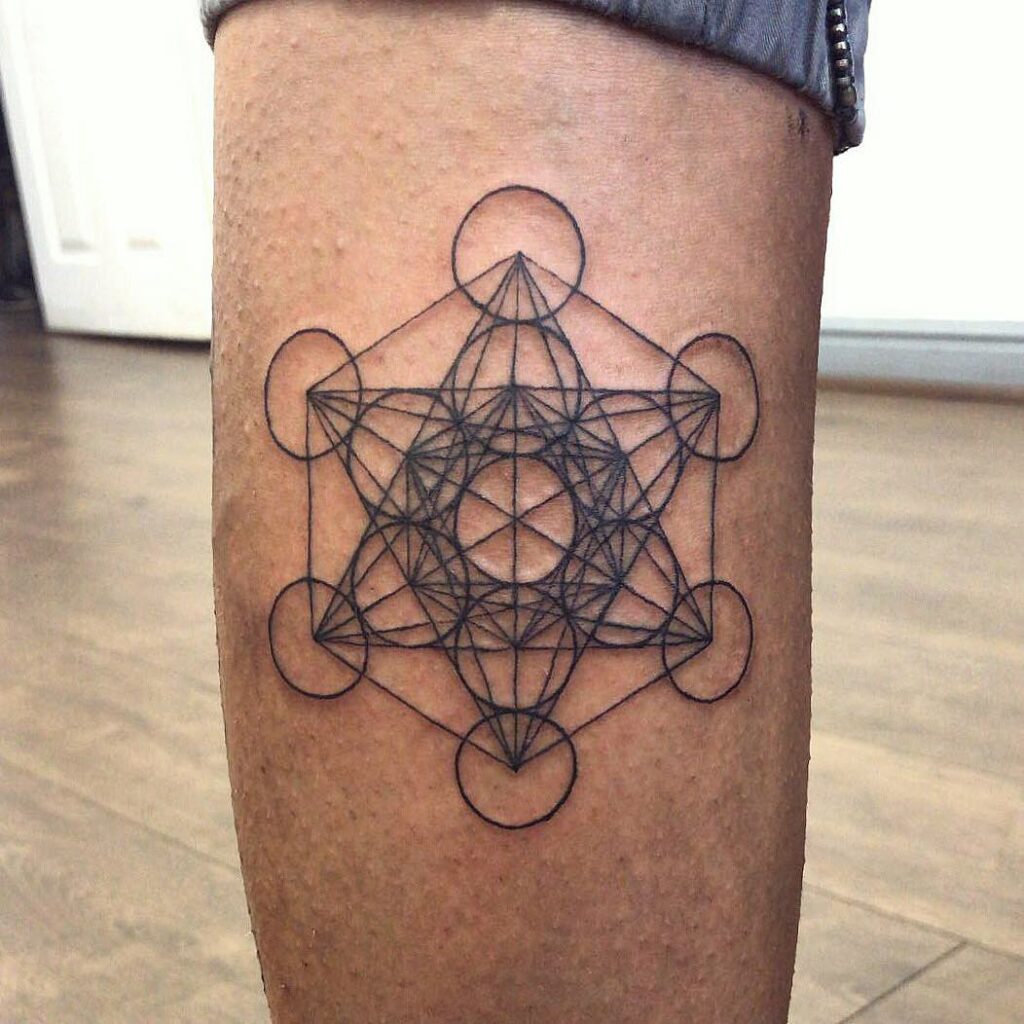 One of the unique symmetrical tattoo designs is the Metatron Cube. Several symmetrical shapes are used to create this tattoo idea and are worn by devotees who follow Kabbalistic ways of life. The tattoos are quite large in nature and are best suited in places like the chest, back, thighs, shin, and bicep.
Mostly black ink is used to create this tattoo design, and they can be made in a variety of ways ranging from dot work to line work designs. The design is associated with Enoch who was later appointed as a powerful angel of God and whose duty was to guard the secrets of heaven and note the actions of humans on earth. These symmetrical tattoos have associations with the concept of enlightenment and also help to transform negative energy into positive energy.
Butterfly Symmetrical Tattoo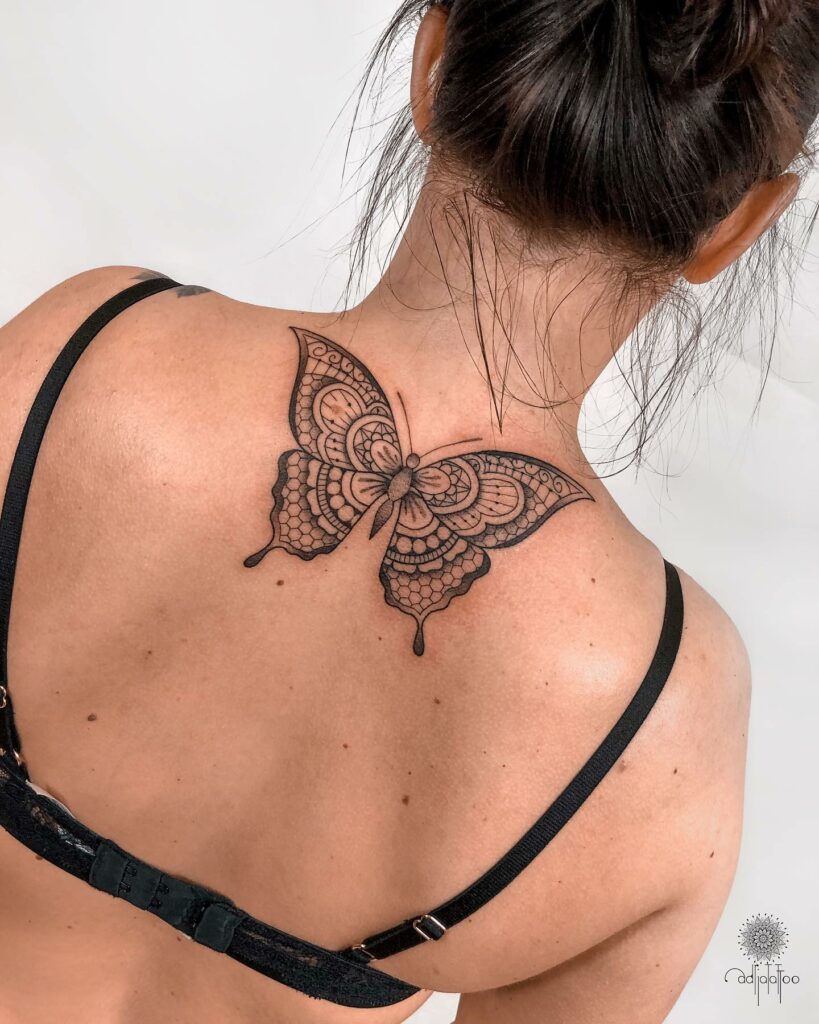 Keeping the body of the butterfly as the line of symmetry, the two wings are created of equal size representing the concept of symmetrical tattoos beautifully. Both popular among men and women, these tattoos can be either done using black ink or vibrant colors. The best place to put these tattoos is on the back, forearm, shin, calves, and thighs.
The butterflies have been long used as symbols in many cultures, notably in Egyptian and Greek, where they were associated with the symbol of the human soul. In modern times these symmetrical tattoos are used as symbols of faith and freedom. For their process of metamorphosis, they have also been associated with transformation.
Flower Of Life Tattoo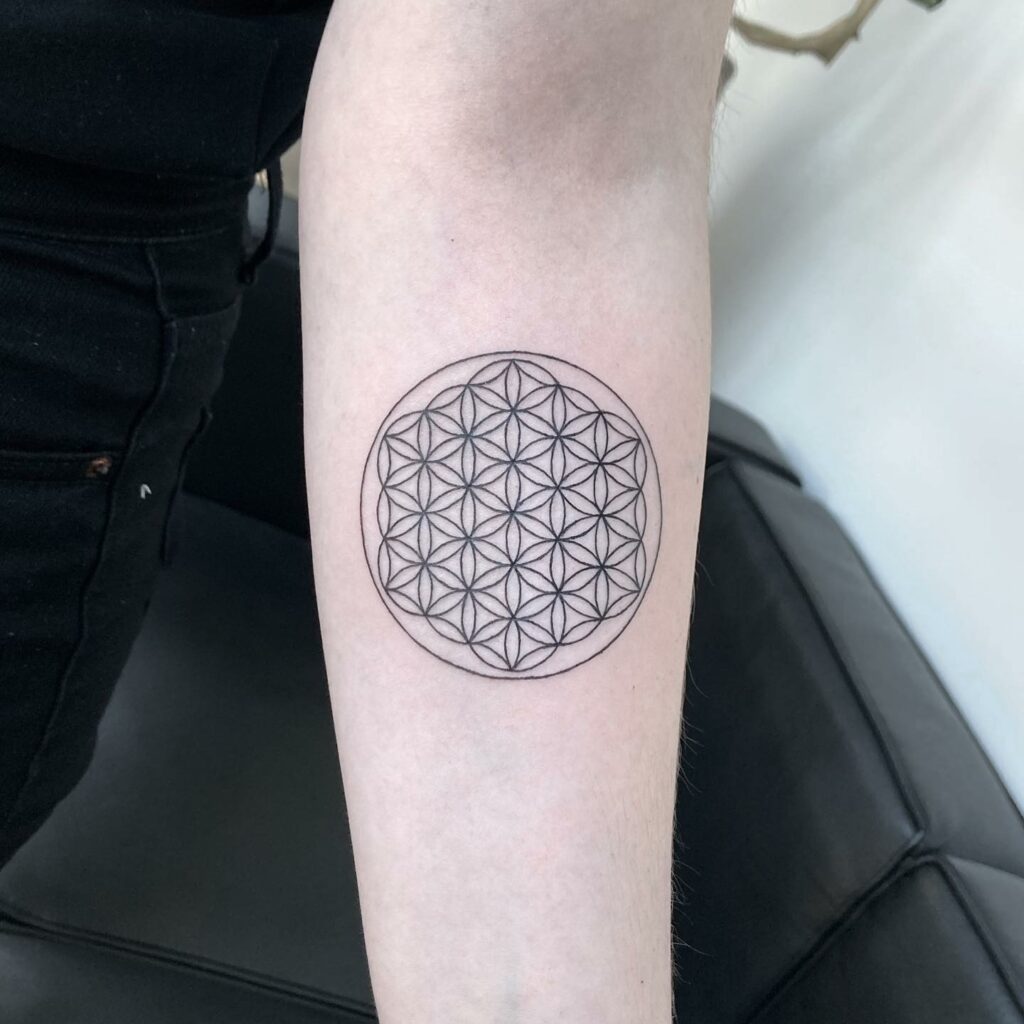 It is believed that these symmetrical tattoo ideas have their origin in Egypt. The symbol was found in the Temple of Osiris, but the ancient meaning is lost with the wheels of time. In modern times, it is associated with the concept of unity and has come to the notice of tattooers due to its unique interlocking circle design.
The best place to put this beauty on the body is on the upper or lower portion of the arms, chest, thigh, shin, and back. They are both popular among men and women and are mostly created using black ink. Interestingly if you look closely at this design, it looks like the process of cell division, and the tattooer can also represent that with this style.
Symmetrical Chest Tattoo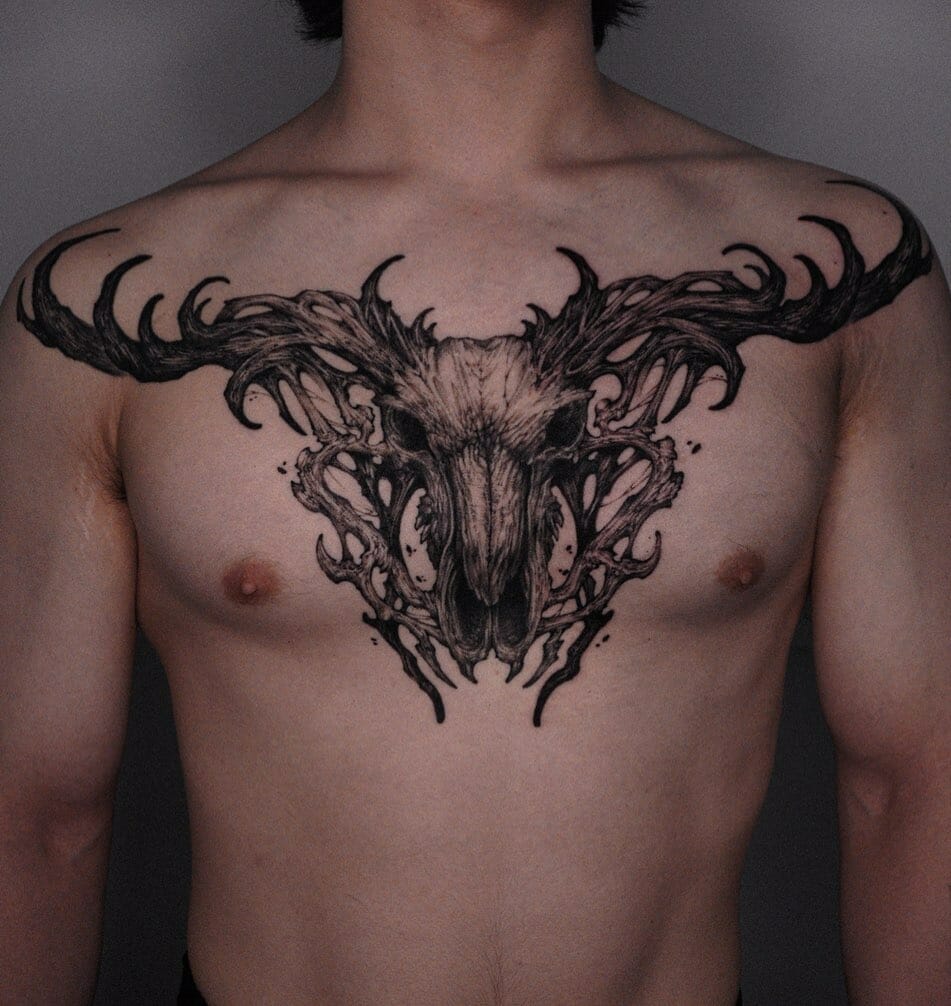 The styles of design and size used for creating the chest symmetrical tattoos mostly ranges from medium to large. Extremely majestic in nature, the first thing that the tattoo tells about the owner is that they are not afraid to face anything. Human or animal skulls, flowers, birds, butterflies, and tribal arts are some relevant topics used for inking, and the ink choice is mostly black.
Without proper symmetry, these tattoos do not blossom well and that is the reason an experienced artist must be chosen. These tattoos take quite a long period of time to get done and can be a painful experience for a newcomer in the tattoo world.
If you go back and trace the importance of symmetry in history, then you will be astonished to see its usage by many tribes. Symmetry is something that has not only been imbibed in the tattoo industry but in other forms of art like music, literature, paintings, and in social life too.
feature image from Pinterest – Want your tattoo to look brighter? Try "Tattoo Balm"
Last reviewed and updated on March 15, 2023