Ever get one of those days when you feel like you're just not up for wearing clothes? Well, when it comes to fashion, there is something out there for anyone. Being dressed and naked at the same time is made possible through see through clothes and nude colour palettes. Check out this guide on the best nearly naked dresses out there and how to go out about finishing the look.
Revealing Celebrity Dresses
If you're keen to rock the nearly naked dress look, you may be thinking: "where do I buy one of these?" and so, when it comes to this potentially risky look, it is a good idea to get some inspiration. Where better to look than one of the most talked about places when it comes to fashion: celebrities on the red carpet? Here is a list of some of the best dresses we could find, and how to shop the look based on what we've learnt from the celebs below.
Beyoncé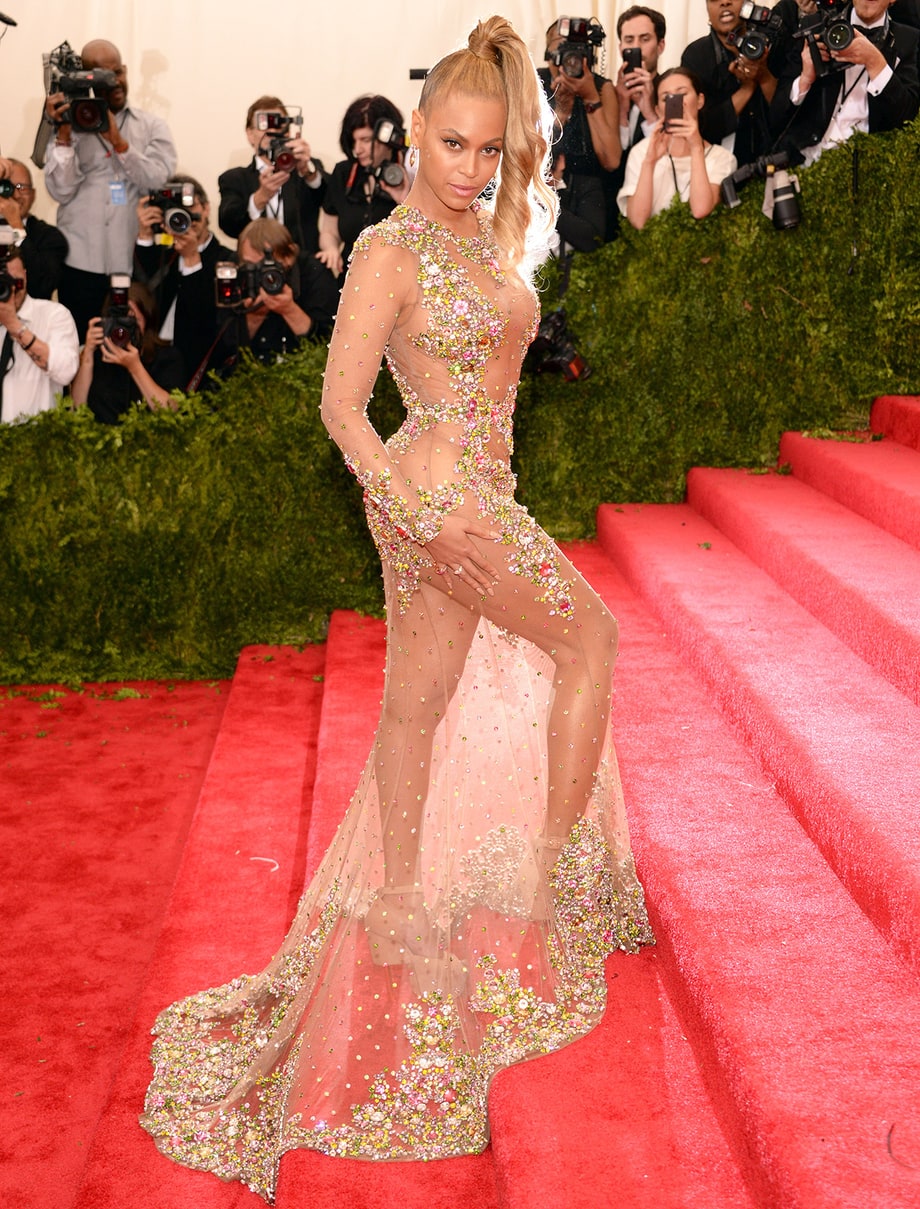 Constructed mainly of mesh and a selection of carefully placed rhinestones, it is no wonder that this look is a head turner. Not for the faint hearted, this revealing dress can be with a simple up-do and plain nude heels safely knowing that the impact of the dress will not be toned down. We've picked two very striking dresses below if you're feeling brave but otherwise take elements of Beyonce's dress with the lovely dress from Topshop. Go for the body-con approach to show off your silhouette rather than your skin.

Kim Kardashian
Of course we could trust Kim Kardashian to be on the list for the best naked dresses! The khaki shade of the dress and accessories offer a different take on the classic nude outfit. With the floral lace, thick buckled waist belt and tussled hair, there is something about this look that is reminiscent of eve and the trusty fig leaf.

Rihanna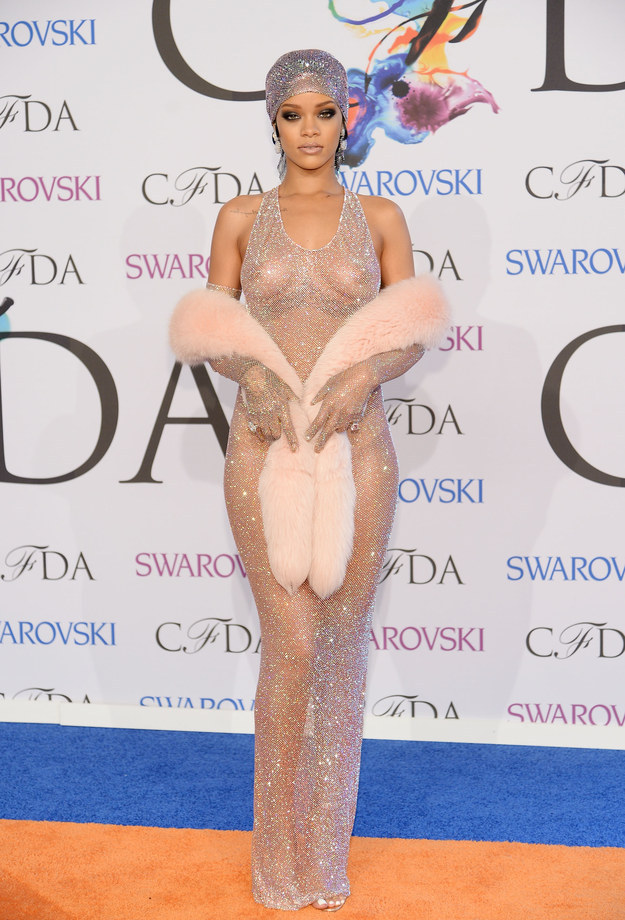 A look that strongly encompasses the female form, it cannot be avoided that this look is based on the 1920s. Despite the neutral colour palette of the dress, paired with an equally bejewelled headpiece and gloves, the look is a bold one. However, to accommodate to those times where you feel slightly conscious, a fur stole to wrap round can be the perfect diversion (and it's also great for adding a bit of warmth).

Blake Lively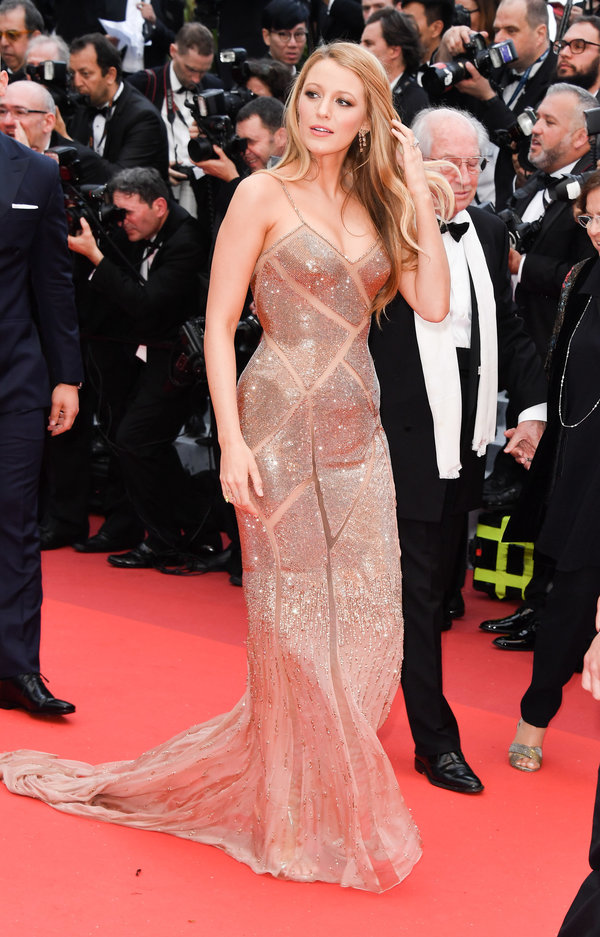 The use of nude sequins and mesh across the fitted floor length gown accentuates the figure. With the addition of spaghetti straps to hold up the dress, the dress and her body cannot help but to seamlessly become one.

Bella Hadid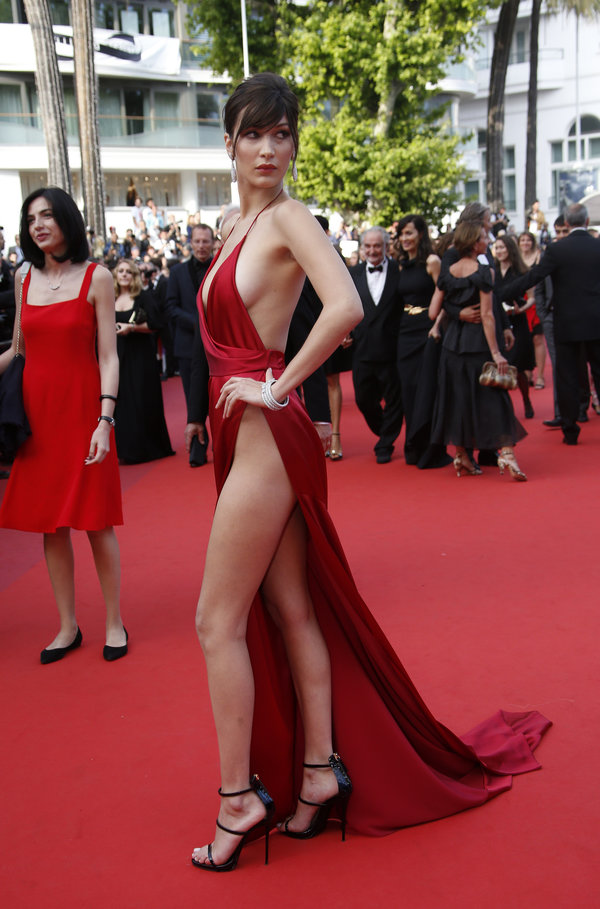 When it comes to colour and looking sexy, there is one that instantly springs to mind. The red revealing dress paired with an up-do and matching red lip are the very personification of the word sultry. Topped off with a black pair of stilettos and silver rhinestone jewellery and you have a look that even a bond girl would be jealous of.

Chrissy Teigen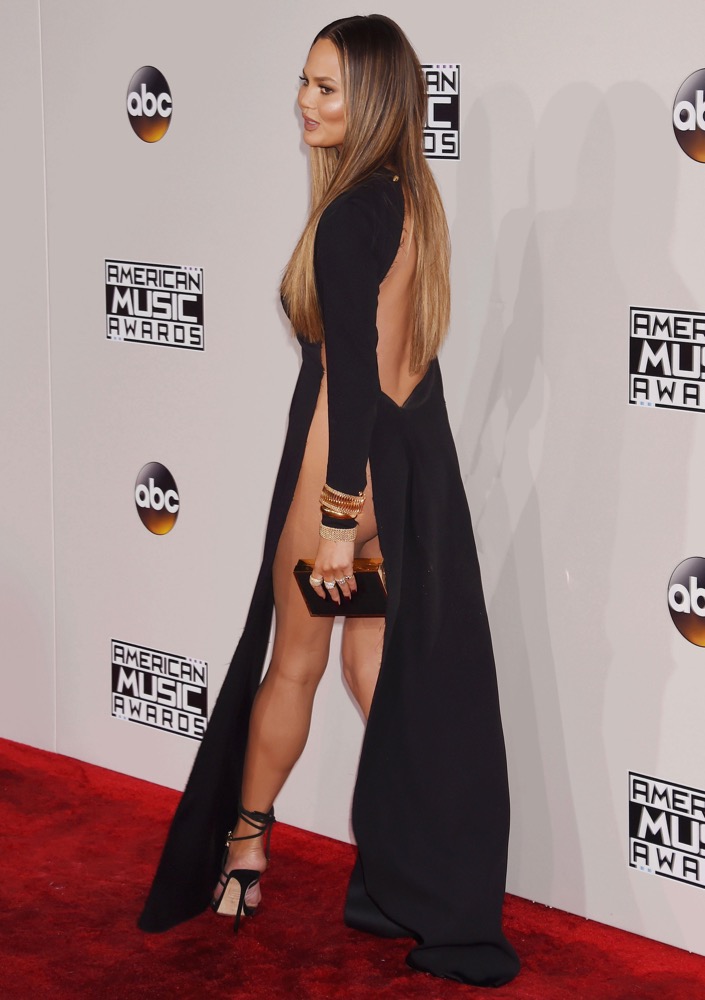 Keeping it simple in black, the cut of the dress is what does all the talking. Being backless, with such a revealing slit up each side of the dress, it is important to keep the accessories simple.

Hannah Davis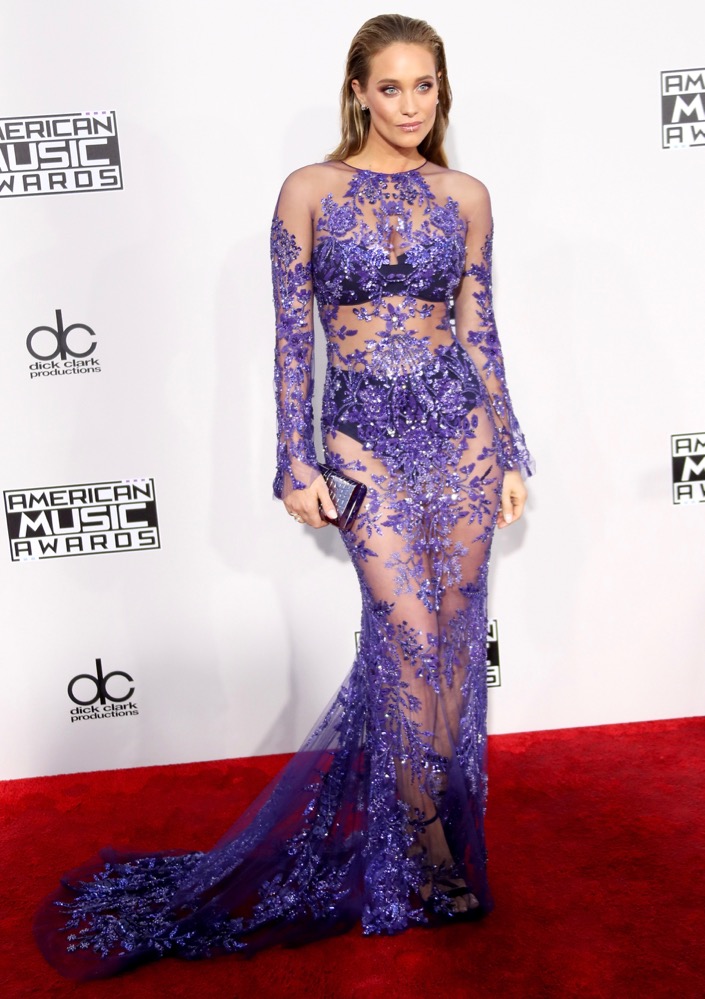 When it comes to nearly naked dresses, black underwear is the perfect solution to avoid any slips but it can also enhance your nearly naked look (both practical and stylish? What's not to love?). A purple number of sequins and mesh dramatically contrasts with the strapless black bra and high waist knickers while offering some continuity with the choice of a black heel.

Kendall Jenner
With complex embroidered detailing and bell sleeve cut, keeping this dress black with the subtle use of metallics avoids the look from getting a bit too much. Styled with combed back hair and silver drop earrings, these additions help to maintain – not overthrow – the colour scheme.

Diane Kruger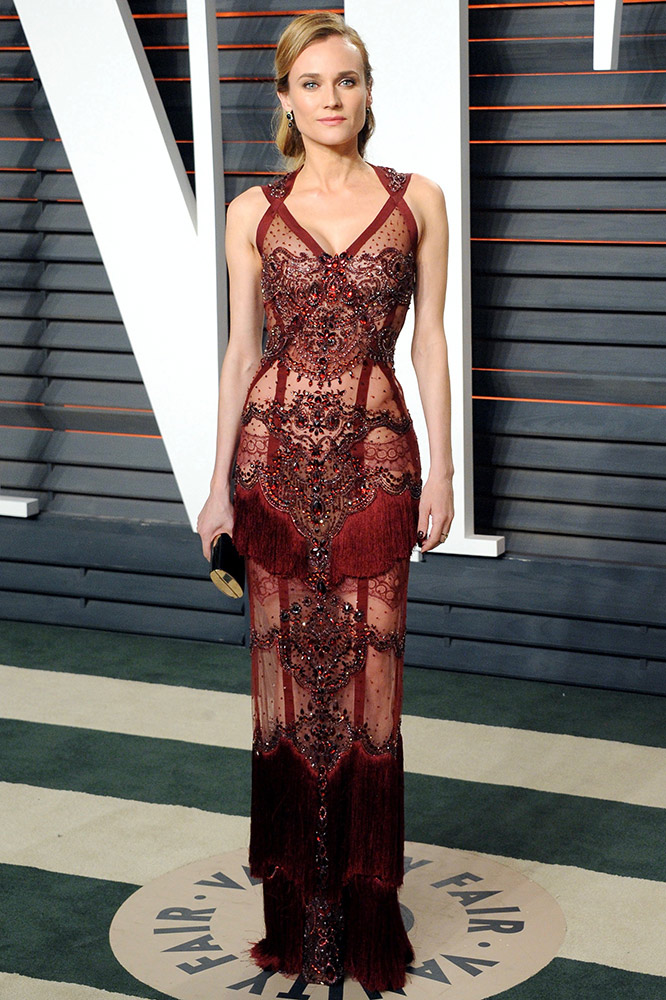 Contrasting the heavy beading and fringing with lace and mesh panels, this floor length dress brings the classic flapper dress straight into the 21st century. The simple jewelled earrings and plain clutch bag help to keep this classy and suitable for any formal event from the 1920s to the present day.

Perrie Edwards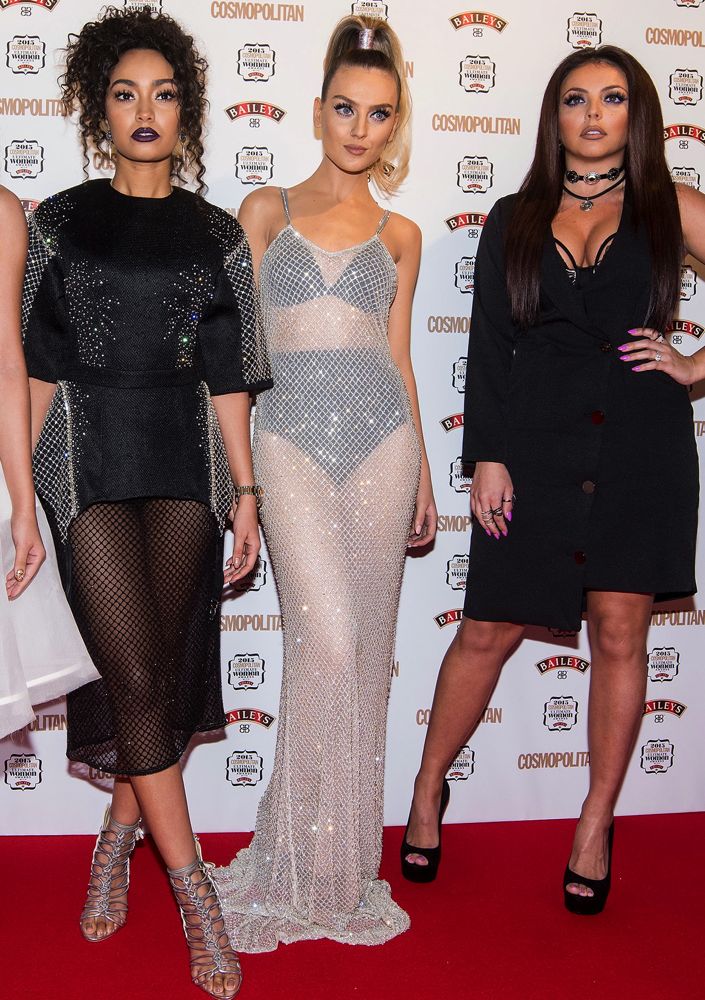 This floor length slip dress in sequin fishnets is subtly nostalgic of a decade that we will always have a soft spot for in our hearts: the 90s. Finished off with a super high ponytail and the detail of black underwear, this monochromatic look can still get heads turning.

What to wear with see through clothes
As you may have released by now, nearly naked dresses are a statement all by themselves. But, when it comes to completing the look, it's still just as important to think about what should be worn with them.
Depending on what colour your dress is, the safest option is to match your accessories and shoes with it. Or, if you've opted for a colour then pairing the dress with black little extras can add a sophisticated contrast.
The Bag
With the sheer material – or general lack of material – that is a distinct characteristic of nearly naked dresses, having a bag with a strap is not always the most comfortable choice. A hard black offers structure while not taking anything away from the dress. But, if you want to add a little sparkle, clutches with a glitter finish add an extra bit of texture to the look . Especially for Christmas time.
Jewellery
It's best to stick to the classics (so either silver or gold). Earrings are probably the safest option to avoid looking over the top but there are many styles out there to help you add a bit of personality.
Shoes
A heel that's not too high keeps the look classy. In a black or neutral shade, there will be no risk of the shoe taking anything away from the amazing detail on some of these dresses.
And, when it comes to what to wear underneath the dress – or anything sheer for that matter – black underwear is a great option. The simplicity of a set (like this cute, and affordable, one from ASOS) keeps the look mature and it remains practical to avoid any slip ups or fall outs. It's a win-win!
How to Style Naked Dresses
There's not just one way to be 'nearly naked;'
Experiment with embroidery, lace and mesh
Or try different cuts: backless, side splits, deep necklines.
Don't go too over the top, let the dress do the talking.
Nearly naked doesn't always have to mean nude. Try some colour.
Consider styling your hair in an up-do or combed back to keep the attention on the dress.
To avoid any wardrobe malfunctions; black underwear is your safety net.
Read more great articles on women's fashion at Alexie.co
Comments
comments