Dressing for a date night can be tricky. Whether you're on a first date or you want to look good for your boyfriend, you need to feel beautiful and comfortable. We've made it simple for you with these 12 casual date night outfit ideas.
 Preparing for Your Date Night
If you're lucky enough to live in London, you can take advantage of a hot new trend; style apps to order beauty treatments straight to your door.
Priv – described as 'Uber's better-looking sibling', if you download this app you can have beauty treatments in your home within the hour.
Blow – Expert beauty services to your door from 7am till late. Plus get £10 off your first order.
Milk Beauty – if you need an emergency mani-pedi, wax or massage in your home, they are the beauty service to contact.
If you don't live in London, you can still check out the mobile stylists in your area to see what treatments they provide. Alternatively, take a look at our simple hair and makeup tips below.
Simple Hairstyles
These celebrities have mastered the casual look effortlessly. Fearne Cotton's blonde bob isn't over-styled and frames her face beautifully. If you have a fringe like Rose Byrne, loosely pull the rest of your hair back in a bun, leaving a few strands hanging down. The 'half up half down' style is perfect for women with long or short hair if you want it off your face, but like to leave some curls hanging down.
Take a look at the rest of our celebrity looks below for more style inspiration.
Make Up Inspiration
The key to casual date night makeup is to keep it looking natural and clean. You want to look like yourself, especially on a first date, so it is better to keep your makeup minimal and avoid the overdone look. But if you do want to make a statement, choose a bold lipstick.
Don't forget to take the essentials with you on your date to top up your look.
Handbag Essentials Checklist (from Boots)
12 Casual Date Night Outfits
Take a look at our chosen date night styles for some inspiration. If you're looking for a casual dress to slip on before your date, or something to wear on the beach we have the style for you. We have some casual denim looks if you're a girl who lives in her jeans, cute date outfits for spring and summer, and of course there's our celebrity inspiration styles. Don't forget that accessories are the key to glamming up your casual outfits.
We also have a Christmas date outfit for those of you who are worried about being festive without looking tacky. Or if you need to wrap up  for winter without hiding yourself under all those layers, you can take some inspiration from our casual date night outfit for winter.
The Casual Date Dress
The Cute Date Outfit
The Casual Friday Night Outfit
The Beach Date Outfit
The Simple Spring Date Outfit
The Autumn Date Dress
The Casual Date Night Outfit for Winter
The Festive Date Night
Casual Date Night Maternity Dress
Maternity wear has come a long way from floaty dresses and elasticated jeans. Dorothy Perkins has a stylish range for expectant mothers so you can feel fashionable and comfortable on you weekly date night with the hubby.
Celeb Style Inspiration
If you want to take some style advice from the celebrities, check out the looks below. The cashmere jumper worn by Eva Longoria is worth the large price tag as it as an investment piece you can wear autumn through to winter.
Michelle Keegan's casual date night style can take you be worn whether you're in your 20s or your 30s. Or if you prefer a smart/casual look, Jessica Alba's monochrome outfit can take you from the office straight to your date night.
Eva Longoria
Michelle Keegan
Jessica Alba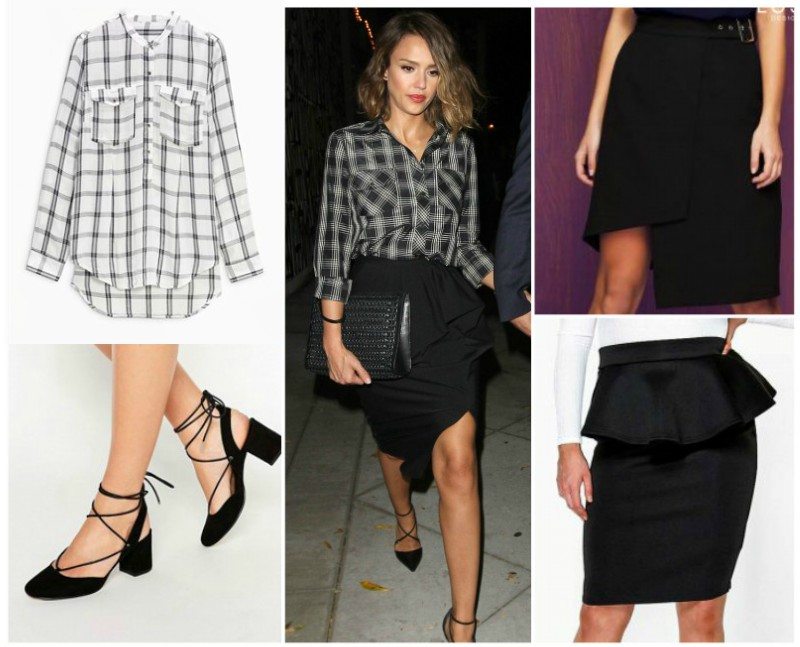 How to Dress for Your Date Night
Makeup should be kept natural and clean looking.
Don't over-style your hair – The half up, half down style is very popular at the moment.
Accessories can make an outfit – add some bangles or a statement necklace to finish the look.
Dress for the date you are on. Don't be afraid to wrap up if it's cold, you can still look stylish.
On That Note…
Now you've seen our date night ideas you can keep it casual when you go out. You'll be looking stylish and comfortable so you can relax and let your date get to know the real you.
Read more great articles on women's fashion
Comments
comments