Hello, fashion enthusiasts! Welcome back to our vibrant world of style and sophistication, where we navigate the mesmerizing maze of the fashion industry with poise and aplomb. Today, we turn our keen eyes to the luxurious and emblematic accessories of the illustrious Bottega Veneta brand – their revered bags, to be precise. As fashion devotees, we're all well-versed in the allure of these accessories, the statement they make, and the undeniable grace they add to our attire.
However, we also understand that only some can invest in these high-end pieces, no matter how tempting they may be. So, in the spirit of inclusive fashion and accessible style, today's post is a meticulously curated selection of the 7 Best Bottega Veneta Bag Dupes that emulate the original's design integrity, quality, and style.
In this post, you will journey through a handpicked assortment of remarkable alternatives that not only align with the aesthetic essence of Bottega Veneta but also kindly consider your wallet. From structured totes mimicking the iconic Cabat to chic pouch imitations inspired by The Pouch, we'll examine each dupe in detail, discussing their unique features, the quality of materials, craftsmanship, and visual appeal.
So, buckle up for an exciting tour through a world where high-fashion allure meets affordability. Let's redefine luxury together, proving once again that style is about individual expression and not just high price tags. Whether you are a seasoned fashionista or just dipping your toes in the vast fashion ocean, this guide will be your compass in the quest for the perfect Bottega Veneta bag dupe. Onwards to the world of accessible luxury!
Embrace the 'Jodie' with Melie Bianco Brigitte Large Recycled Vegan Shoulder Bag
The Jodie from Bottega Veneta is a revered icon in the fashion world. This compact hobo-style bag, crafted from soft woven leather, got its name from actress Jodie Foster who was snapped, shielding her face from the paparazzi with one such bag. Its structured yet relaxed silhouette is a delight, but the $6,700 price tag!
Here's where Melie Bianco's Brigitte Large Recycled Vegan Shoulder Bag comes in. For a mere $150, this stellar alternative mirrors Jodie's signature woven design, making it the ideal accessory for daily errands and special evenings.
A Miniature Delight: FashionMio Women Soft PU Leather Woven Handbag
The Mini Jodie, a clutch-sized sibling of the original Jodie, is a beloved pick among fashion enthusiasts. Its vibrant palette makes it a delightful canvas for neutral and statement handbags. However, with a price tag ranging from $1,750 to $8,500, it might feel like it could be more in reach.
The FashionMio Women Soft PU Leather Woven Handbag is such a revelation. It's one of the best Mini Jodie dupes around. It radiates luxury and style, yet it's priced at an astonishingly affordable $25. Available in classic Black and Khaki and an adventurous Jade Green, this dupe adds a playful splash of color to any summer outfit.
The Puff Crossbody Bag by Madewell: Your Answer to Bottega Veneta's Small Loop Camera Bag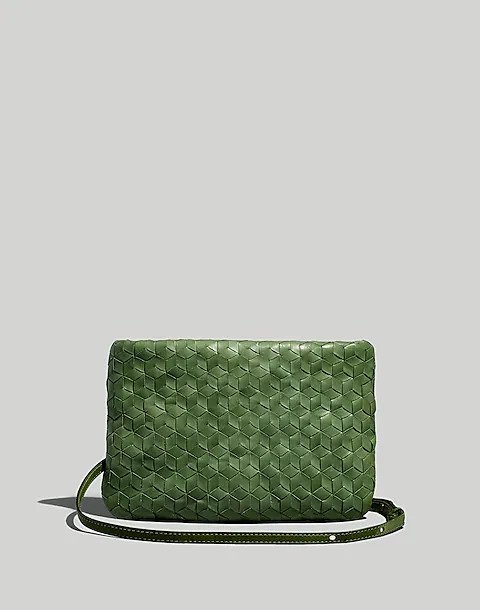 Bottega Veneta's Small Loop Camera Bag, a crossbody beauty, comes with a price tag of $2,700 to $3,000. However, if you're seeking a budget-friendly yet stylish alternative, look no further than Madewell's The Puff Crossbody Bag: Woven Leather Edition.
This $128 gem, crafted from genuine woven leather, is trendy and versatile. It quickly transforms into a handheld clutch with removable straps, providing the perfect blend of functionality and fashion.
Echoing the Brick Cassette: Urban Expressions Olga Crossbody Bag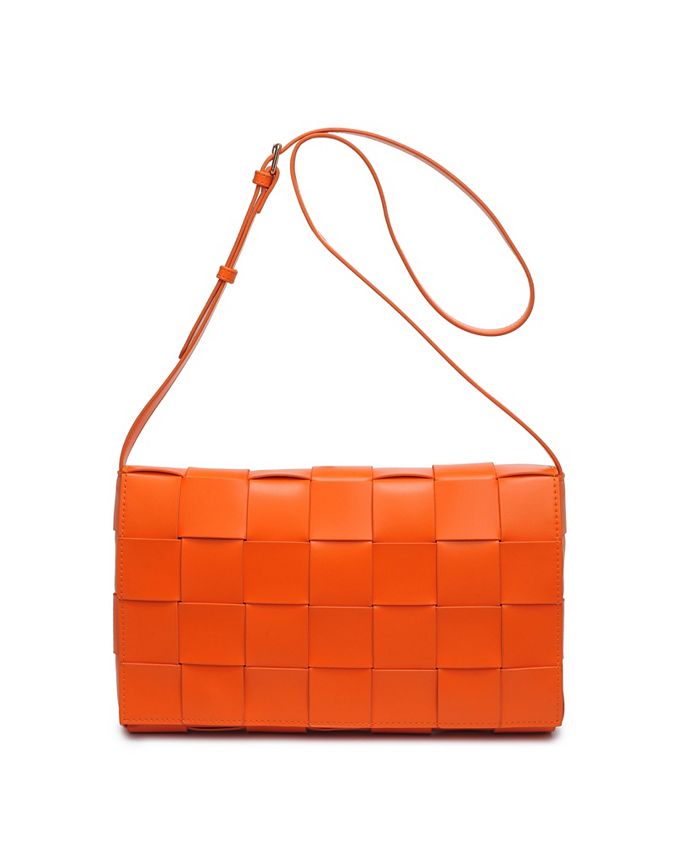 Now, let's shift our focus to another favorite of mine, the Urban Expressions Olga Crossbody Bag. This one's for those of you smitten by Bottega Veneta's Brick Cassette bag but is still being prepared to part with $2,500 to $4,300.
The Olga Crossbody, fashioned from vegan leather, features a structured, woven design almost identical to the original. Best of all, this fantastic dupe is yours for a mere $80.
Channeling Celeb Style: Prime Original Women's Chain Pouch Bag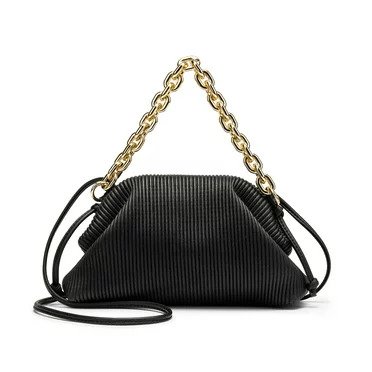 The Bottega Veneta Chain Pouch is a staple in Kylie Jenner's and Emily Ratajkowski's wardrobes, among others. With its chunky chain and diverse color options, it's undeniably striking. However, prepare to drop at least $3,800 for this designer bag.
The Prime Original Women's Chain Pouch Bag, a stunning Chain Pouch dupe, is here to save your day and wallet. For only $40, this dupe offers a classic cloud-shaped silhouette and a head-turning shoulder chain that perfectly echoes its high-end counterpart.
Steve Madden Nikki Faux Leather Crossbody Clutch: A Nod to the Mini Pouch
Steve Madden's Nikki Faux Leather Crossbody Clutch is an undeniable champion regarding bag dupes. This marvel mimics the aesthetics of Bottega Veneta's Mini Pouch's compact leather clutch equipped with a crossbody strap.
Despite its undeniable charm, the Mini Pouch comes with a $2,300 price tag. On the other hand, the Nikki Clutch, a worthy dupe, only sets you back $54, offering excellent value without sacrificing style.
Worthington Woven Tote Bag: The Quintessential Everyday Carry
Last but certainly not least, on our list of fantastic Bottega Veneta bag dupes is the Worthington Woven Tote Bag.
It pays homage to Bottega Veneta's Small Arco Tote Bag, an everyday tote featuring the brand's signature woven design. However, with a retail price ranging from $3,000 to $4,500, it's only some of the go-to choices for daily use.
Enter the Worthington Tote Bag, priced at a modest $80. It's the perfect budget-friendly alternative that doesn't keep the same style and versatility. With its top handles and removable straps, this tote is ready to complement any outfit, whether you prefer carrying it as a purse, a crossbody, or a shoulder bag.
Discover The Materials Of Each Dupe & Why You Should Care
It can be challenging to provide precise descriptions of their unique features and materials without knowing the exact specifications of each of these dupe bags. However, based on general knowledge of these brands and the information provided in the article, I can give an approximate idea:
Melie Bianco Brigitte Large Recycled Vegan Shoulder Bag: This bag, made from recycled vegan leather, stands out with its signature woven design, imitating the Bottega Veneta Jodie. It's a durable, environmentally friendly, and affordable choice.
FashionMio Women Soft PU Leather Woven Handbag: FashionMio offers a smaller, clutch-sized bag with the same luxurious woven leather texture as the Mini Jodie. It's made from Polyurethane (PU) leather, making it lighter and more water-resistant than genuine leather.
Madewell The Puff Crossbody Bag: Woven Leather Edition: This dupe from Madewell is made of genuine leather with a woven texture. It offers versatility, with removable straps allowing it to convert from a crossbody to a handheld clutch.
Urban Expressions Olga Crossbody Bag: Made from vegan leather, this bag stands out with its structured, woven design. It's a perfect dupe for the Bottega Veneta's Brick Cassette bag, providing a cruelty-free, affordable alternative.
Prime Original Women's Chain Pouch Bag: This Chain Pouch dupe offers a classic cloud-shaped silhouette and chunky shoulder chain, similar to the Bottega Veneta original. The bag material isn't specified, but it's likely synthetic or faux leather, making it an affordable option.
Steve Madden Nikki Faux Leather Crossbody Clutch: This Steve Madden bag mimics the Bottega Veneta Mini Pouch in a faux leather finish. It's a budget-friendly, animal-friendly option that doesn't compromise on style.
Worthington Woven Tote Bag: The Worthington Tote is probably made of faux leather, and its top handles and removable straps offer a lot of versatility. Its woven design adds to its appeal, making it an excellent Bottega Veneta Small Arco Tote Bag dupe.
Remember, when choosing a dupe, consider not only the aesthetic but also the quality of the materials, the reputation of the brand, and the reviews from other customers to ensure you're getting the best possible alternative to the original.
6 More Affordable Alternatives To Bottega Veneta Bags To Inspire You In 2023
Mango: Known for its modern and on-trend designs, Mango offers a range of handbags reminiscent of Bottega Veneta, from woven clutches to chunky chain shoulder bags.
Zara: Zara often takes cues from high-end designers in its collections. Bottega Veneta-inspired bags, with similar intricate designs and unique shapes, are among their offerings.
ASOS: This online retailer carries many brands, many of which offer bags with a nod to Bottega Veneta's unique style. Look out for faux leather woven clutches or shoulder bags with statement chains.
Topshop: Topshop is known for translating high-end trends into more affordable pieces. Their handbag collection often features woven leather and chain elements.
Charles & Keith: This brand offers chic, designer-inspired pieces at a fraction of the cost. Look for their woven leather tote and shoulder bags for a Bottega Veneta-like vibe.
& Other Stories: This brand, part of the H&M group, offers stylish and affordable alternatives to Bottega Veneta bags. Their designs often incorporate modern, edgy elements that nod to luxury aesthetics.
Always remember to do your research and read reviews before purchasing. These are all fashionable options, but the longevity and quality may differ based on the brand and the specific bag. But with a bit of patience and a keen eye for design, you can find a bag that gives you the Bottega Veneta feel without the accompanying price tag.
How Do The Dupes Compare To The Original Bottega Veneta Bags In Terms Of Style And Design?
In terms of style and design, these dupes do a remarkable job of capturing the aesthetic of the original Bottega Veneta bags. They each echo the standout features that Bottega Veneta is renowned for: the distinctive 'intrecciato' or woven design, chunky chains, distinctive shapes, and an overall luxurious feel.
However, there are a few considerations to bear in mind:
Materials: Bottega Veneta bags are typically crafted from high-end materials like butter-soft Nappa leather, exotic skins, or even crocodile leather in some cases. The dupes, conversely, are usually made from synthetic materials or vegan leather. While these can still offer good durability and a stylish look, they might not match high-end leathers' tactile experience and longevity.
Craftsmanship: Bottega Veneta bags are renowned for their meticulous craftsmanship. Every stitch is perfect, every seam is flawless, and the overall construction is designed to last. In contrast, while many dupes are well made, they may have different attention to detail or durability levels.
Design Details: While dupes replicate the overall style and design of Bottega Veneta bags, they might need help to capture some of the finer details. For instance, Bottega Veneta bags might have specially designed hardware, unique linings, or subtle design elements that are difficult to duplicate.
Brand Value: Finally, part of the appeal of designer items like Bottega Veneta bags is the brand prestige they carry. This is something that no dupe can replicate.
To sum up, while dupes can offer you a similar look and style to Bottega Veneta bags at a fraction of the cost, they might provide a different experience in terms of materials, craftsmanship, design details, and brand prestige. Nevertheless, they're a fantastic way to enjoy high-end style on a budget.
Conclusion
Hello, fashion enthusiasts! As we wrap up our insightful journey through the world of Bottega Veneta bag dupes, it's important to remember that style doesn't always need to carry a high-end price tag. With the right choices, you can capture the essence of luxury brands without draining your wallet. While these dupes offer the look and feel of Bottega Veneta's iconic designs, remember that they may only partially match the original in terms of materials or longevity. Nevertheless, they allow you to stay on-trend and versatile while meeting your budgetary needs. As we always say, fashion is all about expressing yourself, so feel free to mix high-end pieces with more affordable ones to create a truly yours look. In this vast fashion landscape, the only risk is not embracing the possibilities and stepping out of your comfort zone. So, armed with these helpful tips, it's time to take the next step, add some Italian-inspired elegance to your wardrobe, and strut your style confidently!
Feature image by Tamara Bellis on Unsplash