Our subject: Chanel slingback dupes that redefine luxury on a budget. In this blog post, we'll explore, dissect, and appreciate these alternatives' craftsmanship, design aesthetics, and affordability. These are not merely imitations but tributes to the timeless style that Chanel has imprinted on the fashion world.
As we tread this path together, you'll learn how to identify a high-quality dupe, understand what to look for in design and material, and, most importantly, where to find these treasures. Get ready to level up your fashion game with these exquisite alternatives that merge the elegance of Chanel with the practicality your lifestyle demands. Prepare for an insightful expedition where affordability dances harmoniously with style and grace.
The Charm of Marc Fisher Laynie Block Heel Pump
My love affair with affordable style started with a pair of Marc Fisher heels. The Laynie Block Heel Pump had me at first glance, and let me tell you, it's almost the mirror image of Chanel's beige and black leather Slingbacks, from the block heel to the classic slingback strap.
While the heel is slightly taller and the toe a bit more rounded, the difference is barely noticeable. Now, the best part? These pumps retail for just $99! That's only a tenth of the Chanel price tag. The only snag might be that they're only available in one color combo, but we have plenty more options to explore.
The Versatile Vince Camuto Hamden Slingback Pump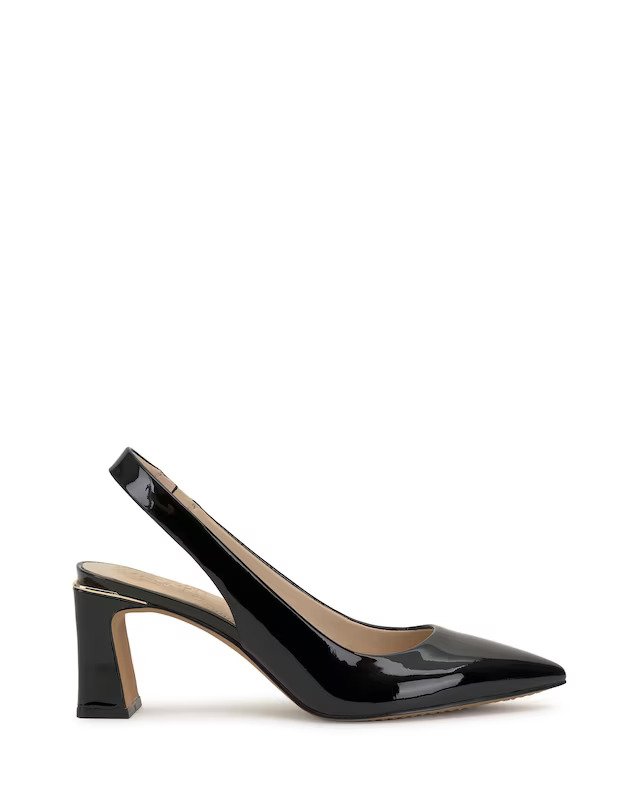 You may be after the distinct silhouette of the Chanel Slingbacks but crave a splash of color. Enter the Hamden Slingback Pump from Vince Camuto. These shoes echo the shape of the Chanel classic and come in an array of colors and prints.
Sure, they may lack the cap-toe detail, but at $99, it's a small sacrifice for a superb deal.
The Vegan Delight: Journee Collection REIGNN
As a self-proclaimed advocate for sustainability in fashion, I was ecstatic to discover the REIGNN heels from the Journee Collection. For under $100, you get a Chanel Slingback dupe crafted from vegan leather, available in various neutral tones, and a delightful gold buckle on the adjustable slingback.
At just $60, these heels are a fantastic bargain and a versatile addition to any outfit.
The Classic Appeal: Anne Klein Brinlee Pointed Toe Pump
The Anne Klein Brinlee Pointed Toe pumps stunned me with their striking resemblance to the Chanel Slingbacks. The similarity is uncanny from the toe-cap shape to the 2.5″ heel (only a tenth of an inch off from the Chanel version).
And the cherry on top? They come in a color combination that mirrors the original Chanel Slingbacks. With such high ratings, rest assured you're scoring a great deal with these pumps.
Splurge-Worthy: Tuckernuck French Sole Exclusive Baton Heels
If you have a little room to splurge, the French Sole Exclusive Baton Heels from Tuckernuck, priced at $198, are worth considering. I still remember the day I tried them on. It was love at first fit!
The toe shape on these heels is a tad more rounded, and the heel an inch shorter, but they emanate a distinctly luxurious feel that is hard to resist.
The Chic Choice: VANELi Aliz Slingback Pump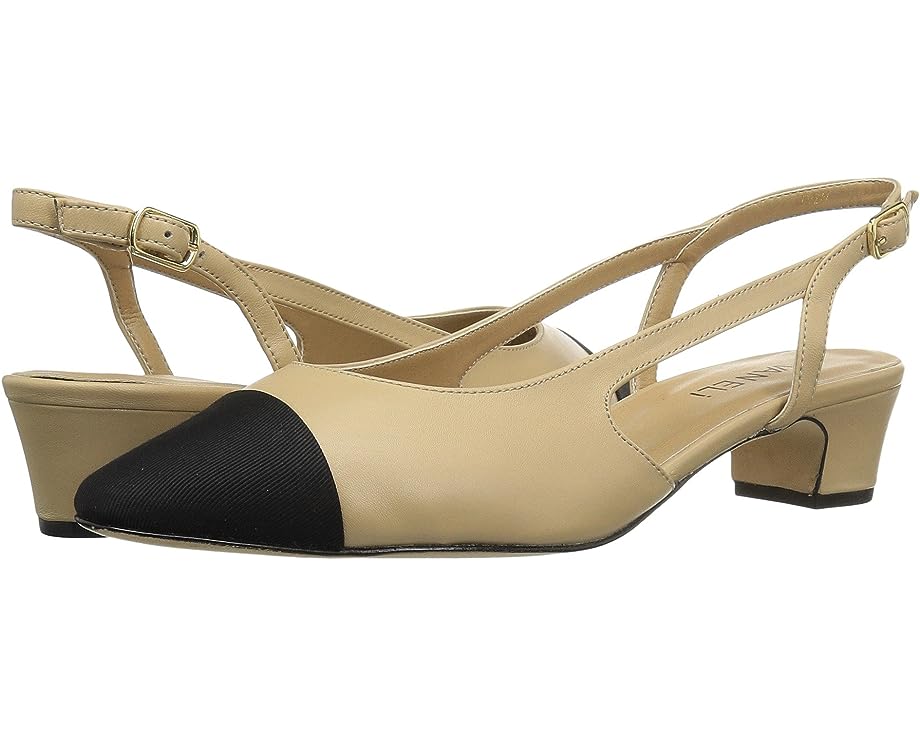 Last but not least on this list of Chanel Slingback dupes is the Aliz Slingback Pump from VANELi. Retailing at $165, these pumps feature the distinct toe-cap synonymous with the Chanel Slingbacks and offer unique color and fabric combinations.
The heel is approximately an inch shorter than the originals, but that doesn't detract from their appeal. Trust me when I say this could be the new favorite in your shoe rack.
And that, my friends, is our stylish stroll through the realm of Chanel Slingback dupes. Remember, fashion isn't just about brand names; it's about finding pieces that match your style and budget. So, go forth, find your perfect pair, and strut confidently!
5 Other Affordable Dupes We Love
The luxury footwear market has inspired many affordable alternatives, providing the style and aesthetics of high-end designs without the accompanying price tag. Let's explore a few prominent dupes for some coveted luxury footwear:
Gucci Loafer Dupes: Sam Edelman's Lior Loafers and the ASOS Design Backless Mule Loafers are excellent options. They mimic the classic Gucci loafer silhouette, featuring the signature horse-bit detail and comfortable slip-on design.
Valentino Rockstud Dupes: The Valentino Garavani Rockstud collection is iconic for its pyramid stud detail. For an affordable take, check out Kaitlyn Pan's Studded Strappy Ballerina Leather Flats or Dream Pairs' Stud Ankle Strap Ballerina Flats.
Manolo Blahnik Hangisi Dupes: Known as the "Sex and the City" shoe, the Hangisi style is famous for its crystal-encrusted square buckle. The Badgley Mischka's Quintana and the EKS Women's Satin Full Sole High Heels are affordable alternatives that capture the essence of the Hangisi design.
Hermes Oran Sandal Dupes: Steve Madden's Greece Sandal and AEROSOLES' Midday Slide Sandal offer similar design aesthetics to the Hermes Oran, with a comfortable slip-on design and a distinctive 'H' cut-out.
Christian Louboutin So Kate Dupes: The distinctive red sole of the Louboutin brand is hard to replicate, but several brands offer similar stiletto designs. Check out the Dream Pairs' Pointed Toe High Heel Stiletto Pumps for a budget-friendly version.
Remember, while these dupes can provide a similar look, the material quality, craftsmanship, and comfort may vary from the original luxury brands. Continuously research, check reviews, and ensure they match your style and comfort needs.
Conclusion
We've journeyed together through a stylish landscape with stunning alternatives to the iconic Chanel Slingbacks. As we've seen, high fashion doesn't necessarily mean high prices. With a discerning eye, it's possible to discover chic and quality dupes that capture the essence of high-end design without breaking the bank.
Remember, the goal is to find footwear that complements your style and comfortably fits your budget. Each option we explored has its unique charm, whether it's the striking resemblance of the Anne Klein Brinlee pumps, the splash of color options from Vince Camuto, or the sustainability edge of the Journee Collection's vegan leather.
However, as with all fashion choices, there's always a degree of risk involved. Always check return policies and read user reviews before making a purchase. Fashion, after all, is not just about how it looks but how it feels.
In conclusion, owning stylish footwear can sometimes come with a hefty price tag. Choosing among these elegant Chanel Slingback dupes allows you to confidently stride in style without leaving your budget behind. So, dear fashion enthusiasts, I urge you to embark on your journey, exploring and embracing the boundless world of affordable, stylish footwear. Happy shopping, and strut in style!
Feature image https://lookbook.nu/look/8252099-Mango-Cropped-Jeans-Chanel-Slingback