Few brands have captured the modern aesthetic like Cult Gaia. With their signature pieces and exquisite designs, they've set a high bar—but what if you could achieve that high-end look without the premium price tag? In this blog post, we'll venture into the chic universe of Cult Gaia dupes, discovering seven spectacular alternatives that are stylish and wallet-friendly. From the iconic Ark Bag to the elegant Serita Dress, I'll guide you through my curated selection of pieces that echo the Cult Gaia essence without breaking the bank. Prepare to embark on a journey of fashionable finds that are as enchanting as they are affordable!
Dazzling Nights: Yikoee Glitter Rhinestone Purse
Ah, the Hera Mini Rhinestone Shoulder Bag. If you're an Instagram aficionado like me, you've seen this shimmery gem lighting up your feed. Perfect for nights out, this $498 Cult Gaia original now has a competitively dazzling counterpart—the Yikoee Glitter Rhinestone Purse. At a price fraction and available in five colors, it's an accessory you'll want to grab before it's gone!
Beach Day Elegance: Old Navy Crochet Cover-Up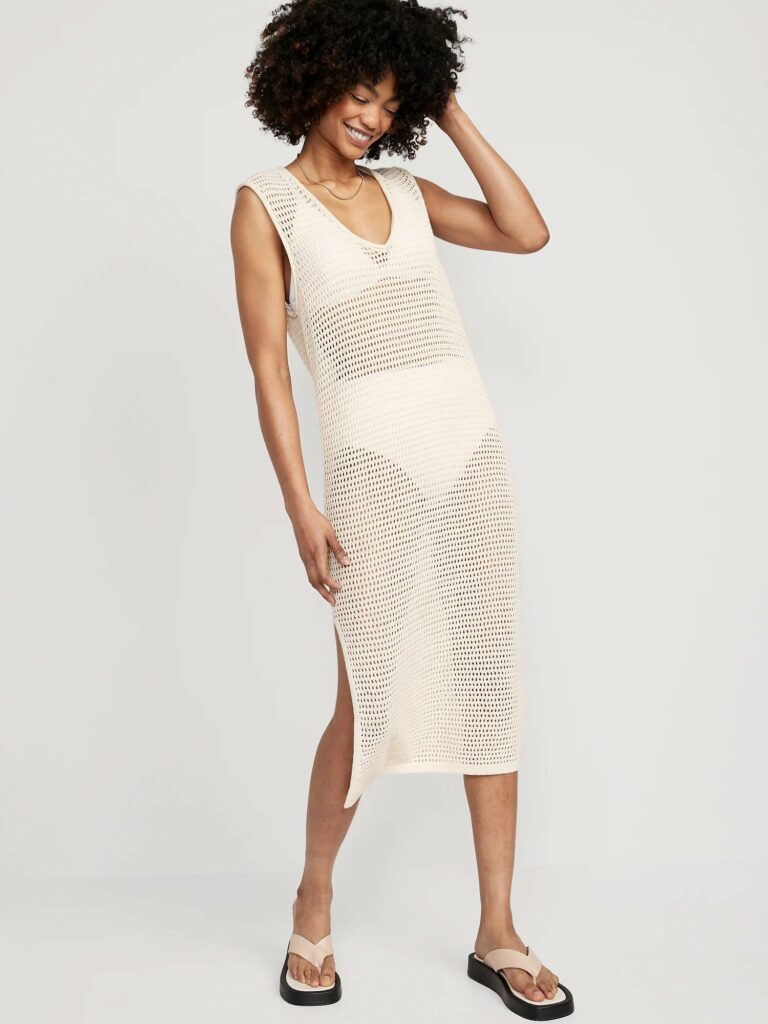 Nothing beats a sunny beach day with the right cover-up. Cult Gaia's knit cover-ups, which can run up to $1500, are tropical vacation dreams. But you know what? I stumbled upon the Old Navy Sleeveless Crochet Midi Swim Cover-Up Dress—a $55 masterpiece with alluring side splits and a v-neck, keeping the beach vibe fresh and fabulous.
The Classic Clutch: Lulus Acrylic Box Clutch
Cult Gaia's EOS Clutch epitomizes simple sophistication with its marbled elegance. I slightly gasped at the $328 price, but then my heart found solace in the Lulus 'On The List' Marble Acrylic Box Clutch. Priced at $78, it offers a similar charm, with the beaded detail placed subtly on the top.
The Dress to Impress: Lulus Midi Sweater Dress
The Cult Gaia Serita Dress and I share a love story. Its gracefully seductive knit design is truly timeless. While I adore its Sand shade, the $275 tag had me seeking alternatives. Enter the Lulus' The Way I Feel' Cutout Midi Sweater Dress, a $62 wonder. Its tan variant seamlessly mirrors the elegance of Gaia's Serita.
Hat's Off: Brixton Alice Bucket Hat
A bucket hat's timelessly chic, and Cult Gaia's Kumi Hat is a shining example. At $248, it's an investment. Yet, the Brixton Alice Packable Bucket Hat, priced at $69, brings the same modish vibe, spotlighting the raw-edge brim that I adore!
Stepping Up: BP. Netta Platform Sandal
Cult Gaia's whimsical footwear range, especially their high heels, constantly flutter my heart. The bubblegum pink Aliza Platform, for instance, is a dream. But if spending $458 feels steep, let me introduce you to the vibrant BP. Netta Platform Sandal. At $50, this sandal, paired with the Lulus dress and 2Chique handbag, will give you a complete Cult Gaia-inspired look that's both stunning and budget-friendly.
11 Other Brands With A similar Aesthetic
The fashion industry has seen a surge of brands aiming to provide affordable alternatives to high-end designs. While each has its unique take, these brands have become famous for delivering stylish options without the high-end price tag. Here are some noteworthy mentions:
Zara: Widely recognized for its quick turnaround on trendy, runway-inspired pieces. Their vast collection updates frequently, ensuring there's always something new to discover.
Mango: A Spanish brand that offers sophisticated, chic, and timeless pieces. Their designs often resonate with the luxury aesthetics seen in high-end brands.
ASOS: This UK-based giant stocks its brand and many others, catering to various styles. They often have designs inspired by high-end collections, making it easier for shoppers to get the 'designer look' without the designer's price.
H&M: Their regular collections are trendy and affordable. Furthermore, their 'Conscious Collection' brings sustainability into the mix.
Topshop: Before its demise in physical stores, it was the go-to for many fashionistas looking for runway-inspired pieces on a budget. It still operates online and offers a variety of chic options.
& Other Stories: Created by the H&M Group, this brand leans a bit more premium but offers designs that could easily be mistaken for luxury brands.
Uniqlo: While it's more minimalistic, Uniqlo offers timeless pieces, and their collaboration with designers (like J.W. Anderson and Alexander Wang) brings a high-end touch at a fraction of the price.
Missguided and Boohoo: Especially popular among younger audiences, these online retailers offer trendy pieces inspired by celebrity fashion and runway designs.
Shein: An online-only fast fashion giant, Shein's vast catalog often includes pieces reminiscent of high-end designs.
Forever 21: Aimed at a younger demographic, they offer trendy pieces often inspired by more expensive brands.
Aritzia: A Canadian brand known for its quality and style. Their pieces are chic, timeless, and often likened to designs from more expensive brands.
While these brands offer affordable alternatives, it's essential to remember the importance of conscious consumerism. Fast fashion has environmental and ethical concerns, so it's always a good idea to buy pieces you genuinely love and will wear multiple times, regardless of the price point.
7 Things To Consider When Purchasing Dupes?
Intellectual Property and Design Theft: When a brand creates a design, significant effort, creativity, and resources go into the process. Dupes, especially those that closely mimic the original design, might be seen as benefiting from another brand's creative labor without putting in the same effort or giving due credit.
Quality and Longevity: Dupes, especially from fast-fashion brands, might have a different quality than the original. This can lead to a shorter lifespan for the product, promoting a throwaway culture that is detrimental to the environment.
Labor Rights: Many fast-fashion brands that produce dupes have been scrutinized for their labor practices. There are concerns about workers being underpaid, working in unsafe conditions, or being subject to unfair labor practices.
Environmental Impact: The fast-fashion industry is known for its significant ecological footprint. Rapid production cycles often mean more waste, energy consumption, and pollution. Purchasing dupes might indirectly support these environmental harms if dupes are produced by such brands.
Quality of Materials: Some brands might use cheaper, non-sustainable materials for their dupes to keep prices low. This not only impacts the environment but can also affect the health of consumers if harmful chemicals or dyes are used.
Supporting Original Creativity: When consumers opt for dupes over the original, it can encourage designers to create innovative and unique designs. If their designs are copied and sold at a fraction of the price, the incentive to innovate might be reduced.
Economic Impact on Original Brands: Especially for smaller designers or brands, having their designs copied and sold for less can have a tangible economic impact. They might lose sales, and their brand's perceived value might be diminished.
While these are valid concerns, it's also essential to acknowledge that not everyone can afford high-end or designer items. Dupes offer a more affordable way to access trendy commodities. However, if you're considering buying a dupe, it's a good idea to research the brand, understand where and how the product is made, and make an informed decision based on your values and priorities.
Can the Quality of Dupes Match That of the Original Luxury Brand?
The quality of dupes can vary significantly, and while some can come close to matching the original luxury brand in terms of materials and craftsmanship, others might need to catch up. Here are some factors to consider:
Materials Used: Luxury brands often use high-end materials that are carefully sourced, whether it's leather, silk, or precious metals. Dupes, especially those from fast-fashion brands, may use synthetic or lower-quality materials to keep costs down. However, there are instances where dupes use materials of comparable quality to the original but at a lower price point.
Craftsmanship: One of the reasons luxury items come with a high price tag is the craftsmanship. Many luxury brands pride themselves on artisanal techniques, hand-stitching, and attention to detail. Some dupes may not match this meticulousness, though there are exceptions where mid-tier brands offer excellent craftsmanship at a more affordable price.
Production Scale and Method: Luxury brands often produce in smaller batches, ensuring quality control at each stage. Dupes, especially from more prominent brands, might be mass-produced, which can sometimes lead to consistency in quality.
Brand Markup and Perceived Value: It's essential to understand that luxury brands often have a higher markup due to branding, marketing, exclusivity, and the perceived value of the item. So, while the actual cost of production might not be exponentially higher than a non-luxury item, the retail price is. This means that, in some cases, a dupe might offer a similar quality without the luxury markup.
Longevity and Durability: While not always the case, luxury items are often designed to last for years, if not decades. This longevity is a combination of material quality and craftsmanship. Some dupes might wear out faster due to lower-quality materials or construction.
Research and Reviews: In the age of online shopping and reviews, it's easier than ever to gauge the quality of a product. If you're considering a dupe, look for reviews, especially ones that compare the dupe directly to the luxury item. This can provide insights into the dupe's quality and longevity.
In conclusion, while some dupes might come close to matching the quality of the original luxury brand, others might need to. As always, it's crucial to research, understand what you're paying for, and align your purchase with your values and priorities.
Conclusion
In the ever-evolving fashion world, finding quality dupes is both an art and a delightful challenge. Hello, fashion enthusiasts, always remember that while opting for a dupe can provide incredible style on a budget, it's crucial to ensure that the alternatives are ethically sourced and of good quality. Sometimes, the allure of a lower price tag can overshadow these critical considerations. Do your research, read reviews, and know your chosen brands. After all, fashion isn't just about looking good; it's about feeling good in what you wear and how it aligns with your values. So, armed with these insights, step out into the fashion world, explore those fabulous finds, and let your style shine responsibly and confidently!
Feature image by Tamara Bellis on Unsplash
Last reviewed and updated on August 10, 2023