This blog post is your ticket to mastering the Soft Girl style, an aesthetic brimming with candy-colored clothes, playful patterns, and vintage-inspired accessories. It's about celebrating your softer side, sprinkling magic dust of charm, warmth, and a dash of innocent cuteness. Whether you're a fashion rookie or a seasoned style diva, we've got you covered as we will explore this phenomenon from every angle.
We will embark on a style journey, discussing outfit ideas ranging from pastel-perfect dresses, baby tees, and oversized cardigans to cloud-soft sweater vests and beyond. We'll dive into details, explaining how you can mix and match these pieces to create your unique look and navigate you through a whimsical dreamland of accessories to complete the ensemble.
But that's not all. By the end of this blog post, you won't just be familiar with the Soft Girl Aesthetic, you'll become an ambassador of this look! So please put on your sparkly hair clips, tighten those pastel shoelaces, and step into the exciting world of Soft Girl fashion, where being cute is the order of the day and the key to a truly memorable style statement!
Embracing the Sweetness: Unveiling the Soft Girl Aesthetic
If you're scrolling through your favorite fashion feeds these days, you've likely come across the Soft Girl Aesthetic – a delightful trend that's more than just a fashion statement. It's a lifestyle! And darling, let me tell you, it's all about reclaiming hyper-femininity with a playful twist.
Imagine, if you will, the styles that made your heart flutter in the 90s and Y2K era. Your Bratz dolls and Lisa Frank folders got it right with the plenteous pinks, whimsical accessories, and a touch of nostalgia. Blend that vibe with buttery blues and lilacs, and you've got the Soft Girl aesthetic. It's like a dreamy cotton candy cloud of style. Let's break this down together, one adorable outfit at a time.
Soft Girl Outfits: Embracing Pastels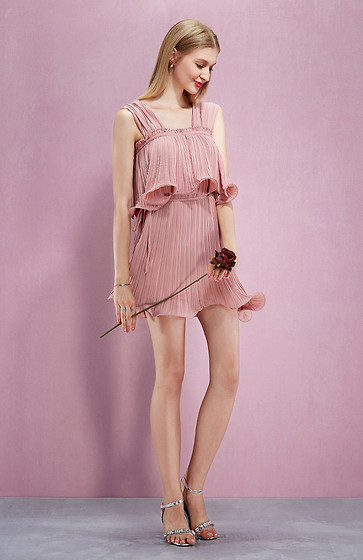 Ever worn a dress so light and floaty you felt like a springtime breeze personified? That's the essence of a Soft Girl dress. Picture yourself in a pastel dress adorned with the sweetest prints – think strawberries or perhaps some adorable gingham. My personal favorite? I wore A mint-green babydoll dress with a matching cardigan and a 90s-inspired bucket hat on a beautiful spring day. I'm telling you, it was a total hit at the farmer's market!
And let's not forget the classic chunky white sneakers – an absolute staple for any Soft Girl's wardrobe. Pair them with a string of pearls and a chic baguette bag, and voila! You've got the complete Soft Girl ensemble.
Trousers: Borrowing From the Past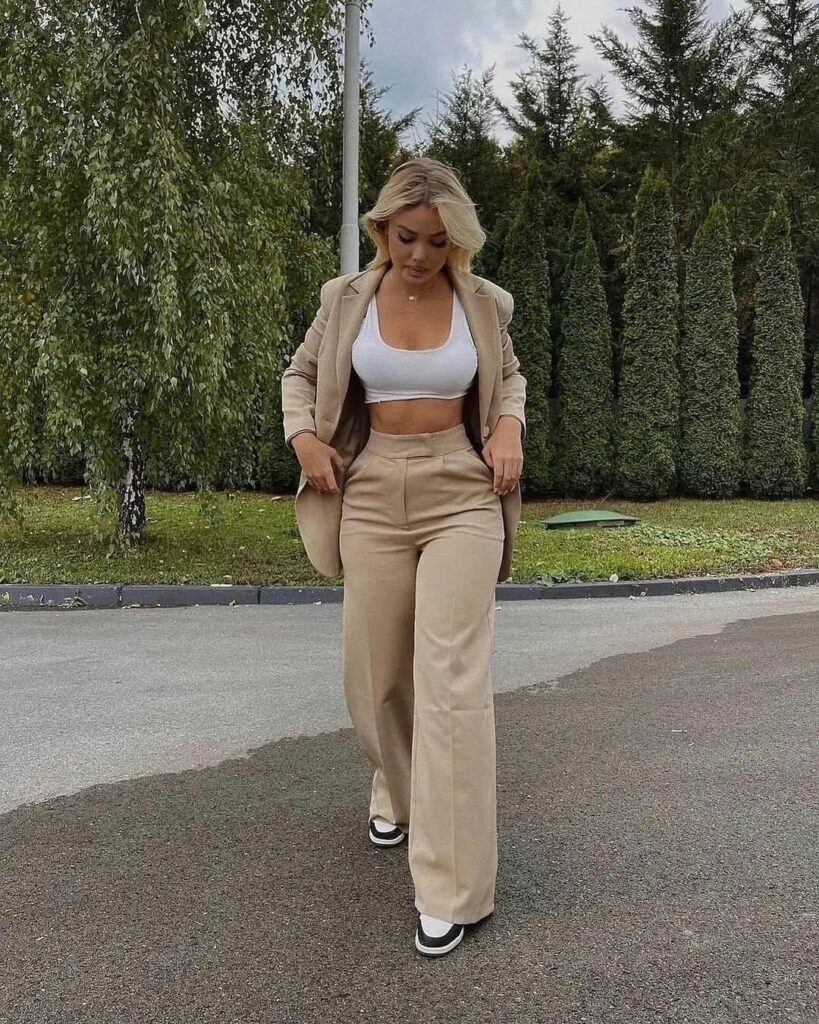 Like I used to raid my mom's closet for those oh-so-comfy high-waisted jeans, Soft Girl aesthetic loves a good throwback. Choose pastel-colored wide-leg cords or mom jeans that cinch at the waist for that dreamy silhouette. I paired my baby pink jeans with a matching crop top when I tried this. What a look! You can also go all-out monochromatic with your accessories. I'm telling you, pastel is the new black!
Skirts: Channeling Clueless
Remember Cher Horowitz from Clueless? Her enviable wardrobe left us all in awe. Get ready to revive those 90s vibes with tennis skirts in pastel plaids, dainty patterns, or classic whites. This look makes me feel chic like Cher, especially when I pair it with a cropped cardigan in a light shade like sage. Add a matching bralette, chunky sneakers, and a cute barrette; you're ready to rock!
Tops: All Things Pastel
Ah, the pastel crop top – a Soft Girl trend that stole my heart instantly. Whether it's a polo shirt, cardigan, or turtleneck, you can rock this look all year round. Have you tried layering a polo shirt with a cropped vest in periwinkle or lilac? It's a classic uniform ensemble with a fresh twist. And as the mercury drops, swap out your summer picks for a baby pink roll-neck and a cozy cardigan. Trust me, it's a look you'll instantly love.
Cardigans: The Soft Girl Staple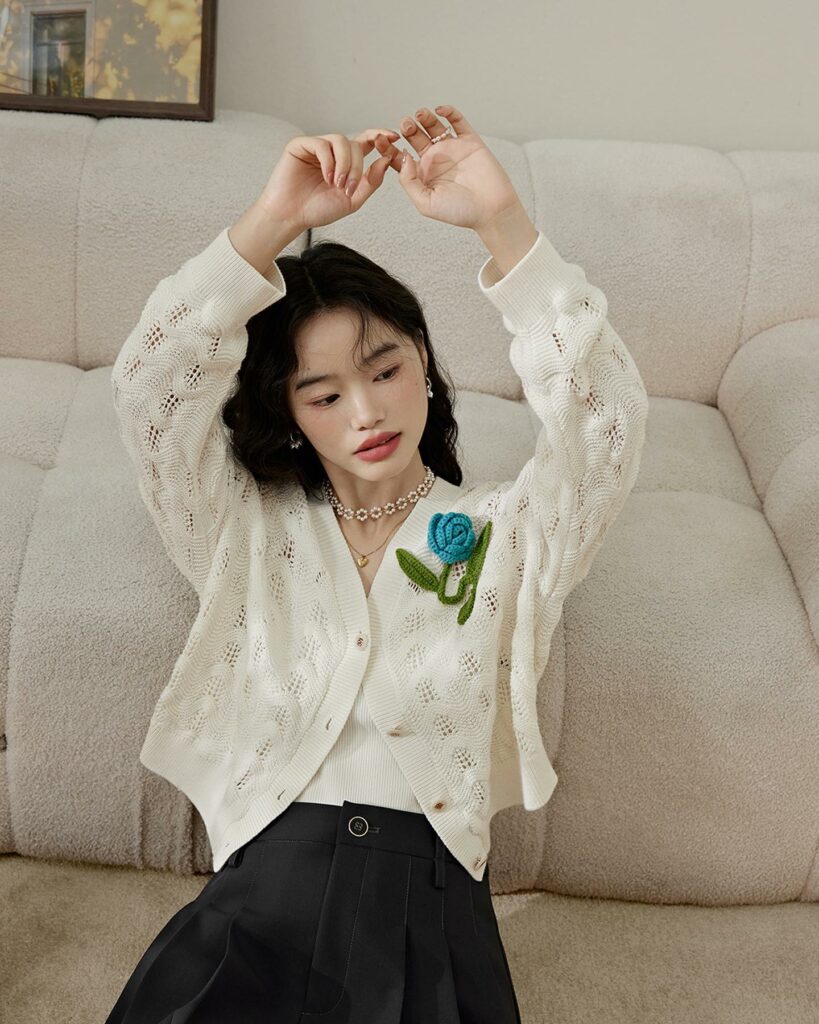 Let's take a moment to appreciate the humble cardigan – the unexpected star of the Soft Girl look. Worn alone or with a cute crop top, a cardigan in pastel shades is a versatile addition to your wardrobe. I love to mix and match clashing colors or experiment with funky patterns. The possibilities are endless!
Topping it off with Soft Girl Hats
Hats, hats, hats! They're more than just practical; they're a key part of the Soft Girl aesthetic. I'm all about bucket hats and berets in pastel colors, with a few cute patterns sprinkled in for good measure. They add that girly twist to any outfit that I adore.
Must-Have Soft Girl Bags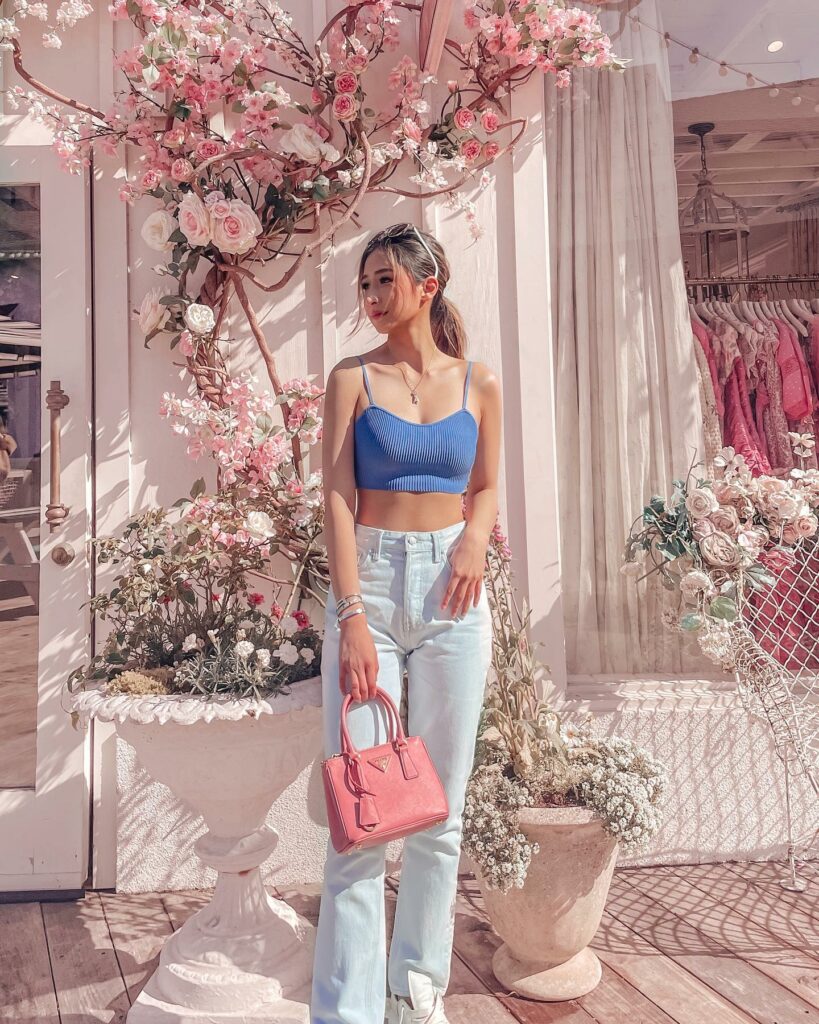 No Soft Girl aesthetic would be complete without a nod to the 90s and Y2K accessories. Handbags are back, baby! I'm a huge fan of pastel shoulder bags for a touch of Bratz doll flair. They're versatile, timeless, and oh-so-adorable.
Stomping Around in Soft Girl Shoes
A few staple pieces can make all the difference, especially regarding shoes. White sneakers and pastel slides are Soft Girl's best friends. Pair them with tall socks, a tennis skirt, or mom jeans; you're golden!
Sparkle with Soft Girl Jewellery
A big part of the Soft Girl aesthetic is getting playful with your jewelry. You can let your personality shine here with bright colors, cherry necklaces, smiley faces, plastic rings, and gorgeous clay earrings. Layer them to your heart's content and let your Soft Girl dreams come true!
Accessorizing with Hair Clips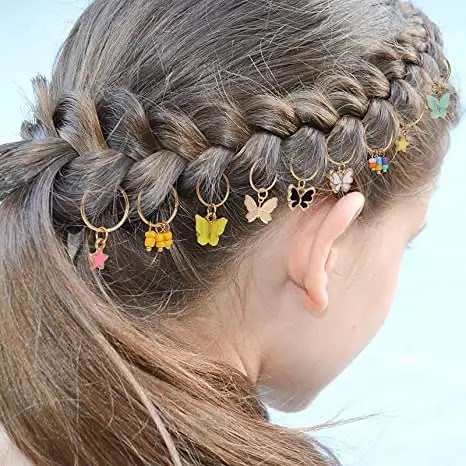 The nostalgia train doesn't stop at the clothes, my friends. Hair clips, especially butterfly ones, have a special place in the Soft Girl aesthetic. I like to place two or three at my temple for a sweet, face-framing look. If you're feeling extra adventurous, sprinkle them all over your hair. Instant volume and style!
Soft Girl Makeup: Enhancing Your Natural Beauty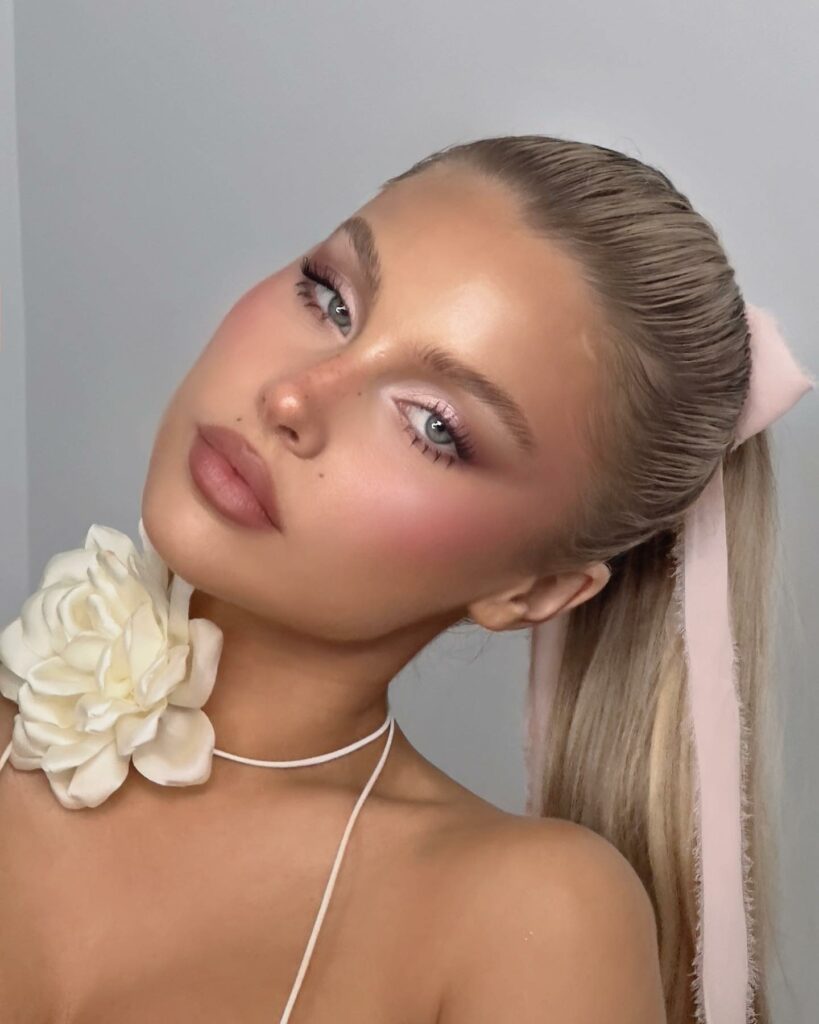 Soft Girl makeup is all about embracing delicate colors and patterns. Less is more with foundation, and I adore a good cream blush (in pink or peach) to bring out the apples of my cheeks. Top it off with some cute fake freckles, and you'll look like you've spent a delightful afternoon frolicking in a field of daisies.
Soft Girl Aesthetic Origins and Evolution
The Soft Girl Aesthetic, while modern in its popularity and presentation (especially on platforms like TikTok and Instagram), borrows heavily from past eras, blending elements of femininity, nostalgia, and vulnerability.
The '90s Influence: The '90s were marked by the rise of teen pop culture, girl bands, and iconic TV series like "Clueless", which popularized the mini-skirts, pastel shades, and hair accessories that Soft Girls embrace today. The fashion revolved around comfort and showcasing personality, be it through a unique hairpin or patterned socks.
Y2K and Early 2000s: This era introduced us to tech-driven culture and cyber vibes. The Bratz dolls, with their bold makeup and fun, edgy outfits, are a direct representation of this period and its influence on the Soft Girl look. Meanwhile, TV shows like "Lizzie McGuire" combined animated fantasies with reality, capturing the same whimsical and dreamy vibe of the Soft Girl Aesthetic.
Evolution Over Time: As we moved further into the 21st century, past aesthetics were revisited and revitalized. The Soft Girl emerged as a combination of these historical trends with a modern twist. Social media platforms amplified this by allowing users to share, recreate, and innovate upon the aesthetic, making it a global phenomenon.
---
Soft Girl on a Budget
Achieving the Soft Girl look doesn't mean emptying your pockets. With creativity and an eye for style, you can capture the essence of the aesthetic affordably.
Thrift Store Treasures: Thrift stores are gold mines for Soft Girl essentials. You might find pastel-colored sweaters, vintage hair accessories, or high-waisted jeans that fit the aesthetic perfectly. And the best part? They come with a sense of uniqueness and history.
Upcycling Old Clothing: Got an old pair of jeans? Try embroidering them with cute designs like flowers or butterflies. A basic T-shirt can be transformed with tie-dyeing, or by adding sew-on patches. Transform old sweaters into cardigans by adding buttons or making strategic cuts.
DIY Accessories: Hairpins, jewelry, and even bags can be made at home. Use beads, clay, or fabric to create items that reflect the Soft Girl vibe. Sites like Pinterest offer a plethora of DIY ideas tailored for this aesthetic.
Affordable Brands: Several fast-fashion brands and online stores cater to the Soft Girl aesthetic without the hefty price tag. Brands like SHEIN, Romwe, or even certain collections in Target or Walmart can be great starting points. Always look out for sales, and don't shy away from exploring children's or junior sections—sometimes, they have items that fit the aesthetic perfectly at a lower price.
Swap and Share: Organize or participate in clothing swap events with friends or community members. You'd be surprised how one person's seldom-worn item could be the perfect addition to your Soft Girl wardrobe.
Remember, the Soft Girl Aesthetic, at its core, is about expression, comfort, and a touch of nostalgia. It's not about branded items but rather capturing a feeling and vibe. With a little creativity, you can effortlessly embody the Soft Girl spirit on a budget.
Conclusion
And there you have it, dear readers – your ultimate guide to embracing the Soft Girl Aesthetic in all its whimsical charm. From its delightful pastel palette and nods to the nostalgic 90s to the statement pieces that will make your outfit pop, it's clear that this trend is all about celebrating femininity and having fun with your style.
Remember, fashion is an expression of who you are, and it should make you feel good. So if you're drawn to the Soft Girl Aesthetic, don't be afraid to experiment. Mix and match different elements, and don't shy away from adding your unique spin to it.
However, a word of caution – as with any trend, it's easy to get carried away. But keep in mind style is not just about following directions unthinkingly. Ensure your outfits are comfortable and suitable for your daily activities and reflect your style and comfort.
The Soft Girl Aesthetic can be a fantastic way to express your personality but remember, you don't have to fit into a box to be fashionable. Your style is an extension of you and should make you feel confident and radiant.
So go on, sprinkle some Soft Girl magic into your wardrobe. Embrace the pastels, play with prints, and enjoy the ride that is fashion. Remember, the ultimate goal is to have fun and feel fantastic! You're ready to make a stylish splash in Soft Girl Aesthetic. Let your style journey begin!
Feature image by Tamara Bellis on Unsplash