If you need a mark of authority and success, these 1 tattoo ideas are for you. The number 1 represents luck as well as success.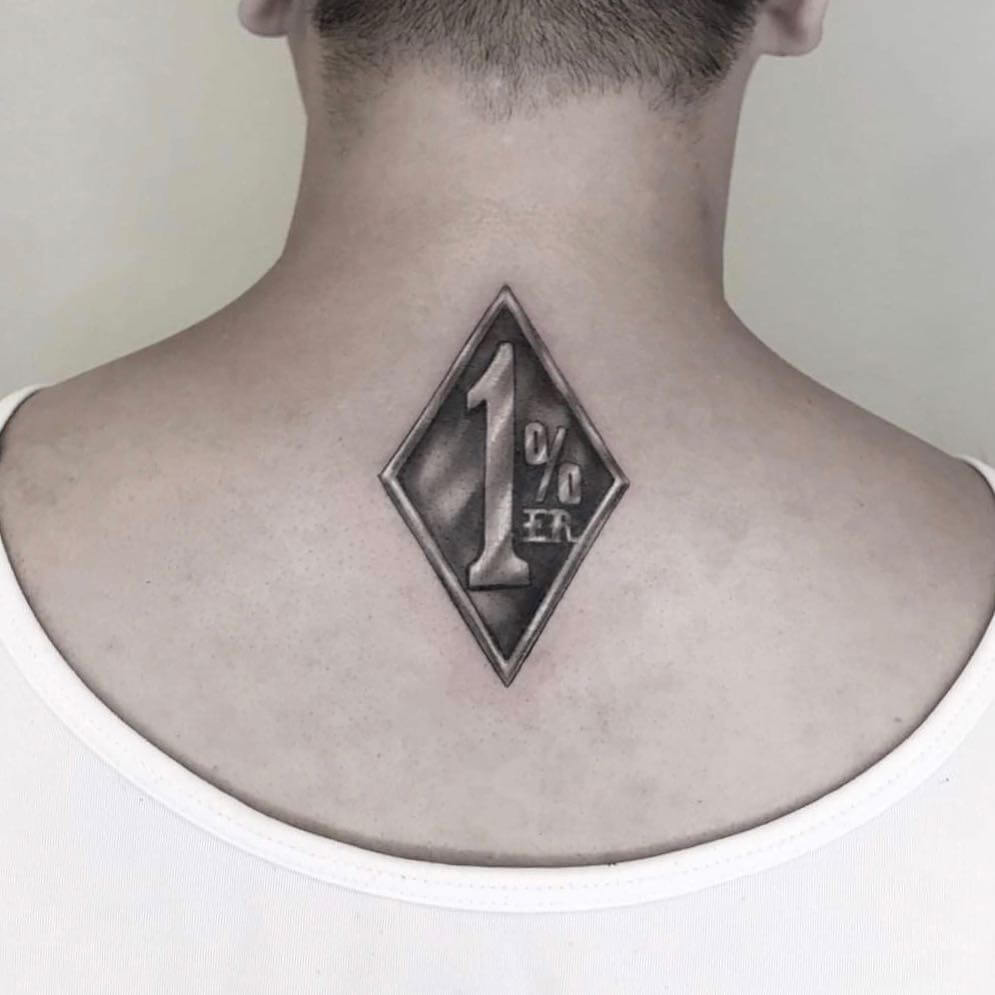 Several factors influence why individuals prefer number tattoo ideas.
During ancient times, numerology was a part of practically all civilizations. Mathematics is the world's universal language, and numbers play a crucial role in arithmetic.
Additionally, numbers are a favorite in astrology. Nearly everyone has a personal favorite number, which could be related to important things like their birthday or another special date to be remembered. It makes sense that people ought to differentiate between lucky and unlucky numbers. In some cultures, it is believed that getting a specific number tattoo according to your horoscope will change your destiny.
Number 1 is regarded as a superior and independent digit. Most people wait around for possibilities to present themselves. It is believed that a person with a number 1 tattoo creates their own fortune by taking advantage of situations that others might be reluctant to examine. The solitary number 1 is impatient and does not want to spend time haggling or planning ahead. Being independent enables more agility and swift, effective action. These tattoos can be easily manipulated into a shape or size of your choice, with minimal or subtle design. Here are the best chosen 1 tattoo designs for you!
Tiny 1 Tattoo
Just below the collarbone is a tiny 1 tattoo. There is no additional design on this tattoo. The tiny 1 has been inked using plain black color. This tattoo is so tiny that it is hardly visible from afar.
Who doesn't want these tattoos? The answer is no one would say no because this tattoo looks cute and aesthetic. The detailing in this tattoo is not too much, giving it a semi-realistic look while retaining all the minimalist qualities. Usually, women go for these tattoos. With your hair open, you can easily hide the tiny tattoos as they are so small in size. It is ideal for those people who yearn to get tattoos but want to keep them hidden in public.
N1 Harley Davidson Tattoo
The motorcycle brand symbolizes the American way of life, the spirit of defiance, and the desire for an adventure of a lifetime. Most people of the American motorcycle association would love to get this tattoo.
When a brand is tattooed on a person's body, it represents their dedication to the industry and adherence to the brand's purported culture. This tattoo can be preferably drawn on the thighs, arms, or back. The number 1 tattoo is well out-lined with black color. It has inner detailing in vibrant colors like yellow and red. We can see the details of the sunset and the motorcycle. This tattoo is a perfect match generally for all the people who like adventure and are bikers. Go to the nearest tattoo shop and get it!
1 Armband Tattoo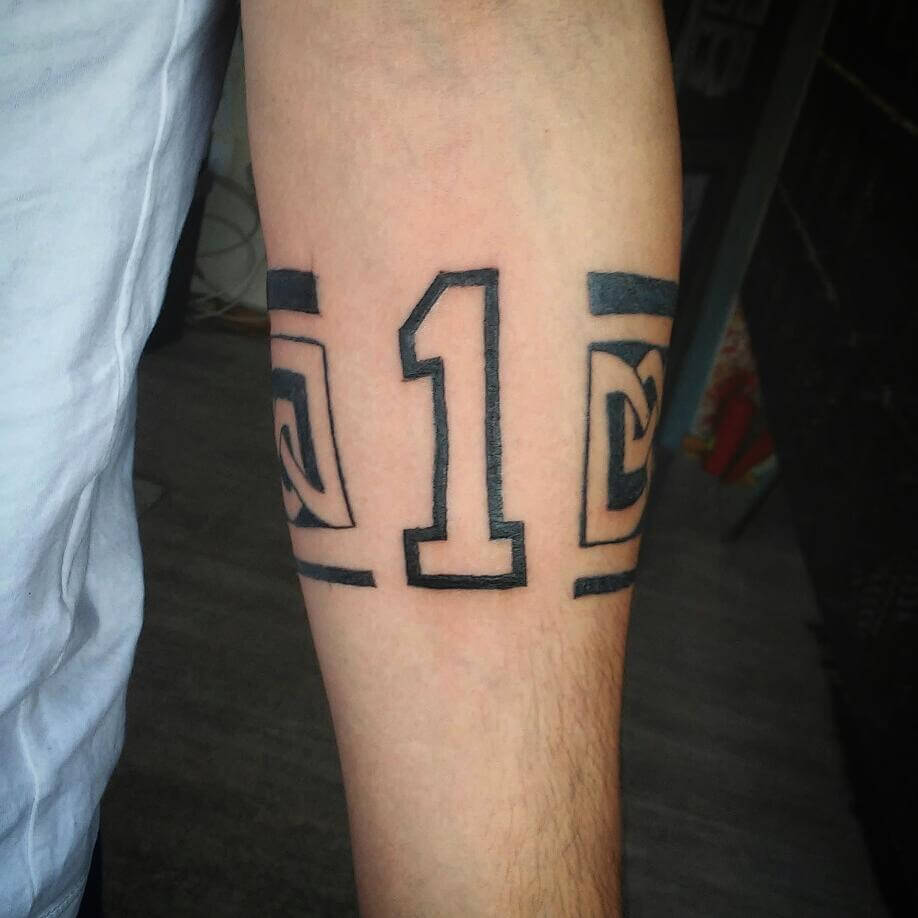 The solid 1 armband tattoo can represent fortune and endurance. The tattoo is located on the bicep, where it draws attention to the strong curves of powerful men and women.
These tattoos wrap around your arm like a band, giving the impression that there is a band there. These tattoos match your toned arms and seem sleek and lovely. Everyone can get an armband tattoo, from a college girl to a daily fitness enthusiast.
Numerous patterns are available for armband tattoos, including florals, tribal motifs, vengeance, tropical, and spiked fences. These inks can be connected to the memories of loved ones who have passed away or to persons you like. Like here, the number 1 is in between. The tattoo is quite well-detailed. Make your friends jealous with a tattoo that makes you confident and amazing.
Lucky Number 1 Tattoo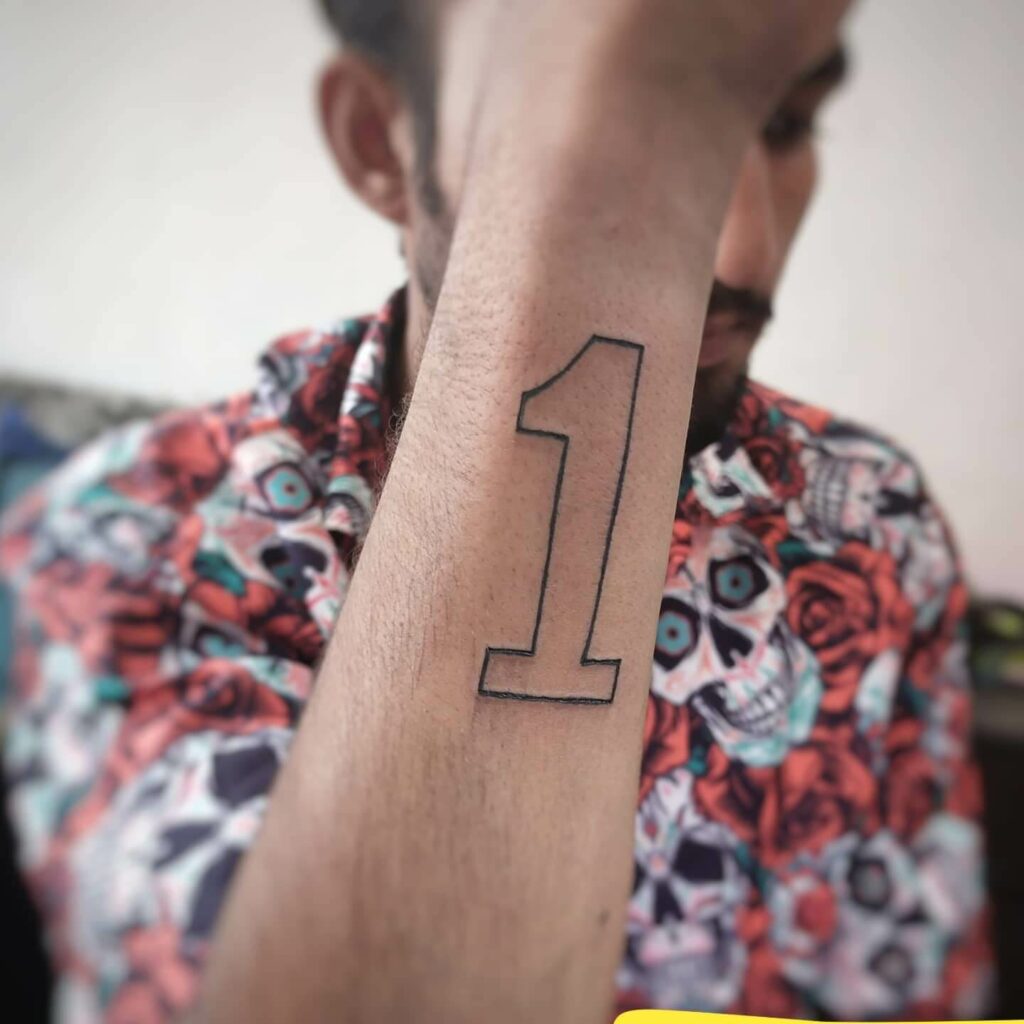 The lower area of the forearm is where this tattoo is inked. This tattoo has no such details or pattern. It is outlined straight and simple, yet this tattoo is an inspiration for many.
The lucky number 1 is associated with independence, ambition, creativity, and a small amount of self-centeredness. People with the number 1 tattoo frequently disregard others' feelings and thoughts because they are so autonomous. Instead of asking for assistance from other people or exchanging ideas with them, they prefer to do everything on their own. Both men and women can get their lucky number 1 inked tattoo. It's the perfect design for flexing your lucky number 1 newly-inked tattoo.
1 Face Tattoo
To make a statement is typically the main reason people get face tattoos. This might be a way for you to make a statement about who you are, rebel, or improve your appearance. Certain civilizations, especially those in the Pacific, place a lot of importance on facial tattoos.
The majority of people believe that getting a facial tattoo is a horrible decision. Still, these famous men and women are live examples of why this stigmatized tattoo craze merits another opportunity. These meaningful facial tattoos demonstrate the beauty and influence that tattoos can have, especially when they are permanently applied to the skin as art.
These tattoos look incredible. This tattoo has the number 1 written with its alphabetical spelling 'one' written over it. The shading is quite stunning, completely black. The color black makes it highlights the face. The font is simple, with a border and a shadow. The way the tattoo is outlined gives a 3-D look to it. Getting a tattoo ink on the face is in no way one of the unique ideas! It is never too late to book an appointment to get inked in the nearest tattoo studio.
1 Tattoo With Star Design
The lower area of the left hand near the wrist is where this tattoo is inked. This tattoo design with elements like a star, flowers, or birds makes it look prettier.
What does a tattoo with a star design mean? A star tattoo can have a variety of connotations. These include aspiration, fate, faith, and direction. For women, star tattoos can simply be beautiful! This tattoo design can serve as a reminder that helps you to follow your heart or follow fate. For someone who faces problems with control of emotions, this tattoo is a perfect match for your personality.
Number 1 Tattoo On Leg For Men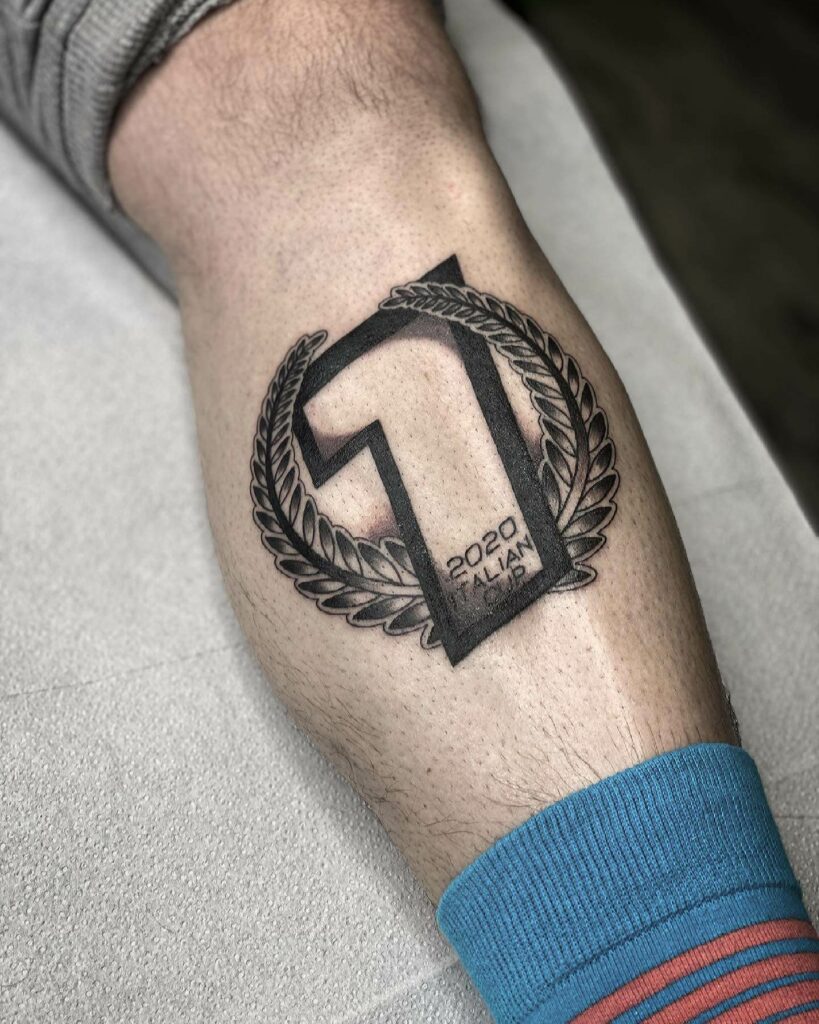 This tattoo idea is mainly for the guy who plays football or any other sport.
One of the most well-liked tattoo locations for males is the leg. Lower body tattoos are common among men, and both athletes and celebrities have them. The best feature of a leg tattoo is that it is noticeable, yet you can hide it easily when you want.
Men can choose enormous, ornate designs for their legs or simple, understated ones. Just like in this tattoo, the 2020 Italian cup is highlighted while the trophy is replaced with 1. The design looks quite classy. The way 1 is written takes all the attention. The shading is precisely done. On a piece of information to inspire, you can get this tattoo similar to any design of your choice, highlighting the number 1.
Minimalist 1 Tattoo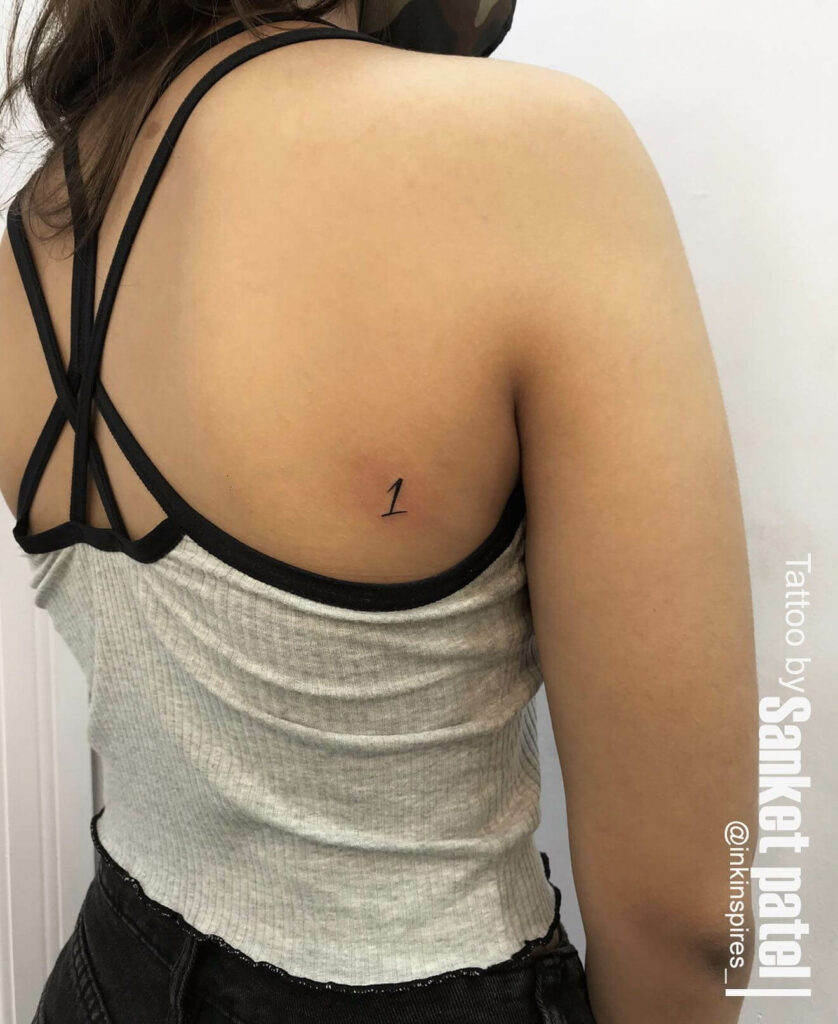 This tattoo is simple yet aesthetic. The design is small and feminine. Tattoos of this kind are not necessarily the sign of membership in any father organization like the AMA. This tattoo is rather more about the number 1.
One can get this tattoo in any color of their choice, but it looks more elegant in red or black. For someone who doesn't like too many details, this tattoo is a perfect match for your personality. People who believe in numerology will love this tattoo, especially if 1 is their lucky number. Most people go all the way and tattoo the famous angel number 11:11 on their backs or wrists, but this is also a great alternative.
Hells Angels 1% Tattoo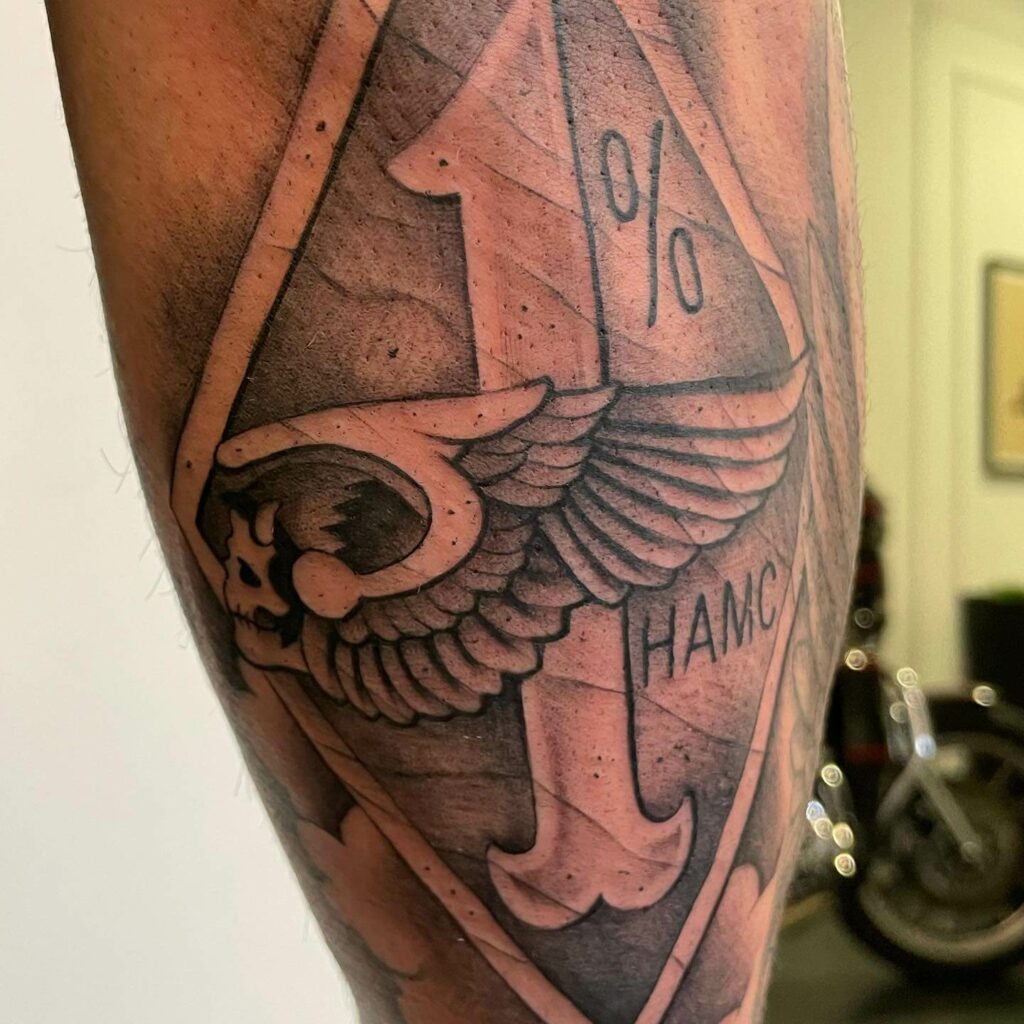 This tattoo represents the 1% of the American motorcycle association who do not follow biking ethics. There are clubs like Banditos, Hells angels, and so on that were mentioned as outlaws by the biking association concerning their criminal dealings. The declaration is believed to be made in reference to the Hollister riot, but the AMA did not confirm this statement.
The tattoo is a big 1% inked on the person's leg. The tattoo spans a large area, and there is a single angel wing across the writing. The angel wing is accompanied by a half-skull or a demonic face at the extreme left, which only accentuates the design's intrigue. Made in black ink, the tattoo doesn't look like the work of a very experienced hand, but it is nonetheless majestic. Just what the outcast members would love to get.
Curvy Pattern 1 Tattoo
The design of this 1 is wavy and quite similar to the thunder lightning. A lightning bolt sign typically denotes bravery, intellect, and energy. Zeus, the king of the Olympians, wielded a lightning bolt as a weapon in Greek mythology. Later with time, it grew as a philosophic interpretation.
Due to the usage of just one color in the outline, the tattoo has a clean appearance. Best friends usually choose this type of 1 tattoo design to twin. One can get it preferably in any place of the body, but it is popular on the wrists and shoulders.
Feature Image from Pinterest – Want your tattoo to look brighter? Try "Tattoo Balm"