Hey there, are you interested in getting a tattoo that's both beautiful and meaningful? Look no further than a minimalist phoenix tattoo! These small yet majestic designs are sure to capture your imagination.
If you're a fan of mythology, you've likely heard of the phoenix, one of the most glorious mythical creatures in existence. This bird has appeared in countless myths and legends, from Greek and Egyptian to Chinese and beyond.
In Greek mythology, the phoenix is known for its incredible powers of immortality and is associated with the god Phoebus Apollo. When the phoenix dies, it is said to turn to ashes, only to rise again and be reborn. This makes the phoenix a powerful symbol of new beginnings and a fresh start.
According to Roman legends, the phoenix can live for hundreds of years, dying and being reborn from its own ashes. This bird is also associated with rebirth in Christianity and is revered in Egyptian culture for its melodious cry and elegant size.
In Chinese culture, the phoenix is a symbol of a new era, and is known as the Fènghuáng. With such deep spiritual meaning, a minimalist phoenix tattoo is the perfect way to express your love for this mythical creature.
So if you're ready to take the plunge and get a tattoo with a powerful message, a minimalist phoenix design may be just what you're looking for. Come check out some of the best designs out there and let us help you bring your vision to life!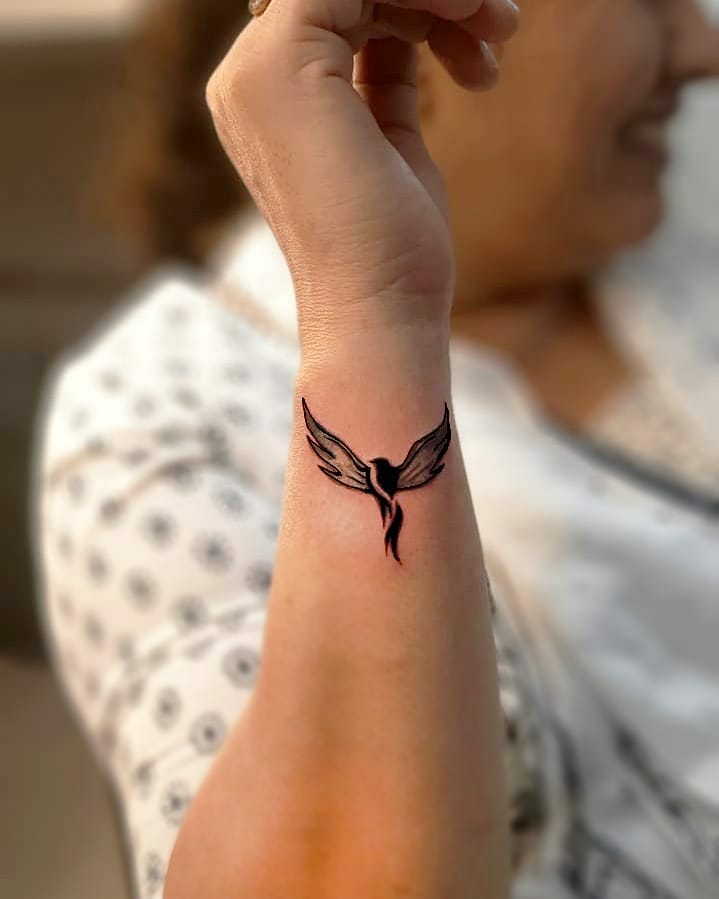 Minimal Colorful Phoenix Tattoos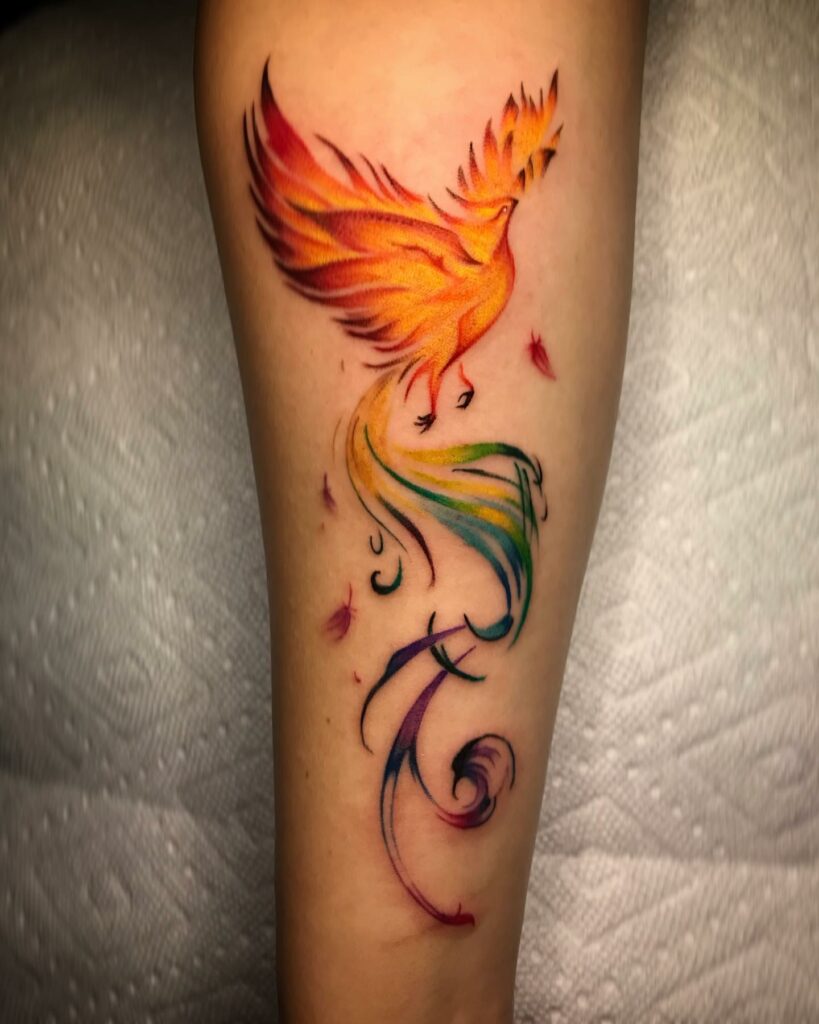 This phoenix tattoo on the forearm is a colorful masterpiece! Using a blend of bright shades such as red, yellow, green, black, and orange, the tattoo artist has captured every detail of the phoenix. The bird appears to be on fire, with its colorful tail adding to the gorgeousness of the design. The tattoo depicts the phoenix rising from the ashes with its wings spread out, symbolizing freedom and a new beginning. It's the perfect choice if you're looking for a tattoo to mark a new chapter in your life.
Minimalist Phoenix Tattoo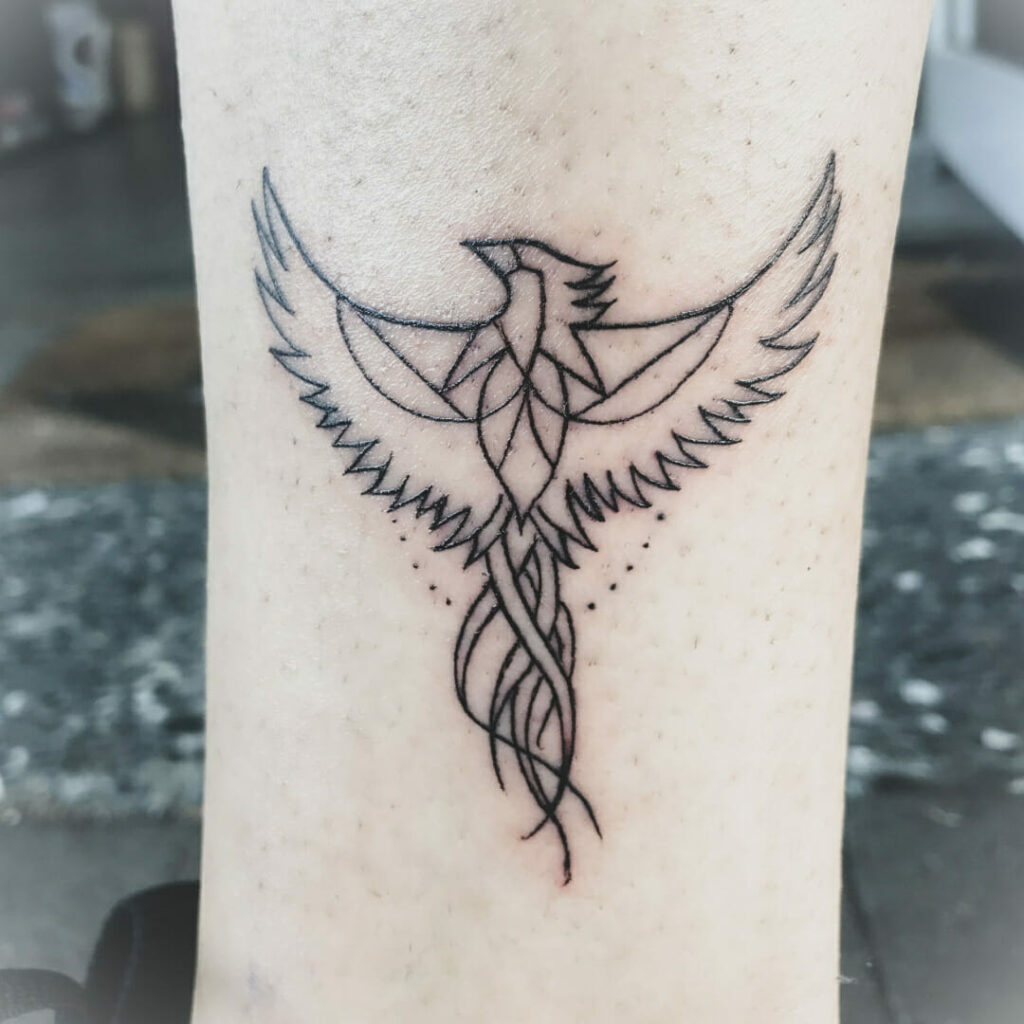 Are you a fan of simple yet powerful tattoos? Then this minimalist phoenix tattoo is the one for you. Made with perfectly fine lines, this design is inked in bold black on the wrist. The outer line is superior and striking, reflecting the artist's patience and fine talent. These contour-lined phoenix tattoo designs are always unique for their art style. The fine finishing lines of both the wings and tail are undoubtedly praise-worthy. In this phoenix tattoo, the phoenix seems to be flying, making it the perfect tattoo to pair with the minimalist in you.
Watercolor Phoenix Tattoo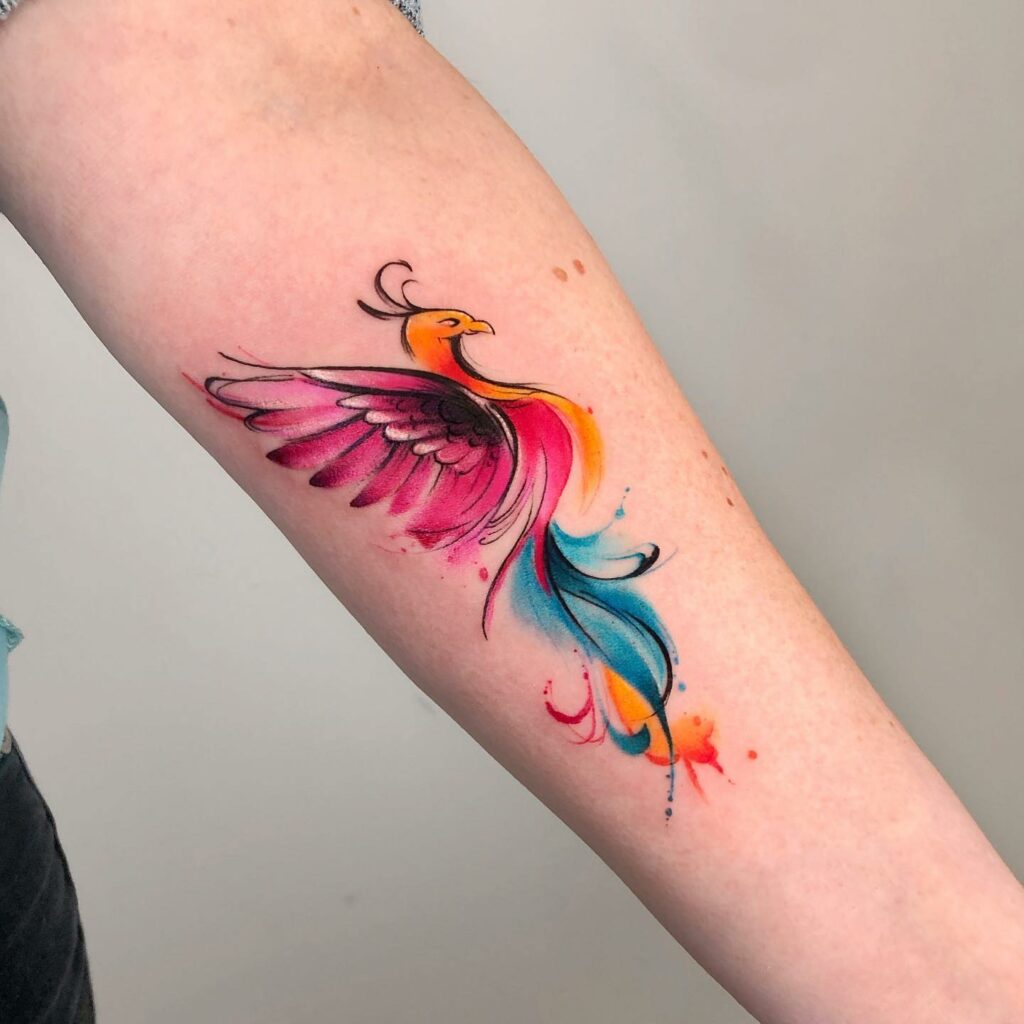 The name of this tattoo speaks for itself, with its amazing watercolor effect that blends different colors beautifully. The placement of the tattoo is also worth noting. Forearms are a great spot to show off your tattoos, and this phoenix tattoo with its mind-blowing color combination represents the power of beauty and strength. The phoenix is a symbol of rebirth and renewal, as it rises from its ashes. In this tattoo, the phoenix represents the cycle of life and death, making it even more powerful. This design is a wonderful representation of the idea that beauty can rise from ashes, and the watercolor effect just adds to the stunning nature of this piece. If you are looking for a gorgeous minimal phoenix tattoo, this one is definitely worth considering!
Feminine Rebirth Phoenix Tattoo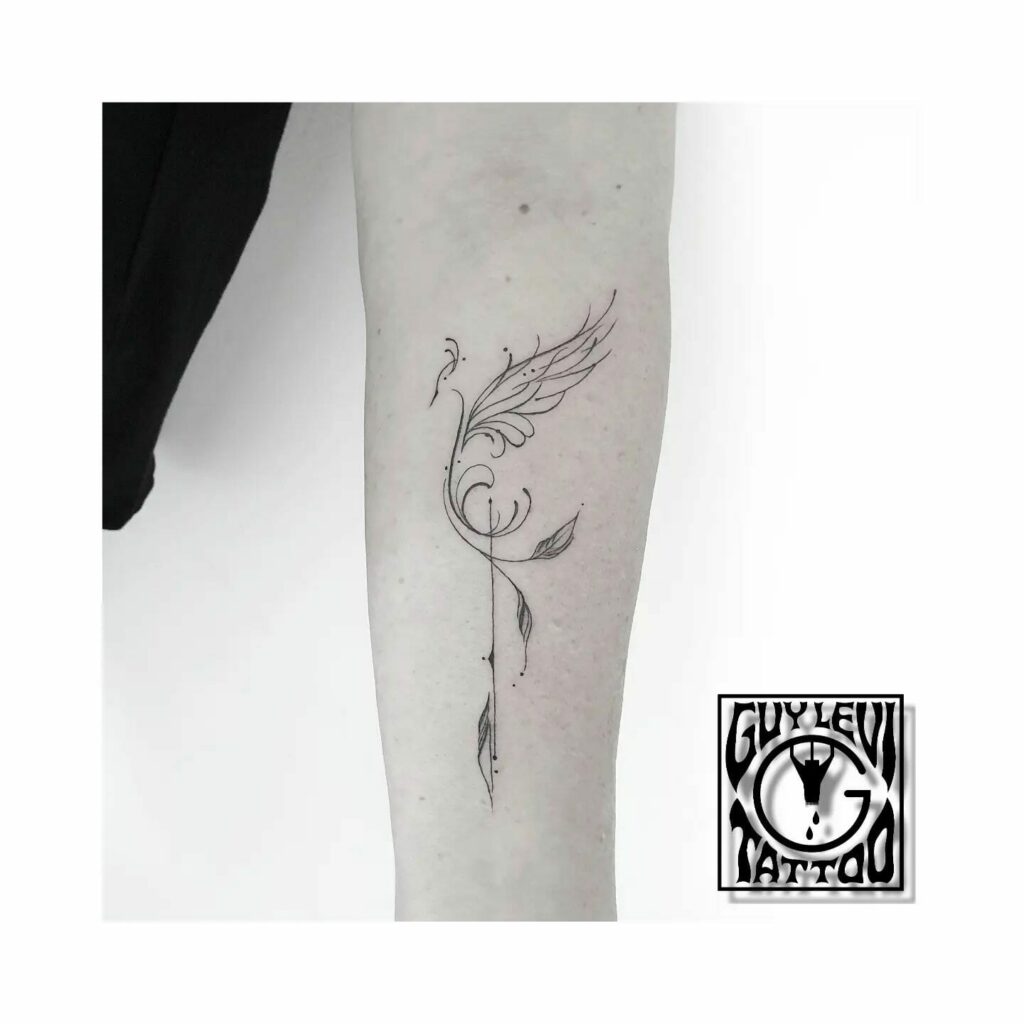 This beautiful forearm phoenix tattoo is made up of delicate and intricate lines, making it a unique and elegant minimalist option for those looking for a stunning design. The artist's talent in capturing the essence of the phoenix is reflected in the bird's graceful and majestic appearance. This tattoo is done in black ink, emphasizing the beauty of the bird's fine details. The way the phoenix is depicted rising in this tattoo symbolizes resilience and perseverance, encouraging us to never give up. The phoenix is known for its symbolism of rebirth and renewal, representing strength and power. While this minimal phoenix tattoo is a popular choice among women, men can also rock this design. It's perfect for those who appreciate a simple and classic tattoo with a deep meaning.
Tribal Phoenix Tattoo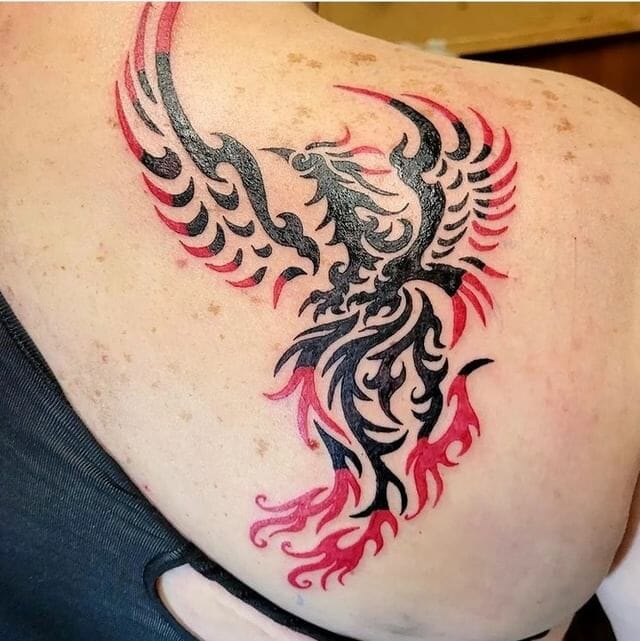 Tribal tattoos are some of the most powerful tattoos out there, representing an array of meanings such as strength, protection, and even achievements and heritage. However, tribal phoenix tattoos are a bit different in their symbolism. They represent new beginnings and the ability to rise above obstacles, leaving them behind as you soar to new heights. This particular phoenix tattoo is a great example of that, featuring vibrant red and bold black ink to create stunning wings that radiate power and beauty. If you've been on the hunt for a tribal phoenix tattoo, this one is a fantastic choice.
Black Phoenix Feather Tattoo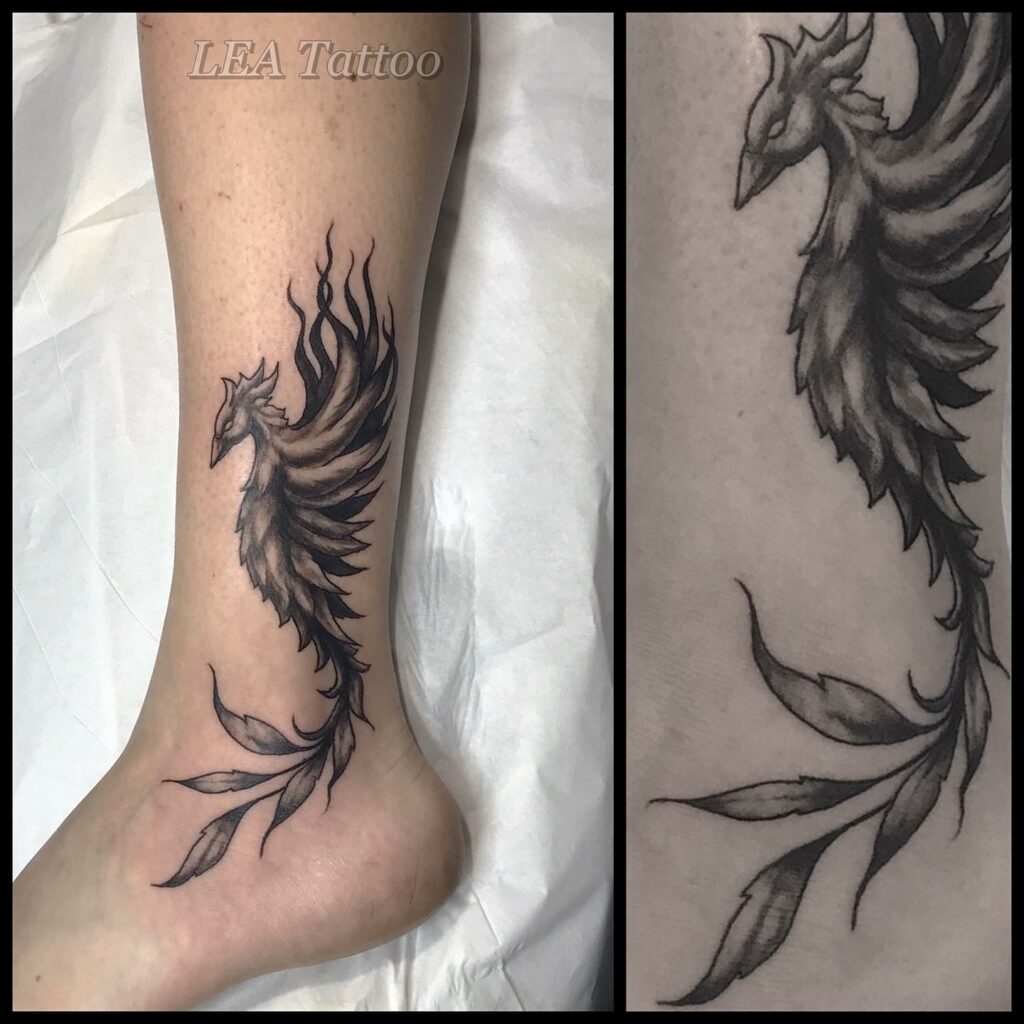 This tattoo is a stunning depiction of a phoenix that has been inked on the leg of the tattoo bearer. The shadowing techniques used in this tattoo are truly remarkable, giving the bird a realistic and authentic appearance. The flying posture of the phoenix in this tattoo is truly inspiring, motivating people to take new risks and embrace new opportunities in life. Phoenix tattoos are often seen as a symbol of new beginnings and can encourage people to let go of their past and move forward with renewed hope and energy. If you're looking for a beautiful and artistic phoenix tattoo that embodies these powerful meanings, then this tattoo is a perfect match for you.
Flying Phoenix tattoo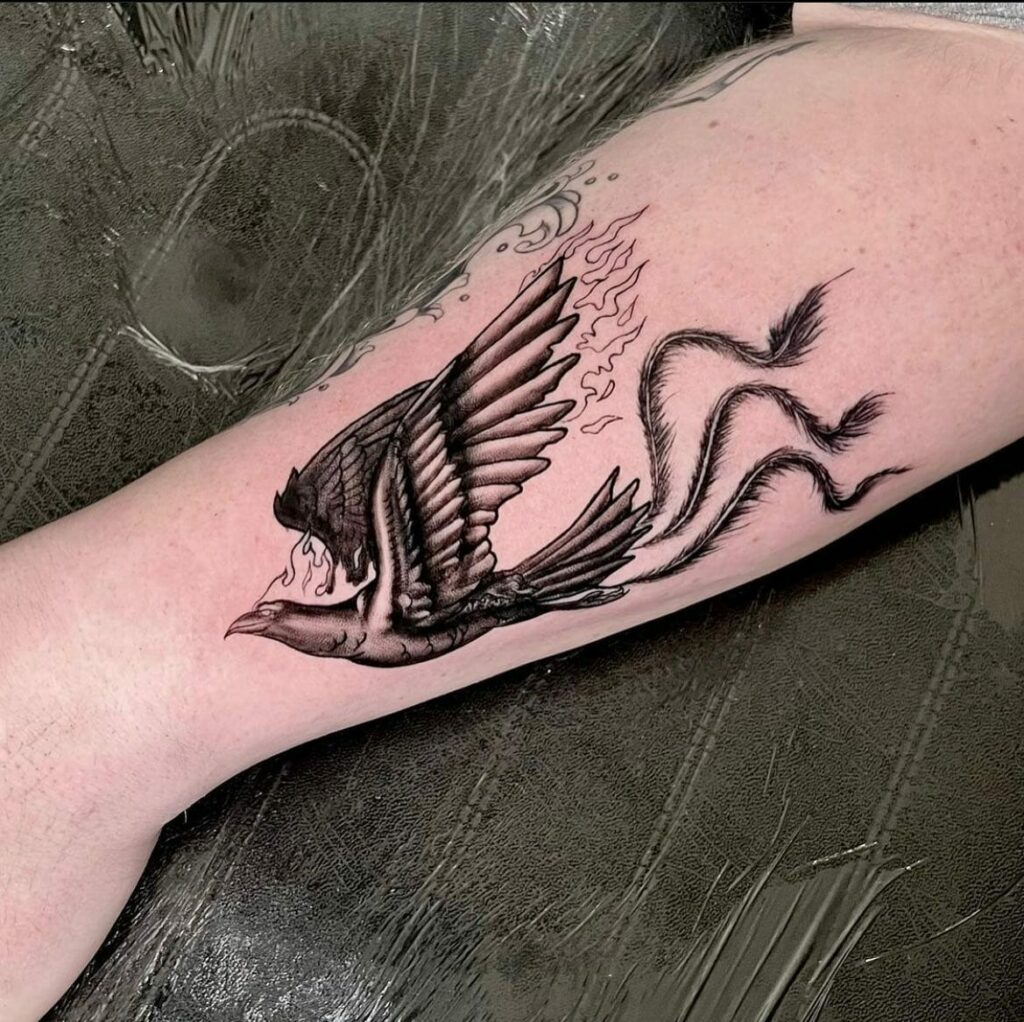 phoenix tattoo generally symbolizes rebirth, but it can also signify becoming stronger than ever. This is because a phoenix rises back up every time it dies, teaching us an important lesson of never giving up. The transformation of an individual throughout their life is beautifully portrayed in a phoenix tattoo, reminding us how strong we are every day. If you have been searching for some forearm Phoenix tattoo ideas that reflect your beliefs about life and freedom, then this tattoo would definitely be worth considering.
Phoenix Back Tattoo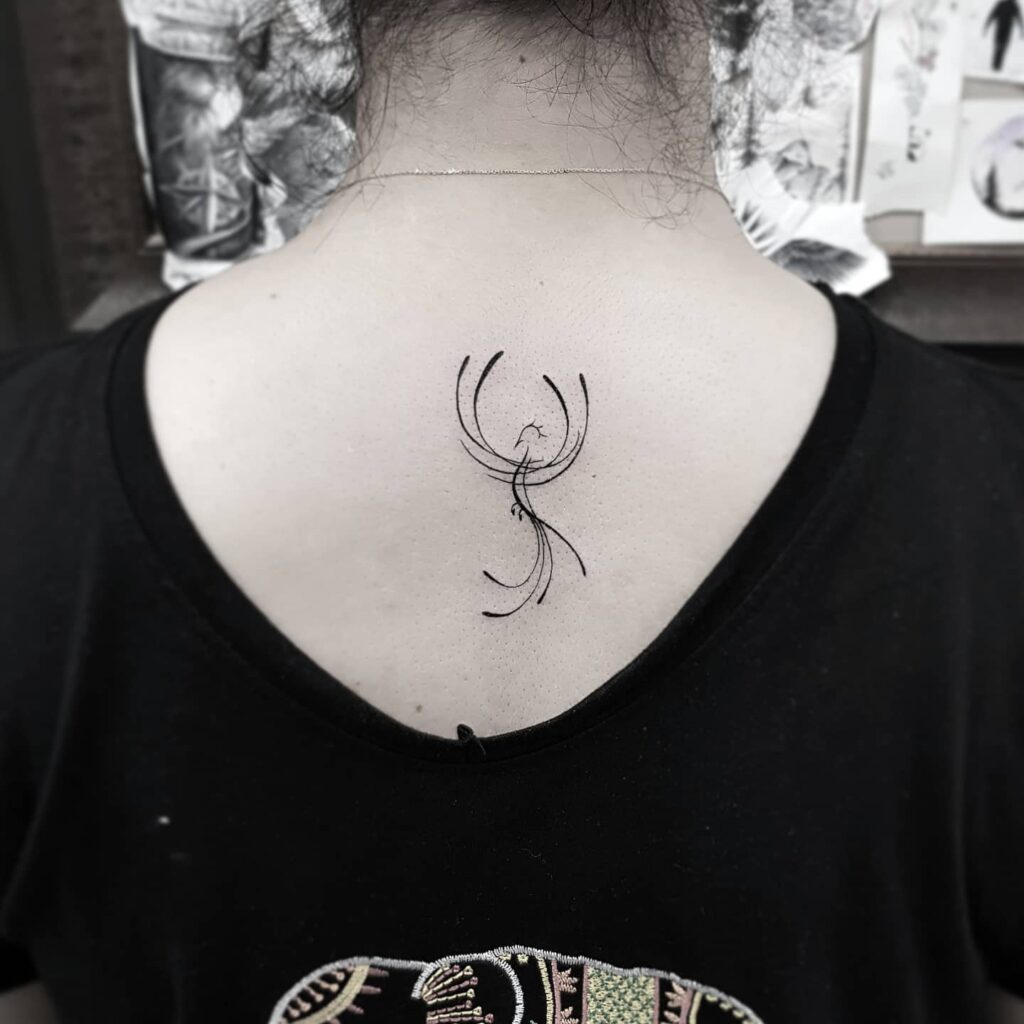 Looking for a minimalistic yet captivating tattoo design that symbolizes new beginnings? Look no further than this small Phoenix tattoo, expertly inked on the back with black ink. With its simple yet elegant design, this tattoo represents the enigma of the phoenix in a way that captures the bird's essence. The details are eye-catching and expertly done, with perfect feathers and tails that make this Phoenix tattoo a true masterpiece. This tattoo is all about new life cycles, and it shows the bird rising as if it's getting ready to start a new journey. If you're looking to celebrate your hard work and perseverance with a beautiful tattoo, this Phoenix tattoo is an excellent choice. But if you're after something more colorful, we have a great recommendation for you – keep reading!
Small Phoenix Tattoo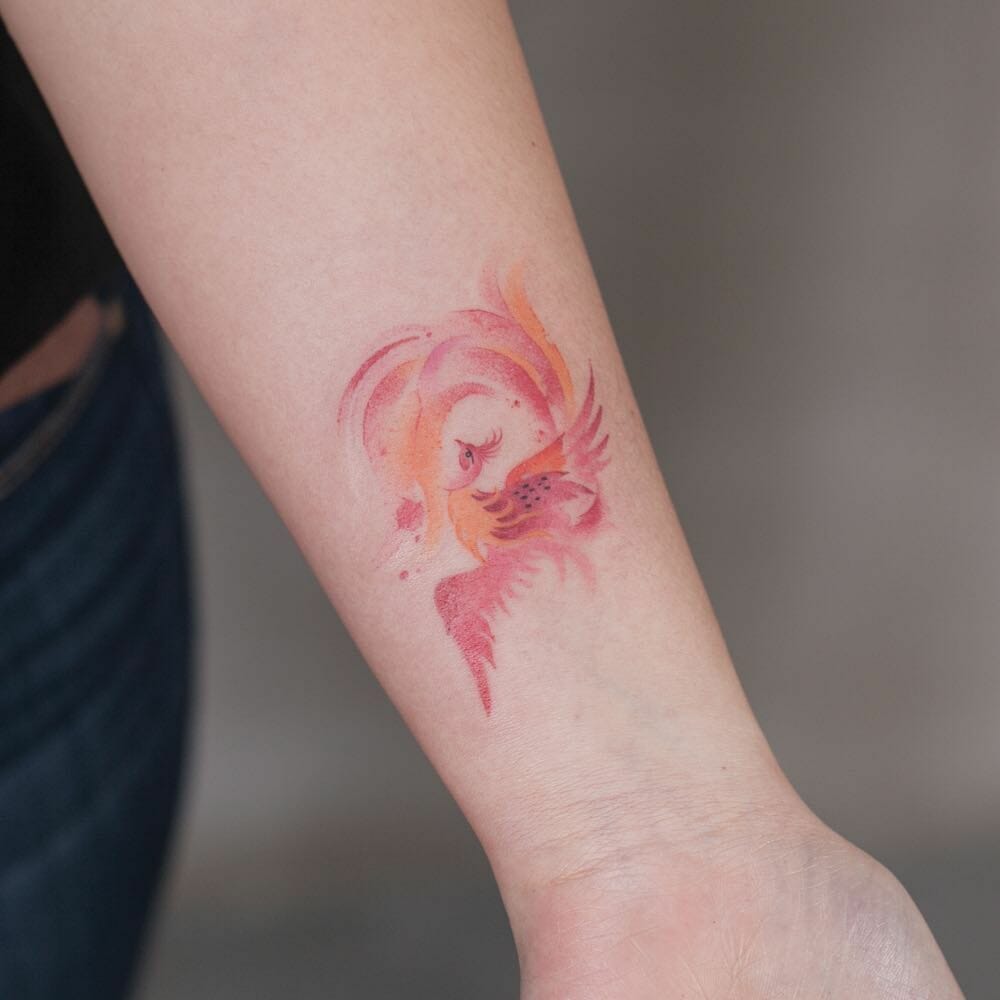 This phoenix tattoo is simply stunning and has been placed perfectly on the wrist of the wearer. The watercolor effect of this tattoo gives it a unique and creative twist that will surely catch people's attention. The use of red, yellow, and orange color in this tattoo to create flames around the bird is truly remarkable. It's the attention to detail and precision that makes this phoenix tattoo stand out from the rest.
If you've been searching for a creative phoenix tattoo that truly represents your love for this legendary bird, then this watercolor phoenix tattoo may be just what you're looking for. It's a beautiful work of art that will surely inspire you and those around you.
Small Hand Phoenix Tattoo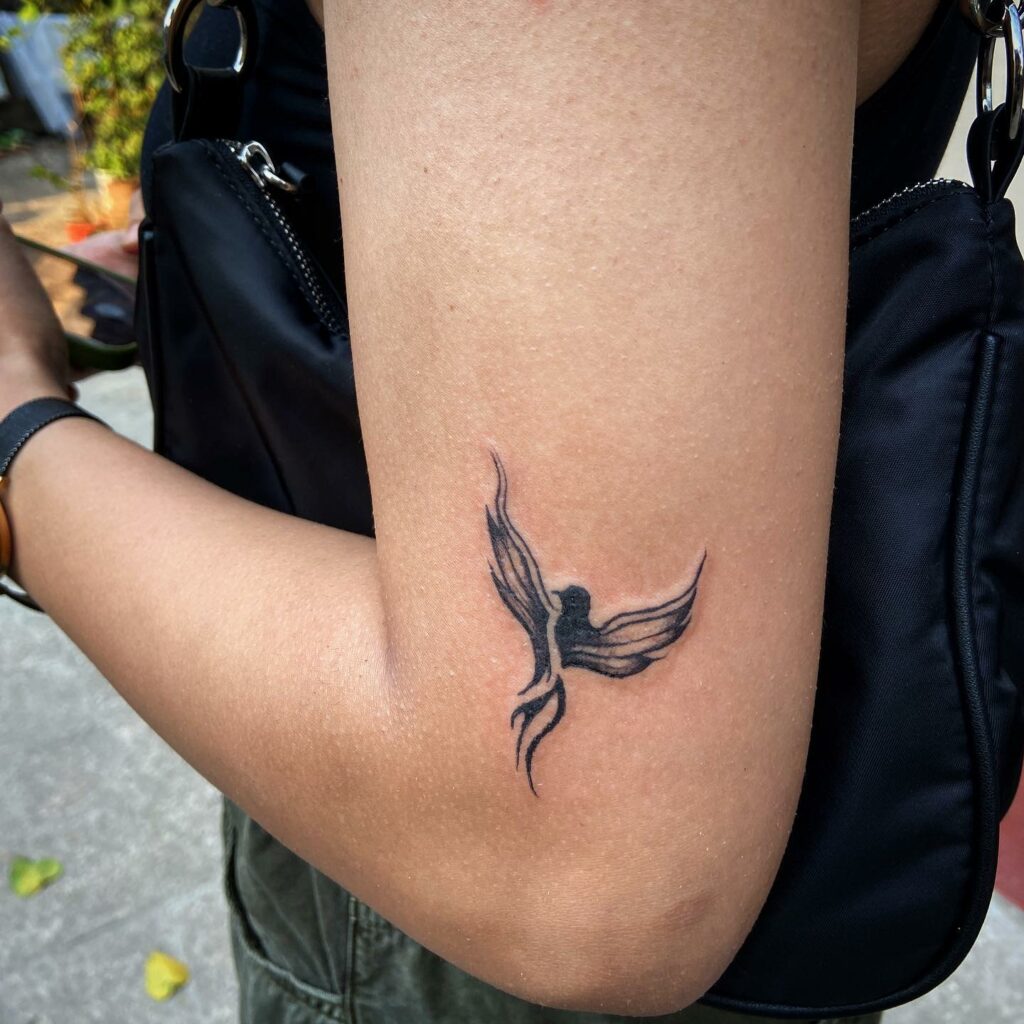 If you're looking for a tattoo that is simple yet creative, this minimalist phoenix tattoo is a great choice. The black ink design is minimalistic, but the silhouette of the phoenix rising is powerful and symbolic of strength and determination. The positioning of this tattoo is also unique, making it stand out from other phoenix tattoos. This design is perfect for anyone who wants a small and meaningful tattoo that represents resilience and new beginnings.
Out of all the phoenix tattoos, this one is definitely one of the best. It's perfect for someone who wants a minimalist design that still has deep meaning. If you've been searching for inspirational and meaningful phoenix tattoo ideas, this design is definitely worth considering. We hope you've found your perfect phoenix tattoo design among all the options out there!
Still looking for inspiration, then checkout this blog post about minimalist phoenix tattoo small
feature image from Pinterest