Hey there! If you were born in November and are on the hunt for a beautiful floral tattoo to represent you, I've got you covered. Each month has its own special flowers, also known as birth month flowers, which are typically associated with people born in that month. For example, those born in May may receive a bouquet of lily of the valley or hawthorn flowers. If you're a November baby, you'll be happy to know that your birth flower is the lovely chrysanthemum. So, if you're looking to get a November birth flower tattoo, chrysanthemum designs are the way to go! Take a look at these awesome November birth flower tattoo ideas and pick your favorite.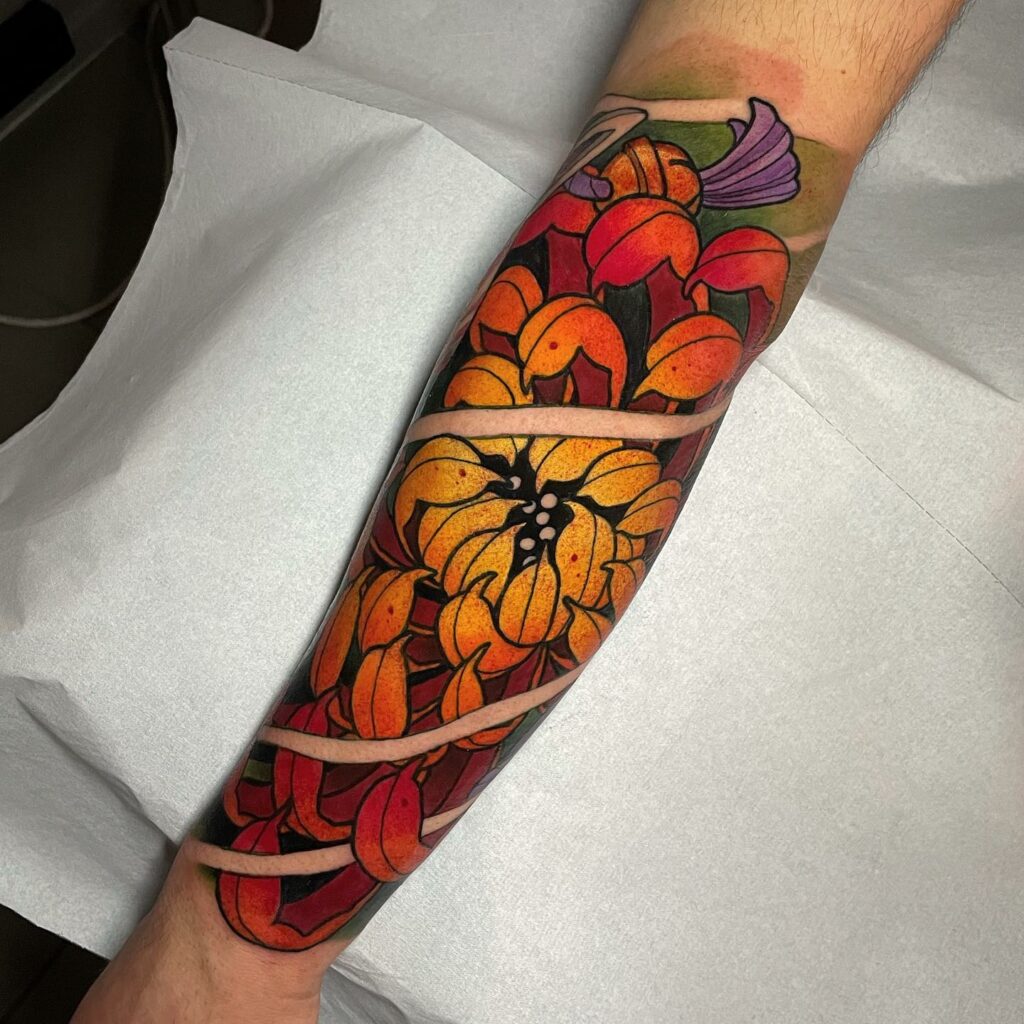 Simple Tattoo Idea With Chrysanthemum's Petals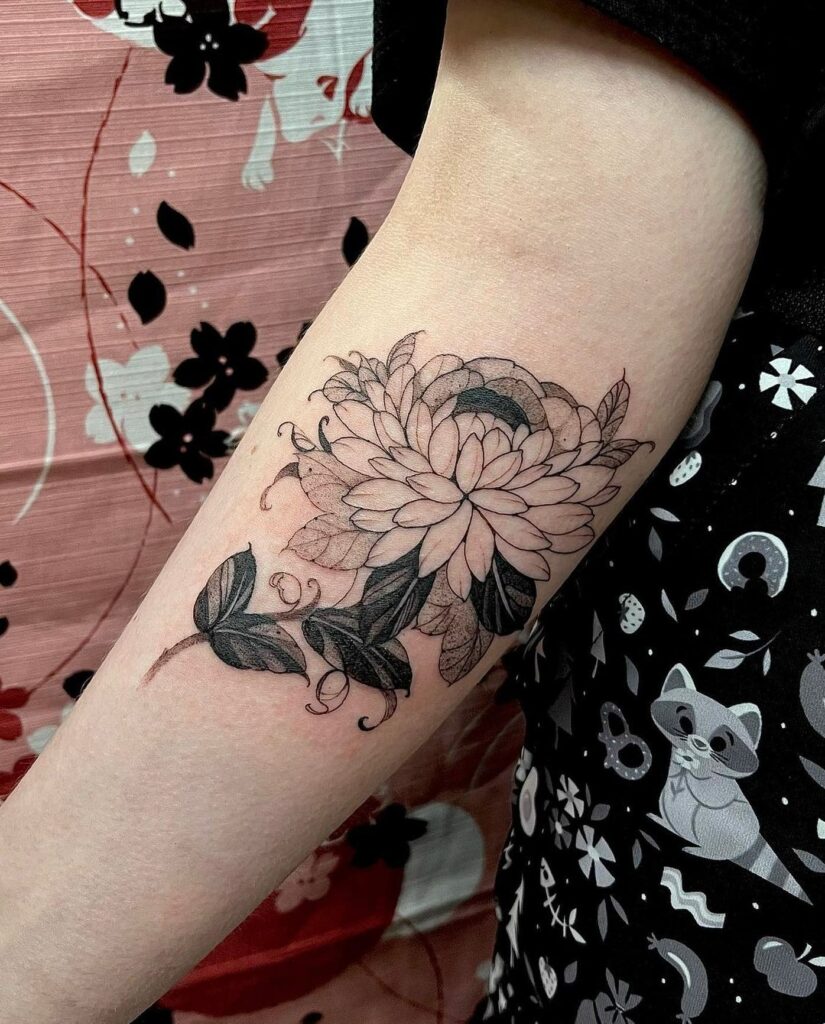 This beautiful flower is a symbol of perfection and beauty, making it a perfect choice for tattoos. People born in November often choose the chrysanthemum as their favorite flower, and it's also a popular birthday gift for November babies. The chrysanthemum also holds a deep meaning, symbolizing qualities such as honesty, integrity, and love. Did you know that keeping a bouquet of chrysanthemums in your home is said to bring in happiness? Now you do! So, if you're thinking of getting a November birth flower tattoo, the chrysanthemum is a meaningful and gorgeous choice.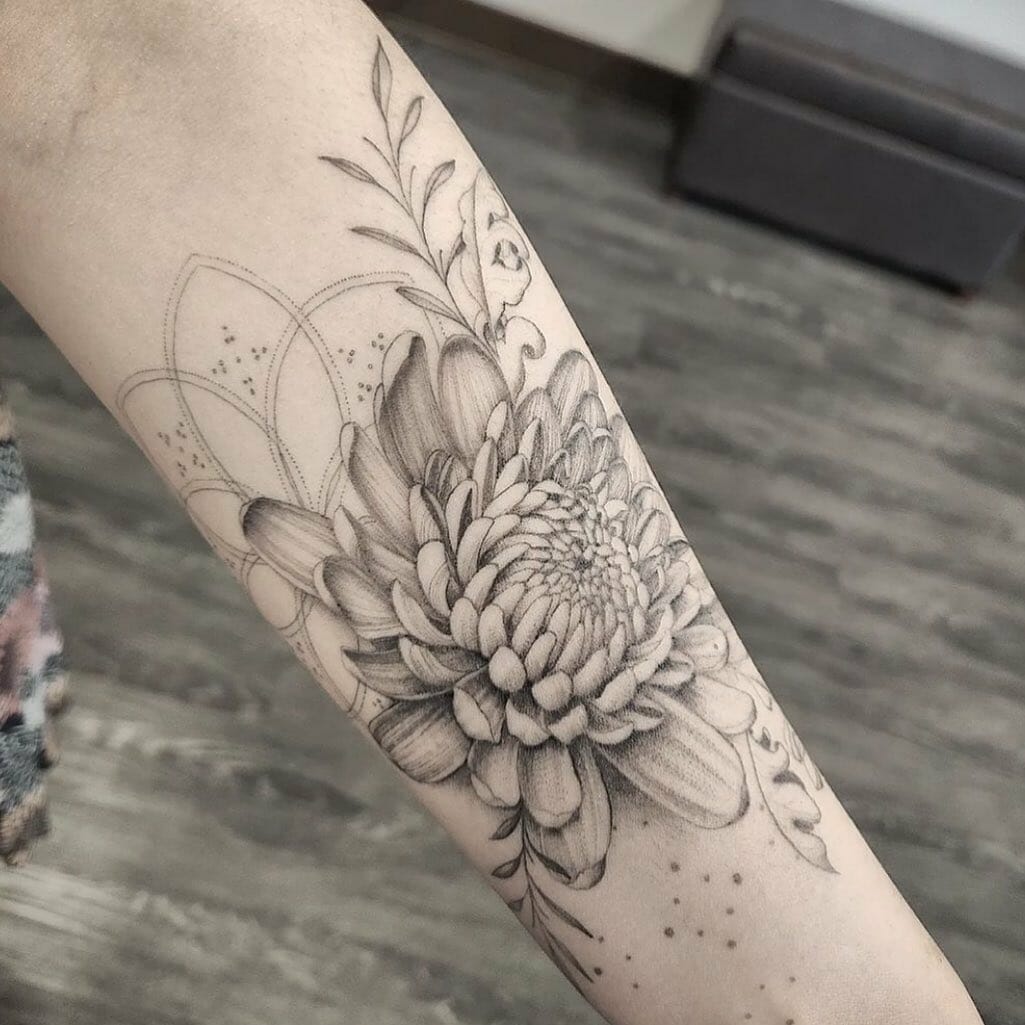 If you were born in November, a November birth month flower tattoo may be just what you're looking for! Chrysanthemum tattoos are a great choice for those who want a simple yet elegant design. There are plenty of minimal and small chrysanthemum flower tattoo options available online that you can choose from. If you're feeling creative, you can also ask your tattoo artist to create a fresh design that's unique to you. With a chrysanthemum tattoo, you'll have a beautiful and meaningful piece of body art that reflects your style and personality.
Vividly Colorful November Birth Flower Tattoo Ideas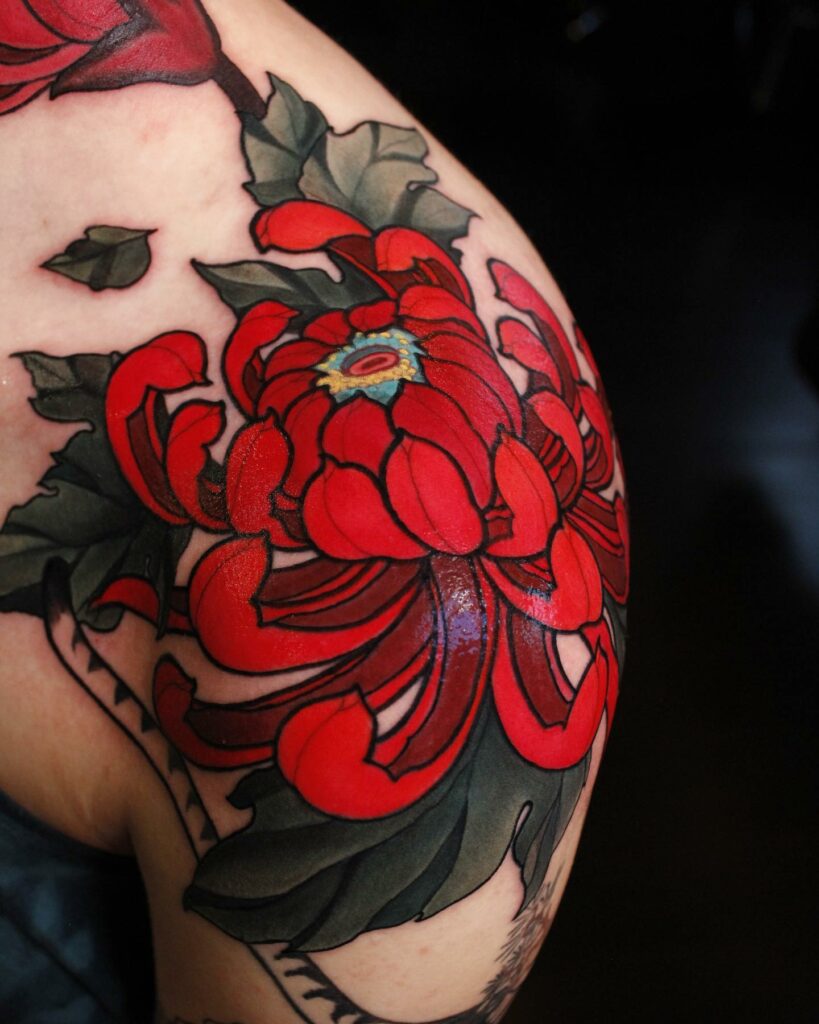 Did you know that the word "chrysanthemum" comes from the Greek words "chrys" meaning golden and "anthemon" meaning flower? The Greeks named this flower because it was originally yellow in color. Nowadays, chrysanthemums bloom in a wide range of colors, including red, blue, pink, and even purple! If you're looking for a colorful and vibrant tattoo that represents your November birth flower, a chrysanthemum tattoo is a great idea. And if you're someone who loves bold and bright tattoos, don't be afraid to fill your chrysanthemum tattoo with as many colors as you want! Your tattoo artist can help you create a custom design that perfectly captures the beauty and symbolism of this gorgeous flower.
Artistic Chrysanthemum November Birth Flower Tattoo Designs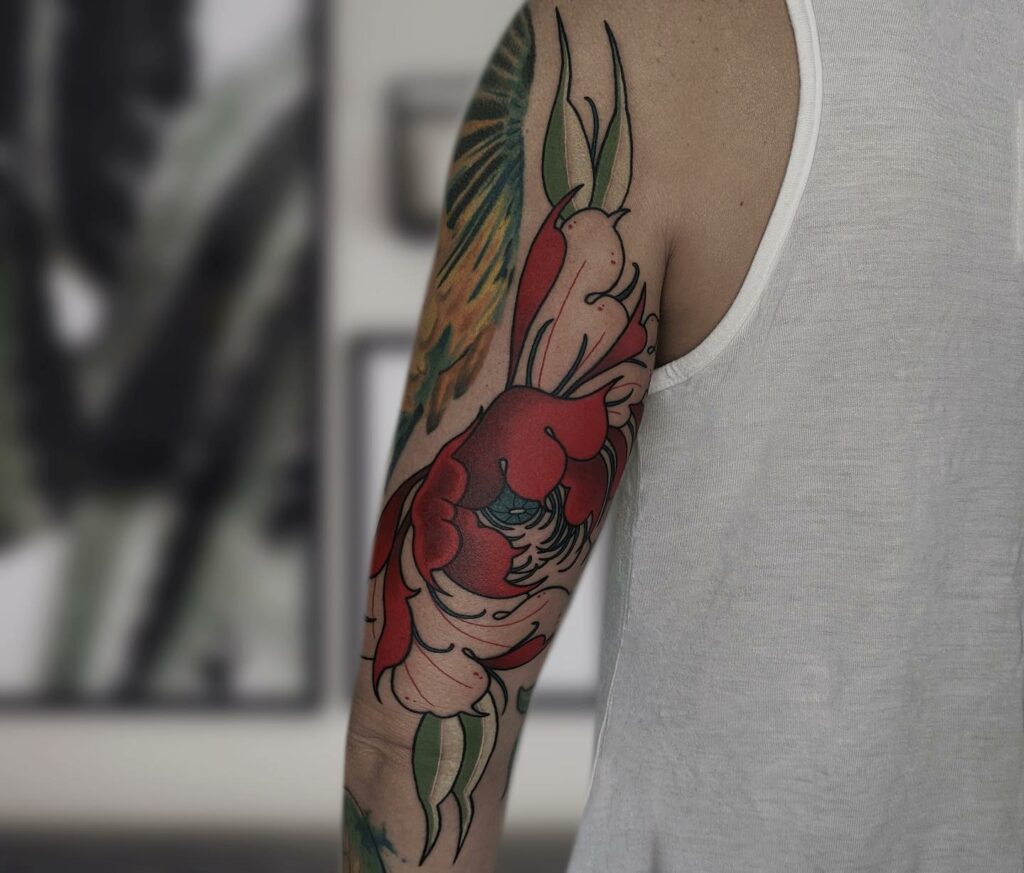 Did you know that chrysanthemum flowers represent a range of emotions, from love and beauty to unrequited or rejected love? These flowers also symbolize the intense and pure love that a person can have for another. No wonder people born in November are often seen as passionate, honest, open-minded, and ready for new beginnings!
If you're looking for a birth month flower tattoo that shows off your creative side, check out this gorgeous example. The wearer chose a colorful and lovely chrysanthemum bloom, and added a bird tattoo beside it. The whole design looks like a beautiful pastel painting rather than a tattoo on skin. You can work with your tattoo artist to create a unique and personalized design that reflects your individual style and personality. The possibilities are endless!
Chrysanthemum Tattoo Sleeves For People Born In November
If you're looking for a way to showcase your love for your November birth month flower in a big way, a floral tattoo sleeve might be just the thing for you! While many people prefer small, minimalist flower tattoos, a chrysanthemum tattoo sleeve can be a stunning and intricate way to celebrate your birth month. The large size and intricate petal shapes of the chrysanthemum make it a perfect candidate for a tattoo sleeve, which can start at your shoulder and extend all the way down your arm. Whether you're looking to add other flowers or elements to your sleeve or keep it simple with just chrysanthemums, a tattoo artist can work with you to design a beautiful, unique piece that you'll be proud to show off.
Detailed And Intricate Chrysanthemum Tattoo Designs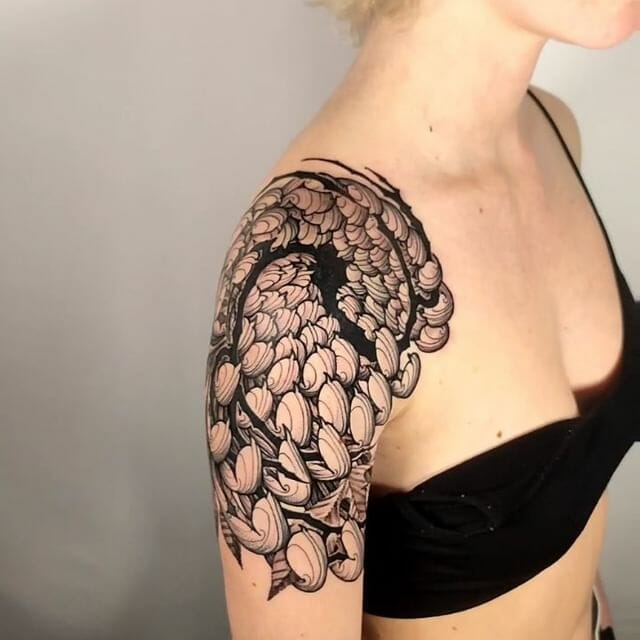 When it comes to November birth flower tattoos, some people prefer intricate and detailed chrysanthemum designs that look like works of art. These designs often require more time and effort from the tattoo artist, but the end result is worth it. You can ask your tattoo artist to pay special attention to details and use precise, clean lines to create a unique and eye-catching tattoo. A skilled artist can create a chrysanthemum tattoo that looks like it was painted on your skin, with each petal and leaf beautifully rendered.
Beautiful Asian Tattoo Ideas With Chrysanthemums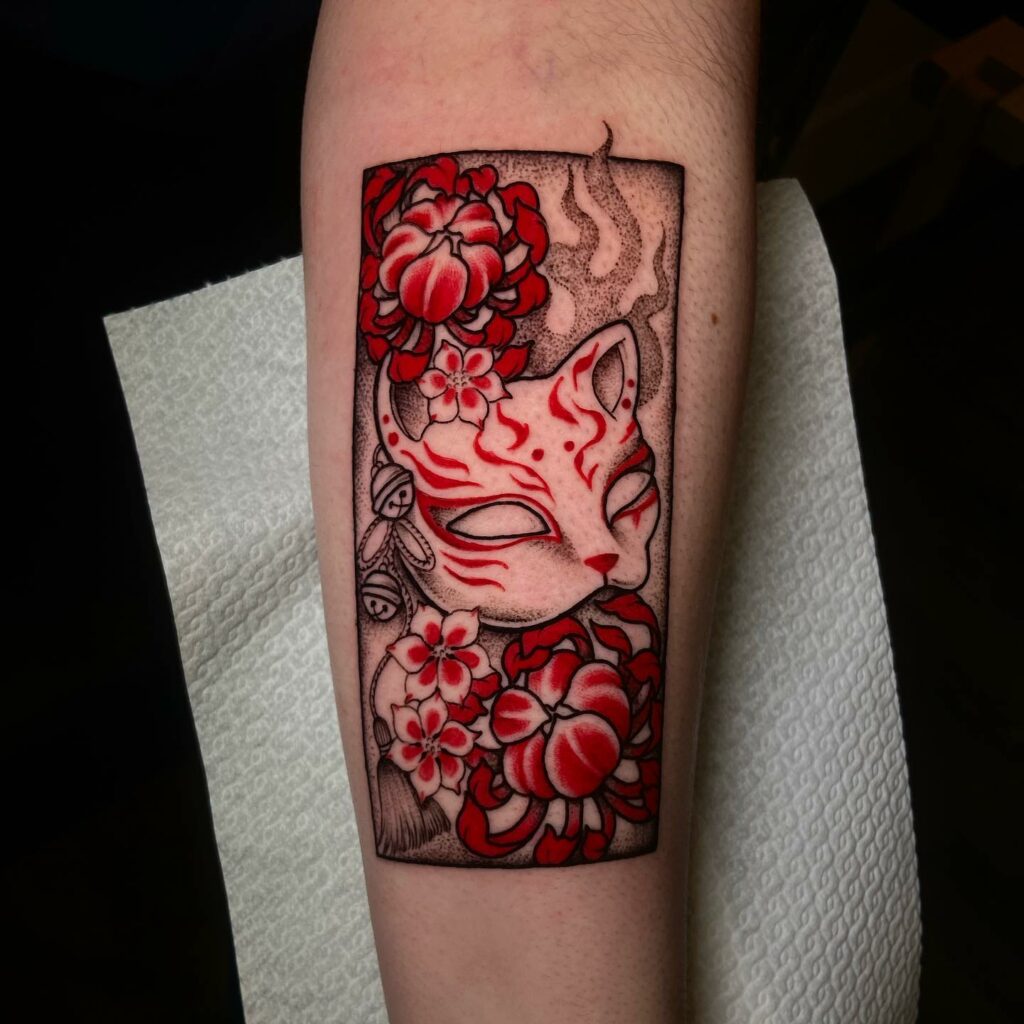 Chrysanthemums have a rich history in Eastern cultures, particularly in China, where they originated and became a beloved flower among the people. The Chinese even celebrate a special day dedicated to the beauty of these flowers, called the 'Festival of Happiness'.
If you are someone who wants to celebrate the Asian roots and cultural significance of the chrysanthemum flower, you can choose a design that incorporates other elements like the kitsune mask shown in the photo above. This can add a unique and meaningful touch to your tattoo.
You can also combine your chrysanthemum tattoo with another popular flower from the East, such as the cherry blossom. There are many beautiful cherry blossom tattoo designs that can inspire you to create a stunning and unique floral tattoo.
Flower Bouquet Tattoo Designs With The November Birth Flower Chrysanthemum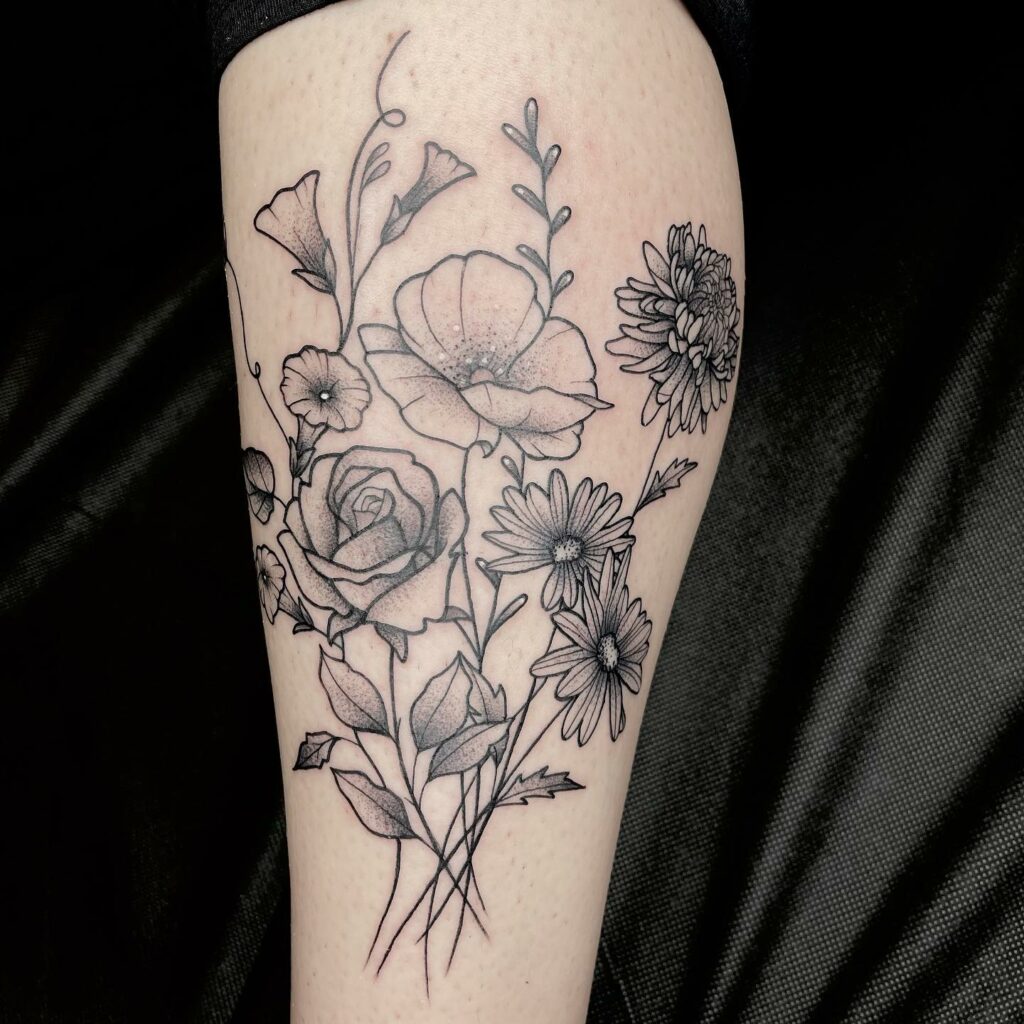 Birth month flowers are a fun and meaningful way to express yourself through tattoo art. Each month of the year is associated with different flowers that represent unique personality traits. If you're looking for something special, consider a floral bouquet tattoo featuring a collection of birth flowers like water lilies, roses, sweet peas, aster flowers, poppies, primroses, or daisies. To make it even more personal, you can also add the official birth flowers of your loved ones' birth months, like the August birth flower or July birth flower. If you're interested in September birth flower tattoos, you can check out some gorgeous designs featuring morning glories and asters. Don't be afraid to get creative with your floral bouquet tattoo and add exotic flowers like white violets or poinsettias to make it truly unique.
Chrysanthemum Tattoos That Are Easy To Place Anywhere
If you're a November baby and thinking of getting a chrysanthemum birth flower tattoo, you'll be happy to know that this flower can be placed anywhere on your body. One of the great things about this flower is that it looks amazing on almost any part of your body.
Take a look at the photo above! The wearer got a large chrysanthemum tattoo that outlines the hip area and extends down towards the upper thigh. This tattoo is a great way to cover up scars or stretch marks in that area. So, not only do you get to have a beautiful chrysanthemum tattoo, but you also get to conceal any imperfections.
Unique Chrysanthemum Tattoo In The Style Of An Armband
When it comes to finding a distinctive and amazing tattoo design for your birth flower, the armband style tattoo in the photo above can be a great source of inspiration. The tattoo artist has masterfully created an armband design that encircles the wearer's elbow, using black ink to create a solid and bold design. However, the artist has also left some spaces in the armband where they have artfully inked in the chrysanthemum flower petals. The use of negative space in this tattoo is not only visually striking, but it also adds depth and dimension to the design. This is a unique and impressive tattoo that is sure to turn heads and make a statement.
Chrysanthemum Tattoo Done In The Neotraditional Style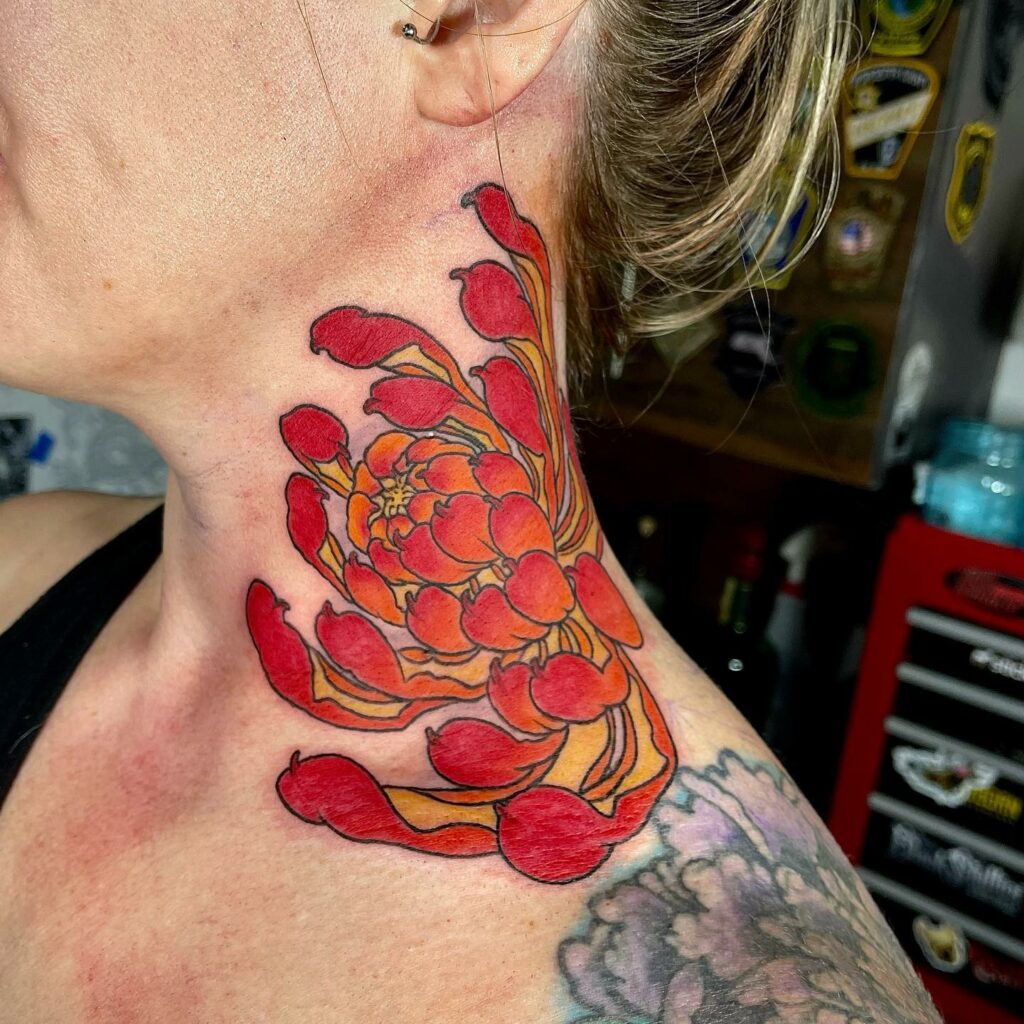 The neotraditional style of tattooing is a modification of the older and more classic traditional style of tattoo design. In contrast to the traditional style of tattoo design, the neo-traditional tattoo style uses more colors and modern motifs and symbols for the tattoo. However, they both carry the same trend of thick borders of the tattoos drawn with black ink. If you want a tattoo style that is classic but also quite recent, then you can also look at neotraditional flower tattoos like a lot of young people do. For the chrysanthemum tattoo, you can ask your tattoo artist to fill it up with solid colors like blue, pink, purple, or even yellow. After all, a chrysanthemum flower with each of these colors have a different meaning and you need to find the color that suits you the most.
If you are looking for a cute and awesome floral tattoo design that will express different parts of your personality, then you should look into getting a birth month flower tattoo! As you can clearly see, a chrysanthemum tattoo will be amazing for a person who was born in November.
Still looking for inspiration, then checkout this blog post about small dragon tattoos
feature image from Pinterest