Today we are discussing light pink nails! These aren't just any nails; they're a fashion statement, a subtle nod to elegance that works anywhere, from work to waves. I'm excited to share with you not just the hottest light pink designs that are big news this season but also practical tips on picking the right pink for you. We'll talk about what works with your wardrobe, how to make your manicure last, and I'll even throw in some of my personal go-to shades and styles. If you want your nails to do the talking in the chicest whisper of pink, stick around—I've got you covered. Let's get those nails looking fabulous, shall we?
Almond Light Pink Nails for a Timeless Look
Indulge in the timeless elegance of almond, light pink nails. The almond shape exudes sophistication, while the light pink polish adds a touch of gentle color, ensuring a versatile look that's equally suited for day-to-day elegance or a special occasion.
Light Short Pink Nails with Cute Dots
Inject a fun twist into your nail routine with light pink nails featuring playful dot designs. This spotted style adds a whimsical touch to the light pink canvas, perfect for those looking to combine classic with a hint of quirkiness.
Light Pink Nails With White Swirls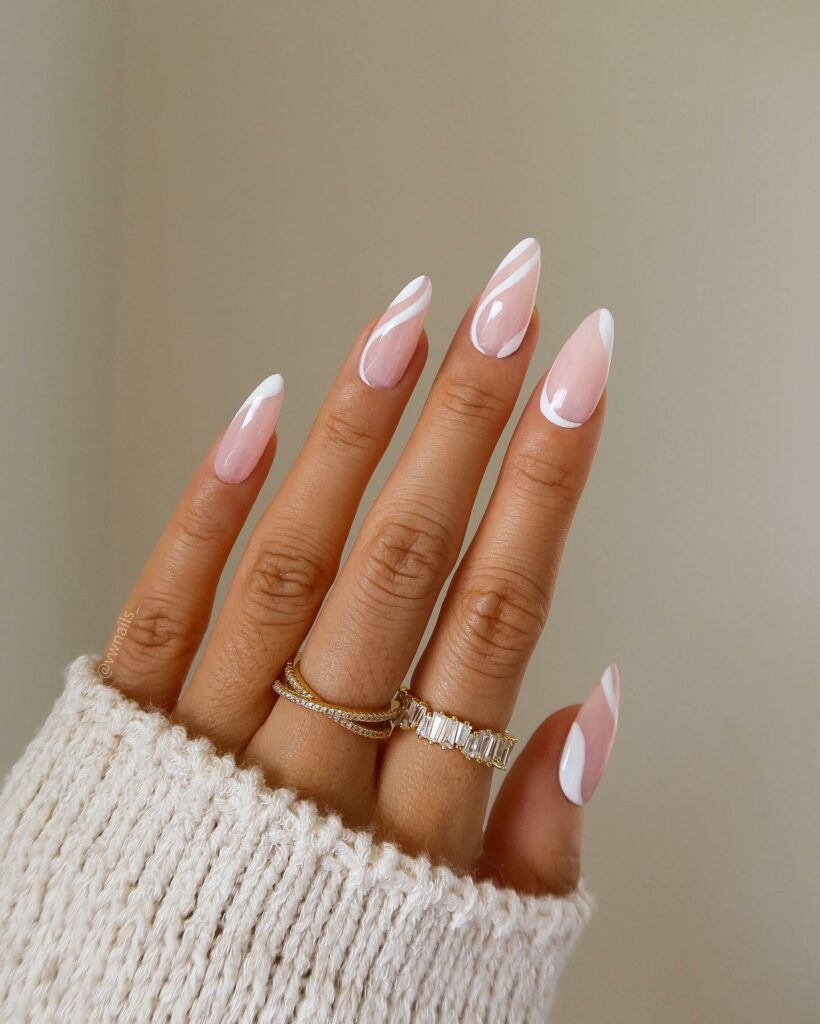 Intricate white swirls on a clear pink base transform your nails into a masterpiece of art. This swirling design introduces movement and flair, elevating the humble nail into a work of art.
The Svelte Appeal of Light Pink Stiletto Nails
Experience the daring yet delicate nature of light pink stiletto nails. These pointed nails are the perfect canvas for light pink's soft allure, adding a touch of feminine mystique to your hands.
Almond Light Pink Nails with Heart Accents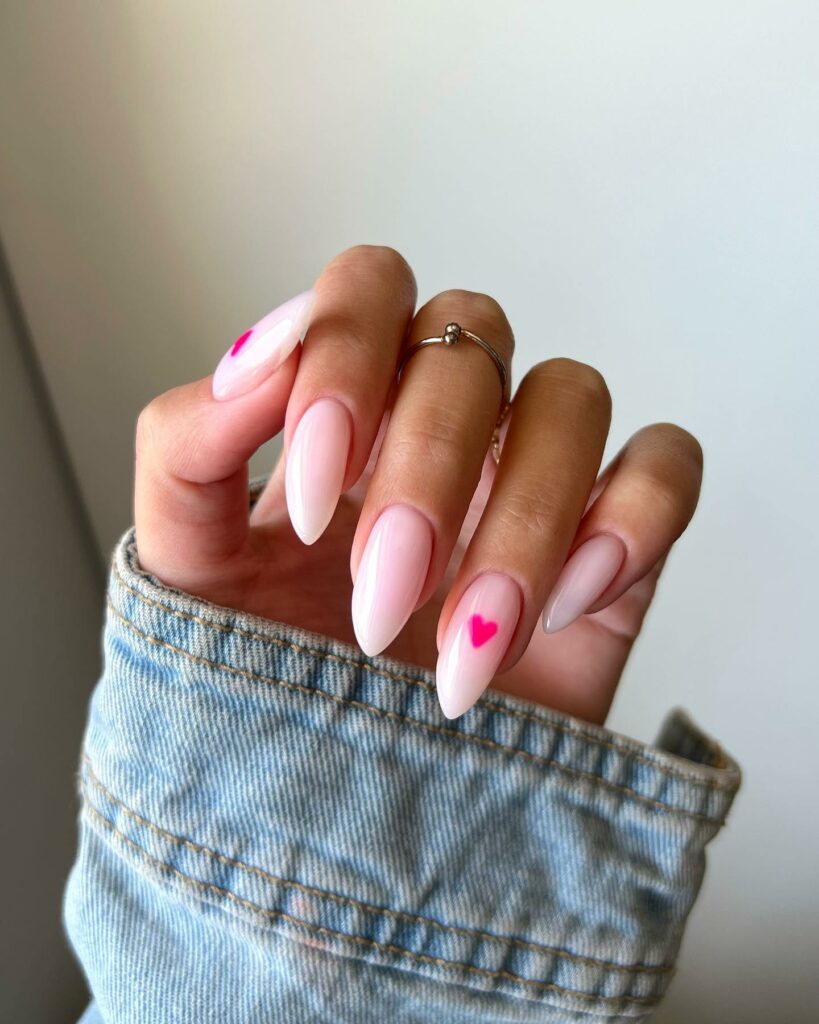 Celebrate love with almond, light pink nails, delicately detailed with heart accents. This nail design is a heartfelt nod to romance, blending the sweet almond shape with the soft passion of pink.
Light Pink on Square-Cut Nails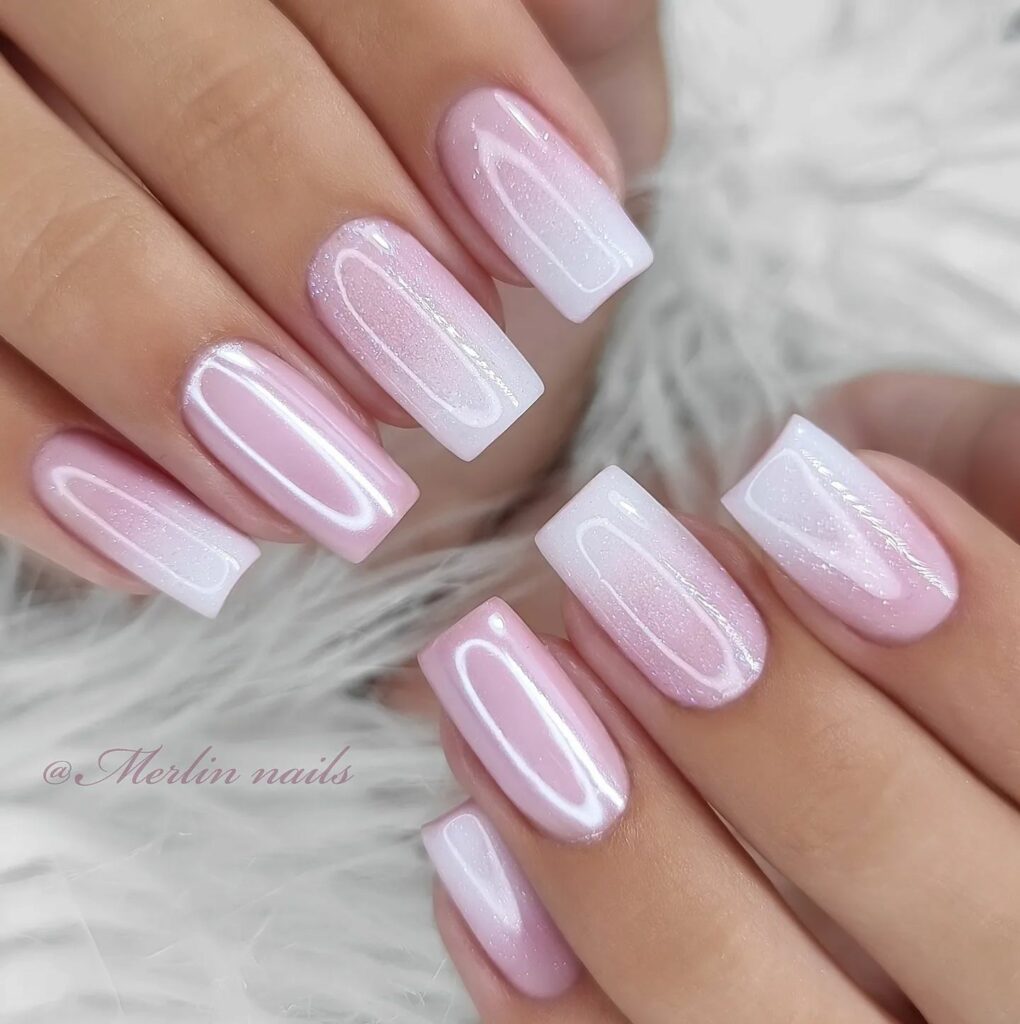 Discover the harmonious blend of traditional and trendy with light pink square-cut nails. The clean lines and straightforward style make this a go-to for those who prefer pink with a side of classic sophistication.
Glittering Light Pink Nails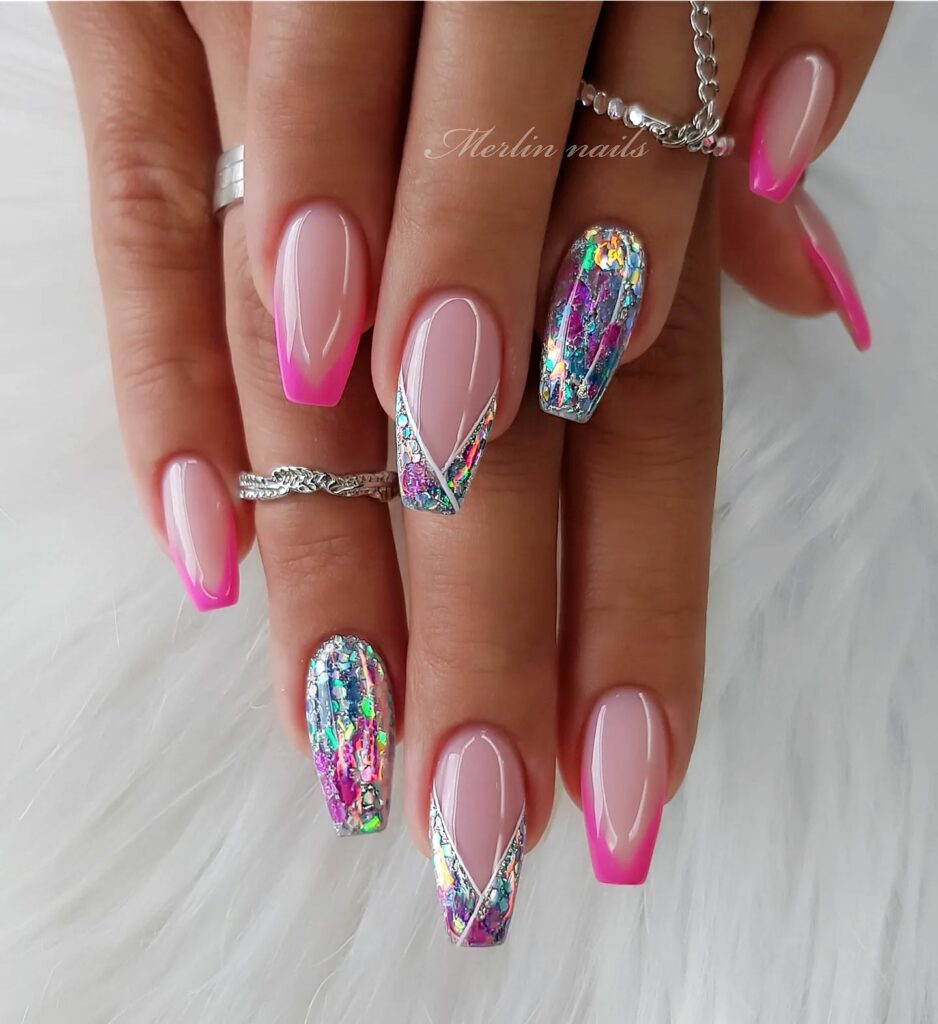 Embrace a dash of sparkle with sparkling light pink nails. Whether a gentle glitter overlay or full-on sparkle, these nails promise to catch the light and eyes, bringing a festive vibe to the muted pink tone.
Floral Designs on Light Pink Nails
Floral patterns on light pink nails are like the whisper of spring on your fingertips. This design adds a romantic and natural element, turning your nails into a bouquet of delicate beauty.
Heart Motifs on Light Pink Nails
Channel the language of love with heart motifs adorning your light pink nails. This design is both charming and playful, perfect for adding a touch of romance to any look.
French Tips with Light Pink Base
French tips get a twist with a light pink base, offering an updated take on a classic design. It's the ideal choice for those seeking a nail style that speaks to professional poise and soft femininity.
Ombre Light Pink Nails
Explore the gradient magic with ombre light pink nails, where shades transition from deep to light, creating a captivating effect. This trend brings a contemporary edge to the light pink palette.
Clear Pink Nails with Cloud Accents
Envision a serene sky on your nails with cloud accents over a clear pink base. This airy design evokes calmness and adds an element of whimsy to your nail aesthetic.
Stars on Clear Light Pink Nails
Let your nails twinkle with tiny stars sprinkled across a light pink canvas. This subtle yet enchanting pattern is perfect for those who want to add a touch of cosmic allure to their look.
White Stripes on Clear Light Pink Nails
Sleek white stripes on clear light pink nails create a bold, graphic look. This minimalist design stands out without overpowering, embodying a modern twist on nail art.
Clear Light Pink Blush Nails
Bask in the tranquility of clear light pink blush nails, where the gentle kiss of blush meets the clarity of a translucent overlay. This style offers a whisper of color, ideal for an understated yet polished look that speaks volumes in simplicity.
Dazzling Glitter Accents on Light Pink Nails
Elevate your manicure with the subtle charm of dazzling glitter accents on clear light pink nails. This design promises to infuse a festive sparkle into the muted elegance of light pink, perfect for those moments when you desire a touch of glamour without overwhelming brilliance.
Rhinestones on Light Pink Nails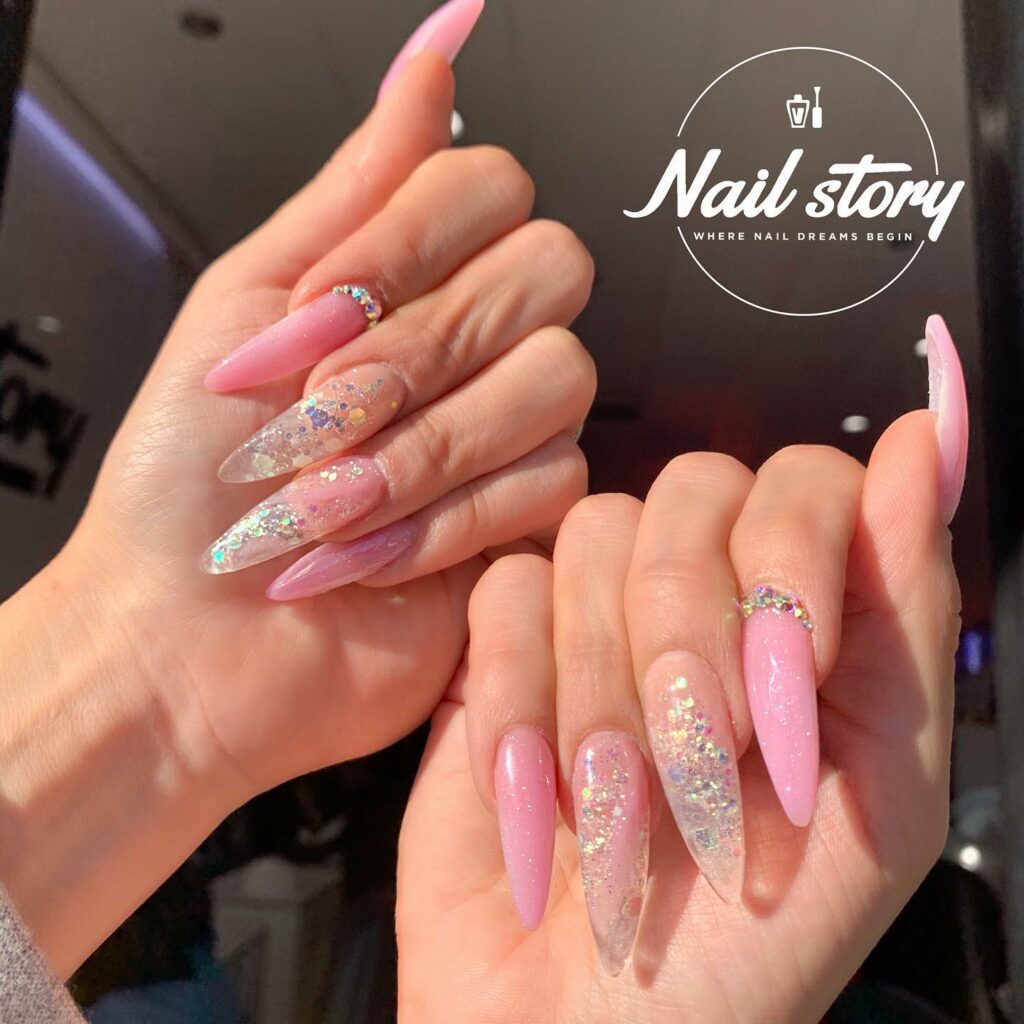 Indulge in the opulence of rhinestones embellishing your clear, light pink nails. Each stone catches the light, adding a three-dimensional luxury that takes your understated pink base to new heights of chic sophistication.
Gold Foil on Light Pink Nails
Unveil a hint of metallic splendor with gold foil on clear light pink nails. This combination brings a delicate richness to your nail art, allowing the soft pink to serve as a backdrop for a subtle yet striking metallic accent.
Swirling Designs on Light Pink Nails
Discover the graceful flow of swirling designs on clear, light pink nails. This artistic expression transforms your nails into a canvas, where delicate swirls dance across a backdrop of light pink, merging art with elegance.
Almond-Shaped Light Pink Nails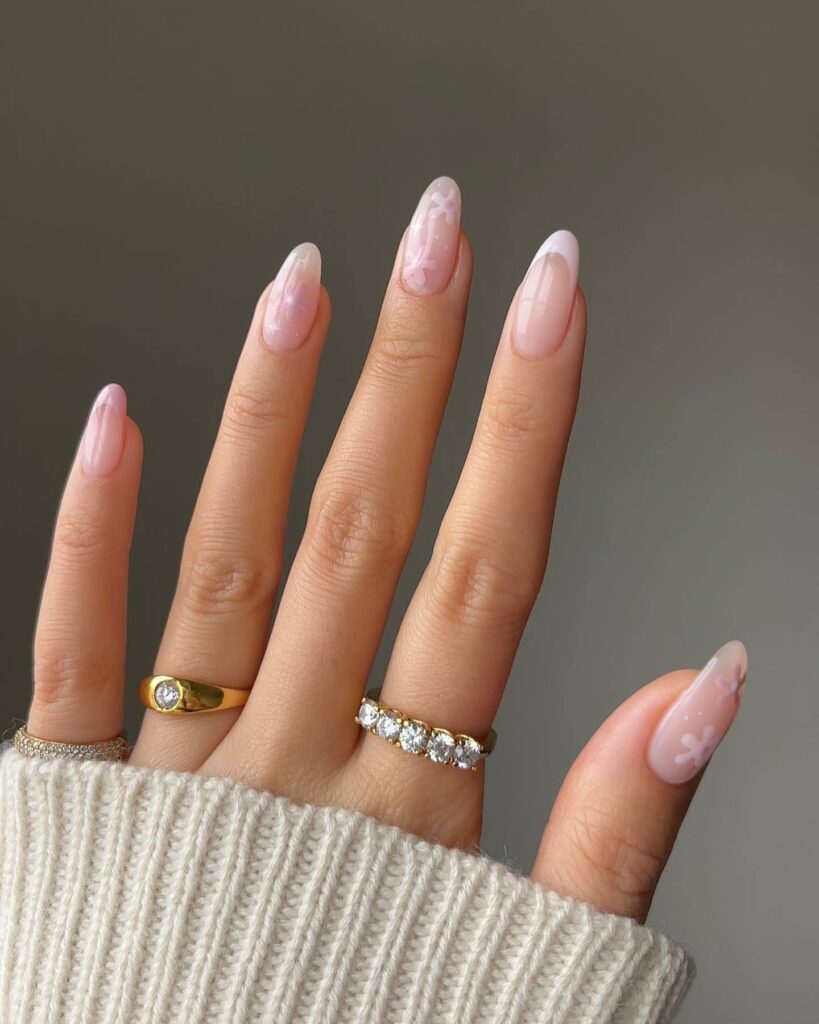 Embrace the naturally feminine contour of almond-shaped clear light pink nails. The soft curvature of the almond shape complements the gentle hue of light pink, creating a harmony of form and color that's flattering and timelessly chic.
Acrylic Light Pink Nails
Embrace the lasting beauty of acrylic light pink nails, combining the durability of acrylics with the tender blush of light pink for a manicure that's both resilient and beautiful. This style promises a perfect blend of functionality and feminine flair.
Starry Designs on Light Pink Nails
Adorn your nails with the night sky by incorporating starry designs over a light pink backdrop. This celestial theme brings a dreamy and imaginative twist to your nail art.
Ombre Acrylic Light Pink Nails
Dive into the subtle gradations of ombre acrylic light pink nails, where the palest of pinks gently darkens towards the tips. This technique offers a contemporary twist to the light pink trend, perfect for those who appreciate a nuanced nail aesthetic.
Square-Cut Light Pink Nails
Appreciate the modern edge of square-cut light pink nails, where the sharp, clean lines meet the softness of the hue. This shape is a match made in heaven for a light pink shade, striking a balance between edgy and demure.
Short Light Pink Nails with Pearls
Discover the charm of short, light pink nails adorned with delicate pearls. This design adds an element of understated luxury, perfect for those who prefer their glamour, subtle yet impactful.
Acrylic Light Pink Nails with Rhinestone
Let your nails dazzle with acrylic light pink nails punctuated by striking rhinestones. Each stone enhances the gentle pink with a touch of sparkle, making for a statement manicure that's as elegant as it is eye-catching.
Simple Light Pink Nails
Savor the sheer elegance of simple light pink nails. This minimalist approach is a testimony to the power of a single hue, providing a clean and crisp look that's effortlessly chic.
Stiletto Light Pink Nails with a French Hot Pink Tip
Elevate your nail art with the striking combination of stiletto light pink nails finished with a French hot pink tip. This design brings a daring contrast that melds the softness of light pink with a pop of vibrant hot pink, perfect for those who love a dramatic twist on a classic style.
Light Pink Coffin Nails
Dive into the sophistication of light pink coffin nails—a style that combines modern edge with timeless grace. This variant of light pink nails offers a sleek, elongated look, granting a unique blend of subtlety and statement.
Glitter Coffin Light Pink Nails for a Luxe Statement
Make a luxe statement with glitter coffin light pink nails that combine the avant-garde coffin shape with the sweet sparkle of glitter. This style epitomizes glamorous nails, offering a dazzling light pink sheen that catches the light and everyone's attention.
8 Brands Of Light Pink Nail Polish I Love Right Now!
| Brand | Qualities | Notes |
| --- | --- | --- |
| OPI | Salon quality, wide range, durable | Professional finish, iconic names |
| Essie | Broad spectrum of pinks, streak-free | Popular for at-home manicures, known for pastel shades |
| Sally Hansen | Fast-drying, long-wear | Offers gel-like finishes without UV light |
| Deborah Lippmann | Luxury brand, glossy finish, rich pigmentation | High-quality ingredients and classic shades |
| Zoya | Toxin-free, variety of pinks | Focuses on health-conscious ingredients |
| Butter London | Promotes nail health, toxin-free | Balances color richness with nail care benefits |
| CND Vinylux | Durable, week-long wear | Known for innovation in long-lasting manicures |
| Chanel | Luxurious, high-shine, long-lasting | High-end option with signature elegance |
How To Select the Perfect Shade of Light Pink According to Skin Tone?
Selecting the perfect shade of light pink for your nails according to your skin tone is a key step in ensuring that your manicure complements your natural beauty. Here's a simple guide to help you find the most flattering light pink hues for your skin tone:
Fair Skin:
For those with fair or light skin, look for light pink shades with blue undertones or soft ballet-slipper pinks. These more fabulous pinks will compliment the subtle blue and pink undertones in your skin without washing you out. Avoid pinks that are too neon or yellow-based, as they may clash with your skin's natural tones.
Medium Skin:
If you have a medium or olive skin tone, you're in luck—you can play with a wide range of light pink shades. Pinks with peach or rose undertones work beautifully to enhance the natural warmth of your skin. Dusty pinks can also look stunning and provide a sophisticated, understated elegance.
Tan Skin:
For those with tan skin, light pinks with coral or orange undertones can look particularly striking, adding a fresh pop of color that resonates with the golden undertones of your skin. You can also opt for a nude pink that's a shade lighter than your skin to brighten your hands without overpowering them.
Dark Skin:
Deep skin tones can carry rich, vibrant, light pinks with ease. Look for pinks that have a touch of purple or berry undertones to stand out against the skin. These deeper pinks can create a beautiful contrast and pop, whereas very pale pinks may not be as flattering and can appear ashy.
Universal Tips:
Undertones Matter: Always consider the undertone of the pink polish in relation to the undertones of your skin. If you have cool undertones, look for a polish with similar cool undertones, and the same goes for warm undertones.
Test Before You Buy: Test the nail polish against your skin in natural lighting to see how it complements your skin tone.
Seasonal Changes: Remember that your skin tone might change with the seasons. You might be lighter in the winter and darker in the summer, so be flexible with your pink shades throughout the year.
Personal Preference: While these guidelines can help, personal preference should always come first. If you feel great wearing a particular shade of light pink, then it is the perfect shade for you.
Considering these tips, you'll be well on your way to choosing a light pink nail polish that enhances your natural skin tone and makes your manicure look impeccably polished.
Still Looking for Inspiration, Then Check Out This Video
Conclusion
And there we have it—our journey through the chic world of light pink nails has ended. Remember, the key to nailing this look (pun intended) lies in finding the shade and style that best fits your aesthetic and lifestyle. Whether you're gravitating towards the subtle charm of almond shapes or the bold statement of stiletto tips, light pink offers a versatile palette that can be as understated or as dynamic as you desire.
While exploring these trends, keep in mind that the longevity of your nail art depends on proper application and maintenance—always start with a clean, smooth nail bed and consider a top coat for that extra layer of protection. Be mindful of the risks; overly aggressive filing or poorly removed acrylics can weaken your nails, so treat them carefully.
Above all, have fun with your fashion choices. Use this guide as a springboard to express your unique style. Whether you adorn your nails with rhinestones, embrace the minimalist chic of simple light pink, or experiment with a playful ombre effect, your nails are a canvas for your creativity.
So, armed with these tips and insights, why not make your following statement with a splash of light pink? It's more than a color—a fashion statement waiting to happen. Here's to finding the perfect hue that speaks to you. Now, go forth and let your hands do the talking!
Feature image @merlin_nails via Instagram
Last reviewed and updated on November 12, 2023