Hello, fashion enthusiasts! Swimsuit season is upon us, and while many of us eagerly anticipate the sun, sand, and sea, selecting that perfect piece to flaunt at the beach can be a tad overwhelming. Let's address the age-old concern: finding the ideal swimsuit that complements our silhouette while subtly concealing the tummy. Ah, the art of balancing style with confidence! By the end of this post, you'll be equipped with insights and suggestions to pick a swimsuit that's not only flattering but will also have you walking the beach with an air of unmistakable panache. Dive in with me as we navigate the waves of fashion, functionality, and body positivity.
When Swimsuit Season Beckons…
Ah, swimsuit season! The time when our favorite coastal spots come alive, and our playlists fill up with breezy, sun-soaked tunes. But let's be honest: hunting down that ideal swimsuit? It can be challenging. And hey, I've been there! Remember that summer I was determined to find the 'perfect fit' and tried on what felt like a zillion swimsuits? Yeah, some stories are best left in the fitting room!
For All the Tummy-Conscious Souls Out There
Whether it's a postpartum phase, a few extra love-filled pounds, the wisdom of age, or simply your natural self, I've got some fabulous news for you. It is hunting for that swimwear magic that lends you confidence and doesn't break the bank. It's not a myth!
Tummy Control: Style Meets Functionality
Okay, a confession time! Once, I almost gave up on finding chic "tummy control" swimsuits. They reminded me of my grandma's wardrobe or had price tags that made my wallet weep. But guess what? Determination (and countless cups of coffee) led me on a mission. I've scoured reviews, dove into product descriptions, and even played a bit of 'try and tell' with some pieces.
The result? A curated list of over 80 swimsuits that elegantly mask the tummy region, oozing style and boosting your confidence. The cherry on top? They're wallet-friendly. So, the next time you're on the beach, it's all about the sun, sand, and style confidence!
The Art of Ruching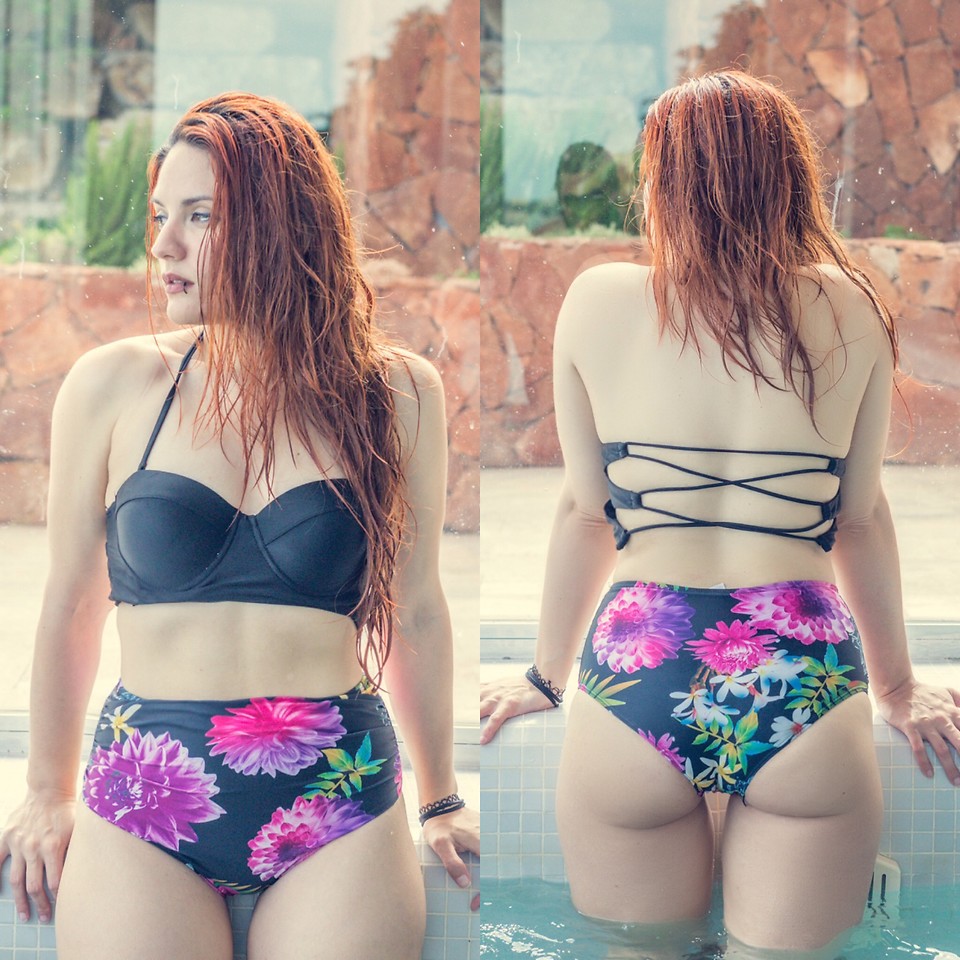 A little ruched magic can work wonders! That gathered fabric isn't just about aesthetics—it's the secret recipe to create that illusion of a smoother, flatter tummy. I remember my first ruched swimsuit—it was like a magic cloak that perfectly concealed my 'holiday treat' indulgence.
Rise of the High Waist
Ever in the mood for a two-piece but a tad nervous about baring the belly? Enter the high-waisted wonders. They're not only an absolute trendsetter but also a guardian angel for our tummy zones.
Ruffle Romance
From my swimsuit arsenal, the Ruffle Champions are a clear favorite. Classically feminine, they're perfect for almost every body type. Just ensure those ruffles waltz across the tummy—and voilà! You're set for a stylish splash.
The Elegance of Dark Hues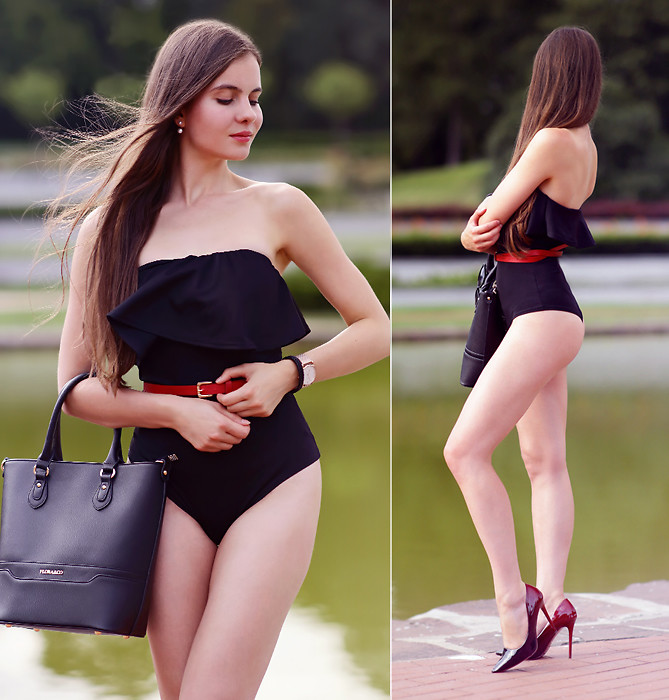 Remember that time Black became our rescue ranger at the party? Extend the same gratitude towards dark-hued swimwear. Whether deep navy or mysterious Black, these shades subtly sculpt our silhouette.
Dive into Prints
Oh, how I adore prints! The correct pattern can steer the focus just where you want it. I still recall my tiny floral print suit that had everyone complimenting the ruffles rather than noticing my midsection.
Swirling in a Swim Dress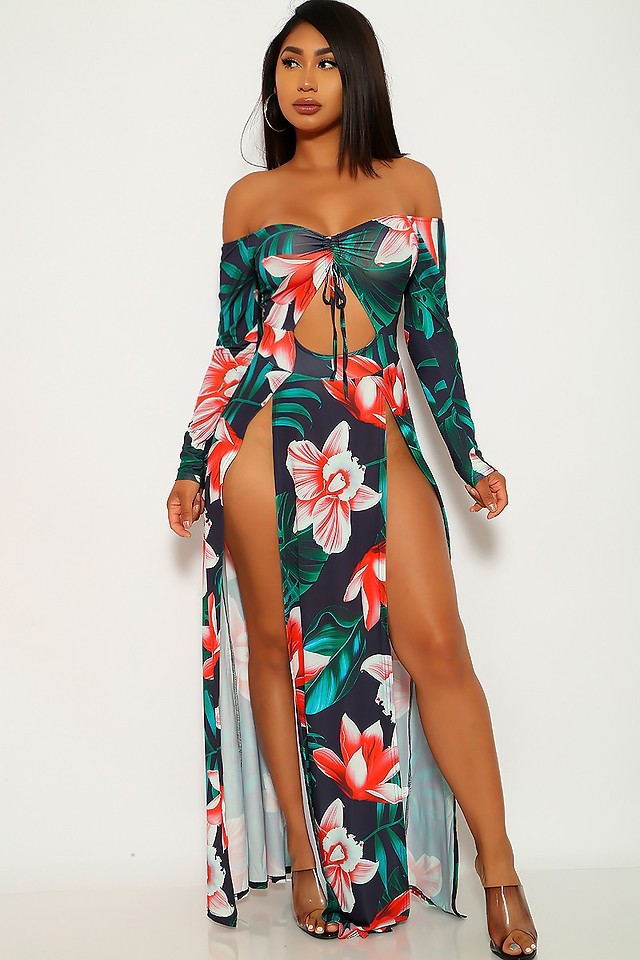 Maximum coverage with a touch of elegance? Yes, please! Pair it with a simple button-up or tee, and you're rocking the beach look!
Blouson Bliss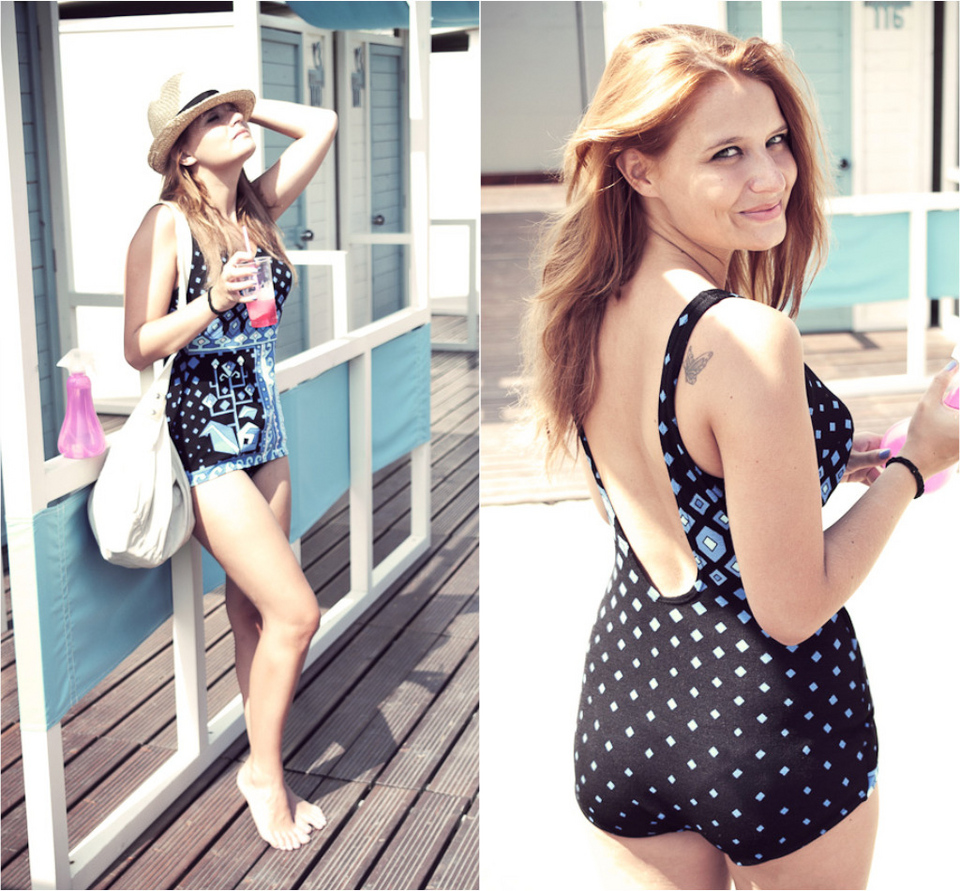 Comfort seekers, this one's for you. These flowy tops aren't just about concealing, they're also about celebrating an active spirit—perfect for those beach volleyball sessions.
The Two-Toned Triumph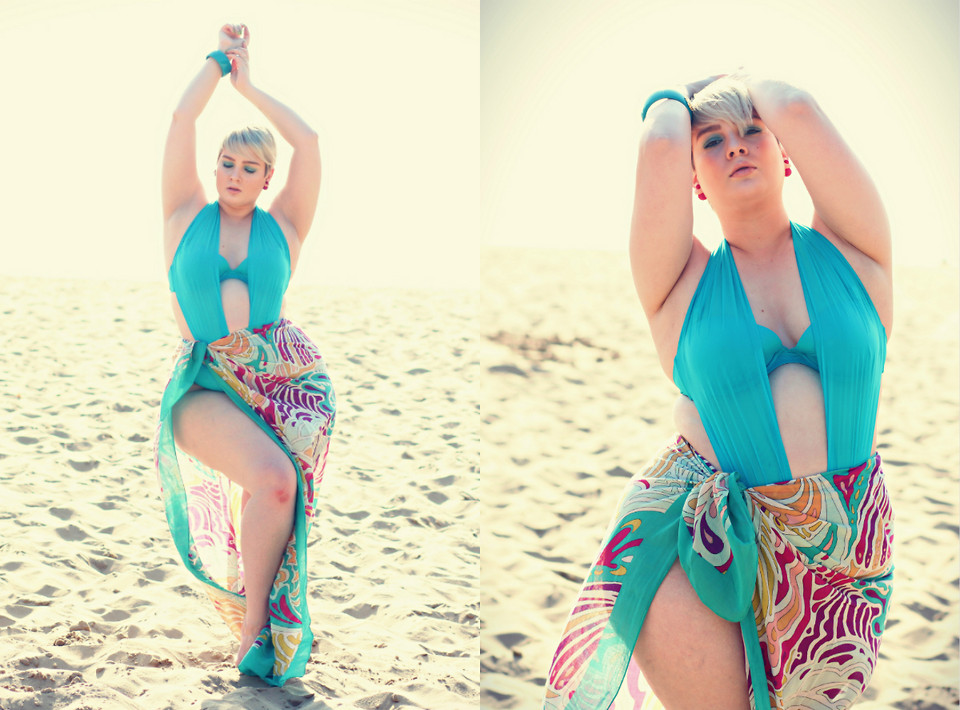 A lighter hue up top paired with a darker or printed bottom? A match made in swimsuit heaven! It effortlessly draws attention away from the midsection.
The Peplum Promise
Peplum tops have been my recent crush. Merging fashion with functionality and a high-waisted bottom creates the perfect beach ensemble.
Trust in Tummy Control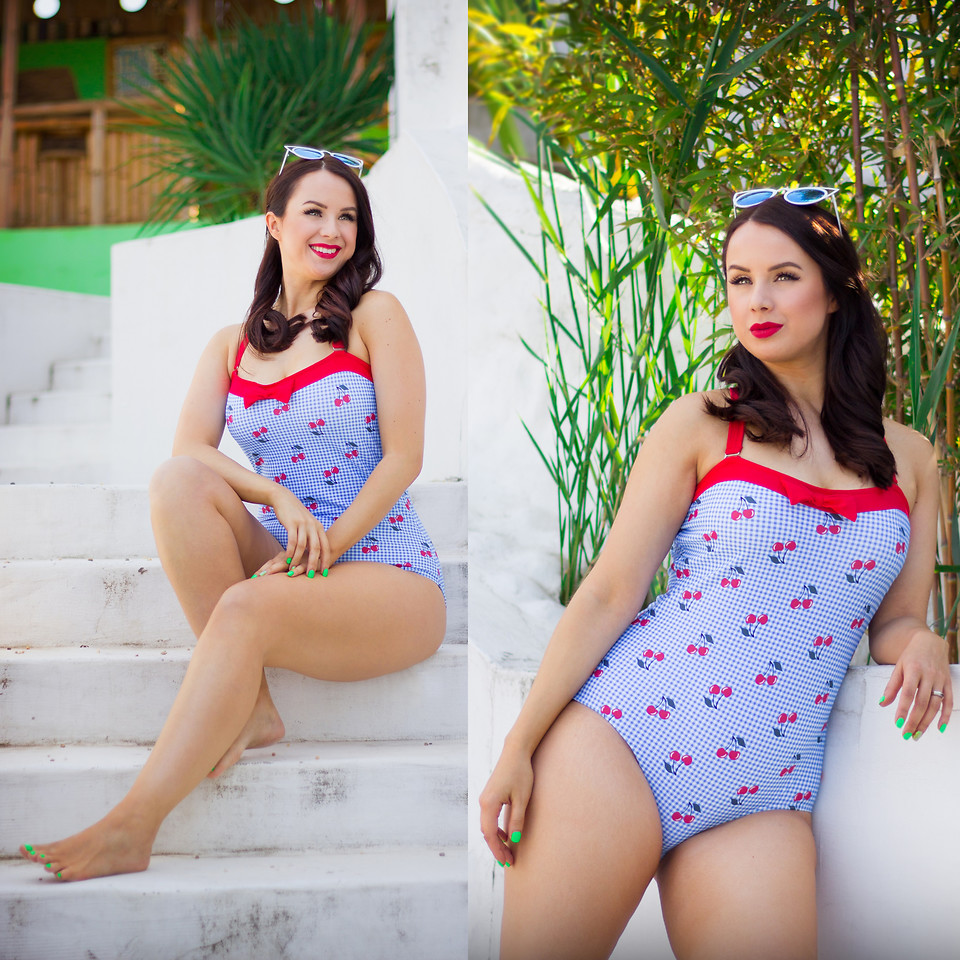 Sometimes, going straight for tummy control is the answer. I've got one from Amazon that's become my trusty companion—it perfectly marries tummy control with an appealing design.
Dazzling Details Up Top
It's all about mastering distraction! From chic necklines to intricate shoulder details, the aim is to shine the spotlight away from the tummy.
Timeless Tankinis
Tankinis are your best bet if high waists aren't your jam, but you're still seeking coverage. Their universal appeal has made them a perennial favorite.
Go for the Triple Threat!
Are you feeling adventurous? Combine a few of these styles. For instance, I recently sported one with ruching, a two-tone design, and ruffle details. Trust me, the tummy was the last thing on anyone's mind!
12 Amazing Swimsuit Options That Elegantly Mask the Tummy?
Ruched One-Pieces: Ruching, or gathered fabric, especially around the tummy area, can camouflage and create a flattering silhouette. Brands like Miraclesuit often feature such designs.
High-Waisted Bikinis: The high waistline extends above the natural waist, offering more coverage and a retro look that's both trendy and effective for tummy control.
Blouson Tops: These are tankini tops that have a band at the waist, allowing the fabric to blouse out slightly, thereby covering the tummy without clinging to it.
Peplum Swimsuits: These have a flared ruffle that starts at the waist, adding a fashionable touch while providing additional tummy coverage.
Swim Dresses: These one-piece suits flow out slightly at the waist and extend downwards like a short dress, offering coverage for both the tummy and the upper thighs.
Tummy Control Panels: Many swimsuits are now designed with built-in mesh panels that provide subtle compression and a smoother look. Brands like Spanx and Lands' End incorporate this feature.
Color Block Design: Using darker colors or patterns at the bottom and lighter or solid colors at the top can draw attention upwards, away from the tummy.
Strategic Patterns: Diagonal lines, smaller prints, and shirring can all work to visually minimize the tummy area.
Halter Necklines or Eye-Catching Details Up Top: Features like a plunging neckline, intricate designs, or details at the bust can draw the eye upwards, focusing attention away from the midsection.
Tankinis are two-piece swimsuits with the top extending downwards, covering the tummy. They offer the flexibility of a bikini but with more coverage.
Asymmetrical Hem: A top or swim dress with an asymmetrical hem can create visual interest and divert attention from the tummy.
Wrap Styles: Swimsuits that mimic the wrap dress style can cinch at the waist and provide a slimming effect.
When selecting a swimsuit, it's essential to prioritize comfort and fit. Finding the perfect piece might take a few trials, but the result—an elegant swimsuit that makes you feel confident and beautiful—is well worth the effort.
How Do Prints and Patterns Help To Steer Focus Away From the Midsection?
Prints and patterns are powerful design tools in fashion. They can dramatically influence how the eye perceives the body's shape and proportions when utilized strategically. Here's how prints and patterns can help steer focus away from the midsection:
Visual Distraction: A bold or intricate pattern can serve as a focal point, capturing attention and diverting it away from areas of the body you may not want to emphasize.
Optical Illusion: Diagonal and vertical lines, as well as certain geometric patterns, can elongate the body's appearance and create an illusion of height and slimness.
Balance and Proportion: Using patterns on specific body parts can balance out proportions. For instance, a bikini top with a bright pattern paired with solid-color bottoms can draw the eye upward, reducing focus on the midsection.
Camouflage Effect: Smaller, consistent patterns, like tiny florals or polka dots, can mask or blur the appearance of body contours, including any bulges or imperfections.
Strategic Placement: Patterns placed in particular areas can highlight or downplay those regions. For example, side paneling with stripes or patterns can create an hourglass effect, slimming the appearance of the waist and midsection.
Break Up the Silhouette: A mix of patterns and solid colors can segment the body's visual line, causing the eye to move around rather than fixating on one area.
Depth Creation: Layered patterns or patterns with gradient effects can create a sense of depth, making it harder to distinguish body contours.
Size Matters: Larger patterns can make an area look bigger, while smaller patterns can diminish its appearance. So, if you're trying to draw attention away from the midsection, avoid large prints in that area and instead opt for smaller, more subtle designs.
Pairing with Solids: Using a patterned piece with a solid piece can control where attention is drawn. A patterned top with a solid bottom, for instance, can shift focus away from the midsection.
Directional Patterns: Patterns like chevrons, which point upwards, can guide the eye in that direction and away from the midsection.
Remember, while patterns and prints can be beneficial, personal comfort and confidence in what you're wearing are paramount. The most important aspect is to choose a design that resonates with your personal style and makes you feel great!
12 Other Tips To Boost Your Confidence
Achieving a stylish and confident beach look goes beyond just the swimsuit. Here are several other tips to consider:
Cover-ups: A chic cover-up, like a sheer kaftan or a sarong, can add a layer of style and comfort. It's an excellent way to transition from the beach to a nearby cafe or restaurant.
Accessories: Elevate your beach look with hats, sunglasses, and jewelry. A wide-brimmed hat not only protects from the sun but also adds a touch of elegance.
Footwear: Consider espadrilles, flip-flops, or stylish sandals. Shoes can make a statement and complement your overall beach ensemble.
Confidence Booster: Before heading to the beach, indulge in some self-care. This could be a skin-hydrating treatment, a fresh pedicure, or even a new tan (sunless tanning products can work wonders).
Beach Bags: A trendy beach bag can make a difference. Not only is it functional, storing your essentials, but it can also serve as a statement accessory.
Hair and Makeup: Embrace beach waves or tie your hair up in a chic bun or ponytail. As for makeup, less is more at the beach. Consider a tinted SPF, waterproof mascara, and a lip tint.
Layering: Play with layering different swimsuits. For instance, a crop top or rash guard over your bikini can add a trendy touch.
Beach Towels and Mats: Your beach towel or mat can be a part of your style statement. Opt for vibrant colors or patterns.
Stay Hydrated and Protected: Carry a reusable water bottle to stay hydrated. Use sunscreen to protect your skin, and reapply as needed.
Posture: Stand tall and confident. Good posture not only exudes confidence but also improves how any outfit looks on you.
Mix and Match: Don't be afraid to mix and match different bikini tops and bottoms or layer with other pieces. This allows for versatility and can help create a look that suits your mood.
Be Yourself: Ultimately, the most stylish look is one where you feel authentically yourself. Wear what makes you happy and comfortable, and that confidence will shine through.
Remember, the beach is a place to relax, have fun, and feel the sun on your skin. The more at ease and confident you feel in your choices, the more you'll enjoy your time by the water!
Conclusion
Hello, fashion enthusiasts! As we wrap up our deep dive into the world of swimsuits, remember, it's all about finding what makes you feel confident and joyful under the sun. Whether it's the ruched magic, a high-waist wonder, or the playful peplum, each style has its charm. While exploring these options, consider your comfort level and ensure the fit is right. After all, the best swimsuit is where you feel like the best version of yourself. Dive into this season informed and ready to make a splash. Here's to sun, sea, and swimsuit success!
Feature image by Image credit: https://lookbook.nu/look/9181114-Joystore-Swimsuit-Pin-Up-Swim
Last reviewed and updated on August 12, 2023