Today, we dive deep into footwear, unearthing the best types of shoes that seamlessly blend with short skirts to give you that chic, runway-ready look. Whether you're a minimalist seeking refined elegance or a trendsetter hunting for the next big thing, by the end of this read, your feet will be as fashion-forward as the rest of you. So, let's embark on this style journey together, ensuring that your next outing is nothing short of fabulous from head to toe.
The Timeless Allure of the Short Dress
Who doesn't have at least one short dress tucked away, waiting for the perfect summer day or that unplanned vacation? There's something inherently freeing about slipping into one. Maybe it's the breeze, the comfort, or the audacity of it all! Short dresses genuinely deserve a standing ovation for their adaptability. These dresses have seen everything from those sultry summer days to the cozy winter nights layered under your favorite cardigan.
However, there's a misconception that short dresses lack sophistication. I remember wearing one to an afternoon brunch and hearing a whisper, "Isn't that a bit casual for the occasion?" But let me tell you, with the right pair of shoes, I felt like I was walking down my runway.
The Shoe Dilemma: Finding the Perfect Match
Ah, shoes! They can either make or break a look. Have you ever had one of those moments where you're standing in front of your mirror, dressed, but wholly puzzled about which shoes to pair them with? Trust me, we've all been there. And while short dresses are universally flattering and versatile, picking the proper footwear can be a game-changer.
For those elegant evenings when you want to make a statement, heels are your best friend. They accentuate your legs and magically improve posture. (And who doesn't want to feel a bit taller for a night?). But if you're like me and love the elevation but dread the discomfort, high-heeled ankle boots or even wedges are an excellent compromise. They've been my secret weapon for events where I'll be on my feet for hours.
But not every day is a red carpet day. For those laid-back outings or just a day of running errands, sneakers or loafers are a match made in heaven for your short dress. It gives off an effortless "I woke up like this" vibe which gets noticed and admired.
The Ultimate Shoe Guide for Your Short Dresses
Are you feeling overwhelmed? Fear not! We've got you covered with our ultimate style guide. Whether you're trying to achieve a relaxed weekend look or aiming to be the star at a gala, we have handpicked shoe styles and outfit tips to ensure you never second-guess your shoe choices again.
Shoes To Wear With Short Dresses
Flat Sandals: Beach Vibes and Breezy Days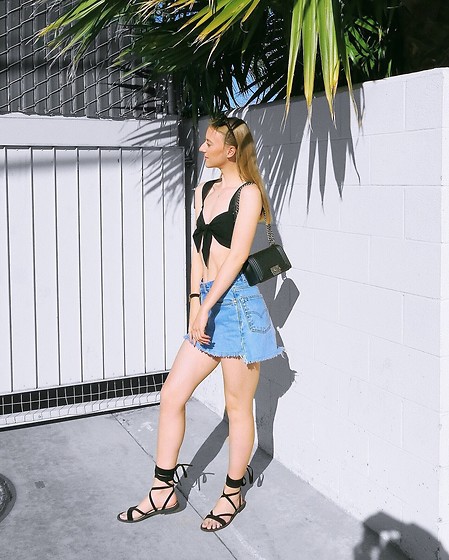 Imagine walking along the beach, the wind in your hair, wearing a flowy mini-dress. Flat sandals are the perfect companions for those summer days. I once wore the wrong pair on a beach outing and ended up with blisters – lesson learned! Opt for easy-to-clean materials for beach outings and pair them with a straw bag and tortoise shell sunglasses. Chic and comfy, flat sandals are necessary for a casual day out.
Ballet Flats: The Everyday Elegance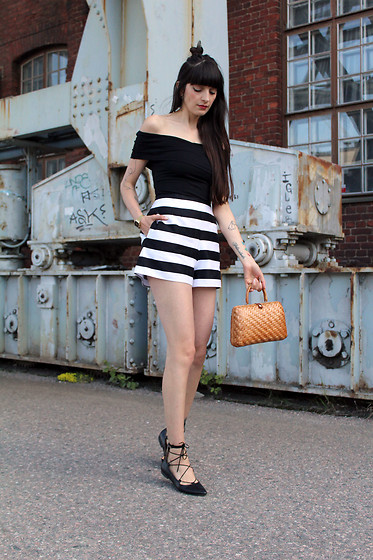 Ballet flats are like that dependable friend who's always there for you. Whether it's office wear or sightseeing, they fit right in. I've personally enjoyed the ballet-core trend on social media platforms. If you want to embrace it, think soft and frilly. They look equally stylish with a loose, flowy dress. They're likely here to stay, so stay tuned for new seasonal styles.
Sneakers: Casual Coolness
Who doesn't love classic white sneakers with a short dress? From sporty to formal, sneakers come in all styles. High-top sneakers such as Air Jordan 1 could be your thing if you've long legs, but they may flatter our petite readers less. My personal favorite? A pair of white sneakers with a casual short dress for a weekend outing. It never fails!
Knee High Boots: The Sophisticated Statement
Aiming for that unique occasion look or the perfect fall ensemble? Knee-high boots are where it's at. Pair them with a basic dress and minimal accessories for a refined look. For more relaxed vibes, go for boots with a low heel. I often opt for a higher heel for a night out, which always turns heads.
Stiletto Heels: Party Perfection
Stiletto heels are the go-to option for a glamorous night out. I remember wearing a pair to a friend's wedding and feeling like the belle of the ball. Choose thin straps for formal looks and coordinate with statement accessories. But remember, less is more – too many statement pieces can clash.
Wedges: Summer Elegance
Garden party, anyone? Wedges exude that chic Riviera vibe. Pair them with metal-toned jewelry and a cute mini bag. Trust me, they're stylish and a practical choice for those grassy events where heels are a no-go.
Ankle Boots: Rock the Festival Look
From funky cowboy boots to elegant Chelsea ones, ankle boots pair beautifully with short hemlines. They're perfect for festivals and concerts – your feet stay safe while you dance the night away.
Slingbacks: Chic City Fashion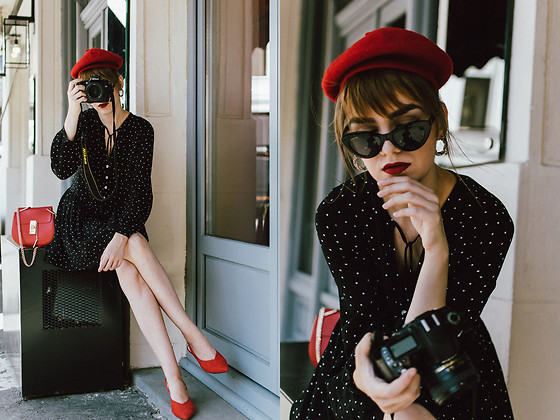 For those who seek elegance without the commitment to full stiletto heels, slingbacks are your stylish answer. They're a personal work favorite, adding a chic touch to my office attire.
Loafers: Preppy and Professional
Loafers are the embodiment of preppy charm. Want to try something unique? Pair white ankle socks with black loafers and a black mini-dress. It's an out-there fashion moment that I've rocked on casual Fridays.
Platforms: The Height of Style
Platforms are a petite girl's dream! They give those modelesque legs and some extra height. From platform sneakers to heels, they're a fun choice to add a dramatic flair to your outfit.
What Are Some Other Shoe Options To Wear With Short Dresses Besides the Ones Mentioned in the Article?
There are many shoe options to consider when styling a short dress. Here are some additional choices beyond the ones mentioned:
Mules: These backless shoes, available in flat and heeled variations, offer a chic and modern edge. They're easy to slip on and incredibly versatile.
Gladiator Sandals: These sandals lace up the calf and can add a bohemian or edgy touch to a short dress. Perfect for summer festivals or casual outings.
Oxfords lend a preppy, vintage vibe, especially when paired with a playful or structured dress.
Espadrilles: While you've touched upon wedged espadrilles, the flat versions are also summer staples. Their jute rope sole offers a beachy feel.
Combat Boots: These can give your dress a tough, edgy vibe. Perfect for someone looking to make a strong style statement.
Peep Toe Booties: These booties offer a bit of flirtiness by showing off your pedicure while keeping a structured look.
Kitten Heels: For those who want a slight lift without the discomfort of sky-high heels, kitten heels are a stylish and manageable choice.
Clogs: With a wooden sole and leather top, clogs can give a rustic touch to your outfit.
T-Strap Sandals: These evoke a vintage charm and can be paired with flirty summer dresses.
Pointed Toe Flats: These flats elongate the leg line, similar to heels, without adding height. They're sophisticated and suitable for both casual and formal settings.
When selecting shoes, always consider the occasion, your comfort level, and the overall vibe you aim to achieve. The proper footwear can significantly transform the look and feel of your short dress, giving you multiple style options with just one garment.
Conclusion
Hello, fashion enthusiasts! Stepping out in style is all about the perfect pairing of dresses and shoes. While short dresses offer a canvas of endless possibilities, footwear can elevate or downplay your look. Remember, comfort is key; those stunning stiletto heels might not be your best friend on a day full of errands. On the other hand, ballet flats or sneakers could seamlessly merge style with ease. As you explore these pairings, be mindful of your body type and what makes you feel confident. After all, the best fashion statements come from a blend of personal style and comfort. Here's to making informed choices, rocking those outfits, and turning sidewalks into your runway! Happy styling!
Feature image by Hannah Busing on Unsplash
Last reviewed and updated on November 19, 2023