This post will be your ultimate guide, your sartorial encyclopedia, where we aim to demystify the challenge of pairing your favorite jeans with the most suitable shoes. My fellow style seekers, no more frantic Google searches or perplexed glances into the mirror. By the end of this post, you'll have an arsenal of knowledge about how to pair everything from your most cherished skinny jeans to the trendiest wide-legged denim on the market. And we won't just stop at the cuts and styles of jeans; we'll deep dive into the colors, the seasons, and occasions, too, ensuring you're armed with a pair of shoes for every denim-themed circumstance.
So whether you're a busy professional wanting to boost your casual Friday outfits, a trendsetter seeking to perfect your street style, or simply a denim devotee wishing to maximize the versatility of your jean collection, this blog post has something for everyone. Let's embark on this style journey together, building up your fashion confidence one step – and one pair of shoes – at a time.
All About Straight-Leg Jeans
Ah, straight-leg jeans. They've been my faithful companion during some memorable moments. Whether it's an impromptu road trip with friends or a casual business meet-up, the versatility of straight-leg jeans has never let me down. And just like the coffee varieties you'd find at your favorite café, these jeans come in many flavors – relaxed, slouchy, sleek, slim-fit, and lengths ranging from cropped to full.
Remember the cropped and ankle-length styles that were all the rage a couple of seasons ago? This year, the spotlight is shifting toward full-length styles and more relaxed fits. So, let's dive in and explore the best shoes to couple with your straight crop and straight-ankle jeans.
Rocking Straight Crop & Straight Ankle Jeans
Straight crop and straight ankle jeans are like the best friends you didn't know you needed. They effortlessly mesh with a vast range of shoes, whether retro fashion sneakers, classic or lug sole loafers and loafer mules, block heel mules, clogs, or ankle boots. Speaking from personal experience, they can be slightly tricky with ankle boots, but I've discovered the secret sauce – it's all about the right combo of denim length, width, and boot shaft height and width.
You're golden if your jeans can slide over the boots or end right above the boot shaft (exposing an inch of skin or sock). We don't want a fashion faux pas where the jeans get caught on the top of the boot. Trust me, I've been there, and it's not a situation you want to find yourself in!
Full-Length Straight Leg Jeans: Strut Your Style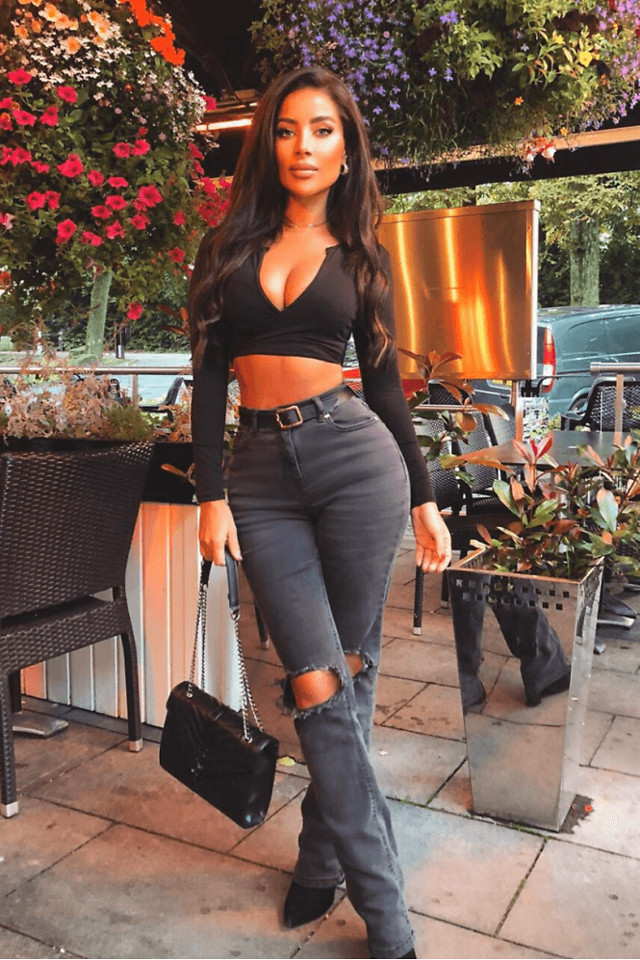 Full-length straight-leg jeans and I share a special bond. There's something about the relaxed style that I find irresistible. These jeans have a knack for looking fabulous with a bit of a heel. Think heeled ankle boots, clogs, and even a delicate sandals can work wonders during those warm summer days.
The trend is pairing relaxed, full-length, straight-leg jeans with retro running sneakers. While it might appeal to some, it can border on frumpy without a carefully curated overall outfit. So, I'm cautiously avoiding that trend for now. But remember, in the fashion world, nothing is set in stone!
The Perfect Match: Bootcut & Flare Jeans
In shoe pairings, bootcut jeans and flares are almost interchangeable. Hence they're sharing the same section in this post. Like their straight-leg siblings, boot cuts and bursts come in crop, ankle, and full-length styles. But the magic happens when you pair them with cropped and ankle-length flares.
Demi Boot & Crop Flares: A Show-Stopping Pair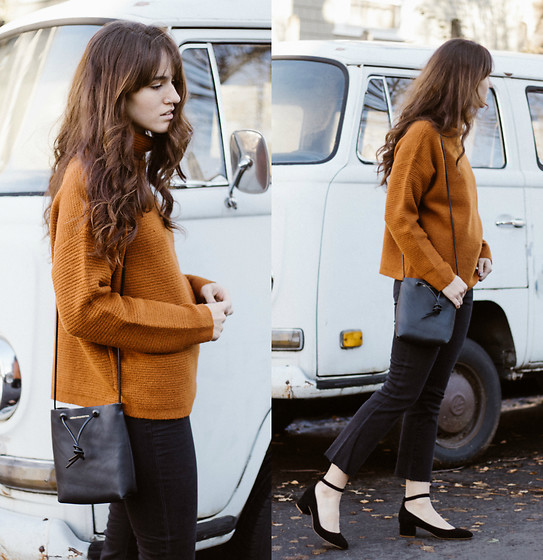 If you want to show off your shoes and the slimmest part of your leg, look no further than cropped and ankle-length bootcut jeans and flares. You might see them referred to as demi boot or crop bootcut, or kick crop jeans. Trust me when I say they can instantly elevate your style game. After all, nothing says "fashion-forward" like the perfect jeans and shoe combo.
Elevate Your Autumn Look: Full-Length Flares
I can't help but be partial to full-length flares and bootcut jeans. Paired with a heel or a platform sole, and even better with a pointed-toe heel, they radiate comfort and style. For a more casual vibe, clogs are a fantastic option. This year, they're a big trend, making your bootcut jeans scream 2022 rather than 2002.
For those daring to pair full-length flares with flats, a pointy toe will serve you best. And here's a tip from my style playbook: Ensure the jeans are hemmed or cut so they don't drag on the floor. While I avoid sneakers and loafers with this style of jeans, remember the ultimate rule of fashion: Do what makes you feel comfortable and confident!
Finding Balance: Shoes for Wide-Leg Jeans
Wide-leg jeans can be a challenging style to master, but I assure you, it's worth the effort. The secret lies in balancing the bold silhouette with the right shoes. Heels, platforms, chunky loafers, or platform sneakers can provide the perfect counterweight to the wide-leg style.
Keeping it Current: Shoes for Skinny Jeans
Skinny jeans may not be at the pinnacle of the trend cycle, but they remain a beloved wardrobe staple for many, including me. If you're as passionate about your skinnies as I am, ensure you pair them with current tops and shoes to keep your style fresh.
Skinnies look their best and most current with a lug sole Chelsea boot, retro sneakers, clogs, or chunky loafers. The chunky profile is an excellent counterbalance to the narrow silhouette.
Fall 2022 Skinny Jeans Style
While ballet flats, pumps, low split shaft booties, peep-toe booties, and slim Converse may have been the go-to companions for your skinnies, it might be best to steer clear of them this fall. Even though these combinations have worked, they might seem a tad dated now. After all, fashion is about evolution and reinvention.
So there you have it, folks! My guide to pairing your jeans with shoes this fall. Remember, the perfect style makes you feel confident and beautiful, so embrace the trends that resonate with you. Here's to a stylish autumn!
What Are The Best Shoes To Wear With Other Types Of Jeans For Women?
The world of denim and shoes is vast, and finding the right combination can instantly elevate your style. So, let's dive into the best shoe styles for other popular types of jeans for women.
Boyfriend Jeans
A loose fit typically characterizes a relaxed and casual style, boyfriend jeans. To balance out the bagginess, pair them with a structured shoe. Classic white sneakers always make for a laid-back look, but if you want to add some femininity, consider a strappy heel or a sleek boot. Ankle boots work particularly well, adding a bit of edge to your overall look.
High-Waisted Jeans
High-waisted jeans are incredibly versatile when it comes to shoe pairings. Try combining them with a pair of platform sneakers or a clean pair of white canvas shoes for a casual look. For something dressier, a high-heeled sandal or ankle boot can add an elegant touch, elongating your legs and highlighting your waist.
Mom Jeans
Mom jeans, known for their high waist and slightly baggy fit around the hips and thighs, look fantastic with various shoes. For a retro-inspired look, pair them with chunky sneakers or a stylish pair of loafers. Ankle boots can also be a great option, particularly in the cooler months.
Wide-Leg Jeans
Wide-leg jeans are all about making a statement. To counterbalance their bold silhouette, opt for a chunky shoe. Platform sandals, wedges, or block-heeled boots can create a flattering proportion.
Distressed Jeans
Distressed jeans exude a certain edginess that can be further amplified with the right shoes. Combat boots, grunge-inspired sneakers, or a cool pair of ankle boots can perfectly complement the rugged vibe.
Jeggings
Due to their tight fit, Jeggings provides an excellent opportunity to showcase your shoes. They can be paired with almost anything, from ballet flats to knee-high boots, depending on the occasion.
The art of fashion lies in personal expression. So feel free to play around with different shoe and jean combinations until you find the ones that reflect your unique style. Remember, the best outfit is the one that makes you feel like the best version of yourself.
Conclusion
And there we have it, fashion enthusiasts! From crop flares to skinnies, we've journeyed through the jean landscape together, uncovering how different shoe styles can transform your denim look. The most important tip is to consider the balance between the shape of your jeans and your shoes. Heels can elongate, and flatter, chunky profiles can offset a narrow silhouette, and a touch of ankle showing can be the perfect final touch. But remember, trends come and go, so feel free to abandon a combination you love just because it's not the month's flavor.
While finding the right pairing might involve trial and error, remember every fashion journey has its fair share of risks and rewards. My advice? Embrace the process, and don't be afraid to experiment. The fashion world is your oyster, and the perfect jeans-and-shoes combo is waiting for you to discover.
Ultimately, the ultimate goal is to find a style that resonates with your taste and boosts your confidence. Because nothing, absolutely nothing, can replace the glow of someone who feels at home in their outfit. So, here's to stepping into this new season with optimism, excitement, and a dash of adventure. Trust me, your perfect pair of jeans and shoes are just around the corner!
Feature image by David Preston on Unsplash
Last reviewed and updated on August 9, 2023