This post is not just about aesthetics but also about creating an outfit that reflects your respect for the place of worship while staying true to your style persona. We'll delve into the realms of modesty and modernity, creating a harmonious blend that appeases both the style goddess within you and the sacred atmosphere of the church.
Whether you're a novice navigating the treacherous waters of church-appropriate fashion or a veteran seeking a fresh twist on your Sunday best, this guide is your fashion bible. By the end of our post, you'll master the art of dressing modestly without losing an ounce of style, learn how to choose comfortable and chic pieces and adapt your outfits to the different seasons or church-related events.
In a world where fast fashion rules and trends change faster than the seasons, let this post be your sanctuary, where you blend the timeless with the trendy, creating an impact that resonates beyond the Sunday service. So, cinch up your stylish belt of truth, and let's tread the path of faith-in-fashion together. After all, we're not just here to turn heads – we're here to uplift hearts and inspire souls, one outfit at a time!
Blooming in a Summer Dress + Cardigan Combo
Hello, sunshine lovers! Remember that vibrant summer dress you bought for beach days? The one languishing in your closet because it's too beachy for a Sunday service? Well, let me share a little secret from my style diary. Even if that dress has those adorable spaghetti straps and a low-cut neckline, you can still rock it at church. Just add a fitted cardigan and button it up. Suddenly, that summery dress morphs into a divine ensemble for your Sunday best.
I remember doing this trick with a sunny yellow floral dress I thought would remain a vacation exclusive forever. Pair it with a pair of comfy kitten heels, and voila! You're ready to greet the congregation with a burst of summery joy.
Embracing Elegance with a Long-Sleeved Midi Dress
As the leaves start falling and the weather gets a little nippy, I cannot emphasize enough how essential a long-sleeved midi dress is – for both your fall wardrobe and church outings. Try an empire waist or a belted style to accentuate your silhouette without opting for a body-hugging fit. Trust me, it's a delicate balance of style and modesty that will earn you admiring glances and nods of approval in equal measure.
Vintage Vibes with Sweater + Full Skirt
Have you ever dreamed of recreating those charming 50s silhouettes? Here's your chance! Pair a light sweater with a full or A-line skirt for a delightfully retro ensemble. One of my favorite looks involved a pastel pink sweater and a floral A-line skirt – I felt like I stepped straight out of a vintage postcard!
Don'tPull your hair back into a neat ponytail, add a playful bow, and you have a chic, church-ready look. No compromises on style here, ladies!
The Versatile Duo: Blouse + Tasteful Trousers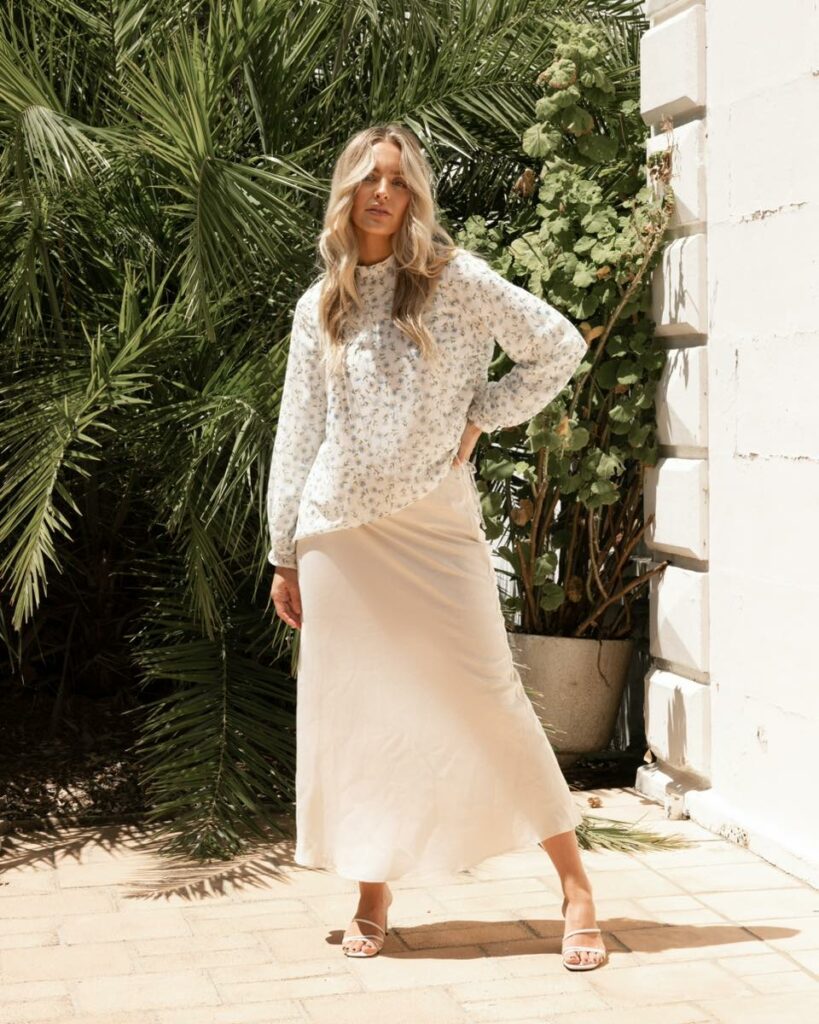 Now, here's an ensemble that's as versatile as it gets. A classic blouse neatly tucked into conservative trousers or tasteful crop pants is an easy yet stylish choice that works for many occasions. It covers you from a spontaneous lunch with your boss to after-work networking events.
Say 'Amen' to Jeans for Church?
Ever looked longingly at your favorite pair of jeans on a Sunday morning and wondered, "Can I wear jeans to church?" Well, beauties, you're in luck. The answer is a resounding yes! But, of course, the art lies in choosing the right pair. My go-to is a straight-cut, mid- or high-rise, dark-wash denim that perfectly combines comfort with elegance.
Once you have your trusty denim on, it's time to doll it up! My secret sauce involves a two-layer ensemble on top – think a delicate shell top accompanied by a charming cardigan, which gives a nod to the modest setting without compromising style. Top it off with a pair of simple yet chic ankle boots, and you're all set to make a fashionable entry at church in your denim!
Shoes to Walk the Holy Ground
Shoe choices for the church can be a bit of a puzzle. It's essential to strike a balance between elegance and comfort. My favorites are low-heeled pumps with a covered toe – an evergreen classic that never impresses me. A pair of neat ballet flats will also do the trick if you value comfort like me.
Are you wearing pants to church? No worries! A simple ankle boot works wonders. Just remember to steer clear of super-casual sandals, worn-out sneakers, and flip-flops – because, as we all know, Sunday best isn't just about the outfit!
Church Fashion: The Divine Do's and Don'ts
Navigating the tricky waters of church-appropriate fashion can be challenging. Let's break it down with some handy dos and don'ts:
Do's:
Opt for Modesty: Choose garments that cover your shoulders and knee-length or longer skirts. A well-fitted blazer can transform a slightly revealing top into a church-appropriate outfit.
Belt it up: If your bottoms have belt loops, tuck in your top and add a belt. It adds structure to your outfit and gives you a neat, put-together look.
Embrace Feminine Patterns: Florals never fail to bring a charming, feminine touch to your church ensemble.
Be Cautious with Pencil Skirts: If you're a pencil-skirt enthusiast like me, choose a looser style. The body-hugging variants might not pass the church fashion test!
Don'ts:
Wild, not too rough: Animal prints may be all the rage, but they're too bold for church.
Say No to Tight Fits: Tight pants or leggings can be a little too revealing for the serene ambiance of a church.
Simplicity is the Key: Accessories can uplift an outfit but don't do just what is necessary. Sometimes, a pair of simple stud earrings is all you need.
Heel-Height Check: Avoid wearing heels taller than 3 inches. You're going for grace, not a catwalk strut!
Sheer? Oh, dear!: Lastly, refrain from wearing anything vertical. Transparency might be an excellent quality in people, but in church clothing, not so much!
6 Other Shoe Options For Church Besides Low-Heeled Pumps And Ballet Flats?
Loafers: A pair of classic leather loafers add a touch of understated elegance to your church outfit. They're comfortable, stylish, and appropriate for the setting.
Ankle Boots: Ankle boots, especially with modest heels, can be a fantastic addition to your church attire, particularly during colder months. They pair well with pants and dresses, adding an effortlessly chic vibe.
Kitten Heels: For those who prefer a little height without straying into stiletto territory, kitten heels are an excellent option. They're feminine, classy, and much more comfortable than high heels.
Mary Jane Shoes: With their vintage charm and girlish allure, Mary Jane shoes are a great pick for church. The typically low heel ensures comfort, while the buckle strap adds a touch of character.
Oxfords/Brogues: These can add a smart, polished look to your outfit. Opt for a sleek, feminine pair to maintain a softer overall appearance.
Wedge Heels: Wedges offer height without compromising on comfort, and can be an excellent option if you're looking for a bit of a boost without resorting to high heels.
Remember, no matter what shoe style you choose, it's essential to ensure it's clean, well-maintained, and suited to your overall outfit. After all, your shoes can make or break your ensemble!
6 Tips For Choosing The Right Pair Of Jeans To Wear To Church?
Choosing the right pair of jeans to wear to church can indeed be a bit of a challenge, as you want to strike the perfect balance between comfort, style, and appropriateness. Here are a few guidelines to help you navigate this:
Color and Wash: Opt for darker washes like indigo or black. These tend to look more formal and sophisticated than light-washed or distressed jeans. Also, avoid jeans with rips, tears, or excessive fraying. Remember, you want to look polished and respectful.
Fit and Cut: Straight-cut, boot-cut, or slightly flared jeans are generally a safe choice. They're classic, comfortable, and not too revealing. Avoid ultra-skinny jeans or styles that are overly tight, as they may not be deemed appropriate for a church setting.
Rise: Mid- to high-rise jeans are your best bet for church. They provide coverage, keep your top tucked in neatly, and generally offer a more flattering silhouette.
Length: Jeans should ideally reach down to your ankles. Avoid cropped styles that may look too casual. Similarly, excessively long or baggy jeans that bunch up at the bottom can look sloppy.
Embellishments: Keep embellishments to a minimum. Jeans with excessive studs, logos, embroidery, or sequins can come off as too flashy for church. The focus should be on a neat, clean look.
Pairing: What you pair with your jeans is equally important. A dressy blouse, a modest sweater, or a nice blazer can elevate your denim to a church-appropriate outfit. Remember, the goal is to create a balanced look that is respectful yet stylish.
By following these guidelines, you can ensure that your denim game remains strong and suitable, even when attending church!
3 Colors & Patterns You Might Want To Avoid When Dressing For Church?
When dressing for church, it's generally a good idea to keep your outfit's colors and patterns respectful and understated. While there's no hard and fast rule, and different churches may have different norms, here are a few things to keep in mind:
Colors: It's best to avoid overly bright or neon colors as they can be distracting and may come off as too casual. Stick to more muted, classic colors like navy, black, grey, white, or pastel hues. Earth tones such as browns, olives, and creams can also create a sophisticated and serene look.
Patterns: As a general rule, opt for simpler, less bold patterns. Delicate florals, stripes, or small geometric patterns can work well. Avoid overly loud, bold prints or patterns that can appear too distracting or casual. Animal prints, for instance, might be a bit too wild for a church setting.
Graphics and Messages: Be cautious about wearing clothing with graphics or messages. Some might find them inappropriate for a place of worship. If you do choose to wear such items, make sure the imagery or text is respectful and not likely to cause offense.
Remember, these are general guidelines, and it's essential to gauge the vibe of your specific church community. Some churches may have a more relaxed dress code, while others may require more formal attire. When in doubt, it's always a good idea to err on the side of dressing more conservatively. After all, dressing for church is about showing respect for the occasion while also expressing your personal style in a tasteful manner.
Conclusion
And there you have it, beautiful souls! Dressing for the church doesn't have to feel like a sermon. It's all about balancing your style desires with a reverence for the occasion. Remember, you can be stylish while keeping things modest and respectful. Go for knee-length or longer dresses, or pair your favorite denim with something a bit more dressy. Don't be afraid to let your personality shine through – remember to do it in a way that's appropriate for the setting.
Comfort, as we always say, is critical. Stick to low-heeled shoes and avoid overly tight or sheer clothing. Add a touch of elegance with simple accessories and feminine patterns, and you're all set to make a graceful, respectful statement at your next service.
The ultimate risk, if any, would be to either go overboard with fashion and forget the place's sanctity or let the guidelines dampen your style spirit. And neither is something we want, right?
Let these tips be your guide as you put together your Sunday best. After all, style is a beautiful way to express yourself and the perfect tool to reflect your respect for the church. So go ahead, have fun with your outfits, add your spin to these tips, and keep turning heads as you walk down the aisle of fashion and faith. Your style journey is uniquely yours, so own, beautify, and let it echo your inner grace.
Feature image by Alex Baber on Unsplash