Hello, fashion enthusiasts! Welcome back to another vibrant edition of our fashion blog, where style meets substance, and creativity unites with culture. Today, we're stepping out of the runways and plunging into the pulsating heart of rave culture to decode the exhilarating fashion aesthetic that defines it.
Raves are more than just music festivals; they're an immersive symphony of sound, light, and human connection that provide a spectacular backdrop for some of the most expressive and vivid fashion statements. But what does one wear to a rave? How do you balance comfort with style and practicality with expression while staying true to the immersive, electric ambiance of these events? That's precisely what we will be delving into in this post.
From exploring the origins of rave fashion to identifying the key elements that form the basis of the perfect rave ensemble, we will navigate the exciting labyrinth of colors, materials, and accessories. Not only will we decode the aesthetics, but we'll also guide you on creating your rave look that transcends the standard norms, inspiring you to design a style that's as unique and vibrant as you are.
So strap in for this electrifying journey through neon hues, iridescent sequins, and rhythmic LED lights. Let's discover together the art of dressing for a rave, where every beat is a fashion statement, and every outfit is a story.
Unraveling the Origins: The Birth of Raves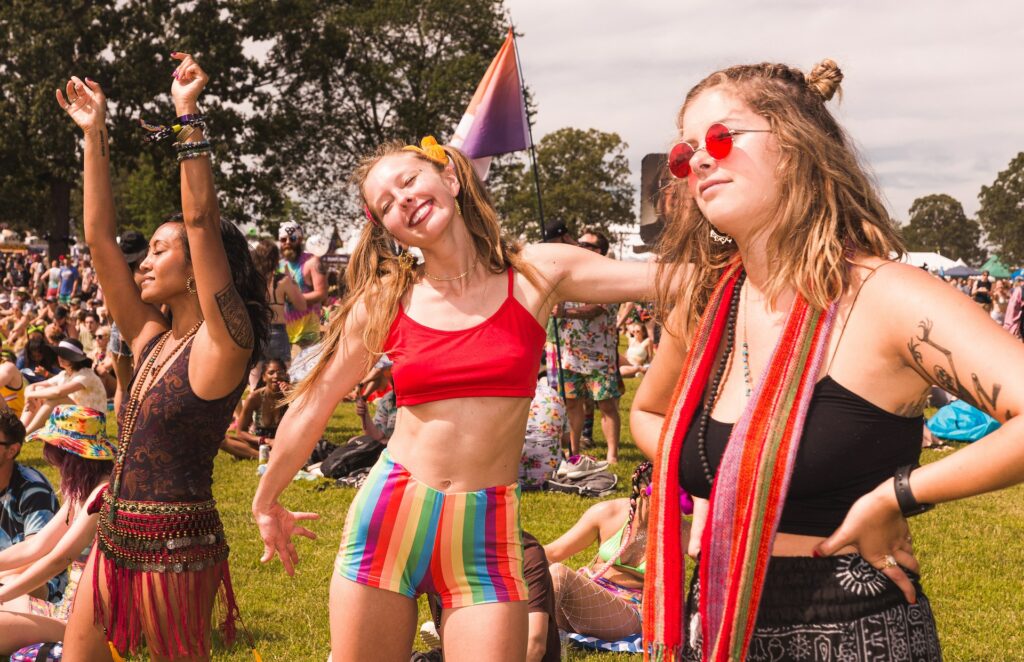 The birthplace of rave culture is a hotly debated topic among those who have explored its origins. Some contend that the first raves sprang to life in the UK in the 1950s, while others fervently argue in favor of Ibiza in the 1980s. These supposed early raves in the '50s were termed "wild, bohemian parties," gatherings of energetic young souls letting their hair down.
But the definition is so broad that one can't help but question – were these events raves? The answer could be more precise, given that today's raves beating to the rhythm of EDM (Electronic Dance Music) are far removed from the bohemian spirit.
Pondering the neon-infused, electrifying dance culture of the '80s, one could easily deduce that this decade could be the true rave cradle. Picture this: an era pulsating with the beats of electronica, a riot of colors, and, let's not forget, the audacious, gravity-defying hairstyles. Ah, the '80s! To overlook the hair trends while discussing the era would be a downright cultural faux pas!
This decade it also ushered in an era of indulgence and self-gratification, marking the surge of substances like cocaine and MDMA (aka Ecstasy or Molly)—the shiny, futuristic vibe of the '80s provided just the fitting backdrop for the birth of raves.
The Rise of Modern Rave Culture
According to popular belief, among those who might casually be termed 'amateur rave historians,' the definitive shift into 'rave culture' happened in 1987. The story goes that four friends from the UK took a trip to Ibiza and, under the influence of Ecstasy, fell in love with the hypnotic allure of repetitive electronic beats at a club intriguingly named 'Amnesia.' Fun fact – the club still stands today, adding to Ibiza's reputation as a top rave destination globally.
These four friends – Paul Oakenfold, Johnny Walker, Nicky Holloway, and Danny Rampling – returned home with the 'rave experience' and fostered an entire subculture rapidly spreading across the UK, USA, Canada, and beyond.
The rave has evolved and morphed through the years, birthing an entire music genre that now boasts legendary names like David Guetta, DeadMau5, Calvin Harris, and the late, unforgettable Avicii.
Avicii's story inspired Mike Posner's 2016 hit, "I Took a Pill in Ibiza," a poignant commentary on the highs and lows of rave drug culture. Intriguingly, the original folksy version of this song gained popularity after a remix by Norwegian EDM DJ group SeeB.
Rave Ready: What to Wear?
As we gear up to discuss what to wear to a rave, let's keep our journey through its history in mind. Remember, the rave scene celebrates individuality, creativity, and a spirit of joyous rebellion. Our attire needs to echo these sentiments while being comfortable and practical. But more on that in our upcoming sections, so stay tuned!
The Exciting Task: Picking Your Rave Outfit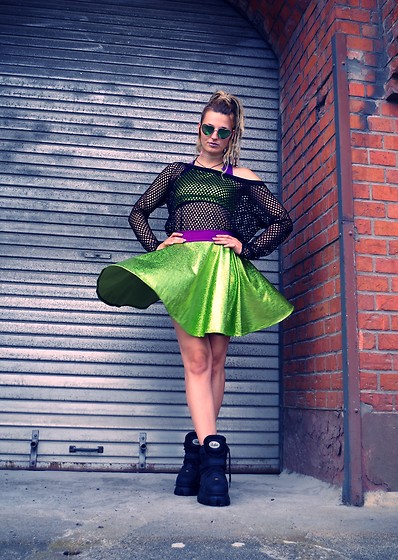 If you're new to the rave scene, picking an outfit can be an adventure! It's the perfect opportunity to push your boundaries and embrace the wild side of your wardrobe. Remember, your business should reflect your style and vibe with the surroundings.
Let's start with a little confession: I'm a big fan of oversized, billowing black garments reminiscent of modern-day Mary-Kate and Ashley. So, saying a rave is not the place for such clothes doesn't. But think about it, you'll be in a sea of excited dancing enthusiasts, and it will get warm.
The spin class you dread every Wednesday morning? Imagine that level of cardio in your heaviest outfit. Yep, it could have been a better picture! So, keep your attire light and airy. Bonus points if your business comes with pockets. Or, why not nod to the rave's '80s roots and sport a chic fanny pack?
Now, let's move on to footwear. It's no secret that raves involve a lot of dancing, so comfort is vital. Cute but cozy is your motto here, and a pair of Dr. Scholls gel inserts won't hurt, either.
The Canvas of Possibilities: Rave Outfit Ideas
Still trying to decide what to wear to a rave? Worry not. Let's delve into some rave outfit inspirations that tick all the right boxes:
1. Athleisure Extravaganza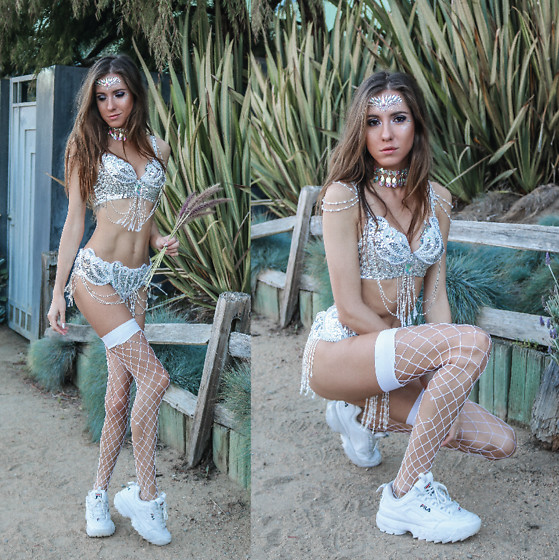 Raves and athleisure are a match made in heaven. It's sexy, comfortable, and offers all the practical benefits of exercise clothing. Bonus point: rock a chic high ponytail for that 'no-sweat' look!
2. Reflective Glam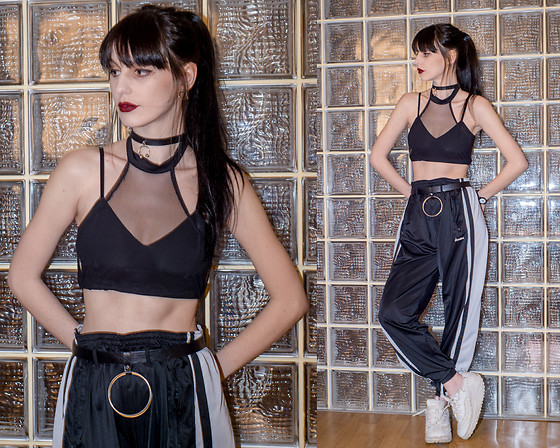 Add a touch of glam with reflective fabrics. Comfort meets style in this combination of a pant and a bra top. Not comfortable with a bra top? Just layer it with a fitted mesh or fishnet top for an extra dash of edginess.
3. Sequin Jumpsuit Dream
Sequined jumpsuits might scream the '70s, but trust me; they are a rave favorite. Yes, the 'washroom problem' exists, but it's a small price to pay for such fabulousness!
4. The Sparkling Mini Dress
Pair a sequined mini dress with a faux-fur capelet for a head-turning combo. Risk of overheating on the dance floor? Just stash the capelet safely once you're warmed up.
5. The Rainbow Ensemble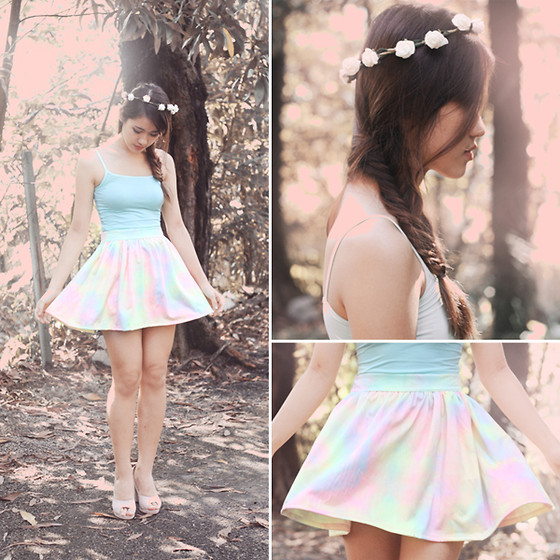 Dare to go bold with an outfit combining different colors and textures. Keep a unifying color theme to tie it all together. Pro tip: Wear heavy shoes to ground the business.
6. The Sheer Delight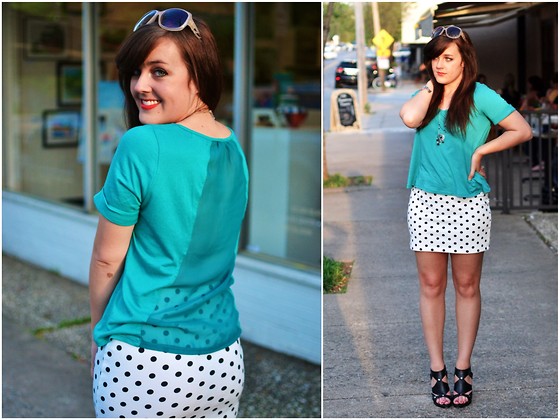 If you're a volume fan, like me, wear a sheer dress. It's sparkly and airy and keeps you looking chic on the dance floor.
7. The Dark Elegance
All-black wardrobe lovers should consider combining fitted bicycle shorts with a sheer T-shirt dress. The celestial print adds a whimsical touch that's rave-perfect.
8. The Ethereal White
Try an all-white look for a change. A sports bra under a boxy T-shirt dress offers comfort and style. Add a chain-link belt for some extra pizzazz.
9. The Neon Sporty-Chic
This one is for sporty glamour lovers. Comfortable shoes, dazzling makeup, and a chic way to pull back your hair when things heat up—what's not to love?
10. The 'Baby Spice' Look
This two-piece outfit is cute yet relaxed, with heart prints and side ties adding a hint of girliness.
11. The Rule Breaker
A leather ensemble might not be the most practical, but sometimes fashion demands some rule-bending!
The Finishing Touches: Styling Your Rave Outfit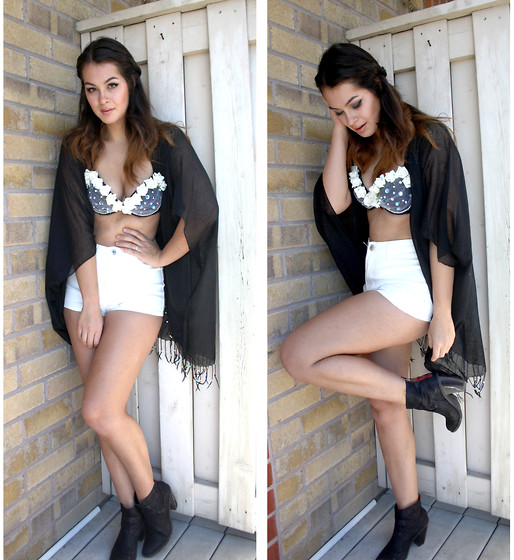 Remember the three golden rules of rave fashion: practicality, setting, and pushing your style boundaries. Accessorize, layer, and embrace colors like never before!
Some practical tips:
Opt for a small crossbody or fanny pack instead of a handbag.
Pick comfortable shoes over heels.
Avoid layering too much.
Well, fashion enthusiasts, now that you're armed with all these tips and ideas, I'm confident you'll shine bright at your next rave event. So, pump up the music, let loose, and have a blast!
What Are The Key Elements Of The Perfect Rave Ensemble?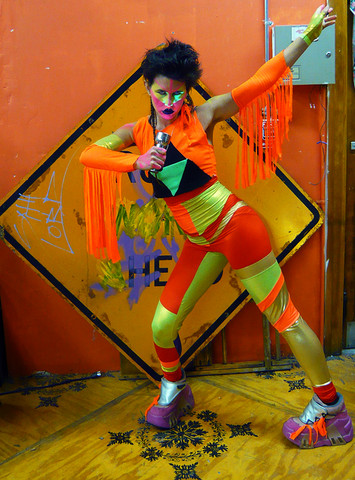 If we were to distill it all down, the perfect rave ensemble revolves around five essential elements:
Comfort: Dancing for hours on end requires comfort. Choose breathable fabrics that allow you to move freely, and incorporate pieces that aren't too constricting.
Practicality: Remember, you'll be in a packed crowd, so pockets are crucial for storing your essentials. Small crossbody bags or fanny packs are great for keeping your belongings secure without hindering your moves.
Footwear: Trust me, you don't want your rave experience ruined by aching feet. Opt for supportive, comfy shoes. They can be trendy sneakers, boots with a flat heel, or embellished flats. Remember, style should never compromise comfort here.
Self-Expression: The beauty of raves is they provide a canvas for you to express your most vibrant self. Don't shy away from bold colors, prints, or unique styles that you wouldn't usually wear. This is your chance to shine!
Unexpected Accessories: Rave fashion is incomplete without some standout accessories. Think neon sunglasses, colorful bandanas, whimsical headbands, or even body paint.
Lastly, a touch of playfulness and a sense of adventure will make your outfit truly rave-worthy. It's all about expressing yourself, enjoying the music, and having a blast!
How Can One Balance Comfort With Style And Practicality With Expression While Staying True To The Immersive, Electric Ambiance Of Raves?
Balancing comfort, style, practicality, and personal expression within the eclectic rave ambiance might seem like a daunting task, but it can be made simple by following a few tips.
Get Creative with Athleisure: Athleisure provides both comfort and style. Consider a high-support sports bra paired with leggings featuring funky patterns. Your outfit can still reflect your personal style, all while keeping you comfy and ready to dance the night away.
Make a Statement with Accessories: Accessories can transform any outfit into something special. You can wear a basic black outfit but spice it up with neon bangles, light-up sneakers, or a funky fanny pack.
Bring in the Bold Colors: Embrace the rave ambiance with bold, vibrant colors. Wearing a pop of color can be a form of expression that also matches the electric atmosphere of a rave.
Functional Footwear: There's no rule saying comfortable footwear can't be stylish. Snazzy sneakers, funky flats, or boots with little to no heel can all be the perfect complement to your outfit, giving you comfort without compromising your style.
Express with Hair and Makeup: Your self-expression doesn't have to end with your outfit. Neon hair colors, glitter, and face jewels can help you embody the electric ambiance while maintaining your unique identity.
Remember, raves are about having fun and expressing yourself. So don't be afraid to push your boundaries. As long as you feel comfortable and confident, you're guaranteed to rock your rave look!
What Are Some Tips For Picking A Rave Outfit?
Dressing for a rave can be an exciting part of the whole experience, allowing you to really embrace the vibrant and expressive nature of these events. Here are a few tips to help you curate the perfect rave ensemble:
Prioritize Comfort: Raves often involve lots of dancing and movement, so make sure to choose an outfit that allows for this. Breathable fabrics and loose-fitting items can help keep you comfortable throughout the event.
Think About Practicality: While you might be tempted to don an elaborate outfit, remember that you'll be wearing it for several hours. Opt for outfits with pockets to keep your essentials close at hand, or consider wearing a stylish fanny pack. Avoid heavy materials that might weigh you down.
Express Yourself: Raves are all about individual expression. Don't be afraid to experiment with bold colors, unique patterns, and eccentric accessories. This is your chance to wear something that you might not usually have the opportunity to showcase.
Choose the Right Footwear: Dancing in uncomfortable shoes can quickly take the fun out of the event. Opt for comfortable, sturdy footwear like sneakers or boots. If you prefer wearing heels, consider a chunky heel for more stability.
Play with Layers: Layering can add visual interest to your outfit and also provides practical benefits. If you get too warm, you can easily remove a layer.
Don't Forget about Hair and Makeup: Your hair and makeup can be an extension of your outfit. Use bright colors, glitter, and unique styles to compliment your look.
Remember, the key to picking a great rave outfit is to choose something that reflects your personal style, while also keeping comfort and practicality in mind. Enjoy the process and have fun with it!
Conclusion
Alright, fashion enthusiasts, let's bring it all together. When prepping for your rave adventure, your wardrobe should be an exciting blend of your style, practicality, and a nod to the vibrant atmosphere that defines these events. Don't be shy—embrace color, play with prints, and lean into the unexpected. Remember, comfort is essential, so opt for breathable fabrics, supportive footwear, and outfits that offer some storage for your essentials (a '90s throwback fanny pack, anyone?). Rave fashion is all about self-expression, and the fun lies in breaking some fashion rules, but remember, stay safe, and enjoy responsibly. Now that you're armed with these tips, it's your turn to get creative. Dream up that epic rave ensemble and dance like no one's watching. Enjoy the music, let loose, and let your style do the talking. Rave on, fashion stars!
Feature image by Anthony DELANOIX on Unsplash