If you are struggling to find inspiration to get a rose tattoo done, do check out these top 10 realistic rose tattoo stencil designs down below.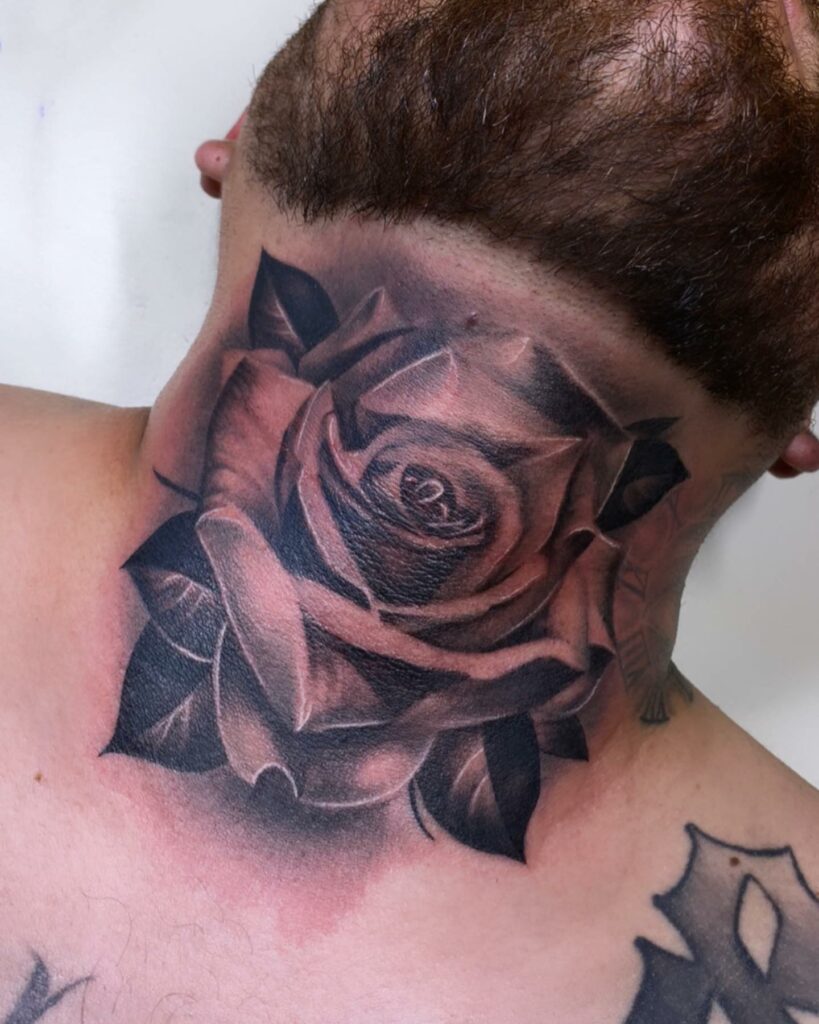 A rose tattoo can symbolize both i.e. a love that has won or even a lost love.
Rose tattoos have been popular since the very beginning of the tattoo culture. On the other hand, tattoo stencils are used by tattoo artists so that they can precisely trace the tattoos from the paper to your skin.
In general, roses symbolize love, beauty, and even courageous nature and romance. Different colors of roses have different symbolic representations – the red rose that does not have any thorn symbolizes love at first sight – a rosebud is a sign of purity and innocence – a yellow rose is a sign of friendship, joy, and happiness – an orange rose to symbolize desire whereas the rose tattoo ideas that are done using black ink symbolizes grief, sadness as well as death. Other than these symbolic representations rose tattoos of the various color of ink can also be done on the body just for style and fashion.
Black Ink Rose Tattoo Stencil For Hand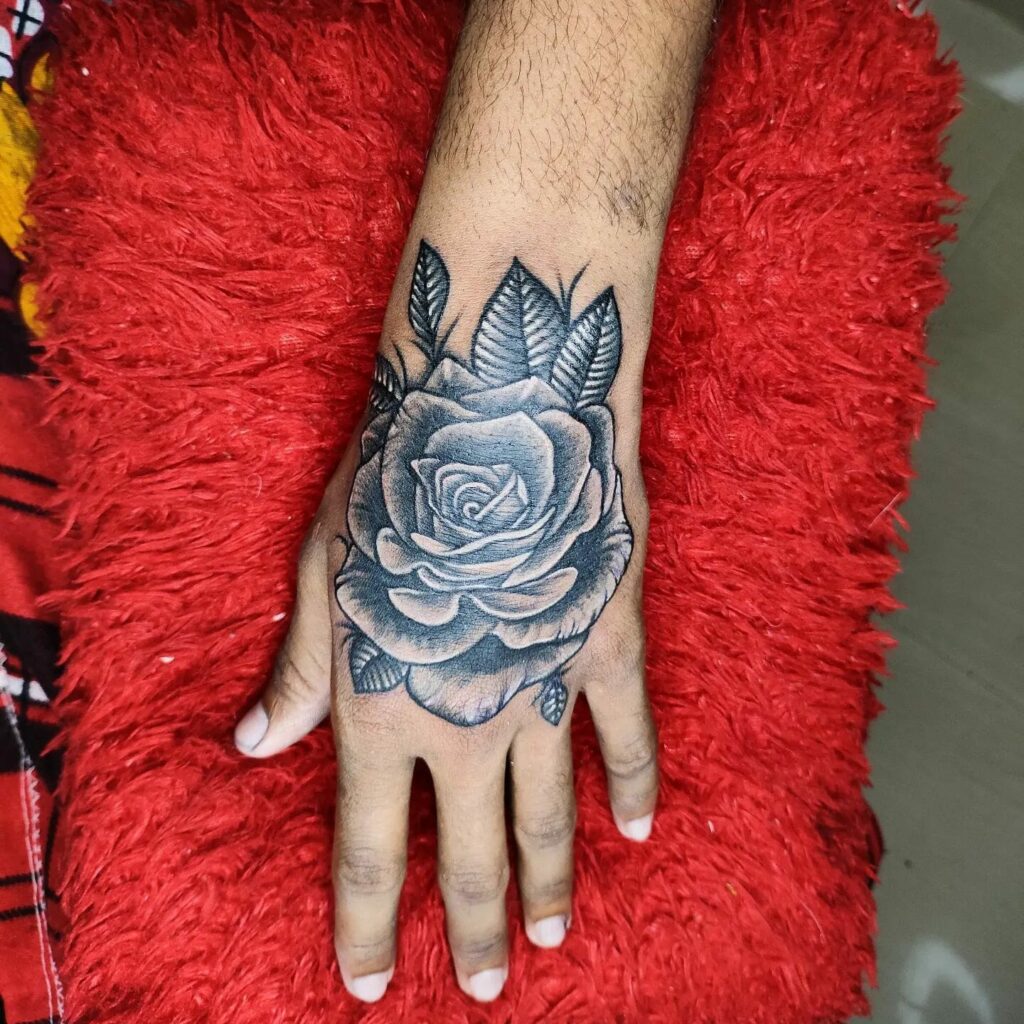 The beautiful flower Rose also has a certain spiritual meaning too. A Rose flower can also be a symbol of having someone in your memory forever and hence you must visit a tattoo artist to get this beautiful Rose Tattoo inked on any part of your body. You can even use these Rose Tattoo stencil ideas to get the best experience and also the best design. Moreover, all stencil tattoos or stencils are created by ell experienced and skilled tattoo artists. There are many more tattoo ideas for this Rose tattoo such as – the Rose and Skull tattoo, elephant tattoo with rose, vintage rose tattoo design, etc.
Take a look at this crisp rose tattoo made in all-black ink. This piece of art is an excellent illustration of the beautiful work of an artist, and also is an example of the level of patience and dedication the tattoo artists need to have. This piece of the rose tattoo with leaves attached to it gives a beautiful example of how not only red roses but also black roses look equally gorgeous.
If you too want to try out such tattoo ideas that will not only look gorgeous but also help you to cover up an old tattoo in a beautiful way, try out this tattoo idea.
Rose Tattoo Stencil For Neck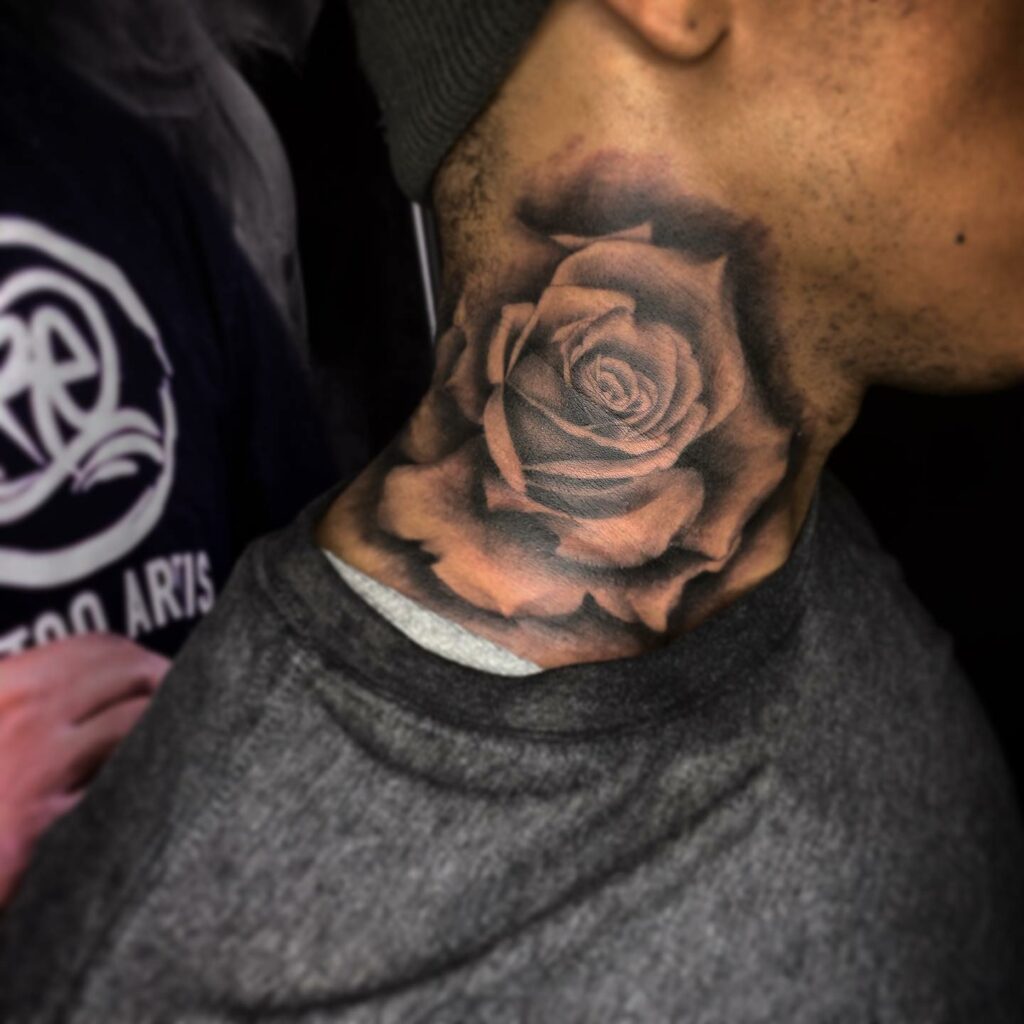 Drawing of rose tattoo designs is also very common when it comes to the topic of romance in the life of any person be it, men or women. Roses play an extremely important part in the topic of love in the life of any person. A single black or a single white rose can represent never-ending love for your own. Pictures or paintings of the beautiful flower rose can also be used as a form of body art.
There are also several designs and ideas for rose tattoos for men. The technique of tattoo stencil can be used for any kinds kind of tattoo design including rose tattoos. This method includes placing the stencil or the paper over the skin and getting the design accurately to get the exact design inked into your body. Rose tattoos can also be used by males which can be found under the headline of realistic rose tattoo stencil for males or rose tattoos for men. In this case, a rose tattoo has a different symbolic meaning. It symbolizes power or strength, superiority as well as fearlessness.
When a person gets inked with rose tattoos on his/her neck, it, in turn, symbolizes the bold and open-minded side of her personality. It also symbolizes how free, bold, and strong they are to take up new risks in their life. If you too are such a person who carries all these characteristics in your personality, you can try out this rose tattoo idea for your neck.
Rose Tattoo Stencil For Upper Arm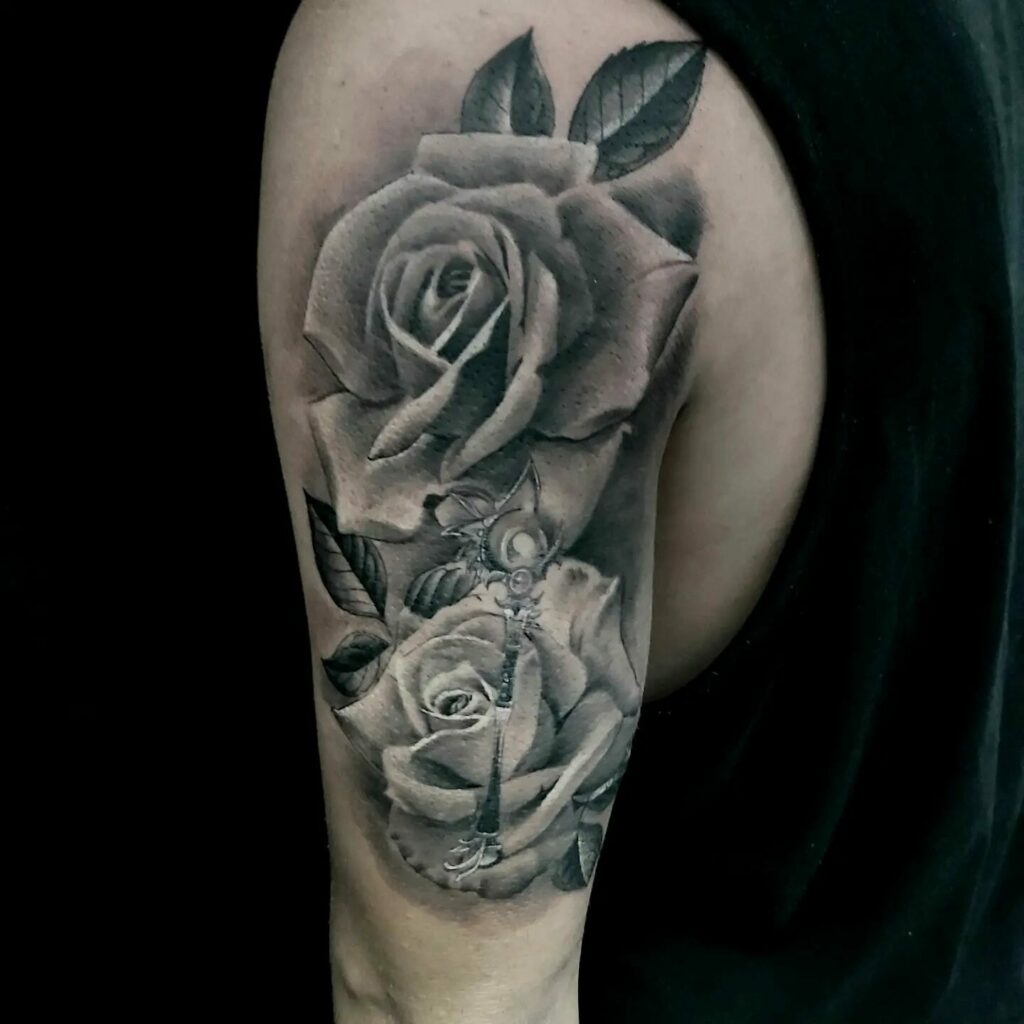 As mentioned earlier, rose tattoo designs are meant for both men and women, as these designs are simple yet elegant. The rose tattoo was initially made famous by the sailors who inked the flower on their bodies to represent their mother or their wife.
The upper arm is a good place to get inked as it contains a lot of muscles beneath, making it the least painful spot for getting a tattoo done. Also due to the presence of muscles, the upper arm brings out the best of any tattoo design. Similarly, this beautiful piece of art i.e., the rose tattoo will look stunning on your upper arm.
If you too are a fan of upper arm tattoos, try out this upper arm rose tattoo design once.
Red Ink Rose Tattoo Stencil For Hand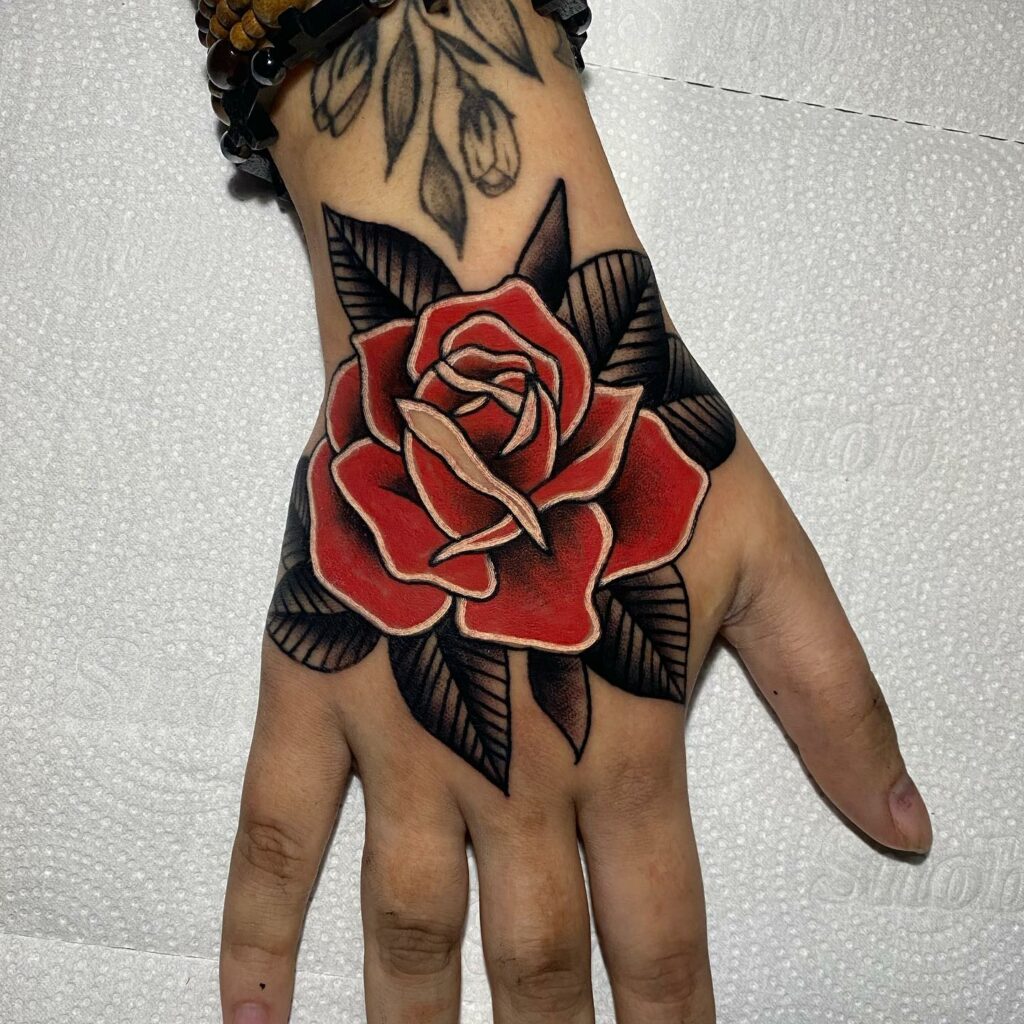 Roses are a popular and most often used design for flower tattoos because of their beauty and also their delicate appearance and also for the fact that they can be created in several ways following the latest style and fashion. Hence, for getting a beautiful realistic rose tattoo done on your body, you must choose a good tattoo artist and check whether he has an ample amount of good reviews or not before visiting him to get inked. In general, a flower tattoo symbolizes the never-ending love between two people not necessarily only a couple.
Red roses play a vital role in almost everybody's lives. It is attached to us deeply in both emotional and spiritual ways. In almost every culture, the red rose and even the red color symbolizes good luck and happiness. Roses can be a symbol of every happy occasion. Red roses are also the universal language for everlasting love or even lost love.
Thus, if you are interested in getting a red rose tattoo done, definitely try out this type of rose tattoo design.
Rose Tattoo Stencil For Ribs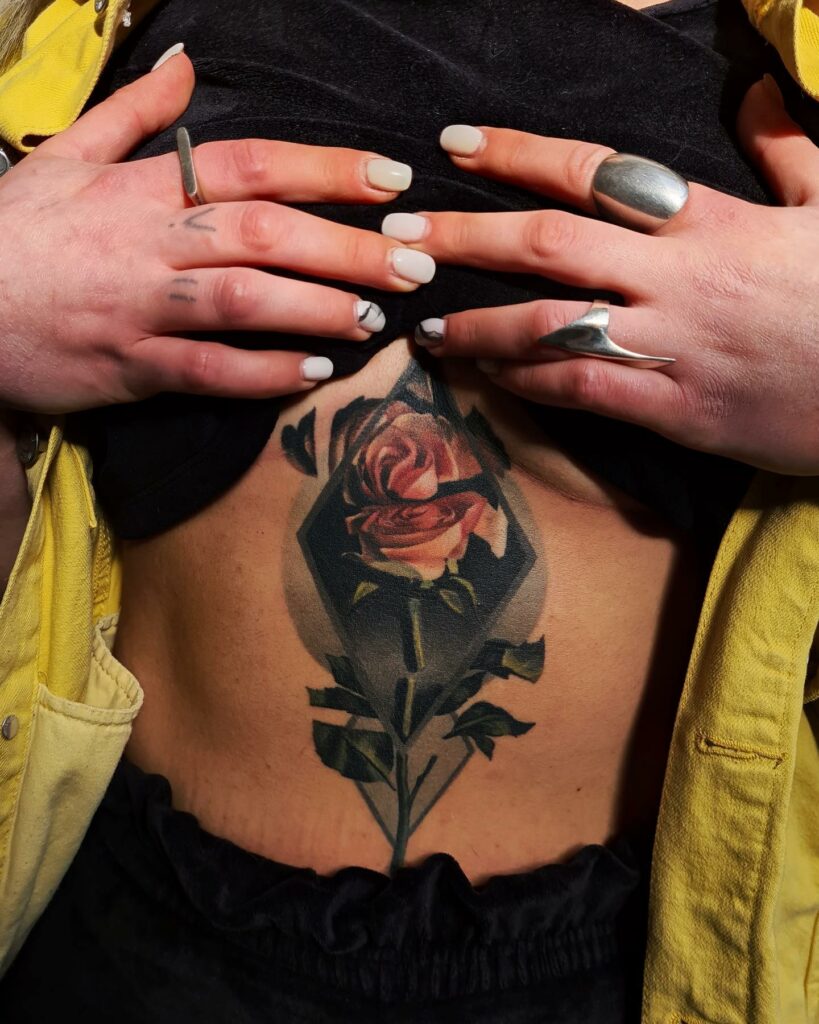 Rib tattoos also fall among one the common ideas for tattoos. A gorgeous rib tattoo can be used to cover up any of your old unwanted tattoos. Rib tattoos can also be a great place for getting inked for someone who is planning to get his/her first tattoo done, but is a bit skeptical about how it will look and hence does not want it to be visible. Rib tattoos are also mostly seen to be done by women.
The flower rose has beauty in balance with emotion within it, which no other flower can replace. If you too are a bit scared of how your first tattoo will turn out, you can try out this rose tattoo for rib done in black ink. However, this design is mainly designed for women.
Rose Tattoo Stencil For Lower Arm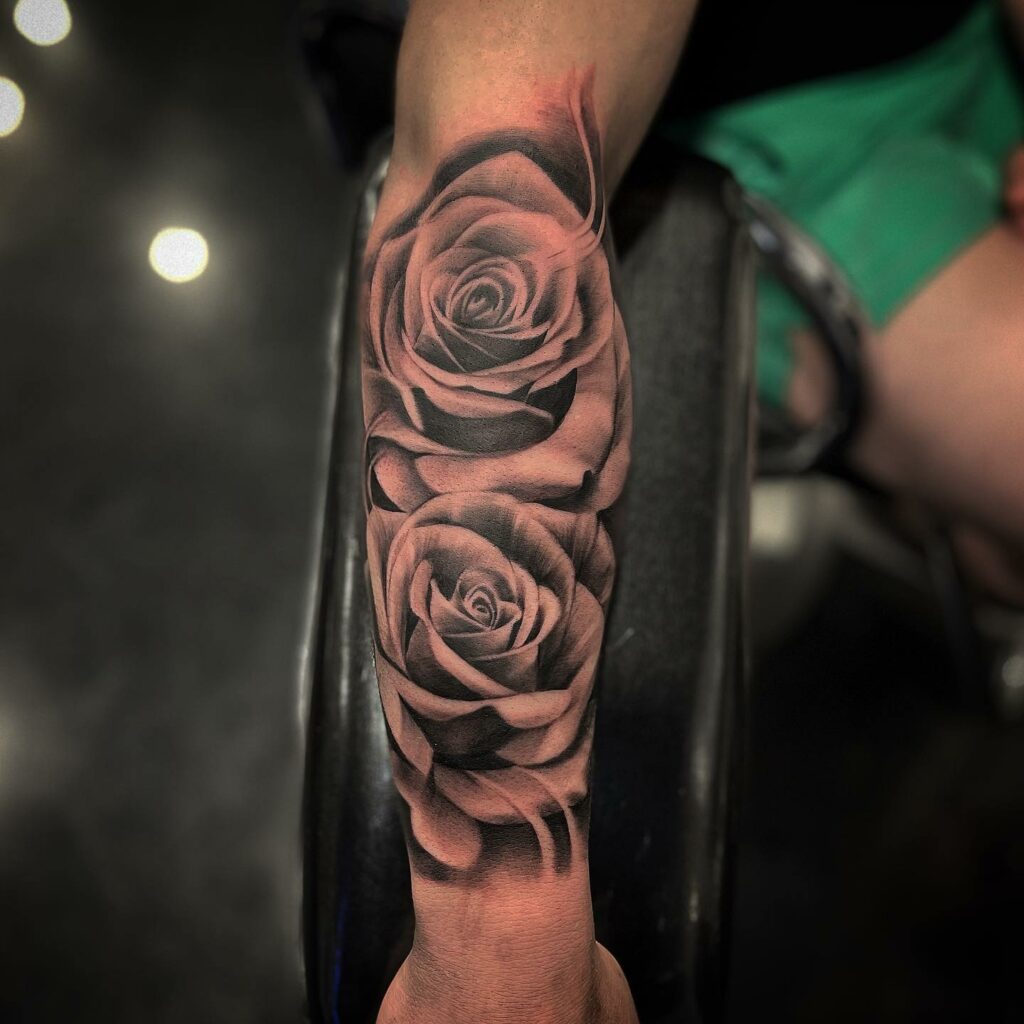 Black is the most popular choice among all other ink colors, for getting a tattoo done. The color black stands out brightly and prominently on any and every skin tone. every other tattoo comes out to be in black ink when we search for tattoos on Instagram. Rose tattoos on men account for courage and strength. Rose tattoo designs are seen to be opted for by both men and women equally.
Thus, if you too want to try out an arm tattoo that will look elegant and at the same time will not cover your entire arm, try out this rose tattoo design for your lower arm.
Rose Tattoo Stencil For Shoulder Blade To Upper Arm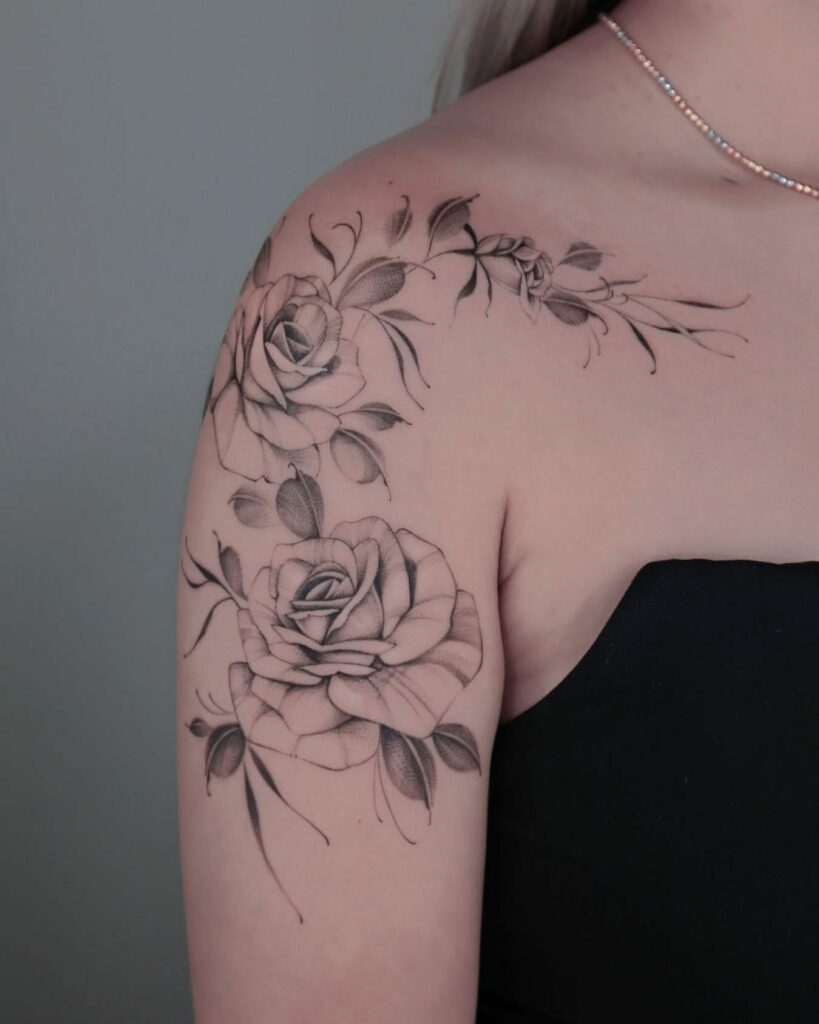 Both shoulder blades and upper arms are the perfect places to get inked for someone who wants to get a tattoo done but by enduring the least amount of pain.
This beautiful rose tattoo will add that extra charm to your personality. Realistic rose tattoo ideas that are taken up by the men can be taken within the category of realistic rose tattoo stencil male. If you too want to add that extra charm to your personality, try pout this rose tattoo design on your shoulder once, which can be done by both men and women.
Small Realistic Rose Tattoo Stencil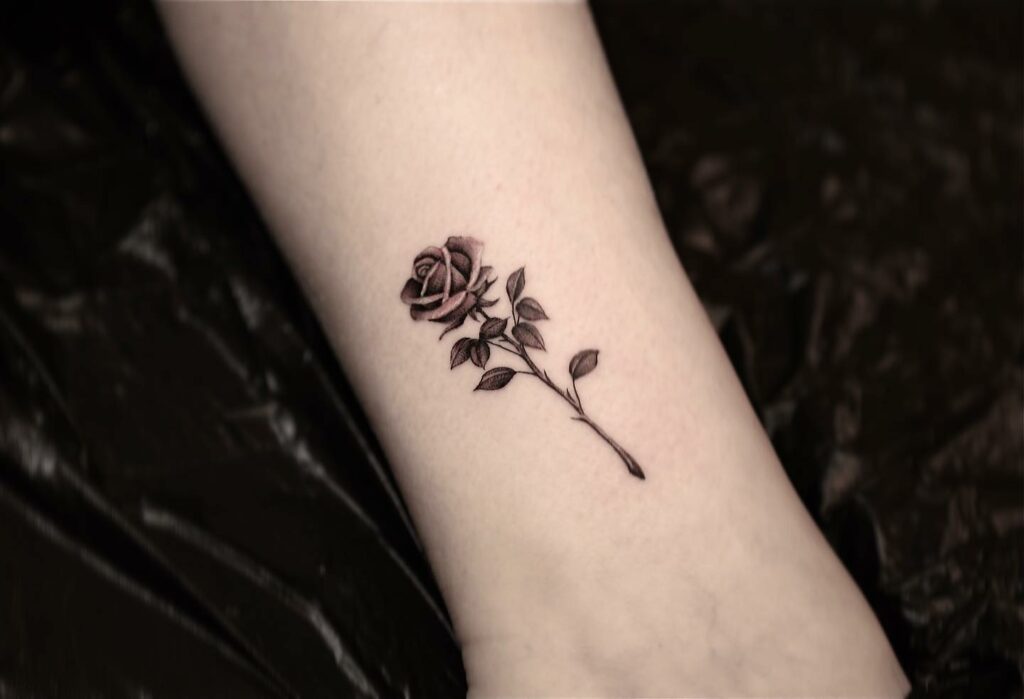 Small rose tattoos are also seen to be making their way into the trend of small tattoos. This small rose stencil tattoo for the wrist is much of a feminine tattoo and can be tried out by women who want to try out a minimal rose tattoo which will equally help them enhance their feminine grace, just like any other big rose tattoo design.
If you too want a minimal rose tattoo on your wrist, try out this small yet elegant rose tattoo design.
Realistic Rose Tattoo Stencil For Forearm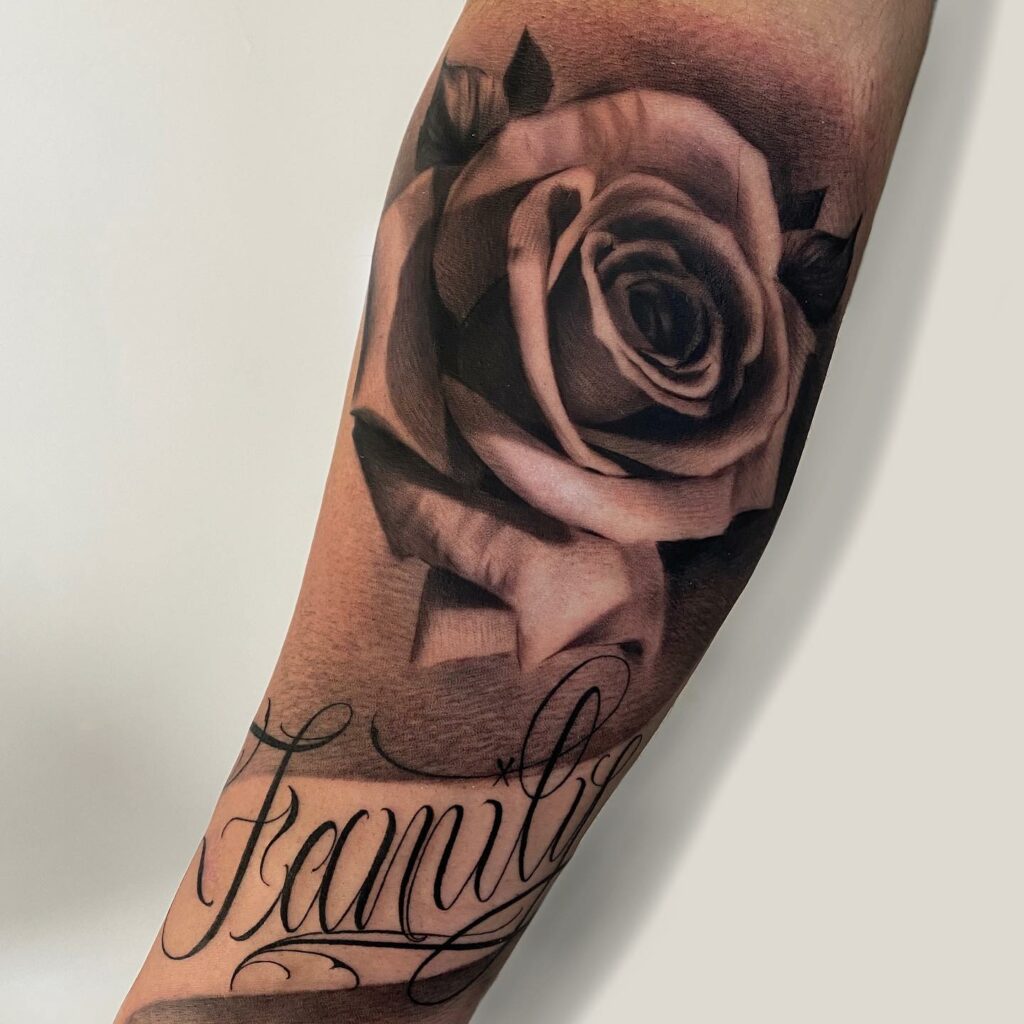 A rose tattoo can be also used by anyone who wants to remember his/her family through their tattoos as a rose tattoo also symbolizes the bond between the family members.
This forearm rose tattoo also contains the text family written in a beautiful font. Thus, font selection plays an important role while getting a tattoo done, and an experienced tattoo artist must suggest that. Thus, if you too want to get a tattoo that can symbolize both beauty of the flower rose, as well as emotion, try out this beautiful rose tattoo design for your forearm combined with text.
Stencil Realistic Rose Tattoo Outline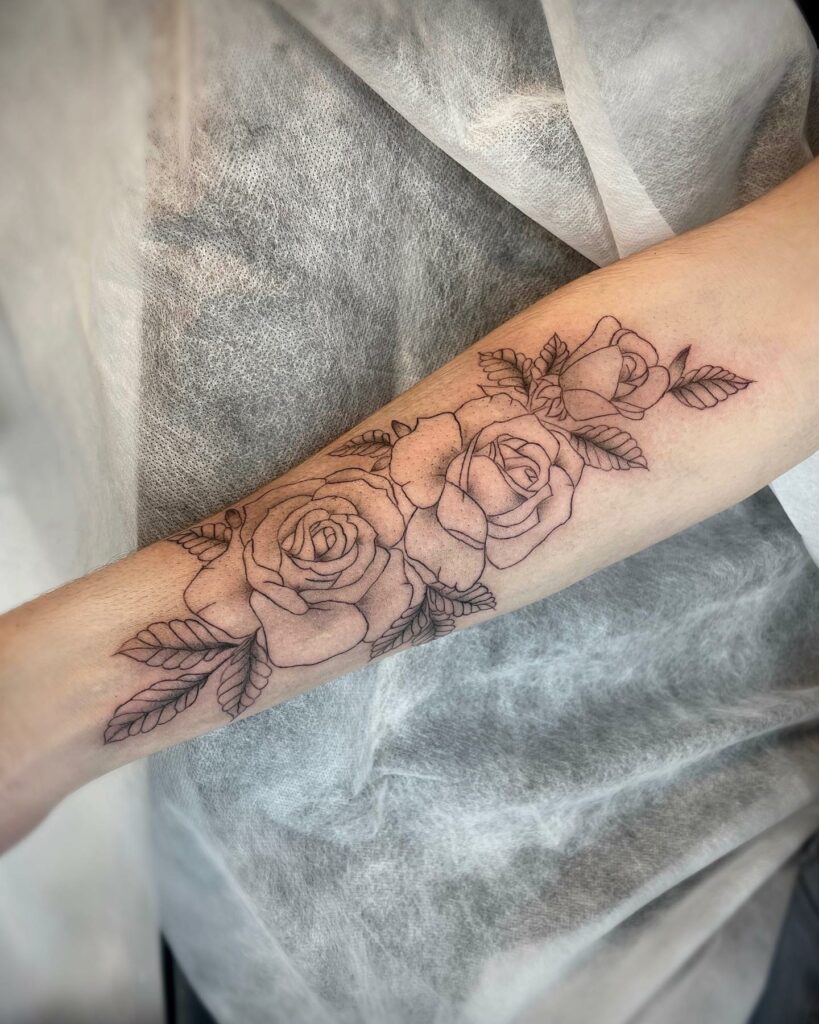 This type of rose tattoo design can be taken under the category of realistic rose stencil rose tattoo outline. An outline tattoo means the ones that are done without any shading to it. Hence if you too are a fan of outline tattoos, do try out this outline rose tattoo idea once.
feature image from Pinterest – Want your tattoo to look brighter? Try "Tattoo Balm"