Pencil skirts are often associated with office wear, but if you think that work is the only place to wear one, then you may want to think again.
The pencil skirt is a surprisingly versatile item that can suit any woman, whatever her shape or size. Our guide on what to wear with a pencil skirt will show you how to wear this feminine and elegant garment for any occasion.
How to Wear a Pencil Skirt
When it comes to putting together outfits with pencil skirts, this season is all about texture and co-ordination. One of the key trends from the catwalk suggests that we should embrace bold, textured prints and materials such as suede, leather and metallics. This will immediately make your pencil skirt looks stand out. The other trend to adopt is the co-ord. Find a pencil skirt that matches another piece from your wardrobe (or buy one) to give you a flattering all-in-one look.


While the overall shape of the pencil skirt remains the same, there are differences in terms of style and fabrics, and it's these differences that partly determine how to wear a pencil skirt. Leather and knitted fabrics, for example, give the pencil skirt a relaxed feel while maintaining its chic style, which is why they're often considered a staple when putting together casual skirt outfits.
If you go for co-ords, then it's a look that's great for both casual and formal wear. You can easily dress it up or down depending on the occasion. For example, if you go out one evening, you can add a colourful or sparkly clutch to make the outfit pop.
How to Wear a Pencil Skirt For Your Shape
To successfully pull off a pencil skirt, you should determine what kind of body shape or silhouette you have. The aim of the pencil skirt is to make every woman feel confident, elegant and sexy, so you need to work it to your body shape.
If you're curvy… especially at the hips, a long pencil skirt will help elongate your figure and create balance from the waist down. If you have a straight silhouette, you may want to opt for tight pencil skirts. They will accentuate your waist and give you a curvier figure.
If you're petite… it's probably best to stick to a short pencil skirt, or pencil skirts below the knee. Avoid ankle-length skirts as they can make you look shorter. For those of you with a taller silhouette, you can easily rock a high waisted pencil skirt with a tucked in blouse.
If you're an apple… try wearing a brightly coloured pencil skirt. This distracts the eyes away from the stomach and focuses more on the outfit. Bold prints work in the same way too. However, you should keep your blouse or jumper simple. You may wish to colour block, that's fine, but keep the top plain so that there's more emphasis on the skirt.
What Top to Wear With a Pencil Skirt
Blouses are an obvious choice for any business skirt. These usually work best if they're tucked in, especially if you opt for high waisted leather pencil skirts. The combination of the two materials create a classy outfit, ideal for the office. Crop tops work well, too, particularly in the evenings. Have you thought about teaming a bright crop top with a white pencil skirt in the summer? A great way to show off your tan!
What To Wear With a Pencil Skirt
As we've previously mentioned, pencil skirts can be worn for any occasion, day or evening; but it's what you wear with it that makes the difference. Let's have a look at some pencil skirt outfits.
Office Wear
Let's tackle the most obvious first: skirts for work.
If you work in a particularly high-end office, you'll have to stick to the basics: a standard black pencil skirt outfit made up of matching suit jacket and a white or pastel coloured shirt should do the trick (and still look good: don't ever let anyone tell you that a pencil skirt and blazer is not flattering or feminine). If you're lucky enough to work in a more relaxed setting, then you should definitely go for the smart-casual look. It's easier than you think to make an impact on the corporate catwalk! Co-ords will be your best bet here; take inspiration from model Teigan Chrissy Fox, who nails this look.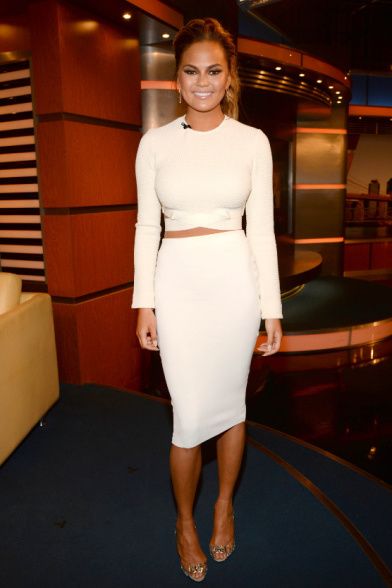 Get the look: White Military Wrap Pencil Skirt (River Island: £35), Blouson Sleeve Funnel Jumper (Topshop: £25), Miss KG Black 'Cole' High Heel Court Shoes (Kurt Geiger: £55)
Daytime Wear
For those out-on-the-town days, the pencil skirt can be a stylish alternative to maxi or denim skirts. Go for neutral skirts with a print, or if you want to experiment a bit, try a bold colour. Model Miranda Kerr embraces the daytime chic look by wearing a printed pencil skirt and keeping everything else chic and simple.

Get the look: Villa Black Pleated Blouse (Dorothy Perkins: £35), ASOS Scuba Pencil Skirt in Leopard Print (ASOS: £25), V By Very Hanson Imi Suede Point Court with Patent Heel (Very: £22), Glamorous Minimal Structured Tote Bag (ASOS: £30)
Occasion Wear
If a pencil skirt can be worn to the office, then you can wear it for a formal or special occasion too. You can create a show-stopping outfit thanks to an impressive choice of materials such as leather, sequins or metallic effect. Sequins always work well for special events, as actress Emma Stone proves. Mixing sequins and satin gives that ultimate look of luxury.

Get the look: Navy Satin Bardot Top (Dorothy Perkins: £24), V By Very Lace Sequin Pencil Skirt (Very £30), Suede Court Shoes (Reiss: £140)
Casual Wear
Pencil skirts also make stylish and comfortable casual wear – so long as you get the right material, that is. Knitted fabric, for example, works really well. It makes you look and feel more relaxed while retaining that elegant, chic vibe. Glee star Naya Rivera completely rocks the sporty-chic look by sticking to a black pencil skirt outfit teamed with trainers. Focussing on one colour allows the different elements to blend together.


Our Top 20 Pencil Skirts
Here are our top 20 pencil skirts available at the moment. This should provide you with lots of inspiration.
Different Materials
Pencil skirts with a different touch…
Clockwise (L-R): Burgundy Premium Circle Lace Pencil Skirt (New Look £27.99), ASOS PU Pencil Skirt with Pocket Detail (ASOS £24), Jersey Pencil Skirt (Missguided £24), Leather Wrap Pencil Skirt (Oasis £80)
Coloured/Printed Pencil Skirts
For those of you looking for some eye-popping colour and prints…
Clockwise (L-R) Zara Pencil Skirt (Zara; £29.99), H&M Short Pencil Skirt (H&M; £14.99), Jessica Wright Leopard print 'Cat' Wrap Front Pencil Skirt (Debenhams; £40), Orange Lily Pencil Skirt (Dorothy Perkins; £12),
Lowest to Highest
Pencil skirts to suit all budgets…
Clockwise (L-R) H&M Pencil Skirt (H&M; £7.99), Soon PU Pencil Skirt (Matalan; £18), Black Leather Skirt (Karen Millen; £350), Popper Zip Midi Skirt (Topshop; £48)
Occasion Pencil Skirts
For those more formal or special occasions…
Clockwise (L-R) Metallic Silver Pencil Skirt (River Island; £25), Pink Floral Lace Skirt (Dorothy Perkins; £32), V by Very Lace Frill Hem Skirt (Very; £32), Elaine Lace Pencil Skirt (Reiss; £120)
A Very Brief History of the Pencil Skirt
Pencil skirts can be traced back as early as the 1940's, when Christian Dior created the pencil skirt as we know it today: a slim-fitting skirt that has a straight and narrow cut with a hem that falls just below the knee. The inspiration for the design came from the 'hobble' skirt of the 1910's, which was nipped in at the waist and bound at the knee.
Dior's creation immediately hit the spotlight and many glamorous Hollywood stars of the time, including Marilyn Monroe, took to wearing them.
In the 1960's, the mini pencil skirt was introduced and, by the 1980's, the sexy pencil skirt look had landed, with women pairing high waisted leather pencil skirts with camisoles or nipped-waist jackets with those famously huge shoulder pads. Bold prints and metallic fabrics were also all the rage in the 80's.
Today, we're seeing a revival of both the bold and the classic.
How to Wear a Pencil Skirt: Top Tips
The next time you wear a pencil skirt, remember:
Is it for a casual or formal occasion? This will dictate whether you want a long pencil skirt or a short pencil skirt.
Ensure that your chosen skirt flatters your figure.
Don't be afraid to co-ordinate or go for bold colours.
Dress your pencil skirt outfits up with a statement bag or piece of jewellery.
A pencil skirt and boots is a great daytime look. Swap out for a pair of high heels in the evening.
Don't be afraid of wearing trainers if you want to go for a grunge look.
A mix of materials can keep the pencil skirt fresh. Leather skirts outfits are an obvious winner, but knitted fabrics or suede and sequins also work well.
However you wear your pencil skirt, remember you look great. Feel confident!
Read more great articles on women's fashion here at alexie.co.